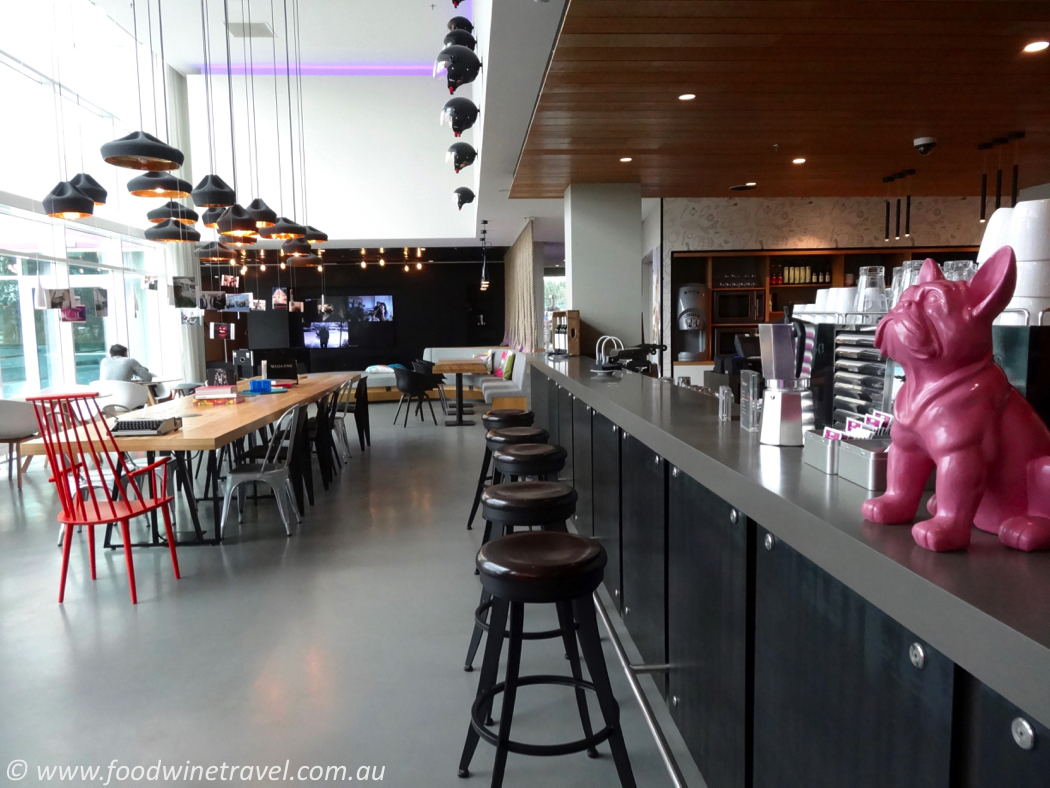 I'm in love with the Moxy Hotel at Milan's Malpensa Airport. Apart from the luxury resort where we stayed at the Amalfi Coast, it was the most comfortable hotel we stayed at during a month of travelling in Italy. And all for 70 euros a night! We enjoyed it more than hotels that were three times the price.
Opened in 2014, the Moxy is located across the road from Terminal 2, the terminal that is generally used by low-cost carriers. International flights go in and out of Terminal 1, but the Terminal 2 location was absolutely no issue at all. The airport operates a free, regular shuttle service between the two terminals and when I say regular, I mean regular. The shuttle bus operates around the clock, although from midnight to 5am it runs only every 20 minutes or so. The rest of the time it runs about every 7 minutes – on both occasions we used it, we never had to wait.
We checked into the Moxy for our final night in Italy. Despite being directly under the flight path, we heard absolutely no noise – clearly the soundproofing is very effective. First impressions are that the hotel is bright, modern and a little bit funky. An old typewriter and coffee table books on cinema and the arts are scattered over a communal table in the lobby cum bar. There are lounges and big cushions for lounging around on, and a wall of bike helmets.
The funkiness continues into our room (215) where there's a wall-sized picture of two young 'uns with bike helmets on, jumping on a bed. We're not jumping on the bed but we are jumping for joy that for the first time in a month of travelling, we have a proper double bed. What is it with the Italians pushing two single beds together to make a double bed, often without even a mattress cover or bedding to disguise the ditch in the middle? And this in the land of Latin lovers…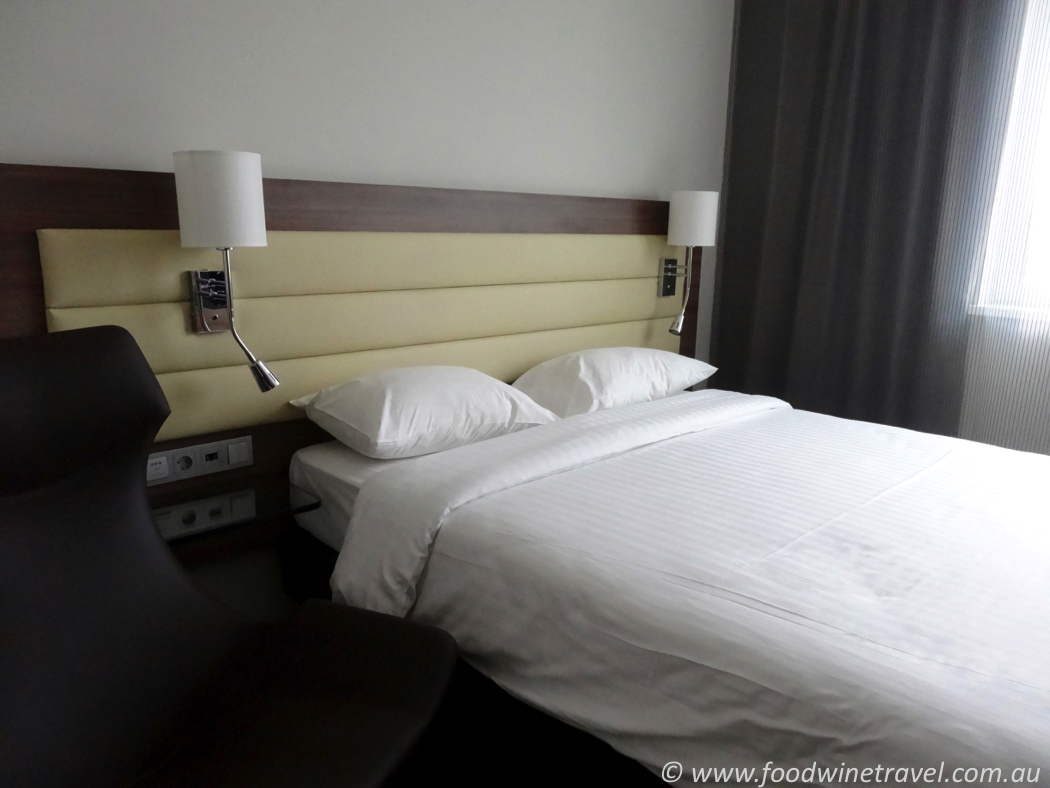 The room has a big, comfy leather chair and a flat screen TV that syncs with all your Apple devices so you can play movies, watch You Tube and listen to music. There are loads of power points, addressing another of my hotel room bugbears, and the bed knows when you're getting up in the middle of the night as it puts on a softly coloured light show to help you find the bathroom.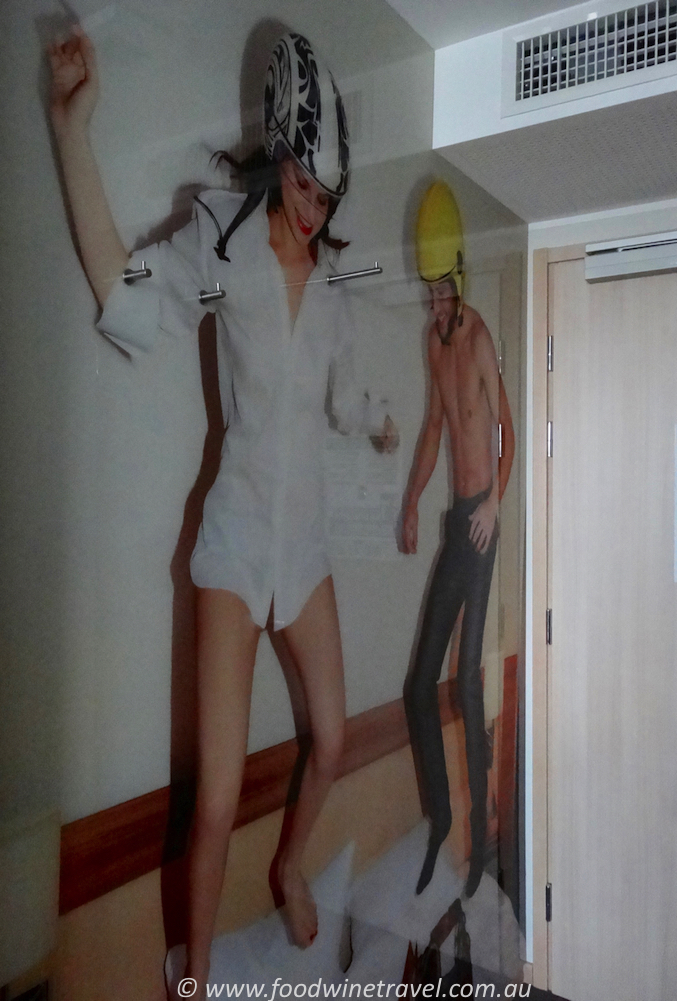 The bathroom has a hairdryer, quality liquid soap, good towels and a bidet. A lift operates between all floors.
The lobby is part of a big communal space where guests meet to rest and relax, and there's a fully equipped bar that also does good coffee. Refrigerated cabinets offer snacks and meals to go – we didn't try any of the food but it looked nice, although somewhat pricey (the tiniest Tiramisu cost 6 euros, for example). Every night from 6pm, there's a single hot dish on offer.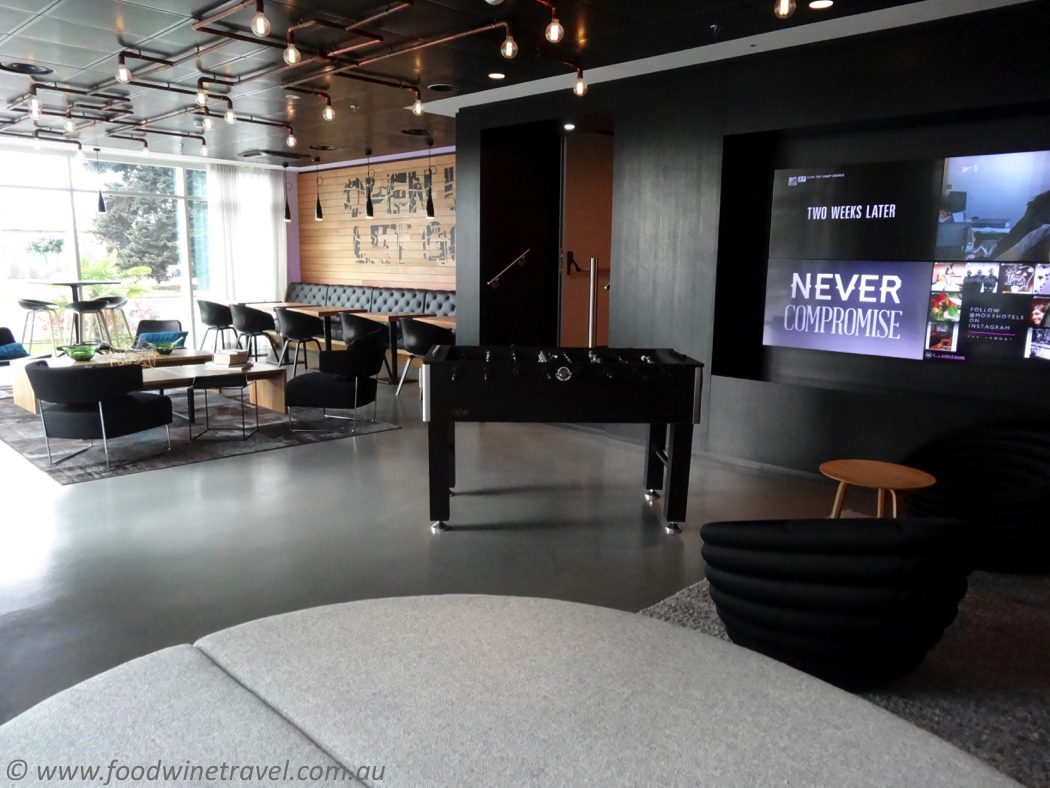 Malpensa is an 8 euro coach ride from downtown Milan, or 12 euros on the Malpensa express train (which is not very express). If the hotel offers such a good deal next time we fly to Milan, we'll certainly be staying there again.
What we loved the most? The (proper) double bed, the ambience and the price.
What didn't work? The shower recess took a long time to drain.
We paid 70.50 euros for one night, but it pays to check the price. The night after our visit, the price was 55 euros, the night before, more than 200 euros.
**Book the Moxy through booking.com
Food Wine Travel gets a small commission if you book through this link but it doesn't cost you any extra.

The Food Wine Travel checklist:
Comfy bed √
Good shower √
Free wifi √
Free parking x (no parking available)
Tea and coffee in room x
Fresh milk x
We stayed in: Room 215.
Fact File:
Moxy Hotel
Milan Malpensa Airport Terminal 2
Somma Lombardo VA, Italy
Tel: +39 (0)2 9475 7100
Visit the Moxy Hotel website.
We stayed at the Moxy Hotel at our own expense.