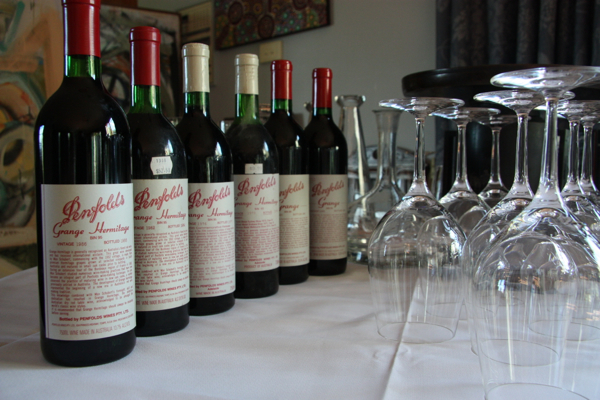 What a way to cap off an apprenticeship … cooking for a $500 a head dinner matched with Penfolds Grange and other extraordinary wines.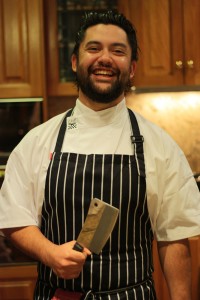 Andre Matuszyk (right) is a graduate of the commercial cookery program run by Access Recognised Training, a Canberra RTO (Registered Training Organisation).
He was given the task of designing and producing a menu for 12 people, who each chipped in $500 for the Sophan Kith Education Fund.
The Fund builds schools in Cambodia and was founded by Marie Lai and her husband, Dr Chi Lai, who donated the wine for the dinner.
As well as six vintages of Grange dating back to 1972, there was Champagne (2004 Veuve Clicquot) and 1997 Penfolds RWT Barossa Shiraz on offer.
Drawing on the skills and knowledge he acquired during his apprenticeship, Andre produced a superb menu of Vitello Tonnato and Nori, Duck Agnolotti with Foie Gras (below), and Lamb Crepinette with Tagine of Heirloom Vegetables.
His trainer and mentor from Access, Peter Hayes, helped with its preparation and had nothing but praise for Andre's "competence and precision".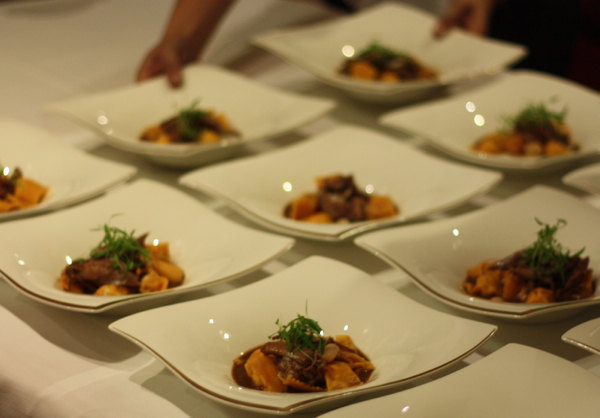 Andre has provided his recipe for Vitello Tonnato, an Italian dish of thinly sliced veal with tuna sauce, served cold.
His interpretation is inspired by the Vitello Tonnato dishes he did at Dieci e Mezzo and the National Gallery of Australia, where he worked as an apprentice under James Kidman.
"The first version I was exposed to was much more European in terms of flavour structure, with the second version having some influence from Japanese cuisine," he said.
Being particularly fond of both Japanese and Italian, he naturally gravitated to this one as a first course. He kindly shares the recipe here.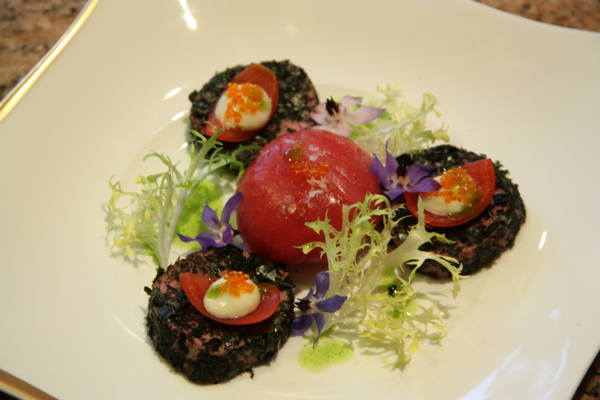 VITELLO TONNATO AND NORI
Serves 6
Tuna Mayonnaise
300ml vegetable oil
tuna scraps (see following)
1 egg
1 teaspoon mustard
1 tablespoon rice wine vinegar
salt, to taste
Using a thermometer, heat the oil to about 100 degrees C and place the tuna scraps in the oil. When fully cooked, remove tuna from heat and allow to cool. Once the oil has cooled, use a food processor or blender to combine the tuna and oil, then set mixture aside.
In the blender, combine the egg, mustard and vinegar. With the blender still running, slowly add the tuna/oil mixture to produce a thick emulsion. The mayonnaise should make standing peaks. You can add more or less oil to achieve the desired thickness. Season to taste and set aside.
Tuna Dumpling
500g sashimi grade tuna
100g veal mince
1 peeled and deseeded tomato
eschallot
chives
lemon zest and juice
salt
Poach the veal mince in about 1 litre of water with 2 teaspoons of salt. Cook until meat is no longer pink. Drain and allow to stop steaming, then cool in fridge.
Blanch tomato in boiling water for 30 seconds, then place in ice water so that the skin peels off easily. Cut tomato into quarters and remove seeds. Finely dice and set aside.
Remove any skin from the tuna and remove the main portion from any sinew lines. Cut 6 sheets of tuna length ways, about 3 5mm thick. Partially freezing the tuna can make this part easier. Finely dice the remaining tuna and set aside any scraps for use in the mayonnaise.
Finely dice the eschallot, chives and lemon zest. Set aside.
Combine all the chopped ingredients and use tuna mayonnaise to create a stiff mixture. Season to taste with lemon juice and salt.
Lay the tuna veil that was cut earlier onto cling film. Place about a tablespoon of mixture in the middle of the tuna and create a ball. Twist the cling film to tighten the dumpling. Set aside and refrigerate.
Veal Medallions
500g veal back strap
2 nori sheets (powdered in blender)
Halve the veal back strap lengthways. Roll each half of veal in cling film, tying a knot at one end.  Twist the other end and tie a knot to create an airtight seal.
Allow veal to come to room temperature then poach in salted water at 60 degrees Celsius for 40 minutes. When cooked, cool in ice water and refrigerate.
When cool, slice the veal into thin medallions and coat in nori.
To serve
When plating the dish, garnish with whatever you like. For the charity dinner, Matuszyk used endive hearts (also known as frisee), borage flowers, cherry tomato petals and flying fish roe. He also used a dressing of chive-infused extra virgin olive. The leftover mayonnaise was also used in the garnish.
Recipe courtesy of Andre Matuszyk.