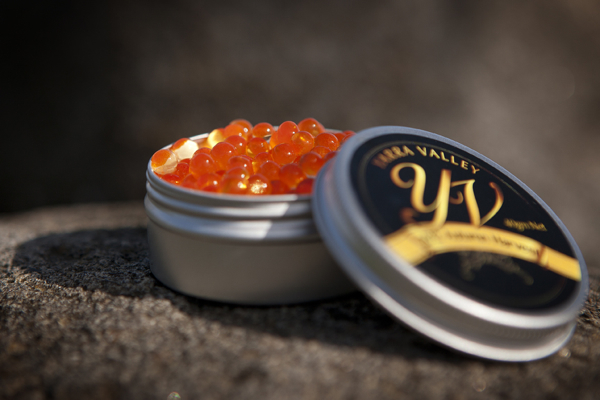 I've had a lot of 'wow' moments during my food-writing career but this would have to be up there with the best. I now know how to milk salmon!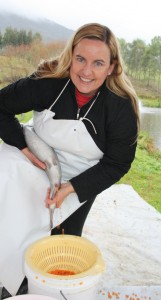 Although the blokes working at Yarra Valley Caviar make it look easy, there's an art to holding the slippery fish so that the caviar flows straight out into the tub below. As you can see from the photo here, I gave it my best shot.
The salmon are anaesthetized with clove oil beforehand and placed in a recovery pond afterwards, before being placed back into their freshwater ponds until they are ready for milking again the following year.
It's a gentle process and if the caviar doesn't flow out completely, all you have to do is give the fish an ever-so-gentle belly rub and all these plump, glistening jewels pour out. The milking takes place over just four weeks in May.
This year for the first time, Yarra Valley Caviar is doing a premium line of roe from young salmon that have never been milked before. Softer and even more exquisite than other salmon roe, the little balls are brined in Murray River pink salt flakes and organic sugar.
Look for it at restaurants and gourmet delis around Australia, and at farmers' markets in and around Melbourne.