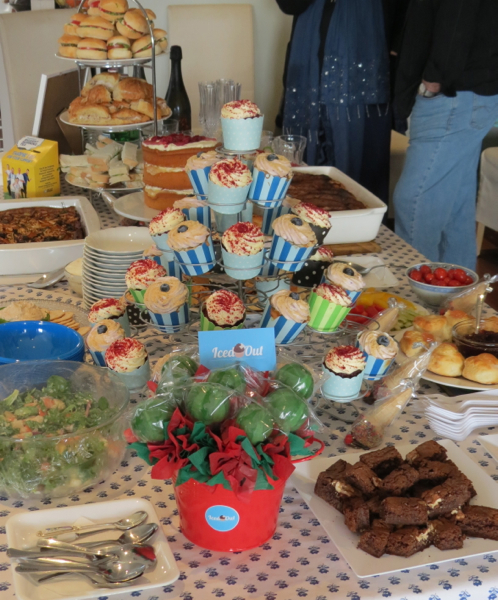 My daughter Alise enjoys putting on a spread. And as you can see by the photos here, she is incredibly good at it. I have every right to be a proud mum, not just because she is such a talented young cook but also because she is such a thoughtful, generous soul.
When cancer came knocking on our door, Alise decided that she wanted to do something to help. Over the past month, around the country, people have joined in Australia's Biggest Morning Tea to raise funds for the Cancer Council. Some of this money goes towards vital research, the rest to prevention programs and support services.
Alise created this beautiful menu for a "Sparkling Morning Tea", cooked much of it herself and invited dozens of wonderful friends and family, all of whom contributed very generously to the cause.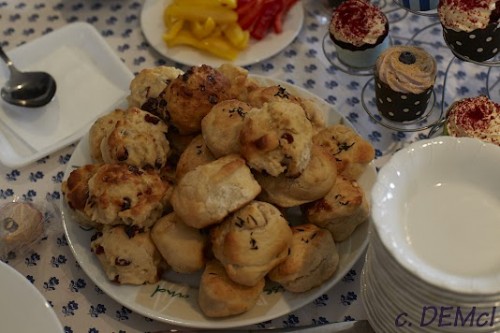 *******
To Sip
Jugs of Ginger Ale
Sparkling wine
Selection of tea and coffee
To Start
Maple Baked Brie with Pecans
Crudites with Dips
High Tea stand
Buffalo Mozzarella with Tomato and Pesto petite rolls
Roast Chicken, Apple and Walnut croissants
Cucumber sandwiches
Then
Homemade Pumpkin and Feta Quiche
White Chocolate and Cranberry scones
Rose Scented scones topped with Turkish Delight
Lavender Earl Grey scones
with
Raspberry butter, raspberry jam and cream
Finish with
Bread and Butter Pudding
Raspberry Lemon Sponge Cake
Chocolate Brownies
Red Velvet cupcakes
Blueberry Cheesecake cupcakes
*******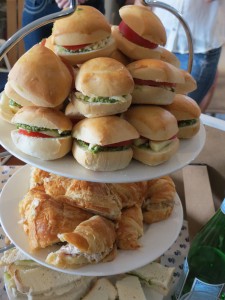 Many of the ingredients, including the lemon curd for the cake, were bought from the Capital Region Farmers Market. Alise used cream and lemonade to make the scones, and she took the recipe for the Brownies from my own website. I still think they're the world's finest Brownies!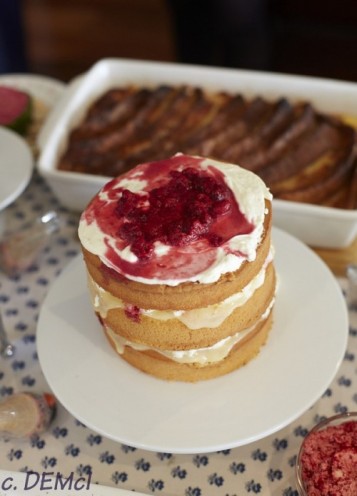 In addition to Alise's beautiful menu, Mark brought a deliciously spicy prawn salad and Macaron Queen Marilyn arrived with pastries and some of her amazing Dream Cuisine macarons.
Mr Icecream Man John couldn't be there but contributed a selection of his extraordinarily good Frugii icecream in a range of flavours from Green Apple Wasabi, to Blackberry Sorbet, Salted Burnt Caramel, Clove Oil, and White Chocolate.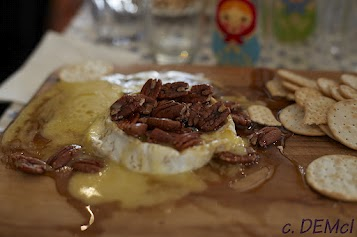 Craig was responsible for the Red Velvet and Blueberry Cheesecake cupcakes and words can't tell you how fantastic they were. Craig runs his own business, Iced Out Cupcakes, and he also did some clever cake pops, made to look like watermelons, and some little cakes in upside down cones. Have a look at his Facebook page and you'll see more of his wonderful creations.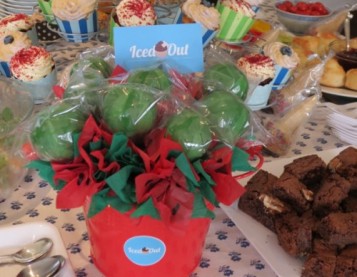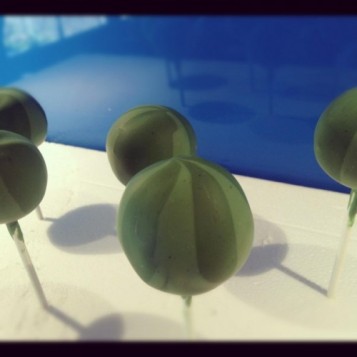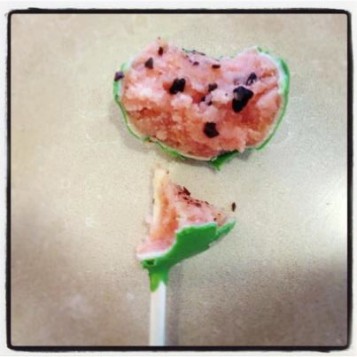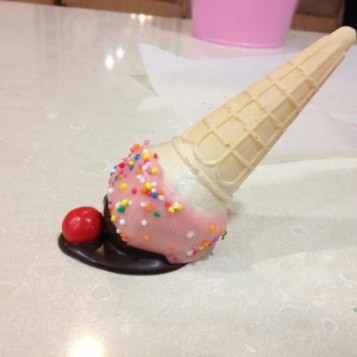 Craig also made beautiful rosettes from smoked salmon to put on top of Rosemary and Sea Salt biscuits, with a dollop of crème fraiche and some of the exquisite premium virgin roe that I brought back from my recent visit to Yarra Valley Caviar.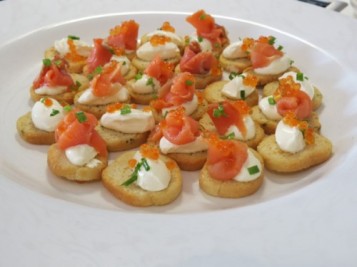 Thanks to Claire Northfield, Stephen O'Connor and David McIlroy for taking the photos. And thanks to all our wonderful friends for contributing so very generously. To date, about $800 has been raised.
Donations can be made through Alise's page on the Cancer Council site, or directly at the Cancer Council home page if that is your preference. It would be great to see her reach her goal of raising $1000 this year. Any contribution, big or small, is most gratefully received.