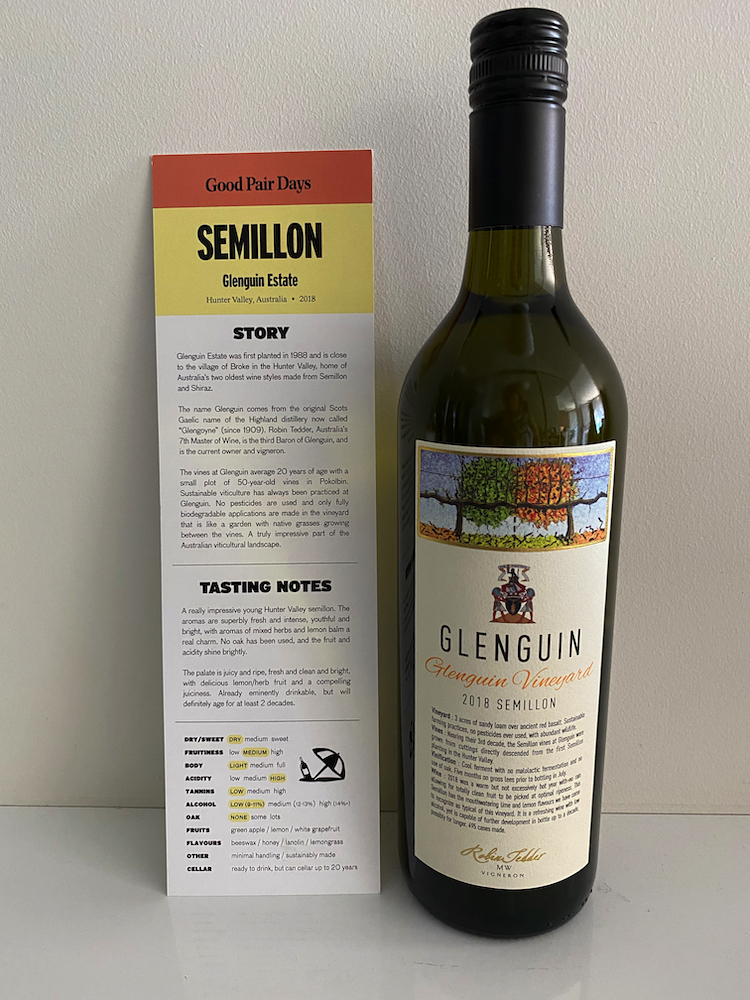 One blessing during isolation was that there was no shortage of quality produce from our fresh food suppliers. We've been making weekly visits to our local seafood supplier whose prawns and oysters work wonders in lifting our spirits.
During our last visit, I spotted whole snapper and whole barramundi that were positively glistening with freshness. It's always such a hard choice deciding between the two (and the recipe here would work equally well with either) but the snapper won out this time.
Seafood and Semillon are a great food and wine match, and we had chosen the snapper to pair with a fresh and youthful Hunter Valley Semillon from Glenguin Estate, a small producer that practises sustainable viticulture and doesn't use pesticides.
The Hunter Valley is famous for its world-class Semillon; this 2018 Glenguin is unoaked and sings with bright acidity and lemon notes that pair beautifully with the snapper.
It was sent to us as part of a low-alcohol wine pack from Good Pair Days, an online wine retailer that has an interesting business model – when you sign up for the regular subscription, you are taken through a wine-matching quiz so that the wines are tailored to your taste.
Co-founder Banjo Harris Plane says the aim is to help customers discover exceptional value wines that they wouldn't normally choose. (Prices range from $15 to $38.) "We've directly imported container loads of exceptional wines from seven countries, bringing wines to local drinkers that they can't experience anywhere else," he says.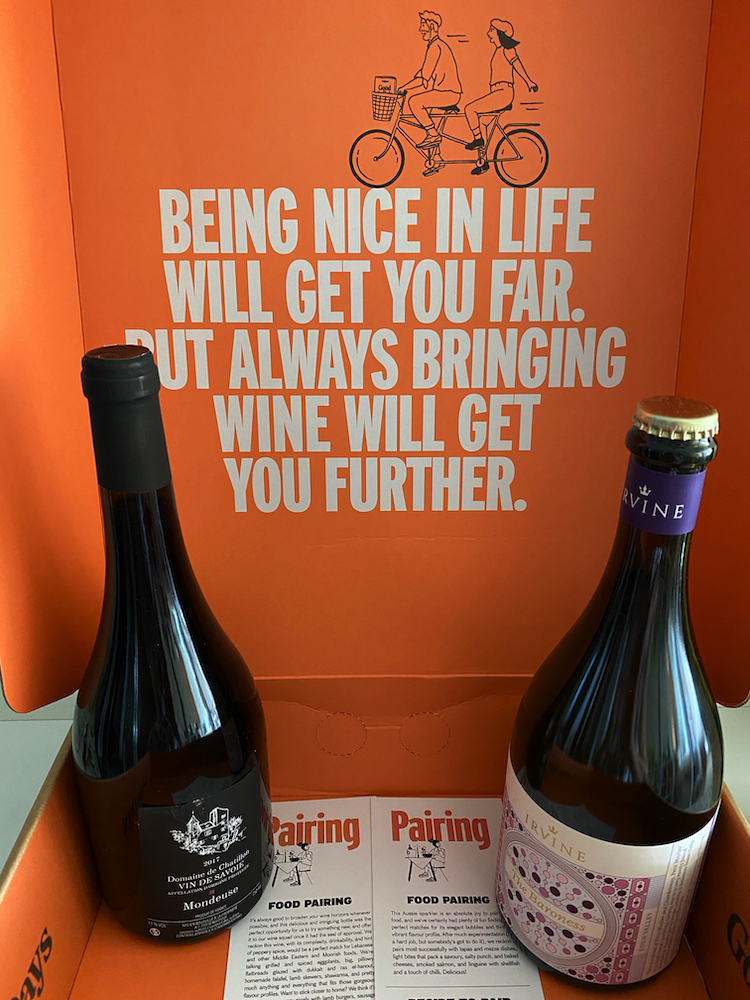 As well as the Glenguin, our low-alcohol pack also included a "Petillant Naturel" sparkling wine, Irvine 'Baroness' from South Australia's Eden Valley, and a Domaine de Chatillon 2017 Mondeuse from France. The wines in this three-pack range from 10.8% to 11.5% abv (alcohol by volume).
Apart from the fact that the wines are interesting and very pleasing, one thing we like about Good Pair Days is that all its packaging is recyclable (the protective inserts are made from a biodegradable sugarcane by-product). The wines come with great cards that include a story about the winemaker, tasting notes, food pairing suggestions, and a recipe like the one here.
Thai Snapper
Serves 2
1 whole snapper (approx 700g)
1 handful of basil leaves
2 cloves crushed garlic
2 tablespoon peanut oil
2 tablespoon Thai fish sauce
1 yellow capsicum, diced
1 teaspoon crushed fresh ginger
2 small red chillies, finely sliced
1 tablespoon brown sugar
1 tablespoon rice vinegar
2 tomatoes, sliced
Preheat oven to 190 deg C and line a decent sized roasting tin with aluminium foil. Open the cavity of your snapper (your fishmonger should be able to gut it for you if they haven't already) and stuff it full of Thai basil leaves. Set to one side.
Heat peanut oil in a heavy-bottomed frying pan, until it is just beginning to give off a little smoke, and then quickly brown the snapper for about a minute on each side. Stick the fish in the roasting tin; save the peanut oil in the pan for later. Bake fish in pre-heated oven for 25 minutes (a little longer might be necessary if the fish is fatter or bigger than 700g) or until it flakes nicely on the fork.
Meanwhile, reheat peanut oil in the pan. Toss in the garlic, ginger, chilli and capsicum, and soften for around five minutes. Then add the sugar, rice vinegar, tomatoes and fish sauce; mix well and bring to a simmer. Let it bubble away until it has thickened nicely – around 9 to 10 minutes – stirring regularly. To serve, pour the sauce over the baked fish and garnish with Thai basil leaves.
Recipe from Good Pair Days: www.goodpairdays.com
This story originally appeared in PS News.