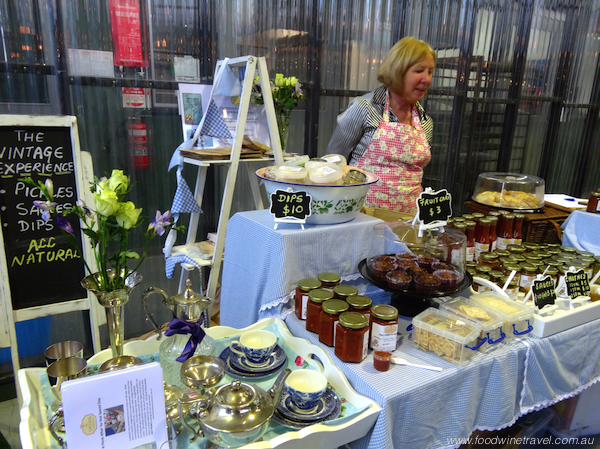 What a clever woman Angela Hirst is to have created a business that has become an incubator for other businesses. With a doctorate in food (on eating and ethics) and a keen desire to help artisan food businesses flourish, the restaurant reviewer and former chef set up Wandering Cooks in South Brisbane last year.
The venue provides kitchens, resources and a community for businesses that are just starting out. Helping to establish that sense of community are events like Small Batch Winter, held at the weekend, with around 20 local artisan food makers coming together to show their products and create an atmosphere of food, fun and frivolity.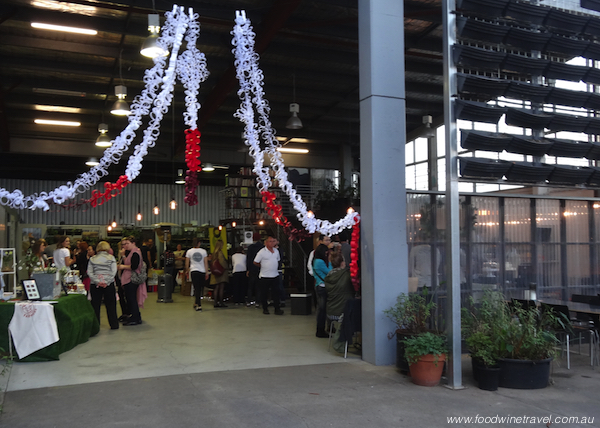 Most of the stalls were set up inside the Wandering Cooks warehouse; some were in the courtyard, where tables were set up for alfresco dining and fires were burning in 44-gallon drums to keep the chills at bay. What a beaut atmosphere it was – so evocative of winter and so dedicated to the craft of food.
We met people like Glenda Whyte (pictured at top) from The Vintage Experience who does a romantic vintage picnic where she delivers a Brexton 1950s vintage picnic basket filled with gourmet dips, savouries, terrines, cheese and sweets to locations around Brisbane. We bought some of her pork and duck terrine and felt as though we were back in France.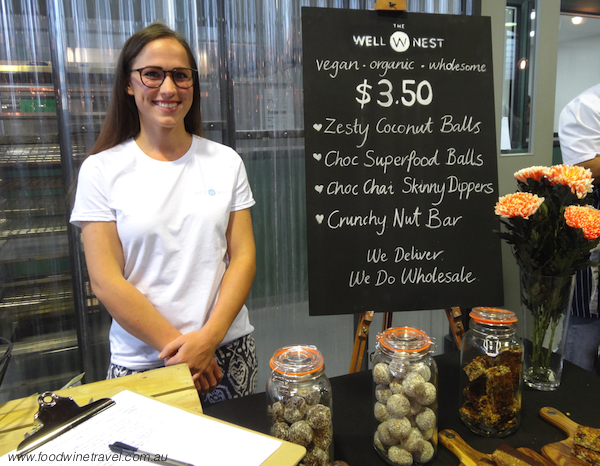 A number of producers were right on trend with paleo, organic and vegan. The Well Nest Kitchen creates and delivers fresh, organic, plant-based lunch boxes and treats to homes, offices and businesses. All Real Food makes fresh, healthy, organic salads, soups, smoothies, desserts, breakfasts and snacks for sale through vending machines, the likes of which you've probably never seen before. Paris Strauss was there with her My Plate 'clean treats', vegan berry breakfast bars and other raw and baked products that are 90% organic and local, and 100% clean and natural.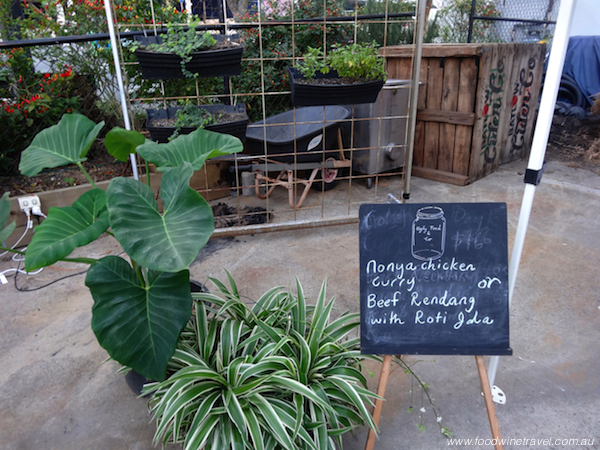 Ugly Food & Co offered Nonyan street food, Young Farmers served grass-fed beef Fino Food + Wine had tasting plates of salami from Northern Rivers producer, Salumi, and Richard Webb teamed up with the Moreton Bay Fishing Association to do grilled prawns and fish.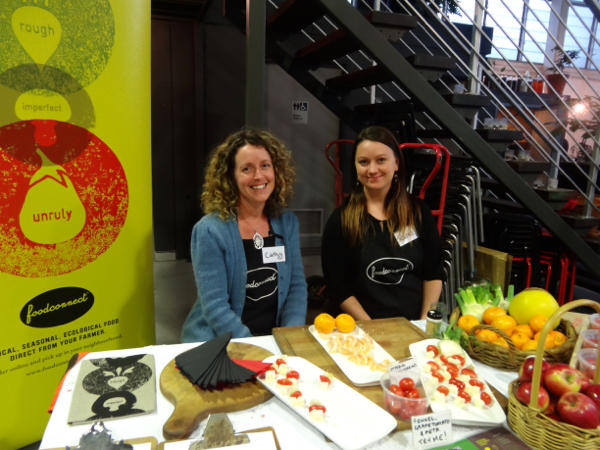 We'd heard a little about Food Connect when we met farmer Mal Smith in Killarney earlier this year, as Mal had been using Food Connect to get some of his vegetables onto the market. This social enterprise delivers seasonal, ecological food direct from local farmers to customers in south-east Queensland. We're keen to give it a go sometime. It services restaurants, cafés, buyers groups, retailers and ordinary folk like us.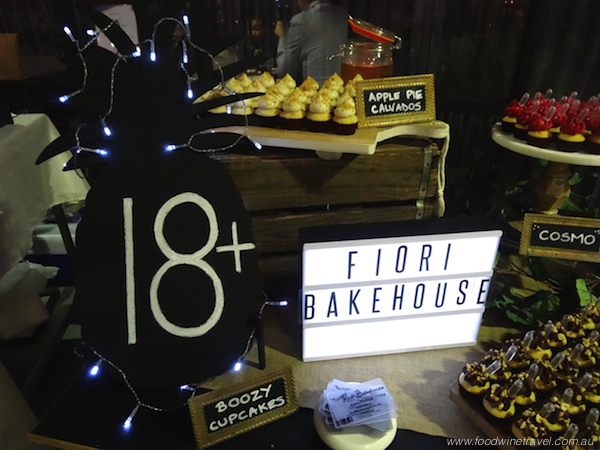 How cool is this for a sweet treat? Anna Phillips has established what she says is Australia's first alcohol-spiked cupcake bakehouse. Her Fiori Bakehouse cupcakes are baked fresh to order. They are hand decorated and each one has a pipette (glass tube) that delivers a spike of alcohol just as it's about to be consumed. The apple pie Calvados cupcakes sounded awesome but we were still getting over a very big lunch.
We also passed up the chewy salted caramels made by Kaitlyn Fitzpatrick, of 31 Degrees Custom Chocolates. Our resolve weakened, however, when we saw her Decadence bars so we splurged on one of the $8 bars, made with a layer of salted caramel topped with coconut ganache, dark chocolate and gold leaf. Yum!
Chocolates to order
Inspired by the chocolates and pastries she found while living in France for a year, Kaitlyn uses locally sources ingredients, fresh cream and delicious French and Swiss couvertures. She makes her chocolates to order, using the kitchens at Wandering Cooks, and posting the products anywhere in Australia.
There were just so many other good things to buy and taste and salivate over. Nikki Ria, of Chokola, had made chocolates filled with Moscato, smoked honey caramel chocolates, and a dark chocolate "Pesto" truffle with basil-infused cream and a pine nut on top. Pastasciutta had handmade pasta, and The Scratch had their popular Brewtal and Friends winter beer pop up.
Jefte Juarez Leiva impressed us with his real Mexican corn tortillas. The Dona Cholita tortillas are made with organic maize flour and filtered water, and are gluten free, vegan, organic and non-GMO. This small, family-run business in Burringbar, about 10 minutes from Byron Bay, uses no preservatives or flavour enhancers. Leiva delivers to venues between Bangalow and Brisbane, and claims to be the only producer that delivers his tortillas freshly baked, so they won't dry out or break.
Small Batch Winter was open to the trade for the first two hours, after which it opened to the public for a few hours so that customers could learn more about Brisbane's very talented small producers. It is the second such event that Wandering Cooks has held; Small Batch Autumn was held previously. We think it's a great introduction to the very clever folk who contribute to the city's burgeoning food scene.
If you go:
Wandering Cooks
Corner Fish Lane & Cordelia Street,
South Brisbane QLD 4101
Australia

www.wanderingcooks.com.au