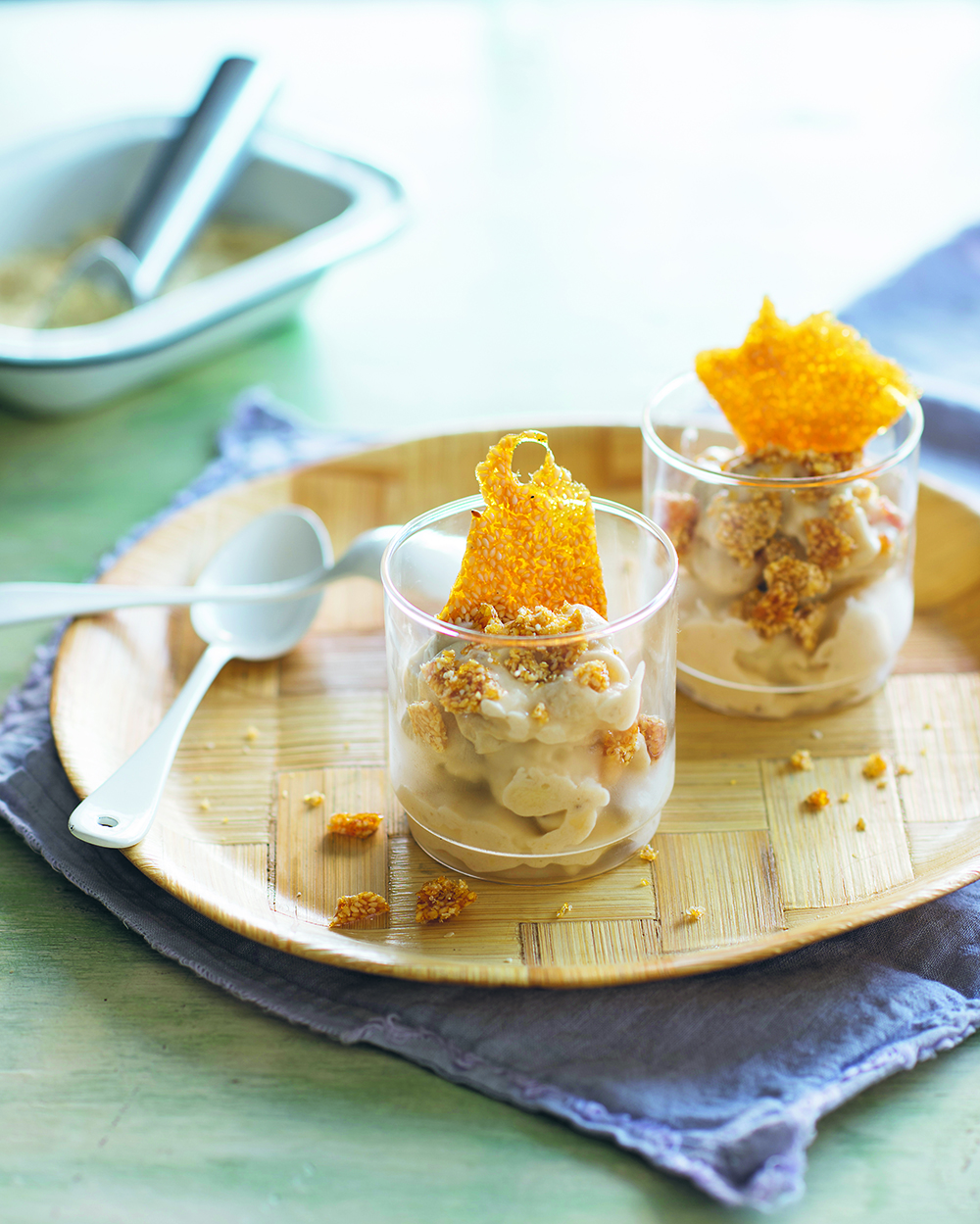 When Callum Hann and Themis Chryssidis opened their cooking school, Sprout, in Adelaide in 2011, the first class they conducted was called "Quick, Easy & Healthy". Five years on, it remains their most popular course, as their philosophy of preparing healthy food with minimal effort continues to resonate.
Hann and Chryssidis don't believe in health products, superfoods, diets or strict eating plans. Rather, they say they believe in good food that doesn't cost a fortune or require a molecular science degree.
They do believe, however, that home cooking is fundamental to good health and important for social and family development. Themis is a dietitian and runs his own dietary consulting practice at Sprout Health Studio. The cooking school is run in partnership with Hann, who was runner-up on the 2010 series of MasterChef and won the 2012 MasterChef All-Stars.
Together they have produced Quick. Easy. Healthy, published by Murdoch Books, an easy to use, versatile cookbook with recipes for fresh, simple, nutritious dishes that use easily sourced ingredients, represent good value for money and require minimal preparation.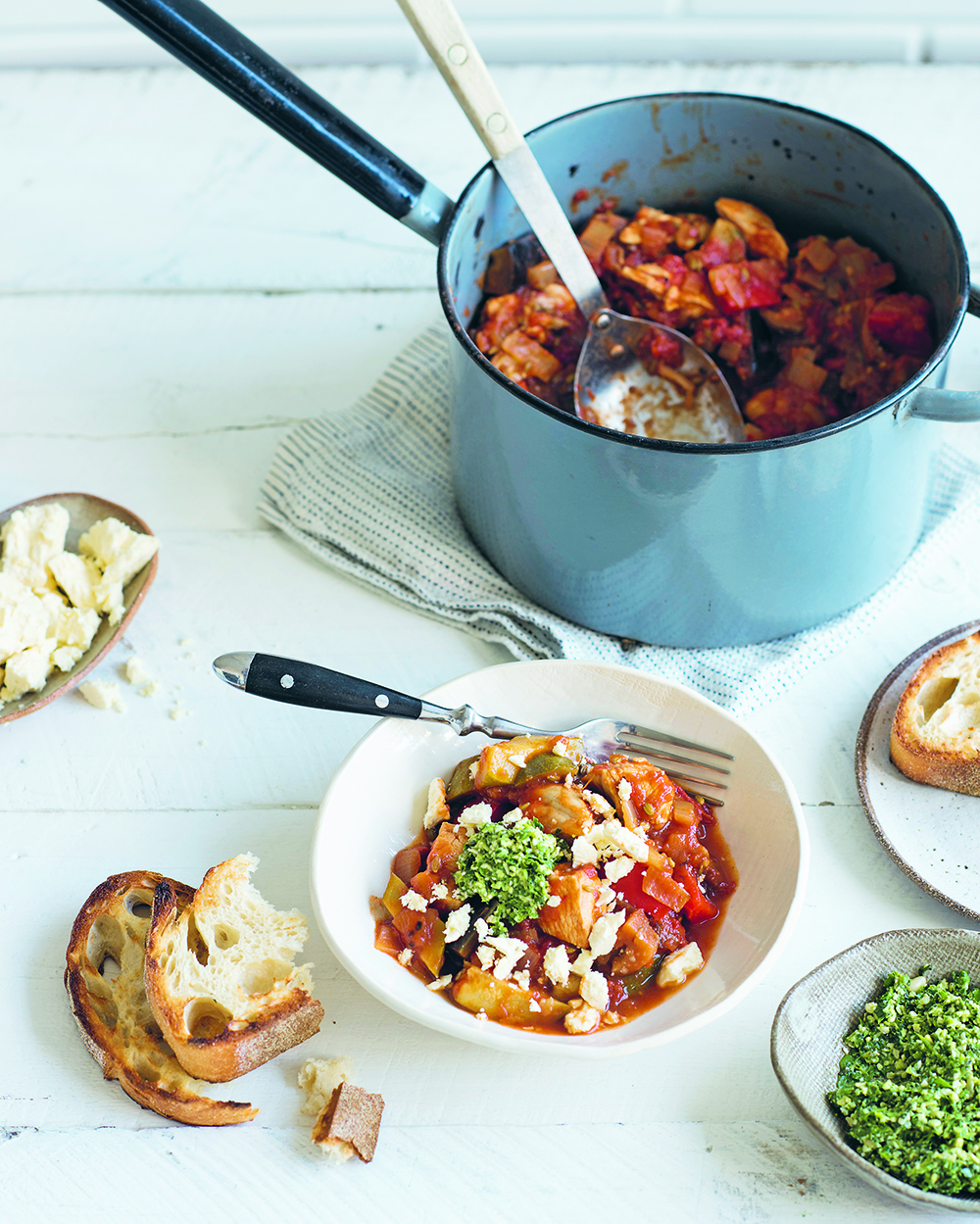 The book is arranged seasonally to take advantage of when produce is at its best and cheapest. All the recipes feature nutritional information.
"Learning to cook helps improve our understanding of what we are putting into our body, and it inspires good food choices that you will carry with you forever," they write in their introduction. "We see food as a social glue bringing people together, and the key to a healthy and happy life."
Some of my favourite recipes from the book are the Beetroot Cured Salmon with Lemon Ricotta on Rye, Snapper Ceviche with Mango and Avocado Salsa, Quinoa Mango and Raspberry Pudding, and the Greek Lamb with Watermelon, Olive and Mint Salad. The Ratatouille dish here is the perfect way to use up leftover vegetables.
Because bananas have a naturally creamy texture, the Instant Banana Icecream recipe does not rely on a traditional creamy custard base, making this dessert a much healthier alternative. This is the perfect use for leftover dark bananas. It's quick, easy and once you try it you will have a constant supply of bananas in the freezer.
**Buy Quick. Easy. Healthy from Book Depository.
Food Wine Travel gets a small commission on purchases through this link but it doesn't cost you any extra.
CHICKEN RATATOUILLE WITH ROCKET PESTO
1½ tablespoons olive oil
1 brown onion, diced
1 small eggplant (aubergine), diced
4 garlic cloves, thinly sliced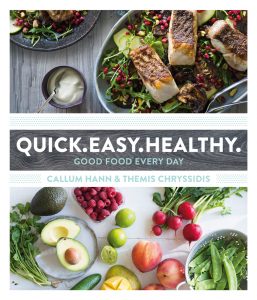 2 zucchini (courgettes), diced
1 red capsicum (pepper), diced
1 tablespoon fennel seeds
800 g (1 lb 12 oz) tinned tomatoes
2 x 250 g (9 oz) boneless, skinless chicken breasts, cut into 2 cm (¾ inch) dice
80 g (2¾ oz) feta cheese, to serve
crusty bread, toasted, to serve
ROCKET PESTO
3 handfuls basil, leaves picked
1 large handful rocket (arugula)
juice and zest of 1 lemon
2 tablespoons pine nuts
2 tablespoons olive oil
Heat the olive oil in a large saucepan or stockpot over high heat. Add the onion and cook, stirring, for 30 seconds or until translucent.
Add the eggplant and cook for 3–4 minutes until it starts to soften, then add the garlic, zucchini and red capsicum. Stir in the fennel seeds, leave to toast for a moment, then add the tomatoes. Bring to the boil, then reduce the heat to medium and simmer for 15–20 minutes until the ratatouille thickens and the tomato sauce darkens in colour slightly. Add the chicken and cook for a further 3–4 minutes, stirring occasionally, until just cooked.
Meanwhile, combine half the basil, the rocket, lemon juice, lemon zest and pine nuts in a food processor and blitz until finely chopped. Stir in the olive oil.
Divide the ratatouille between bowls. Add a spoonful of rocket pesto to each of four bowls and crumble over the feta. Serve with a slice of toasted crusty bread.
INSTANT BANANA ICECREAM WITH SESAME PRALINE
3 tablespoons caster (superfine) sugar
2 tablespoons sesame seeds (white, black or a combination all work)
3 bananas, peeled, thinly sliced and frozen in a snap lock bag or container
2 tablespoons Frangelico (hazelnut liqueur)
To make the praline, line a baking tray with baking paper. Put the sugar in a small saucepan, add 2 tablespoons of water and heat gently over low heat until the sugar has dissolved, then increase the heat and cook until it turns amber in colour. Add the sesame seeds, give it a stir, then pour onto the lined tray. Leave to cool before breaking up into smaller pieces.
To make the instant banana ice cream, combine the frozen banana and Frangelico in a food processor and blend until smooth and creamy. If there are any lumps, scrape the mixture down with a spatula and blend briefly again.
Serve the ice cream in dessert glasses topped with the praline.
Note: Swap the Frangelico for coffee for a delicious banana coffee ice cream, or make this dish kid friendly by using low-fat cream. Sesame allergy? Try chia seeds or chopped pepitas (pumpkin seeds) instead.
Recipe and images from Quick. Easy. Healthy, by Callum Hann and Themis Chryssidis, published by Murdoch Books and reproduced with permission of Murdoch Books.
This post was originally published in PS News online.