Ella Woodward has been described as the new Nigella Lawson, "if Nigella was quasi-vegan and had a physical aversion to salted caramel" as one British newspaper put it. This enormously popular English blogger is an advocate of plant-based, dairy-free, gluten-free eating – more restrictive than the diet I prefer to follow, except she does it with such aplomb and is such a glowing picture of good health that I greatly admire her work.
There's no brow-beating; instead Woodward is the first to admit that a person's diet needs to fit in with their existing lifestyle and not feel like something difficult.
Her blog, www.deliciouslyella.com, gets between five and six million hits a month and her first cookbook, Deliciously Ella, broke records on publication in the UK as the fastest-selling debut cookbook of all time. Clearly a lot of people have fallen in love with her no-nonsense recipes.
This second book, Deliciously Ella Every Day, published by Hachette Australia, follows on in the same vein, with a focus on quick weekday dinners, slow-cooked comfort food, colourful salads and food to take with you when you're on the go.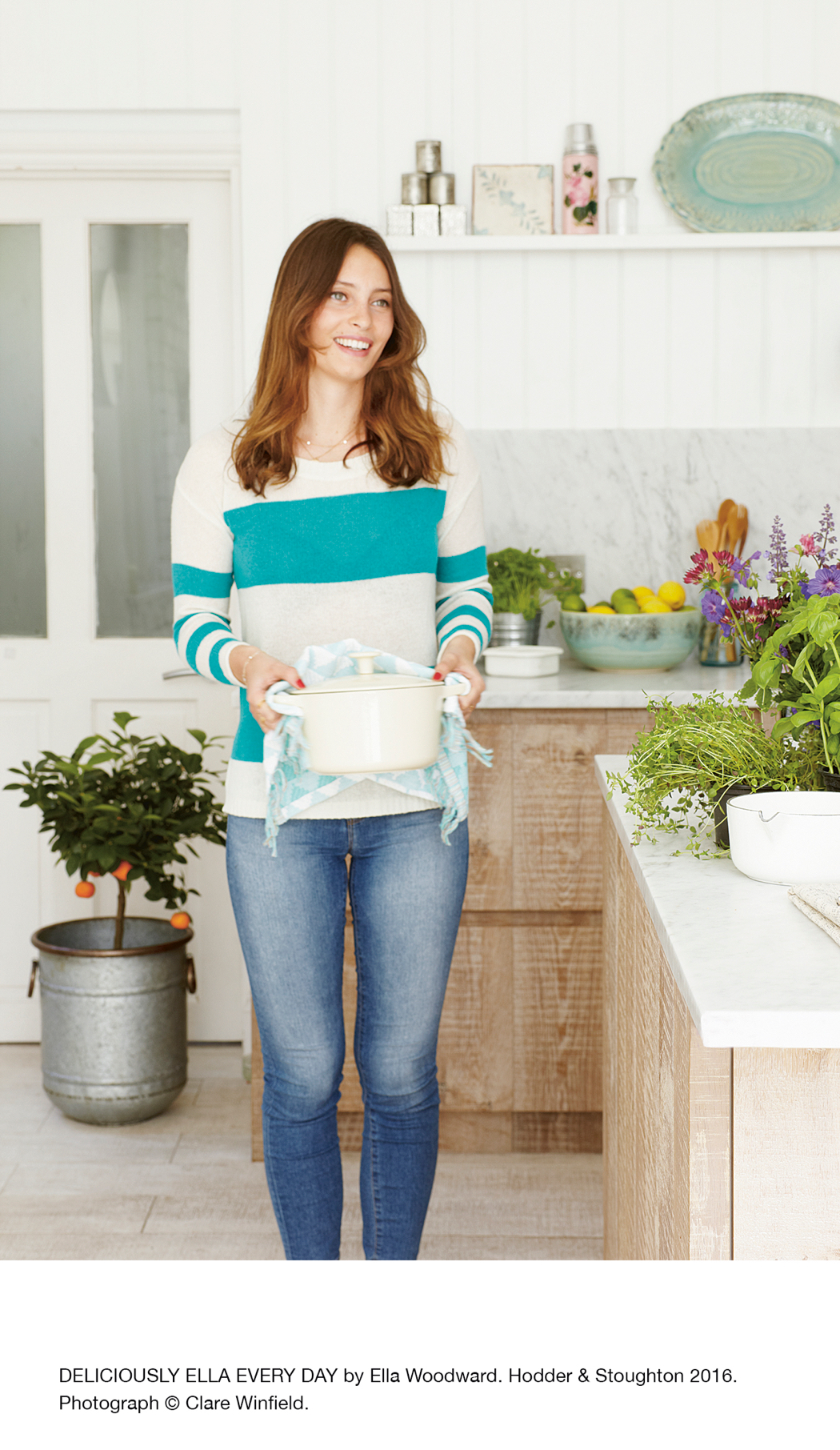 Yummy recipes such as spiced sweet potato stew are perfect for big-batch cooking, while the Ottolenghi-inspired recipe reproduced here is a magical salad, full of delicious Middle Eastern flavours.
Breakfast is Woodward's favourite meal of the day and so breakfast dishes naturally feature prominently in recipes such as quinoa and ginger porridge, while the array of sweet treats includes more-ish offerings such as coconut and raspberry mousse.
As with her first book, Deliciously Ella Every Day is full of delicious wholesome recipes, none of them particularly complicated and all of them using ingredients that are quite readily available.
**Buy Deliciously Ella Every Day from Book Depository.
Food Wine Travel gets a small commission on purchases through this link but it doesn't cost you any extra.
MIDDLE EASTERN-INSPIRED SALAD
Serves 6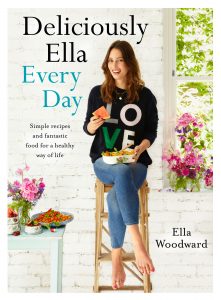 For the salad:
1 cauliflower
2 eggplants
2 teaspoons tamari
olive oil
salt and pepper
100g green lentils
20g fresh coriander leaves, finely chopped
200g pomegranate seeds
For the dressing:
3 tablespoons olive oil
1 tablespoon apple cider vinegar
2 tablespoons tahini
2 garlic cloves, crushed
Preheat the oven to 180°C (fan 160°C).
Chop the cauliflower and eggplants into bite-sized pieces and place them on a large baking tray with half the tamari, some olive oil, salt and pepper. Bake for 30 minutes.
Next place the lentils into a saucepan with the remaining tamari and 500ml of boiling water. Place the lid on the pan and bring the lentils to the boil again, then reduce the heat to a simmer and cook for about 20 minutes, until all the water has been absorbed.
Meanwhile, mix together all the ingredients for the dressing and let them sit for a while so the flavours can infuse.
Allow the cauliflower, aubergines and lentils to cool down for a few minutes, then combine them all in a salad bowl with the dressing, mixing gently.
Sprinkle with the coriander and pomegranate and mix so everything is lightly coated in the dressing, then serve.
Note: Make sure to use a large baking tray to roast the cauliflower and eggplants, or they'll all sit on top of each other and become a little soggy.
This post was originally published in PS News online.
 Recipe extracted from Deliciously Ella Every Day by Ella Woodward, published by Yellow Kite (Hachette Australia). © Ella Woodward 2016. Photography © Clare Winfield.