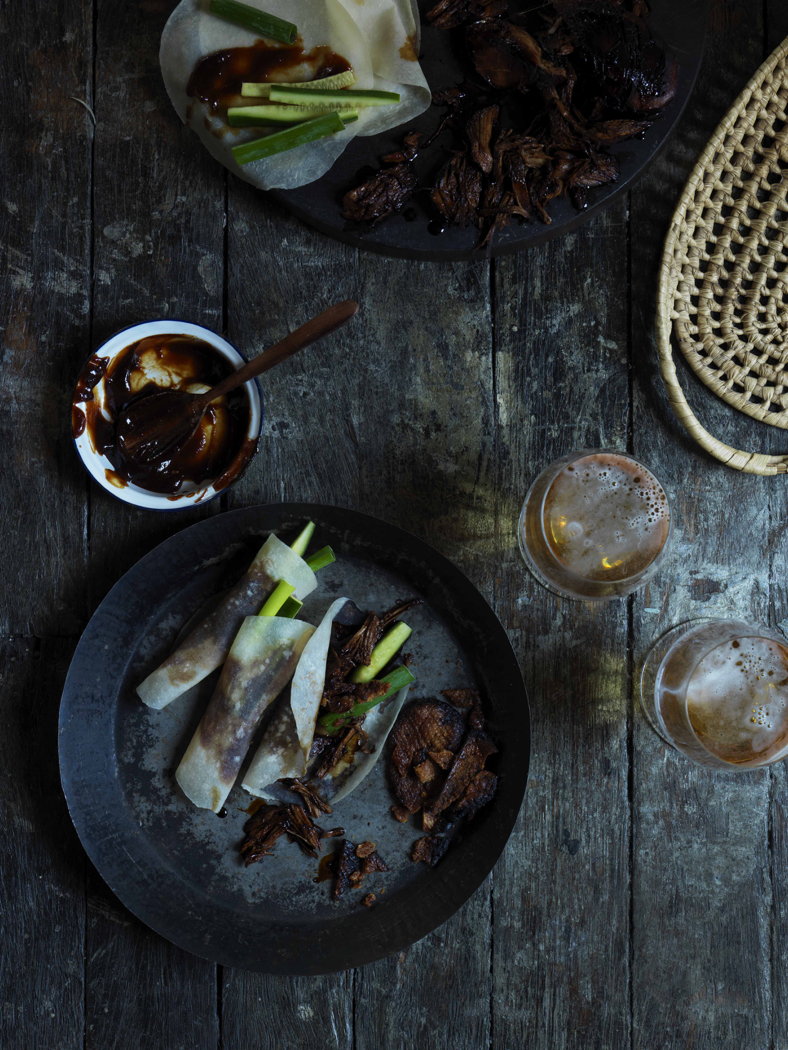 Beer is the perfect beverage for food, according to Ross Dobson, Sydney restaurateur and author of a string of books including Chinatown, Fired Up, Grill House and King of the Grill. Dobson's latest book, Food + Beer (Murdoch Books, $45), explores what he considers to be the ultimate food pairing.
Whether it be pizza after a sports game in the US, roadside curry in India, chilli-spiked chicken in an Indonesian warung or schnitzel in Europe, there's generally a great local beer to wash it down, and Dobson's clearly had great fun seeking them out. He provides a run-down of some of his favourite beers from around the globe, and every recipe comes with a recommended match. The dishes have been chosen for their synergy with beer.
The shredded duck pancake recipe here fits nicely with Tsingtao, or you might consider tempura prawns with Asahi, Balinese chicken with Bintang, or even the surprisingly wonderful combination of lamb shoulder and stout. There are about 80 recipes all up, with everything from relaxed dishes such as wings and burgers to international favourites such as char sui (Chinese barbecue pork) and Singapore noodles, and others such as Japanese fried chicken, Moroccan pan-fried prawns and Brazilian fish stew.
"I have been lucky enough to travel to some pretty great food destinations: Morocco, Italy, China and India to name a few. But it was on a recent trip to Bali that I really became more excited about the connections between food and beer," Dobson said. "I'm not saying don't drink wine. Wine is a much better partner with some acidic foods, especially tomato-based sauces, but nothing cuts through a salty fried or fatty food like the bubby fresh fizz of a cold beer."
And by the way, the book would make a perfect gift for Dad …. with a pale ale or two.
SHREDDED DUCK PANCAKES
Makes 12
60 ml (2 fl oz/¼ cup) dark soy sauce
1 tablespoon soft brown sugar
2 spring onions (scallions) cut into 3–4 cm (1¼–1½ inch) lengths
3 garlic cloves, crushed
5 thin slices fresh ginger
2 star anise
1 cinnamon stick
2 duck breast fillets, skin on
12 ready-made Peking duck pancakes, from Asian food stores
hoisin sauce, cucumber batons and spring onion (scallion) batons, to serve
Preheat the oven to 150∞C (300∞F). Put the soy sauce, sugar, spring onion, garlic, ginger, star anise and cinnamon in a small ceramic baking dish or ovenproof saucepan.
Sit the duck breasts in the dish, cover tightly with foil and bake for 3 hours. The duck meat should be fork-tender and easy to shred.
Reserving the braising liquid, peel the skin off each duck breast, in one piece. Place the duck skin on a baking tray lined with baking paper. Increase
the oven temperature to 240∞C (475∞F) and roast the skin for about 10 minutes, or until dark and crisp. Allow the skin to cool, then break or slice into thin strips.
Put the duck breast meat in a bowl with 60 ml (2 fl oz/¼cup) of the reserved braising liquid. Using two forks, finely shred the meat onto a serving plate.
To serve, take the pancakes and spread some hoisin sauce on each. Top with shredded duck, some cucumber and spring onion, then wrap the pancakes up. Serve with the crispy duck skin strips.
Serve with Tsingtao or any crisp, light lager.
Recipe and images from Food + Beer by Ross Dobson, published by Murdoch Books. Reproduced with permission of Murdoch Books.
This post was originally published in PS News online.