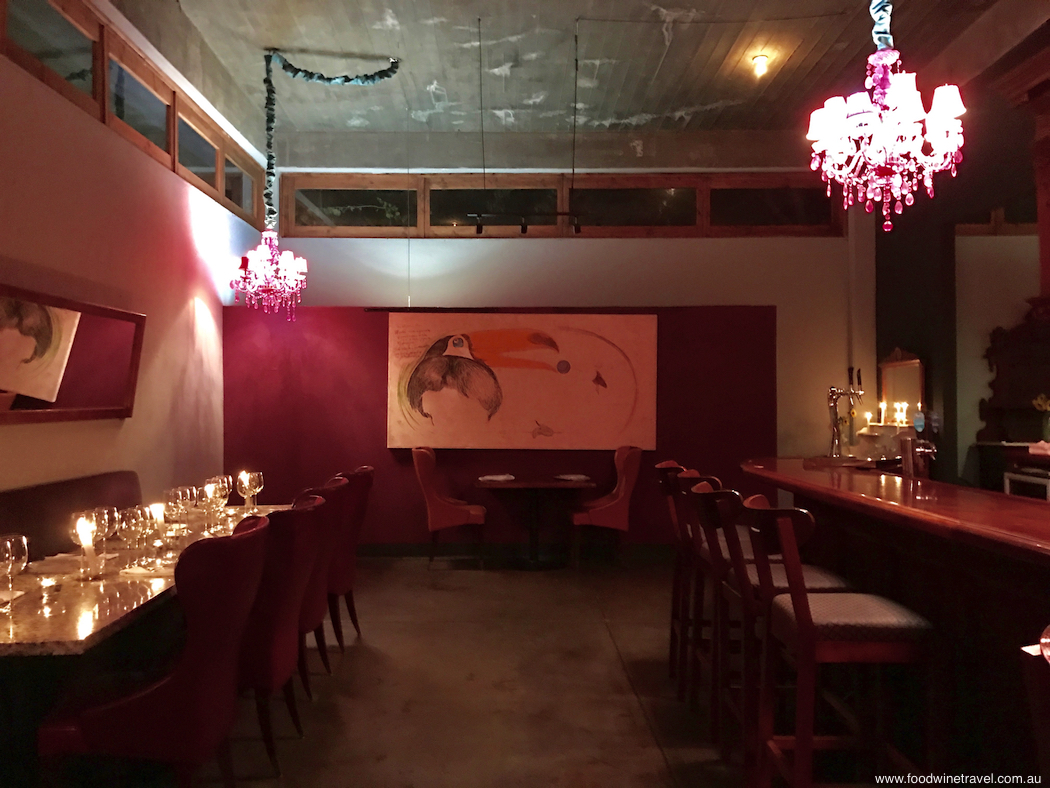 If there's one thing that surprised us about the restaurants we dined at during our visit to Baja California, it was their level of sophistication. Nowhere was this more so than at Manzanilla, a truly outstanding restaurant in the coastal city of Ensenada.
First appearances are deceiving. It's located in the port area and arriving here at night is like stepping into the wilderness. It's dimly lit, all industrial looking, and lacking any signs of life. Which I guess makes crossing the threshold even more dramatic than it would otherwise be.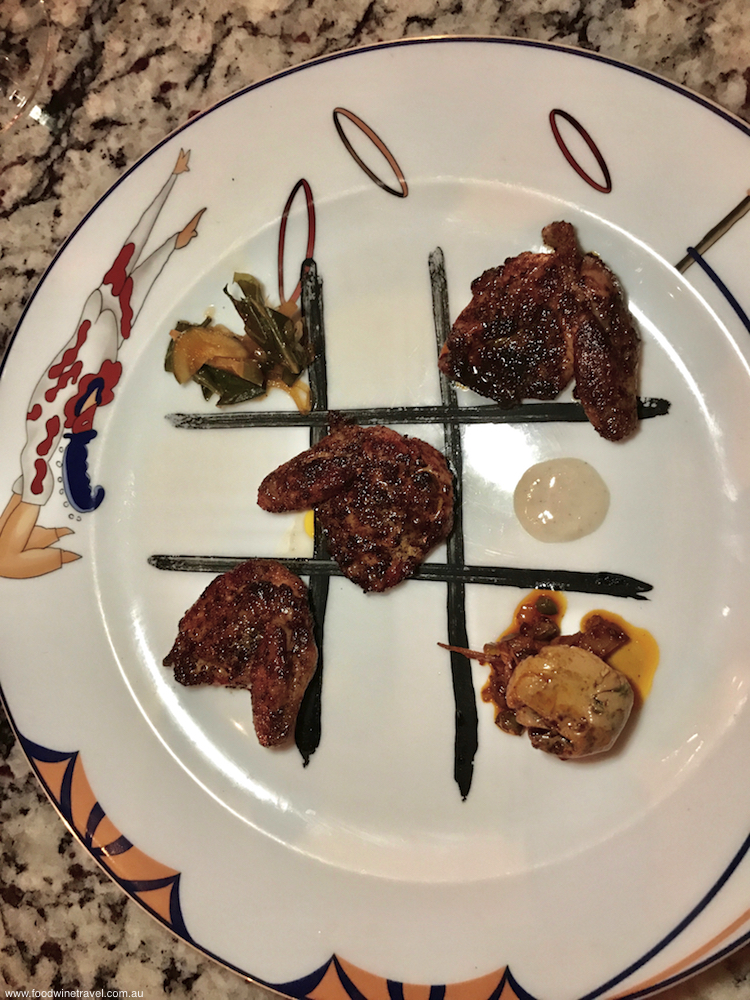 Inside, the restaurant is truly sumptuous; dark and moody with hot pink chandeliers and wingback chairs. The marble tables are beautifully set with candles and fine stemware. The eyes are immediately drawn to a long, striking mahogany bar dating from the 1930s. Owners Benito Molina and Solange Muris brought the bar with them when they relocated from their original location on Riveroll Avenue.
A celebrity duo on the Mexican series of MasterChef, the pair founded Manzanilla in 2000. The restaurant has since become a celebrated temple of gastronomy, listed as one of the best restaurants in the country by publications both within Mexico and abroad. In the esteemed San Pellegrino list, it has been named as one of the 50 best restaurants in Latin America.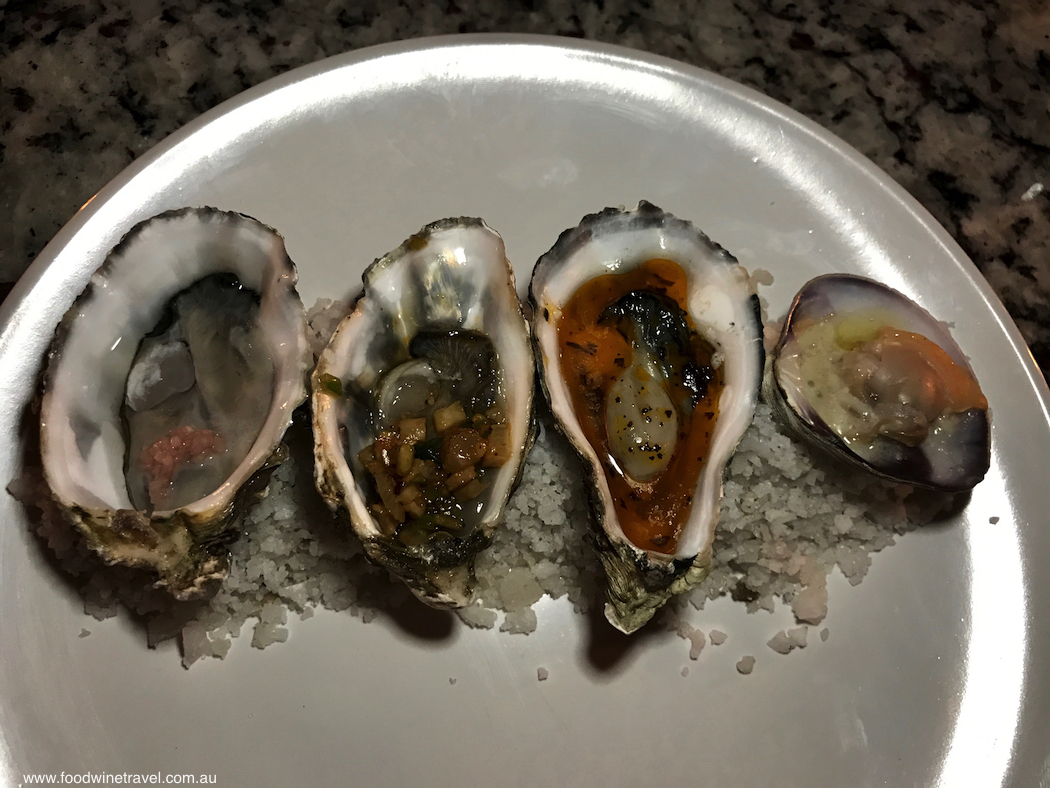 Their cuisine marries Mexican styles, flavours and textures with Mediterranean influences, in an emerging regional style that is referred to increasingly as Baja Med. But what really sets their cuisine apart is the finesse with which the dishes are created, and their spectacular presentation.
The pair describe the essence of their cuisine as "fresh ingredients, the best seafood in Mexico, the best wine in the country, and the best olive oil". They use mostly local ingredients, and organic wherever possible. The region's seafood is certainly impressive.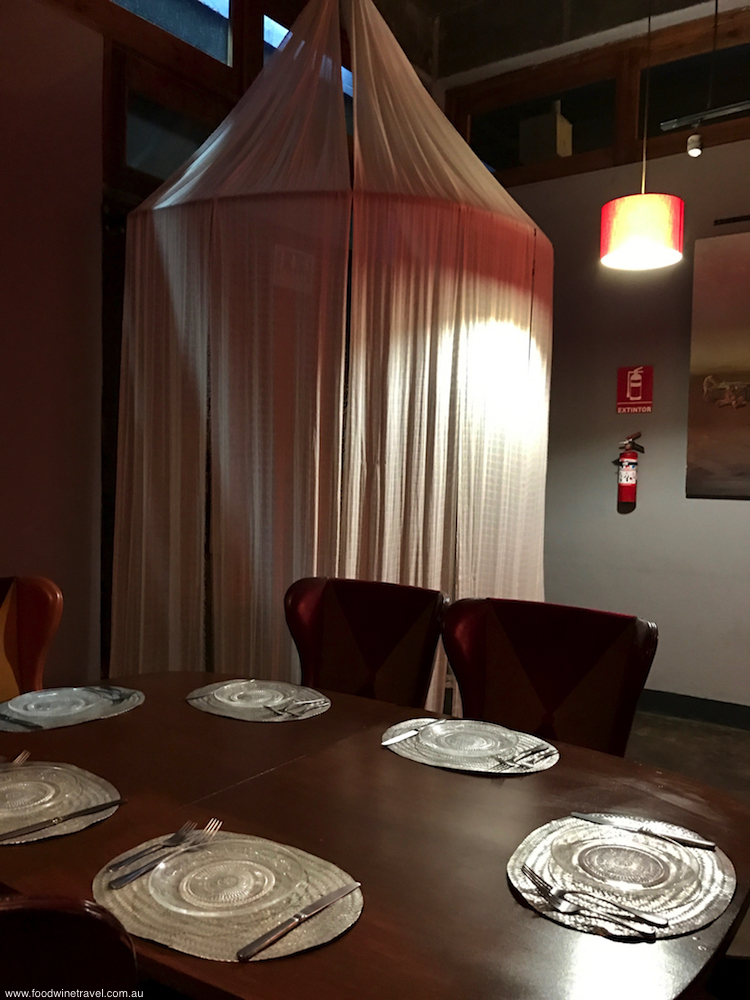 We enjoyed a six-course tasting menu that highlighted the bounty available in Baja waters, including Kumamoto oysters, abalone and chocolate clams. Coupled with fabulous produce from the surrounding Valle de Guadalupe, this was an exciting and at times even playful menu.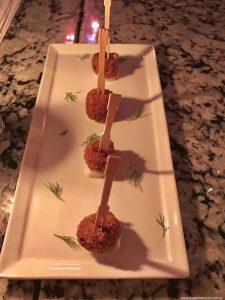 After a hangar steak 'lollipop' amuse-bouche, served with a fruity Monte Xanic Chenin Colombard, we moved onto the first course, a ceviche of fish with raspberry vinaigrette and local olive oil.
Baja is known for its oysters, and as avowed oyster lovers we were thrilled to try the local offerings, served in a variety of ways, with mignonette, raw with pig's feet salad, and grilled with crisp fried spinach. They were accompanied by a dainty clam with gorgonzola cheese.
The third course of abalone was served two ways, one with a white wine-infused tomato sauce, and the other with soy sauce and ginger. Adobe Guadalupe Uriel 2015 Rosé was a wonderful match for this duo, which was followed by another amuse-bouche, a shot glass of mussel cream.
There were gasps of delight at the presentation of the fourth dish, a tic tac toe of quail with a dollop of kimchi and squares of squid ink painted on the plate. Baron Belché 2013 Reserv, a blend of Cabernet Franc, Merlot, Syrah, was a bold accompaniment for the quail and for the black bean puree and green tomato broth that garnished the next dish, yellowtail fish.
What a high to end on: local fresh cheese ice cream on a pureé of sweet potato with little dollops of caramelized oats and caramel.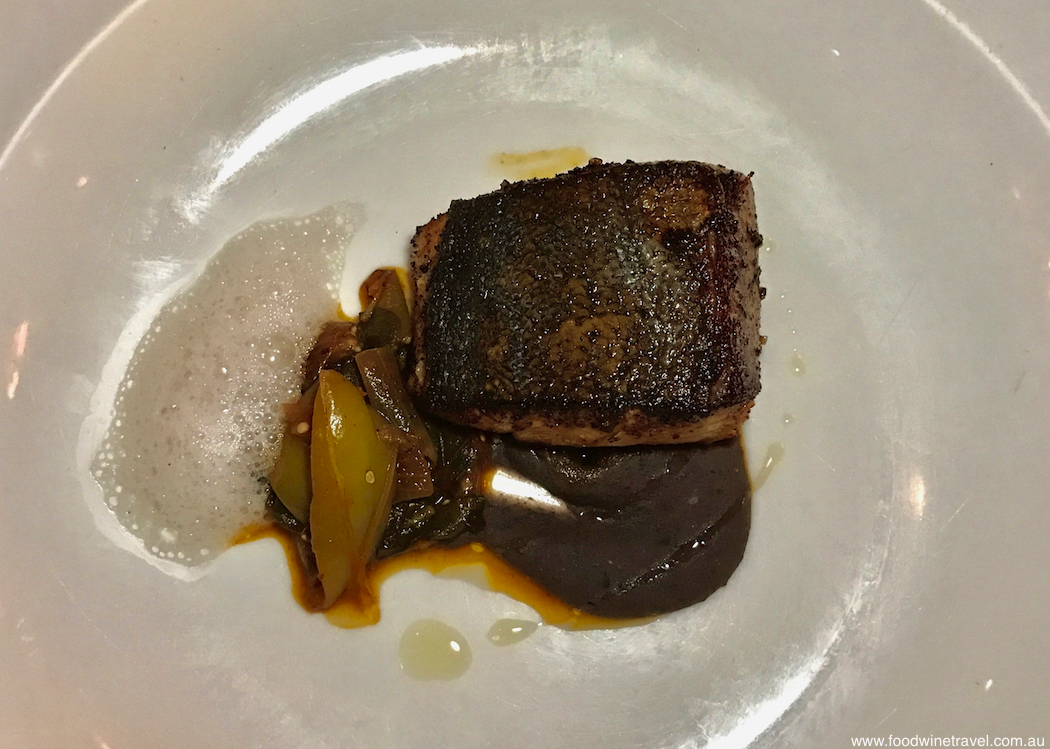 Ensenada is the gateway to the Valle de Guadalupe, Mexico's leading wine region, where the quality of the wine has gone ahead in leaps and bounds over the past decade. Not surprisingly, Manzanilla has a wonderful selection of local and imported wines on offer. We also enjoyed what are almost certainly the finest lemon margaritas we've ever tasted.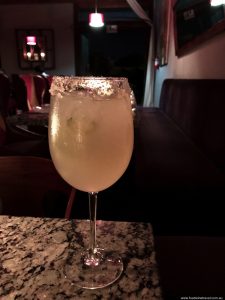 Benito learnt many of his seafood techniques in Brittany, France, where he went at the suggestion of his mentor, Michel LeBorgne, who he had met at the New England Culinary Institute. A graduate of the institute, Benito worked with chef Todd English at Olives before returning to Mexico, where he met Solange.
Solange is a graduate of Central Piedmont Culinary College in Charlotte, North Carolina, and was formerly head chef at La Esquina de Bodegas in Ensenada. Together they have cooked at events with some of the world's best chefs, including Danish chef René Redzepi and Spanish chef Juan Mari Arzak.
In addition to Manzanilla, the Molina-Muris have a rustic dining room, Silvestre, that opens during the summers in Valle de Guadalupe. Dishes cooked in a wood-fired oven are the speciality there.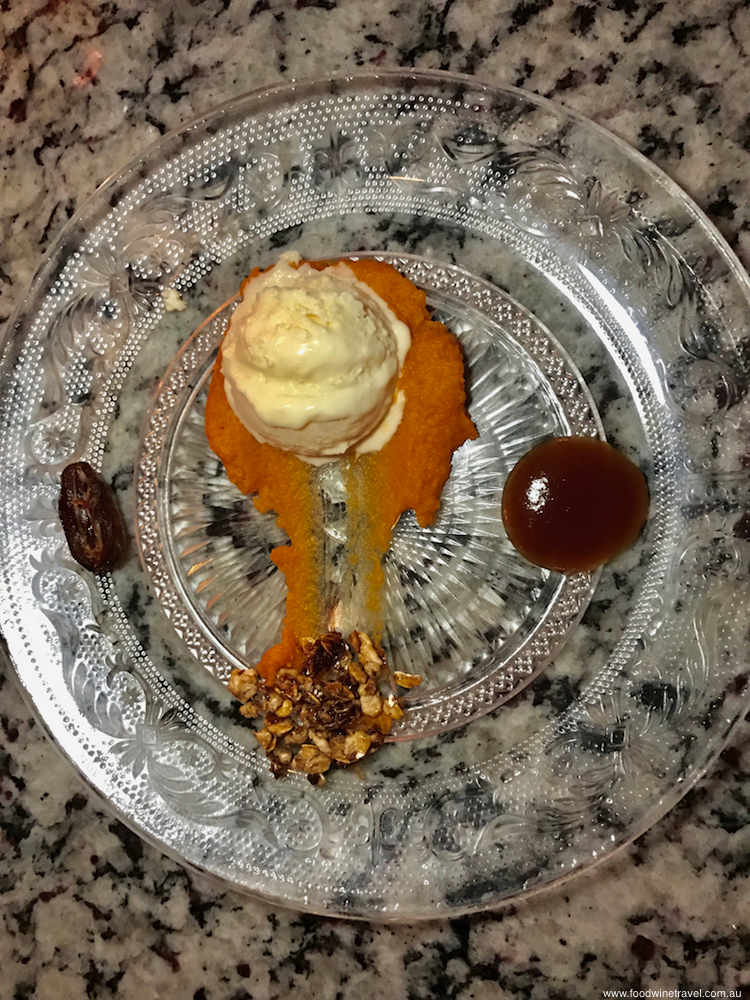 If you go:
Manzanilla
Teniente Azueta 139, Recinto Portuario,
22800 Ensenada, Baja California
Mexico
Reservations: +52 646 175 7073
www.rmanzanilla.com
Christine and Maurie were hosted at Manzanilla by the Ministry of Tourism of Baja California.