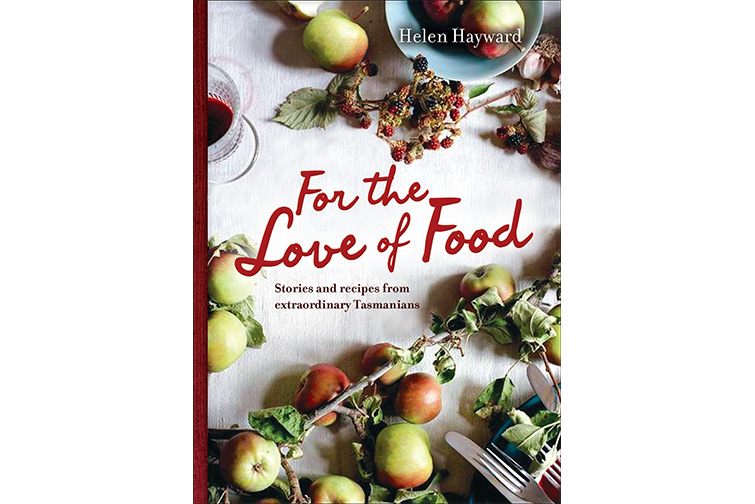 This is the book I would like to have written myself. For the Love of Food, published by Explore Australia, is everything I love in a cookbook, with wonderful stories about talented and dedicated food producers who are succeeding in bringing beautiful, fresh food to our tables.
Author Helen Hayward must be thrilled with the way her vision has been translated into reality, for it's a beautifully presented book, with a thick padded cover, thick pages and a fashionably vintage/homespun feel. It's as lovely to look at as it is to read.
That the producers featured in the book are all from Tasmania is almost by the by, for their stories resonate with foodies everywhere, although the island state does seem to have a disproportionately high number of people who are creating beautiful food and wine.
Its fantastic food festivals, cooking schools, restaurants, wineries and fisheries are all evidence that food and Tasmania are inextricably linked. For the Love of Food is testament to that.
Tasmanian food producers
Hayward was working on a Tasmanian lifestyle magazine when she realised how many stories were waiting to be told. She meticulously interviewed the food producers and asked them for their recipes – the one featured here comes from Penelope Dodd, founder of the Produce to the People network.
Some of the subjects are household names, others are quiet achievers, but all have played some part in enlivening the Tasmanian food scene. From curating feasts at MONA, to teaching the next generation about eating sustainability, each contributor shares engaging and frank stories that inspired their love of food.
Food writer and Gourmet Farmer Matthew Evans shares his treasured recipe for 2 4 6 8 Cake, Michelle Crawford her Early-Spring Strawberry Jam, Luke Burgess his Steamed oysters with aged apple cider dressing, and Ross O'Meara his Dry-cured Bacon.
The dish here is Penelope Dodd's favourite comfort food, and she says that depending on how much comfort she is in need of, she might add cream to the dish.
PENNE CON POLLO
Serves 2
180g penne
1 tablespoon olive oil
2 cloves garlic, finely chopped
2 free-range bacon rashers, cut into strips
2 skinless, free-range chicken thigh fillets, cut into bite-sized pieces
6 dried apricots, diced
a dollop of thick cream
Bring a large saucepan of water to the boil. Add the pasta and cook according to the packet instructions until al dente – usually 8 to 12 minutes.
Meanwhile, heat the olive oil in a frying pan and gently cook off the garlic for a few minutes, without browning. Add the bacon and chicken and cook, stirring, over medium heat for about 8 minutes, or until the chicken is nicely golden all over and cooked through. Add the dried apricots and cook for a few minutes to rehydrate them. Just before serving, mix in the cream until warmed through. Drain the pasta, mix the sauce through and serve.
Recipe from For The Love Of Food: Stories and recipes from extraordinary Tasmanians, by Helen Hayward. Published by Explore Australia.
Reprinted with permission of Jenny Macmillan PR.
This post was originally published in PS News online.