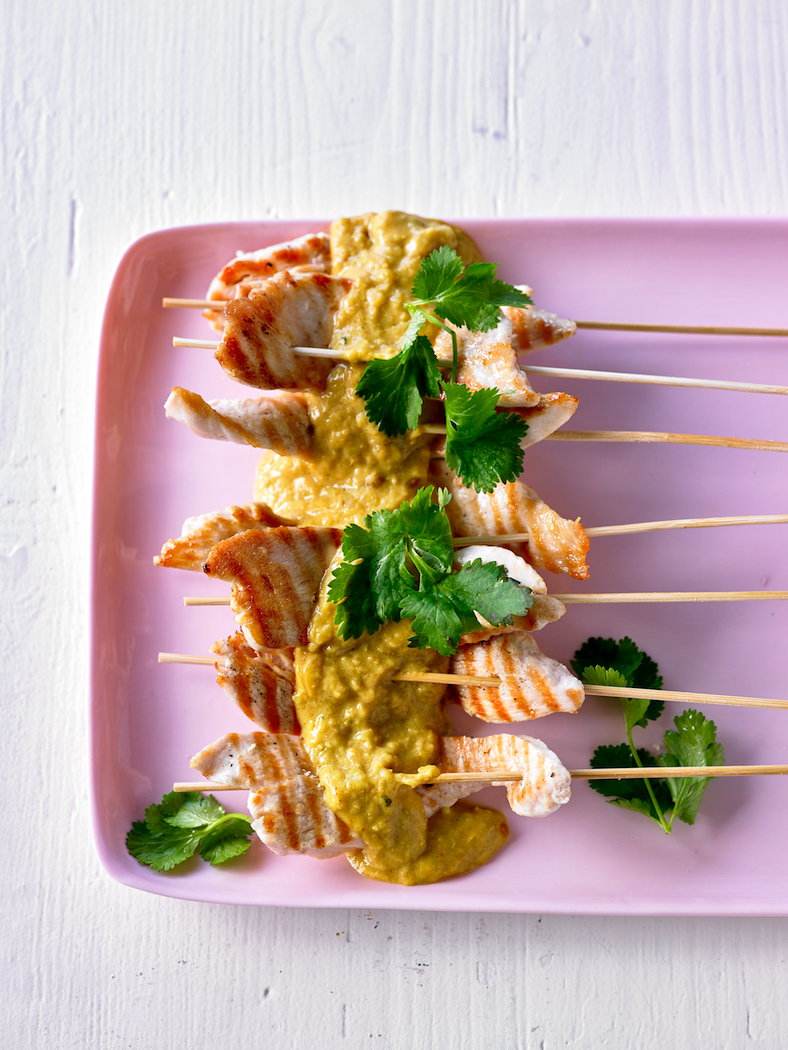 You probably don't want to hear this but it often takes longer to hop in your car and go down the road to buy takeaway than it does to cook the same dish at home. Although I'm sure everyone can relate to the feeling of being too tired and unmotivated to cook, the reality is that eating at home is cheaper, healthier and often faster than ordering takeaway.
And if it's the food, not just the convenience, that you love, Julie Goodwin has the answer to that with her latest book, Homemade Takeaway, published by Hachette Australia. It's full of all your favourite takeaway dishes, from Honey King Prawns and Chilli Caramel Pork to burgers, Southern Fried Chicken and Beef Vindaloo.
Goodwin, winner of the first Masterchef Australia TV series in 2009 and now a prolific cookbook author, is the mother of three strapping sons, so she knows all about the temptation of takeaway food. She also admits to loving a cheeky takeaway as much as the next person.
Burger recipes
But she also likes to know what goes into her family's food, and she says that while some takeaway is cheap, certain cuisines become very expensive when you are trying to feed a hungry horde. The 150 recipes in Homemade Takeaway cover Middle Eastern, Thai, Chinese, Tex Mex, Indian, Italian, Chicken Shop, Bakery and the Corner Store, the latter with fish and chips, salt and pepper squid, burgers and more – not just any burger but at least five different ones including an Aussie burger and an American-style cheeseburger.
Chicken Skewers with satay sauce are always popular, and in the recipe reproduced here, Goodwin cooks the chicken first and puts the skewers through the pieces after they're cooked. No soaking the skewers first, no burning and just as good to eat.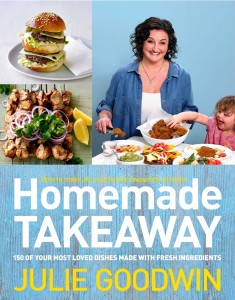 Buy this book from Book Depository.
Buy this book from Amazon
.
CHICKEN SKEWERS
Serves 4 as an entrée
¼ bunch coriander
1 brown onion
2 garlic cloves
1 long red chilli, seeded
zest and juice of 1 lime
2 tablespoons peanut oil
1 teaspoon ground turmeric
¼ teaspoon ground dried chilli
270ml tin coconut cream
½ cup crunchy peanut butter
1 tablespoon fish sauce
1 tablespoon brown sugar
2 x 200g chicken breast fillets, sliced across the grain, 5mm thick
Wash the roots and stems of the coriander, reserving the leaves, and place them in a food processor along with the onion, garlic, chilli and lime zest. Process until very fine.
Heat half the oil in a large non-stick frypan over a medium heat. Add the onion mixture and fry until soft and fragrant. Add the turmeric and ground chilli and stir for a further minute.
Add half the coconut cream and the peanut butter and bring to a simmer. Simmer for 5 minutes. The sauce will split – this is OK.
Turn the heat to low and add the fish sauce, brown sugar and half the lime juice. Taste to see if the sauce needs any more of these three things. This is very dependent on personal taste. Stir in the rest of the coconut cream, taste again and adjust the seasoning if need be. Remove from the heat.
Heat a barbecue grill or a grill plate on the stove to a high heat. Toss the chicken pieces through the remaining oil and place them on the grill. Allow to cook without moving or turning them for about 2 minutes. Turn and cook for a further minute on the second side. You should have lovely char marks on the chicken. Remove to a plate and push a bamboo skewer lengthways through each piece. Let them rest under foil. When it is time to serve the skewers, gently heat the sauce. Pour over the skewers and scatter with coriander leaves.
Recipe and image from Homemade Takeaway by Julie Goodwin. Published by Hachette Australia and reproduced with permission of Hachette Australia.
This post was originally published in PS News online.