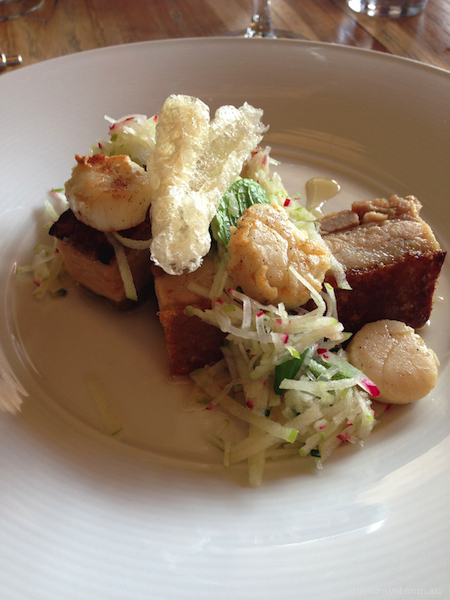 Jason Coats is a keen surfer who liked going to Bali so much that he tried to create the same feeling at The Jetty, the restaurant he opened in Brisbane's South Bank.

The Jetty overlooks the river towards the city and while the view is hardly like gazing out over Kuta or Seminyak, there's a beachside vibe in the timber and stone décor, the breezy open-air dining and the cushioned daybeds where you can lounge with a cup of coffee, a cocktail or a glass of wine.

Jason and Katie Coats also have The Jetty Oxford in Bulimba, and they replicated its relaxed yet stylish ambience when they opened The Jetty South Bank in 2011.

Damien Styles, who grew up with Jason in Noosa and has worked in leading Noosa, Sydney and Melbourne restaurants, recently came on board as head chef. He has introduced some Indonesian accents on the menu, including the classic Nasi Goreng with Chicken Skewers and Peanut Satay, the recipe for which is at the bottom of this post.

I dined at The Jetty at one of our regular ASTW get-togethers this week and loved my dish of Sticky pork belly served with seared scallops, julienned apple and radish, and a drizzle of palm sugar caramel. Two wines were on offer, Vinaceous 'Sirenya' Pinot Grigio and Vinaceous 'Snake Charmer' Shiraz. If you haven't come across these, do seek them out as not only do they have some of the most outrageous labels you'll have ever seen, but the wine isn't half bad either.

The Pinot Grigio comes from the Adelaide Hills and the Shiraz from McLaren Vale. I opted for the red, which went beautifully with the pork belly. Dark, brooding and spicy with a hint of chocolate, it certainly wasn't going to be overshadowed by the cellulite-inducing (but wickedly delicious) pork belly.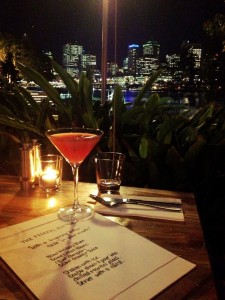 The Jetty is doing a couple of fun things that you should know about. For one, they're getting into the spirit of the looming election with The Federal Election cocktail, available until midnight on September 7.
Very much like the election campaign (ie. guaranteed to leave a lingering, bitter taste), thankfully the bitter taste is more enjoyable in this daring combination of Mt Gay Rum, Lillet Blanc, Campari and orange juice, shaken over ice and double strained into a chilled Martini glass.
On September 28, The Jetty has pole position when the skies light up with fireworks during Riverfire. The restaurant is doing a special 5-course menu with 3 hours of premium beverages for $180. The menu sounds divine!
The Jetty South Bank
River Quay, Sidon Street
South Bank, Queensland, Australia
Tel: +61 (0)7 3844 8838
www.thejetty.net.au
Related post: South Bank, Brisbane.

NASI GORENG, CHICKEN SKEWERS & PEANUT SATAY RECIPE
Serves 6
900g chicken breast & thigh meat, cubed
olive oil
600g cooked white rice, cold
1-2 tablespoons sweet soy sauce
sea salt & freshly ground black pepper
6 eggs
Spice Paste:
5 golden shallots, roughly chopped
3-5 long red chillies, depending on size
½ teaspoon dried shrimp paste
2 kaffir lime leaves
Peanut satay sauce, warm to serve
55g (½ cup) Asian fried shallots
1 continental cucumber, seeded & thinly sliced, to serve
3 garlic cloves, roughly chopped
1 large tomato, diced
2 candlenuts or chestnuts
100ml vegetable oil
Thread chicken meat onto bamboo skewers, cover & refrigerate until required. For the spice paste, put all ingredients in a food processor & blend to form
a smooth paste. Heat some olive oil in a non-stick pan over medium heat. Add spice paste & sauté for several minutes until the paste is fragrant & thoroughly cooked. Add rice & sweet soy sauce & continue to cook, stirring frequently, until rice is heated through. Keep warm.
Heat a large heavy-based frying pan over high heat. Brush chicken skewers with olive oil & season. Put chicken in the hot pan & cook for 4-5 minutes, turning frequently so they cook evenly. Fry the eggs sunny-side up.
To serve, divide nasi goreng among serving plates then top with a fried egg. Arrange two chicken skewers alongside & drizzle with the warm peanut satay. Scatter over the fried shallots & cucumber slices.
Recipe courtesy of The Jetty South Bank, Brisbane.