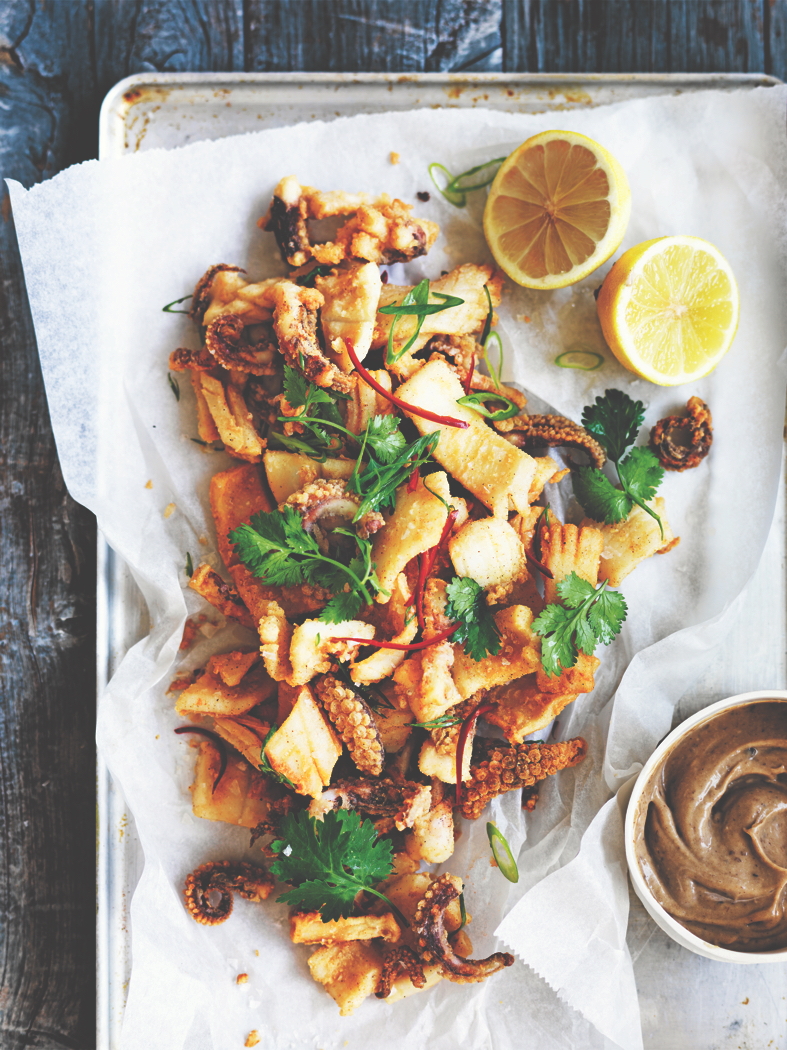 Note to self: make sure I get acquainted with Three Blue Ducks real soon. The Bronte café restaurant was born in 2007 and has become a Sydney institution. In 2015, the team behind the venture opened Three Blue Ducks Byron, a restaurant and produce store on a biological farm near Byron Bay.
Their food is bursting with flavour and goodness, and very much driven by fresh, local produce, much of it home grown. That's exactly the style of food I enjoy and so it goes without saying that their restaurants are high on my wish list of places where I want to eat.
Darren Robertson and Mark LaBrooy are chefs, surfers, gardeners and foragers, and the ethos of community and sustainability guides everything they do. The old chicken shop that became their Bronte café had a backyard that they transformed into a vegetable garden. These days they also produce eggs from their own chooks, honey from their own bees, grow their own herbs and vegetables, and raise beef and pigs on the farm in northern NSW.
They use sustainable seafood and humanely raised meat, declaring on their website that although they don't pretend to be perfect, they always aim for organic, chemical-free, grass-fed and grass-finished meats.
There are no longer three but actually five Ducks involved in the venture, with Sam Reid, Chris Sorrell and Jeff Bennett also working in the kitchen. And a democratic kitchen it is, as there is no head chef.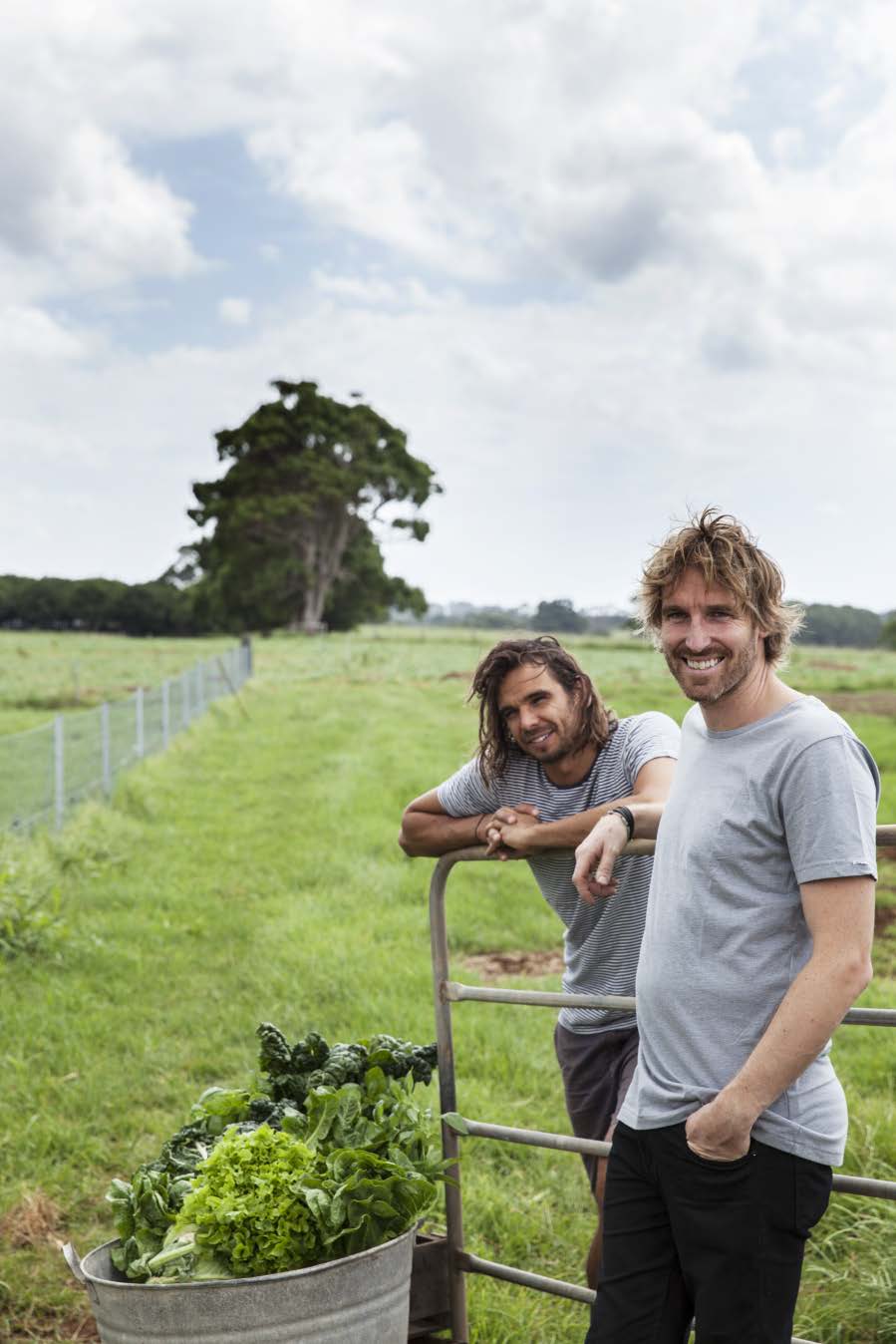 The Blue Ducks' Real Food is Darren and Mark's second book – an earlier book, The Blue Ducks, was published a couple of years ago. Published by Plum/Pan Macmillan Australia, this latest one is a fresh take on cooking with wholefoods, with recipes based around whole grains, free-range meat, sustainable seafood, fresh fruit and vegetables, nuts and seeds.
It's all good wholesome food and positively delicious, with recipes such as Homestyle brisket with coffee spice rub (the "ultimate barbecue cut"), Barbecued Prawns with charred kale and avocado puree (a dish created for the Ballina Prawn Festival which won the people's choice award for the prawn dish of the day) and a very scrumptious Choc-Orange Bread and Butter Pudding.
There's a series of how-to sections showing you how easy it is to create everything from almond milk and your own nut butters, to poaching eggs, making yoghurt, and preparing and cooking crab. You'll find instructions on cooking with spices (you can't beat a good curry night), using secondary cuts of meat, simple ways to cook whole fish, and how to make cold-pressed juices.
Because they hate food going to waste, there's also an interesting section devoted to preserving food, with recipes for sauerkraut, kimchi, smoked salmon, beef jerky, chutneys, fruit vinegars and real lemonade.
So all in all, The Blue Ducks' Real Food is a very practical book with recipes that are not complicated but big on wow factor. The dish here is easy, impressive and perfect for summer.
Buy this book from Book Depository.
Buy this book from Amazon.
SALT AND PEPPER SQUID WITH BLACK GARLIC AIOLI
Serves 4
4 large squid, cleaned, tentacles kept
1.5 litres frying oil (canola or cottonseed, you can even use coconut)
350 g plain flour
55 g salt flakes
1½ tablespoons ground black pepper
1 teaspoon sweet paprika
1 teaspoon chilli powder (optional)
2 long red chillies, deseeded and julienned
½ bunch of coriander, leaves picked
¼ bunch of spring onions, green part only, finely sliced on an angle
2 lemons, halved
Black garlic aioli:
2 egg yolks
2 teaspoons Dijon mustard
2 tablespoons white vinegar
250 ml grapeseed oil
½ black garlic bulb, base sliced off and cloves squeezed out
½ teaspoon squid ink (optional)
juice of ½ lemon (optional)
salt flakes and freshly
ground pepper
To make the aioli, add the yolks, mustard and vinegar to a food processor and process for 2 minutes. Slowly start adding the oil while processing, as it emulsifies the mix will thicken considerably. After you've added two-thirds of the oil, add the garlic and squid ink (if using) while processing. If the aioli is runny, keep adding oil; if it's too thick, add a little lemon juice. Season to taste.
Using a sharp knife, score the squid tubes in a crisscross pattern partially into the flesh (this will help it curl up when fried) and cut into bite-sized pieces – just skip the scoring step if you don't feel confident with your knife skills. Separate the tentacles and cut into manageable lengths.
Heat the oil in a large wok or saucepan over high heat until 180–190°C. Mix the flour, salt, pepper, paprika and chilli powder (if using) in a large bowl. Toss the squid in the flour mix, giving it a good coating. Dust off lightly and carefully lower into the hot oil – do this in small (perhaps three) batches, as the oil temperature will drop if you try to cook it all at once. Cook for 2–3 minutes, depending on the size of the squid, being careful not to cook it for too long, as it will become rubbery. Drain on paper towel.
Plate the squid, scatter over the fresh chilli, coriander and spring onion, and serve with the aioli and lemon wedges on the side. Any leftover aioli will keep in the fridge for 4 to 5 days. Use it in chicken sandwiches, drizzled over a tray of roasted vegetable with fresh herbs or, of course, for more salt and pepper squid.
Recipe and images from The Blue Ducks' Real Food by Darren Robertson and Mark LaBrooy, published by Plum/Pan Macmillan Australia and reproduced with permission of Pan Macmillan Australia.
This post was originally published in PS News online.