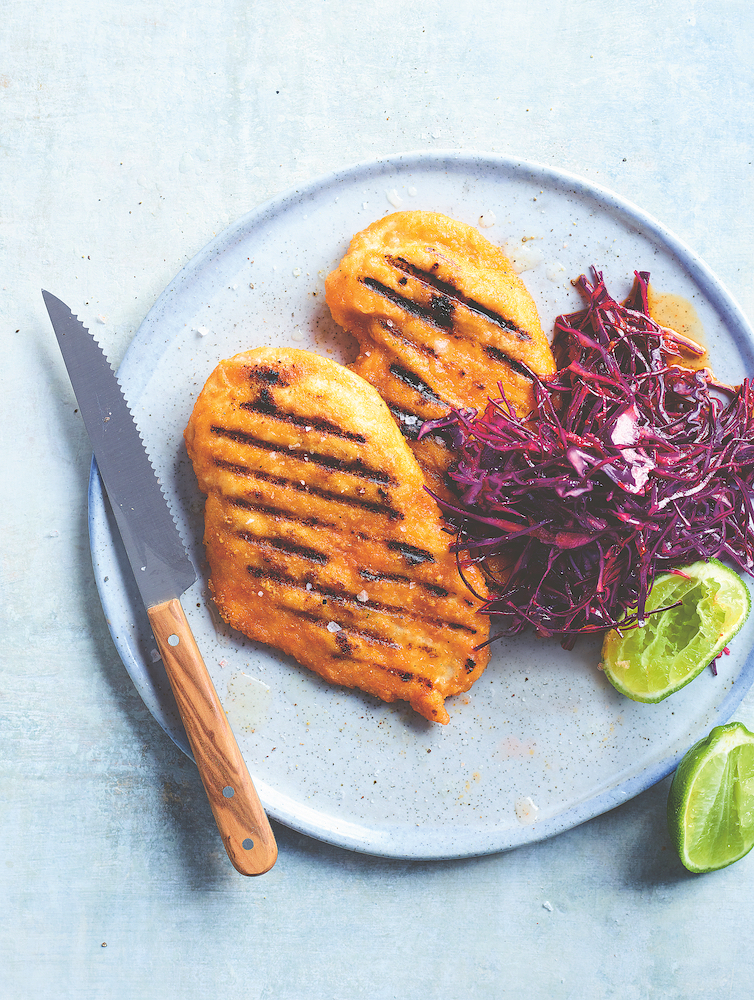 Whether Aussies are getting together in their backyard, the local park or at the beach, the barbecue is always a central feature. It holds a special place in our hearts, as Luke Hines says in Barbecue This!, published by Plum / Pan Macmillan.
The nutritional therapist, personal trainer and finalist on My Kitchen Rules has authored 12 cookbooks with a focus on health and wellness. His mission from the start has been to celebrate 'real' food and to show people that healthy food is delicious food.
Barbecue This! is a continuation of that theme. "It doesn't get any more real than cooking outdoors on an open flame, where there is no need to complicate things or trick anything up," says Hines. "It is about honest, simple cooking that celebrates the produce, adds incredible texture and delivers a depth of flavour to food that cannot be found elsewhere."
The book delivers with an irresistible selection of vibrant, flavour-packed recipes, from skewers, burgers, steaks, seafood and hearty roasts, to an abundance of veges, salads, zingy marinades, dressings and rubs to mix and match.
Full of colour, spice and flair, the recipes are perfect for both busy weeknights and for entertaining – in short, there's no excuse for not grabbing the tongs and cranking up the barbie every night of the week.
The recipe here is called a cheat's schnitty because it doesn't require the usual shallow-frying method that most schnitzel recipes suggest. Hines says the crumbing mixture really crisps up nicely and he loves the char lines that come from using the barbecue grill. We also love his recipe for Zesty Apple and Watermelon Salad.
"Each meal you create should be easy, look fantastic and taste incredible," he says in the introduction to Barbecue This! Here's cheers to that.
---
Buy your copy of Barbecue This! from Book Depository (free delivery worldwide).
Buy your copy of Barbecue This! from Australian-owned Booktopia.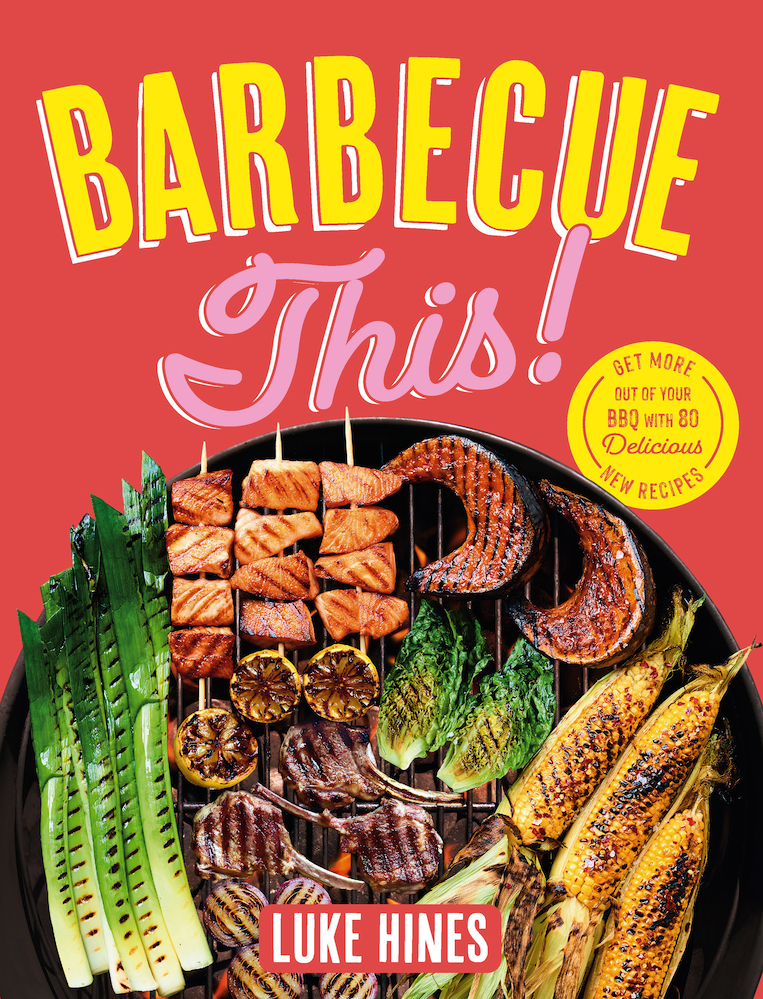 ---
Cheat's Schnitty and Slaw
Serves 4
2 x 300 g chicken breasts, halved widthways
100 g (1 cup) almond meal
60 g (½ cup) arrowroot flour
1 teaspoon chilli powder
1 teaspoon sea salt
125 ml (½ cup) extra-virgin olive oil
lime wedges, to serve
RED CABBAGE SLAW
juice of 1½ limes
2 teaspoons honey, maple syrup or monk fruit syrup
1 garlic clove, crushed
½ teaspoon ground cumin
½ teaspoon smoked paprika
3 tablespoons extra-virgin
olive or avocado oil
sea salt and freshly ground black pepper
½ red cabbage, finely shredded using a mandoline
For the red cabbage slaw, combine the lime juice, sweetener of choice, garlic, cumin and paprika in a mixing bowl. Slowly add the oil as you whisk the dressing and season well with salt and pepper. Add the cabbage and set aside for 15 to 20 minutes to allow the cabbage to absorb the flavours and soften slightly.
Preheat the barbecue grill to medium-hot.
Place the chicken breast pieces on a chopping board and pound each of them to 1–1.5 cm thickness. They don't have to be perfectly even in thickness, but make sure they aren't any thicker than 1.5 cm so they cook all the way through.
Lay out two shallow bowls and a tray for holding the raw, crumbed chicken. Place the almond meal, arrowroot flour, chilli powder and salt in one bowl and mix. Pour the olive oil into the other bowl.
Dip a chicken breast piece into the olive oil to coat it all over. Lift it out and let most of the oil drip off until you have a fairly thin coat. Move the chicken to the crumbing mixture and press it in so it sticks well, then lay the crumbed chicken on the tray. Repeat with the remaining pieces.
Grill the chicken for 6 to 8 minutes, turning once halfway through, until cooked through and golden brown on the outside with lovely char lines. Season well and serve with the red cabbage slaw and some lime wedges.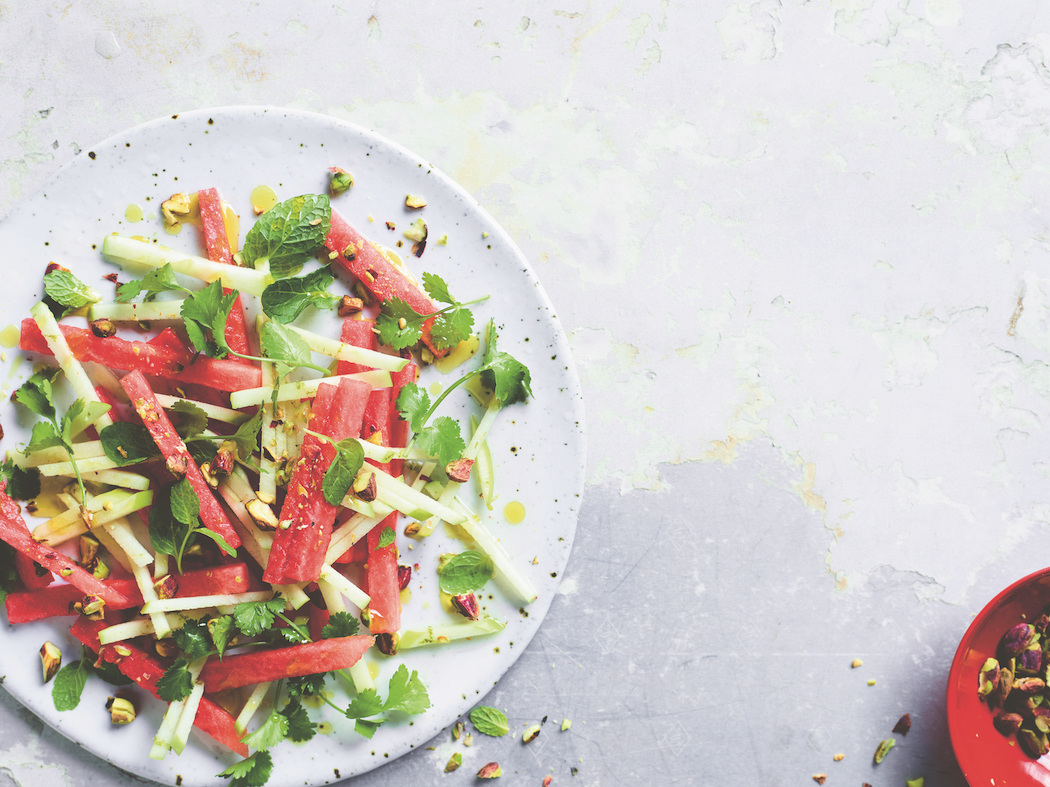 Zesty Apple and Watermelon Salad
Serves 4
3 golden delicious or granny smith apples, cored and cut into batons
800 g seedless watermelon, rind discarded and flesh cut into batons
finely grated zest and juice of 2 lemons
2 tablespoons apple cider vinegar
2 tablespoons extra-virgin olive or avocado oil, plus extra for drizzling
1 cup loosely packed coriander leaves
1 cup loosely packed mint leaves
3 tablespoons unsalted pistachio kernels, toasted and roughly chopped
sea salt and freshly ground black pepper
Recipes and images from Barbecue This! by Luke Hines, Published by Plum, RRP $39.99, Photography by Mark Roper. Reproduced with the publisher's permission.
This story originally appeared in PS News.