Low & slow … that's my mantra for winter cooking.
It's also the title of a lovely book from Smith Street Books. Low & Slow: Comfort Food for Cold Nights is a delicious collection of winter-warming recipes from Sydney food stylist, Louise Franc.
It's during this time of year that the art of slow cooking comes into its own. Salads and stir fries no longer seem as appealing. Instead, we crave heartier dishes and comfort food – rich and fragrant curries, succulent braises and soups, and meat so tender you could cut it with a spoon.
"Low and slow" refers to the cooking method used throughout this book – low temperature cooking for a long period of time, either in the oven or on the stovetop, which helps to add a great depth of flavour and tenderness to dishes. Many of the recipes are one-pot dishes, so once you've popped it in the oven or on the stovetop, you can relax and let time do all the work for you. Most of the recipes could also be adapted to a slow cooker if you have one.
There are lots of classics in the book – beef bourguignon, braised lamb shanks, pulled pork, coq au vin, osso buco, lasagne, and a duck cassoulet which will definitely grace our table on Bastille Day. You'll also find recipes for hearty soups, slow-cooked barbecuing classics, Indian curries and tagines.
And because no slow-cooked meal is complete without something sweet to finish on, there are some scrumptious desserts – rich chocolatey steamed puddings, crumbles and baked fruits – to enjoy.
!! Buy Low & Slow: Comfort Food for Cold Nights from Book Depository, with free delivery worldwide !!
Food Wine Travel gets a small commission on purchases through this link but it doesn't cost you any extra.
ASIAN-STYLE STICKY LAMB RIBS
Serves 4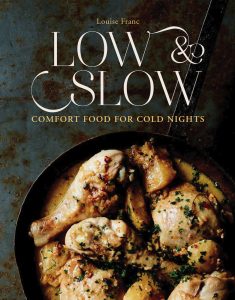 2 x 800 g (1 lb 12 oz) racks of lamb ribs
3 garlic cloves, crushed
2 tablespoons peeled and grated fresh ginger
1 long red chilli, finely chopped
60 ml (2 fl oz/¼ cup) kecap manis*
2 tablespoons oyster sauce
2 tablespoons dark soy sauce
2 tablespoons palm sugar (jaggery)
1 teaspoon sesame oil
juice of 2 limes
2 lemongrass stalks
2 star anise
4 spring onions (scallions), sliced finely
1 tablespoon sesame seeds, toasted
steamed jasmine rice, to serve
steamed bok choy, to serve
*Kecap manis is a dark, thick, sweet Indonesian soy sauce.
Preheat the oven to 130°C/265°F (fan-forced).
Find a baking dish large enough to hold both racks of lamb; each lamb rack can be cut in half, if required, to fit your baking dish.
In a small bowl, combine the garlic, ginger, chilli, kecap manis, oyster sauce, soy sauce, palm sugar, sesame oil and lime juice. Brush the mixture over the lamb, then transfer the lamb to the baking dish.
Discard the dry leafy tops from the lemongrass stalks. Bruise the white stem of each one with the back of a knife, then cut each lemongrass stem into three pieces. Add to the baking dish with the star anise.
Cover the dish tightly with baking paper and a sheet of foil. Transfer to the oven and bake for 2 hours. Carefully remove the paper and foil, then turn the ribs over. Seal up tightly again, then bake for a further 1 hour.
Remove the lamb from the oven. Leave to cool slightly, then use a sharp knife to cut the lamb into segments between the ribs.
Serve on a platter, sprinkled with the spring onion and toasted sesame seeds, with steamed rice and bok choy alongside.
Recipe and images from Low & Slow: Comfort Food for Cold Nights by Louise Franc. Published by Smith Street Books.
This story originally appeared in PS News online.