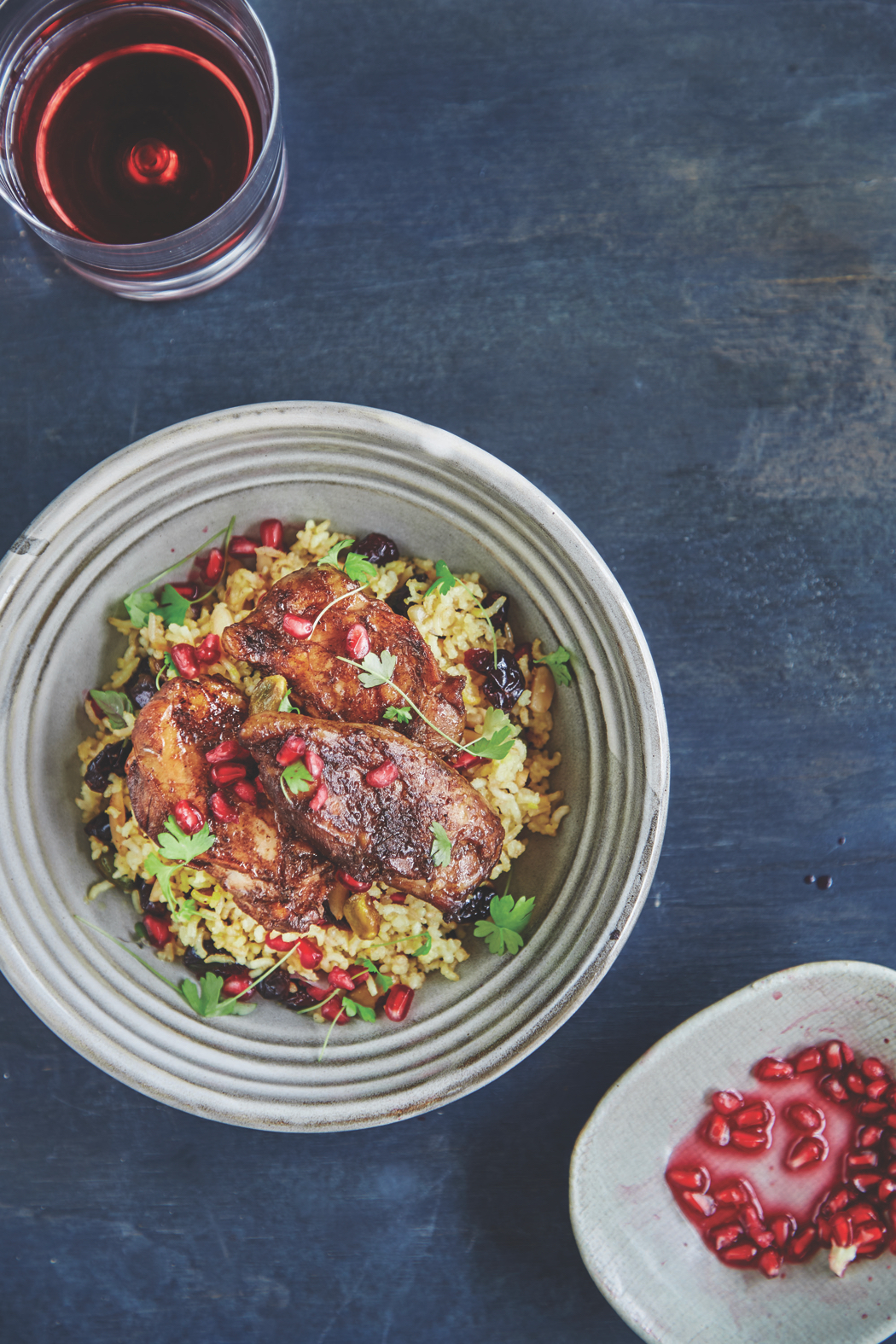 "To me, eating a whole food diet is simply to enjoy real food, that is, ingredients in their most natural state," says Anna Lisle, author of Whole Food, Bowl Food, published by New Holland.
Lisle grew up on a sheep and cattle farm in rural Australia and in 2016 moved to London where she works as a food writer and recipe developer. An avid Instagrammer and blogger (www.annalisle.com), her recipes reflect her personal food philosophy of eating natural, wholesome and unprocessed foods.
In December 2015, she produced her first cookbook, Bowl & Fork, and she says the response was so humbling and the process of developing and writing the recipes so rewarding that she tinkered around with ideas before coming up with the concept for Whole Food, Bowl Food.
All the recipes in Whole Food, Bowl Food are gluten-free, and many are sugar- and dairy-free, not because Lisle is coeliac (she's not) but because it's the way she prefers to eat.
"I don't buy any gluten-free products, which are generally highly processed. I cook naturally gluten-free meals using whole food ingredients. Rather than refined sugar, I enjoy Mother Nature's source of sugar – fruit – in abundance. I'm not afraid of fat – I eat plenty of extra virgin olive oil, nuts, seeds and full-fat dairy."
Ingredients in their natural state
Nor does she forgo meat. "For me, eating a whole food diet is simply to enjoy real food, that is, ingredients in their most natural state – whole grains, full fat dairy, lean meats, seafood, nuts, seeds, fruit and vegetables."
As the book's title suggests, all the dishes can be enjoyed in a bowl, a way of eating that Lisle says is a "nurturing and grounding" way to enjoy food.
"There really is something so comforting about eating a meal in a bowl … the way you can happily nurse a bowl on your lap and scoop up just the right amount of each component of the dish – all while perched at the kitchen counter or curled up on the lounge."
Each dish combines flavours and textures that are easy enough to prepare on a busy weeknight, but special enough to be recreated to impress your friends. The Sticky Pomegranate Chicken dish here is a perfect example. This famous Iranian dish is usually served with barberries but they are difficult to source, so Lisle substitutes them with cranberries.
!! Buy Whole Food, Bowl Food from Book Depository, with free delivery worldwide !!
Food Wine Travel gets a small commission on purchases through this link but it doesn't cost you any extra.
STICKY POMEGRANATE CHICKEN WITH IRANIAN JEWELLED RICE
750 g (1 lb 10 oz) free range chicken thigh fillets, sliced lengthways into 3 even sized pieces
2 garlic cloves, finely chopped
1 teaspoon fresh ginger, finely grated
1 teaspoon sesame oil
3 tablespoons pomegranate molasses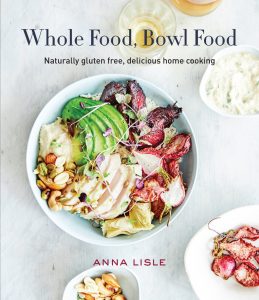 1 tablespoon tamari (or light soy sauce)
1 tablespoon extra virgin olive oil
IRANIAN JEWELLED RICE
150 ml (5 oz) coconut milk
250 ml (8 oz) water
200 g (7 oz) brown basmati rice, washed and rinsed
pinch of saffron (optional)
2 tablespoons butter or extra virgin olive oil (for dairy free)
2 tablespoons pistachio kernels
2 tablespoons slivered almonds
2 tablespoons cranberries, unsweetened
large pinch of ground cinnamon
large pinch of ground cardamom
large pinch of ground allspice
1 orange zest strip
seeds (arils) from 1 pomegranate
sea salt, to taste
Start by marinating the chicken. Place garlic, ginger, sesame oil, pomegranate molasses, tamari and oil in a bowl. Add chicken and toss to coat. Leave to marinate for at least 30 minutes or overnight if time allows.
To make the jewelled rice, place the coconut milk, water, basmati and saffron in a medium saucepan. Bring to the boil and stir to combine. Reduce heat to low, cover and simmer for 12–14 minutes. Remove from the heat and set aside, covered, for 5–10 minutes.
Meanwhile, melt the butter or oil in a medium frying pan. Add the pistachios, almonds, cranberries, spices and orange zest. Cook, stirring constantly, until fragrant, about 1 minute.
Once the rice has rested, remove the lid and fluff with a fork. Toss buttery nuts, cranberries, spices and zest through the rice. Set aside.
Heat a large frying pan to a medium temperature. Add chicken, in batches, and cook for about 5 minutes or until caramelized and just cooked through. Remove from the heat and allow to rest, about 3 minutes.
To serve, spoon the rice into bowls, top with chicken and, at the last minute, scatter with pomegranate arils.
Recipe and images from Whole Food, Bowl Food, by Anna Lisle, published by New Holland, and reproduced with their permission.
This story originally appeared in PS News online.