The fact that this hotel is called Ramada Hotel & Suites Ballina Byron says a lot, for although it is located in the heart of Ballina, it is so conveniently placed for visiting Byron Bay it wants to tell the world as much. Byron, after all, is more widely known, flashier, and more expensive too. You can't blame the Ramada for wanting to capture some of Byron's all-important tourist market.
Similarly, the regional airport is called Ballina Byron, although it is much closer to Ballina than it is to Byron. This is because it too is very much a hub for Byron and indeed the whole of the Northern Rivers region. I guess that's one of the most attractive aspects about this very comfortable hotel – there are so many amazing places to explore within a short drive in every direction.
Would you ever tire of the sun and the surf, the excellent seafood, the markets and restaurants, the whale and dolphin watching, the lush hinterland? I doubt it. And such was the convenience and spacious design of our one-bedroom suite at the Ramada, we could have quite happily moved in for the long haul.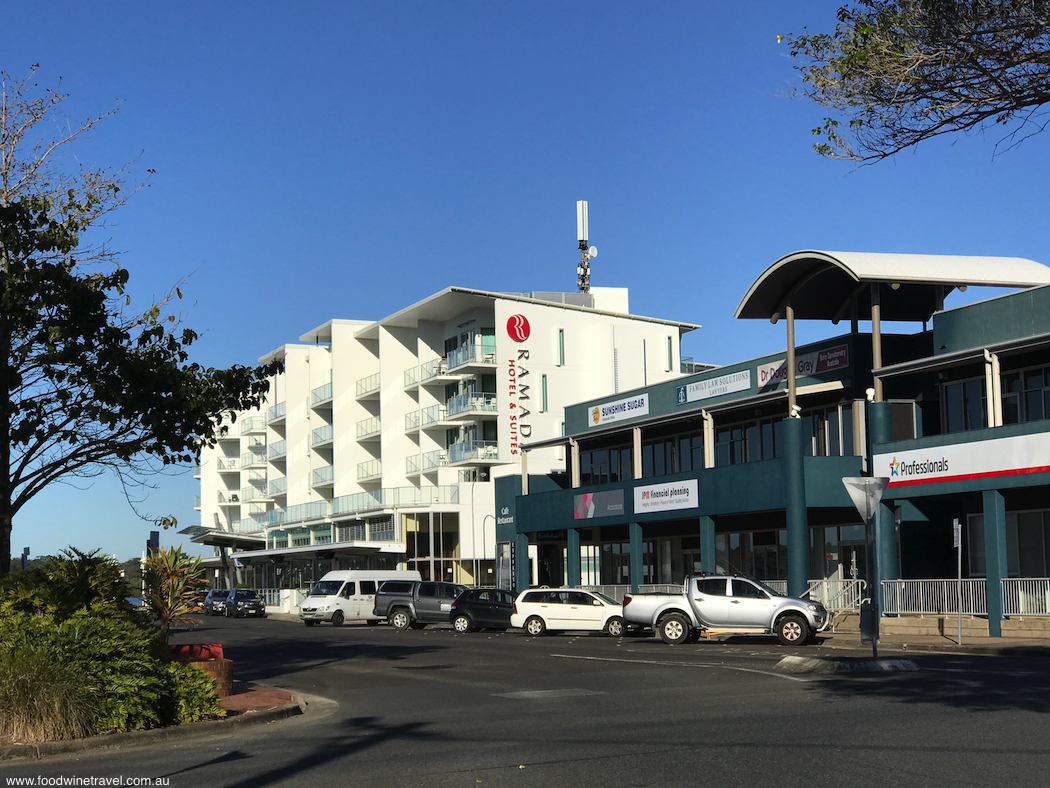 The hotel has a wide range of room configurations: its 115 hotel rooms and suites range from spa rooms (featuring a spa bath with shutters opening to the bedroom), to poolside suites, one- and two-bedroom suites, executive and penthouse suites. It's worth noting that the hotel has free undercover parking (subject to availability) and free wi-fi throughout.
Our one-bedroom suite had a good-sized kitchen that was completely kitted out with crockery, knives, wine glasses and Champagne flutes, a coffee pod machine, generous stock of Twining's teabags, and full-size fridge. It had an open-plan living area, a separate bedroom and, linking both, a huge two-way bathroom (but no bathtub). The bathroom was stocked with Peter Morrissey toiletries. Other features included flat screen TVs in both lounge and bedroom, an iPod clock/docking station, and laundry facilities.
The décor was understated, with coastal-themed pictures on the walls and shimmering gold sheer curtains. The curtains weren't drawn much as we had a corner position with stunning views over the Richmond River, a really tranquil spot that was very peaceful.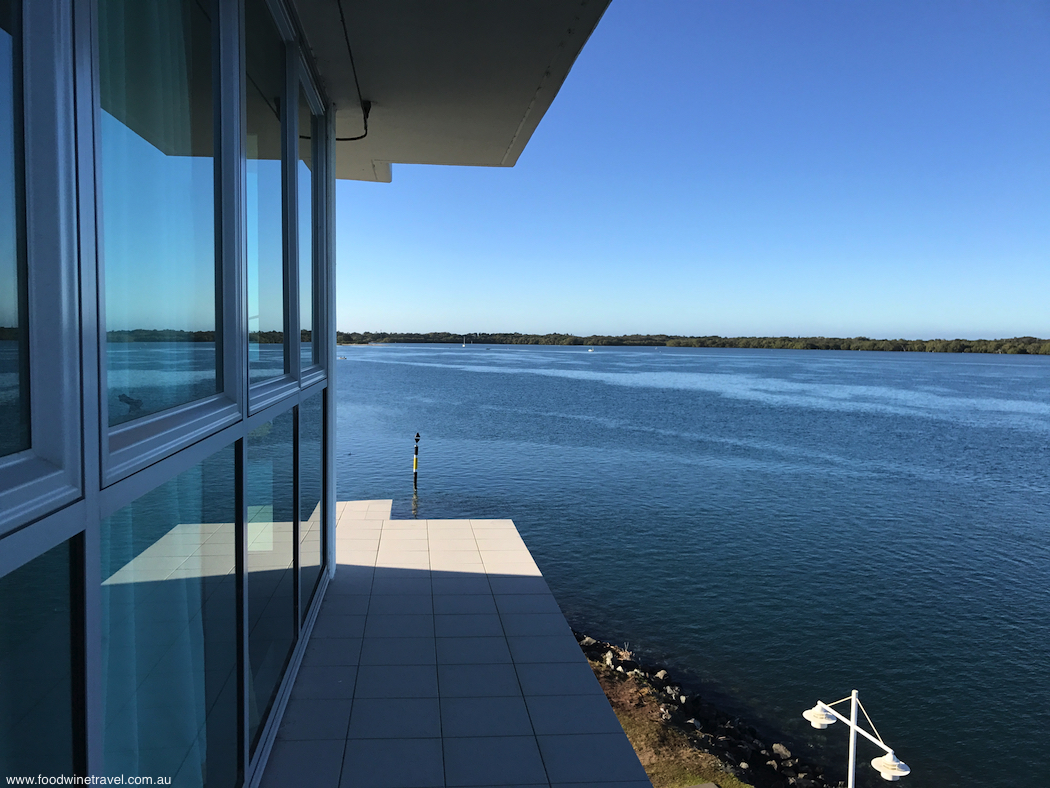 One night we bought fish and chips from Northern Rivers Seafood after it was recommended to us by a fellow foodie; we ate on the balcony and enjoyed the serenity. You could cruise on the river and dock almost at the front door, or you could stroll along the waterfront or use the hotel's free gym looking out over the water. There's also an outdoor heated swimming pool with sun deck and shaded children's pool.
The hotel has three restaurants that are run independently of the hotel but we didn't get a chance to experience them, as we were so busy dining at lovely places like Harvest Newrybar and Three Blue Ducks at The Farm Byron Bay. We enjoyed strolling around the cute shops in Bangalow and visiting the small but vibrant Ballina Missingham farmers market. There is so much to do in this region and the Ramada Hotel & Suites Ballina Byron is ideally located to explore it all.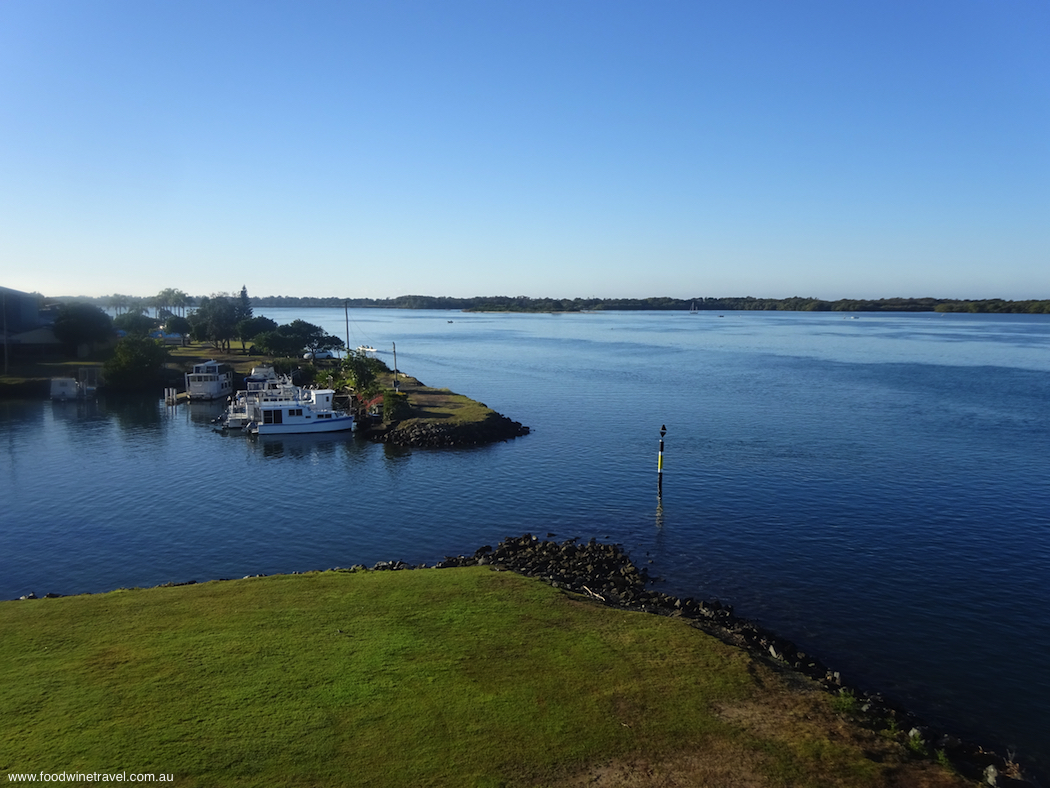 If you go:
Ramada Hotel & Suites Ballina Byron
2 Martin Street
Ballina NSW 2478
Australia
Tel: +61 2 6618 1000
Toll free: 1800 826 181
www.ramadaballinabyron.com.au
Christine and Maurie were guests of the Ramada Hotel & Suites Ballina Byron.
---
Book the Ramada Hotel & Suites Ballina Byron through booking.com
---