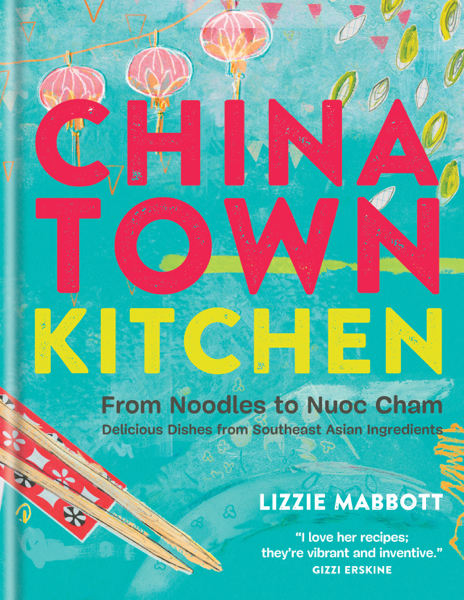 Lizzie Mabbott's cookbook, Chinatown Kitchen, is as lively and colourful as … a Chinatown kitchen. Published by Hachette Australia (rrp $35), it's a bright, modern take on dishes from China, Thailand, Malaysia, Japan, Korea and beyond.
Mabbott is a London blogger of English-Chinese descent. Her blog, Hollow Legs, is extraordinarily popular, generating around 15,000 unique views a day. Just as the blog is whimsically personal, so too is the book, with dishes such as Cola Chicken Wings (made with a can of Cola), Kimchi Toasted Cheese Sandwich and Chinese Spag Bog (made with pork and yellow bean paste).
Yet there's a serious intent too, with great explanations of key ingredients and the differences between all the various types of noodles, along with useful how-to pages for dishes such as Vietnamese rolls and wontons.
Mabbott says she is not expecting her readers to become experts in Asian cuisine, but rather that when you walk into an Asian supermarket, you'll get a "sense of flavoursome possibility, and a feeling of adventure in experimenting" with the ingredients you find.
Pick of the dishes
My pick of the dishes include Grilled Aubergines with Nuoc Cham, Black Sticky Rice with Mango, Lobster in Tamarind Sauce, Tempura Soft Shell Crab Burgers, and Poached Pears in Lemongrass Syrup.
The Beef in Black Bean Sauce recipe featured here is probably one of the most classic and ubiquitous Cantonese dishes. "When done well, black bean sauce is salty and earthy with a funk of the beans' fermented-ness about it," says Mabbott.
You can buy fermented black beans in Asian food stores – be sure to rinse them before you use them. You can substitute chicken or pork for the beef. The bicarbonate of soda marinade is a little restaurant trick to tenderize the meat.
Lemongrass is such a versatile ingredient, as it can be used for both savoury and sweet dishes. The pears here are poached in lemongrass syrup so that the flesh is soft and yielding. They can be served either as a dessert with a dollop of vanilla ice cream, or you can chop the pear up and eat it with yogurt for a decadent breakfast.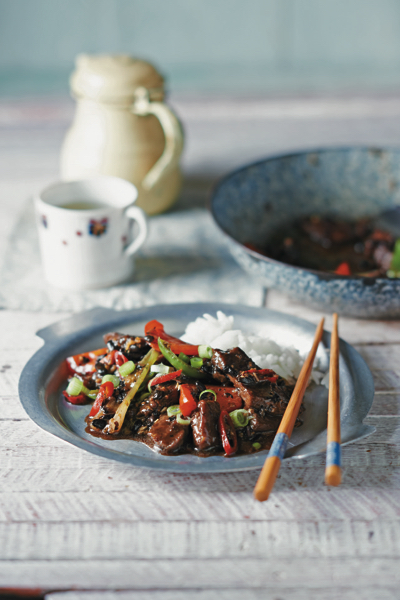 BEEF IN BLACK BEAN SAUCE
Serves 4 with other dishes
300g (10½ oz) rump steak
2 tbsp oyster sauce
1 tbsp cornflour
½ tsp bicarbonate of soda
4 tbsp cooking oil
3 garlic cloves, very finely chopped
2.5cm (1in) piece of fresh root ginger, peeled and finely chopped
3 tbsp fermented black beans, rinsed well and then drained, chopped and mashed with the back of a spoon
1 large red chilli, sliced into rounds
½ red pepper, cored, deseeded and chopped into bite-sized pieces
½ green pepper, cored, deseeded and chopped into bite-sized pieces
2 tbsp Shaoxing rice wine
1 tsp dark soy sauce
1 tsp sugar
2 spring onions, white parts sliced in half lengthways, green parts sliced into rings
50ml (2 fl oz) stock or water
Slice the beef into thin strips against the grain. Mix the oyster sauce, cornflour and bicarbonate of soda together in a bowl, add the beef strips and toss to coat, then cover the bowl with clingfilm and leave to marinate for at least 20 minutes while you prepare the rest of the ingredients.
Add the cooking oil to a wok and heat over a high heat until just below smoking. Add the beef and stir-fry briskly, separating the strips out, for 1 minute until browned. It will sizzle a lot, so be careful. Remove to a plate and set aside.
Drain all but 1 tablespoon of the oil from the wok. Add the garlic and ginger and stir-fry until fragrant. Add the black beans and chilli and carry on stir-frying. Add the peppers, rice wine, soy sauce, sugar, the whites of the spring onions and the stock or water and cook, stirring, for about 5 minutes until the peppers are almost tender.
Return the beef to the wok and stir-fry for a minute more. At this point the sauce should be thickening a little and becoming glossy. Take off the heat and garnish with the spring onion greens.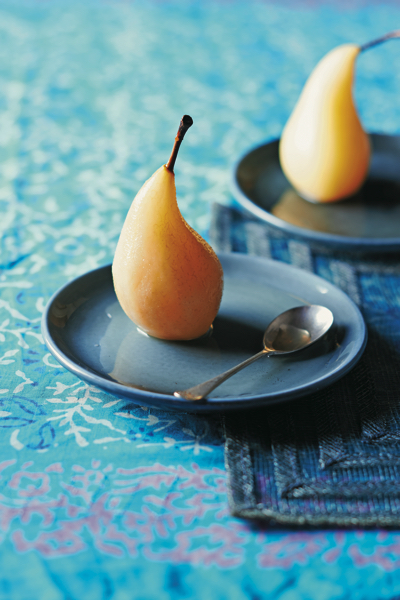 POACHED PEARS IN LEMONGRASS SYRUP
Serves 2
2 Conference pears
3 tbsp clear honey
juice of ½ lemon
2 lemon grass stalks, finely chopped
600ml (20 fl oz/1 pint) water
1 thin slice of fresh root ginger, peeled
1 tbsp caster sugar
Peel the pears and leave whole, with a bit of stalk. Take a saucepan large enough to hold the 2 pears, add the honey, lemon juice, lemon grass, water and ginger and bring to a simmer on a medium heat. Add the pears and cook on a gentle heat at a simmer, without the lid, for 30 minutes, turning the pears once halfway through. Then insert a knife into a pear – it should be tender. If not, simmer for a little while longer.
Remove the pears, then turn the heat up to reduce the syrup by a third. Strain the syrup through a fi ne sieve into a bowl and leave to cool for 20 minutes. Put the pears back in and leave to cool completely. To serve, place a pear on each plate and drizzle with a little of the syrup.
Recipes from Chinatown Kitchen. By Lizzie Mabbott. Published by Hachette Australia. Recipes and images reproduced with permission of Hachette Australia.
This post was originally published in PS News online.