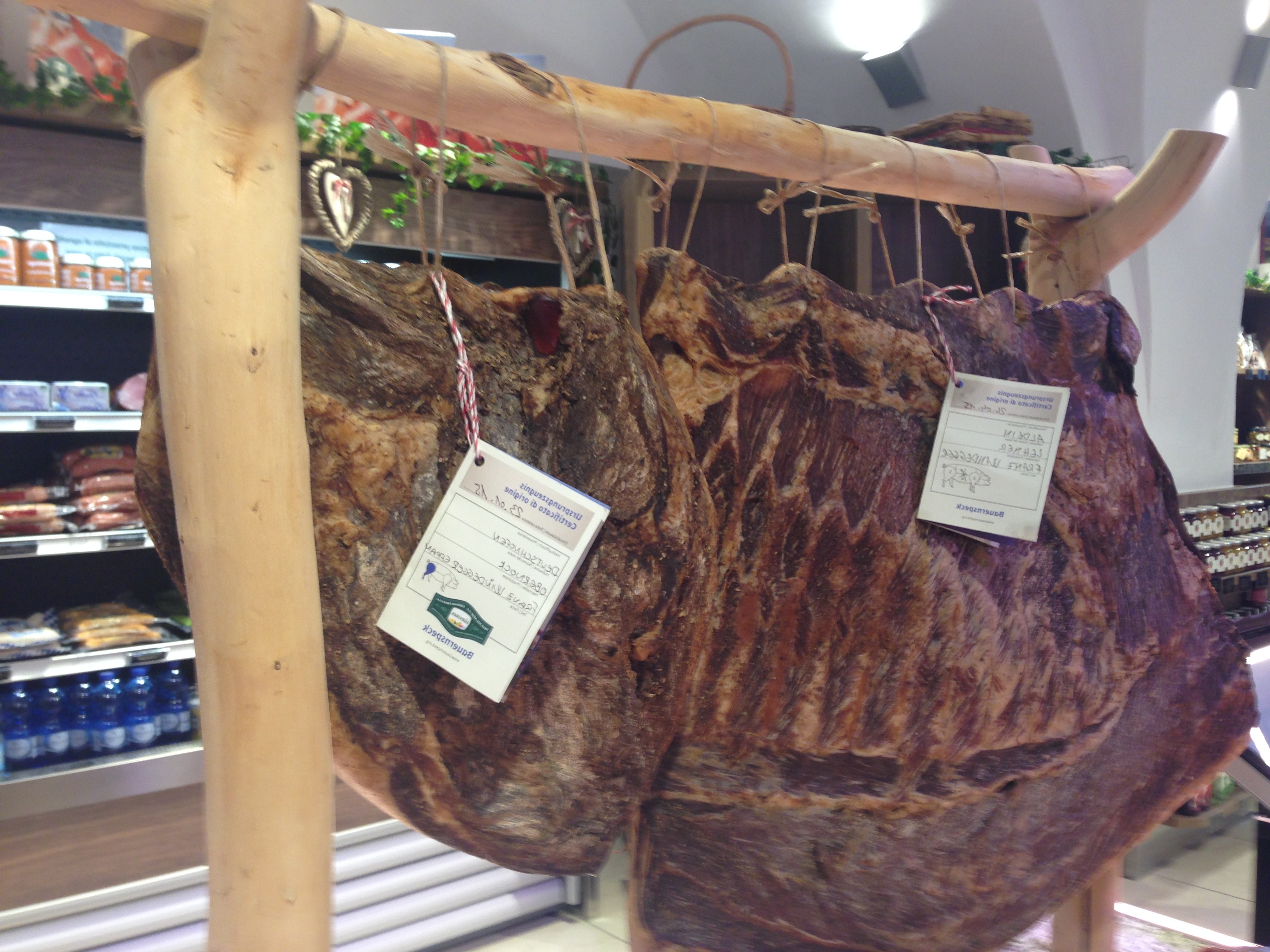 Speck is a ham that I've often seen in delicatessens but have never taken much notice of. But after travelling in the northern part of Italy, I've learnt that speck is not just speck. It's a highly prized artisan product and some, like the Speck Alto Adige produced in South Tyrol, is so unique that it carries geographical protection, just like wine and cheese.
South Tyrol is Italy's northernmost province. On the southern side of the Alps, it has a unique Austrian-Italian flavour with both German and Italian widely spoken, Italian and Austrian foodstuffs in the shops and cafés, and an appearance more in keeping with Austria's neighbouring Tyrol region than with the rest of Italy.
We visited the beautiful town of Bolzano (or Bozen as it is known in German) and stumbled across a lovely market in the town square. It was here that I first tasted the locally produced speck. It left a lasting impression.
The combination of Alpine and Mediterranean climates in the South Tyrol region apparently provides perfect conditions for the production of Speck Alto Adige.
What is Speck Alto Adige?
Whereas further north, raw ham is preserved by smoking, and in the south it is dried outdoors, in South Tyrol the two methods have been fused: Speck Alto Adige is lightly smoked (at no more than 20 degrees C) and then cured in the open air (or well-ventilated rooms).
It is this that is said to be responsible for it being so delicately flavoured and elegantly spiced. The smell and taste should be lightly smoky with a hint of walnuts and fresh porcini mushrooms.
The product's spicy crust is made from a mixture of herbs and spices including laurel, rosemary, juniper, salt, pepper and sometimes a pinch of garlic, coriander or cumin.
Each producer has its own recipe, mostly kept a family secret and handed down from generation to generation. The hams take about 22 weeks to cure: knowing when the time is right comes from years of experience.
Since the product has geographic protection, only that produced according to the South Tyrolean speck production regulations can bear the name Speck Alto Adige PGI.
Recipes Using Speck
Consorzio Tutela Speck Alto Adige, an association established in 1992 to represent the communal interests of all Speck Alto Adige producers, has produced an excellent little booklet with recipes highlighting the versatility of this wonderful product.
Not only does speck contain a lot of protein, it is very easy to store – in its vacuum-sealed package, it can be stored for many months in the fridge or in a cool, dark place. Always slice it perpendicular to the grain.
Speck is great as a snack. Try it thinly sliced, draped over slices of rockmelon (as we have seen on practically every menu in Italy) or perhaps on a platter with asparagus, Parmigiano-Reggiano and vinaigrette.
It's also great in hot dishes, as the Consorzio Tutela booklet shows. Its recipes, including the one reproduced here, are by South Tyrolean chef Herbert Hintner.
SPECK-FLAVOURED DUMPLINGS
Serves 4
100 g diced speck
200 g white bread, diced
40 g flour
50 g braised onions (see note below)
1 tablespoon finely chopped chives or parsley
3 eggs
milk
salt
Mix together the diced bread and speck, flour and the braised onions, and season with the salt and parsley (or chives). Add the eggs and some milk and bring the mixture together until all the ingredients have combined well. Let it rest for 10 minutes, then shape the dumplings and cook for 8-10 minutes in salted water.
Note: To make braised onions, heat 50g butter or 50ml olive oil in a frying pan and add a sliced onion. Braise without browning. Drain away the oil and leave the onion to cool.
This post was originally published in PS News online.