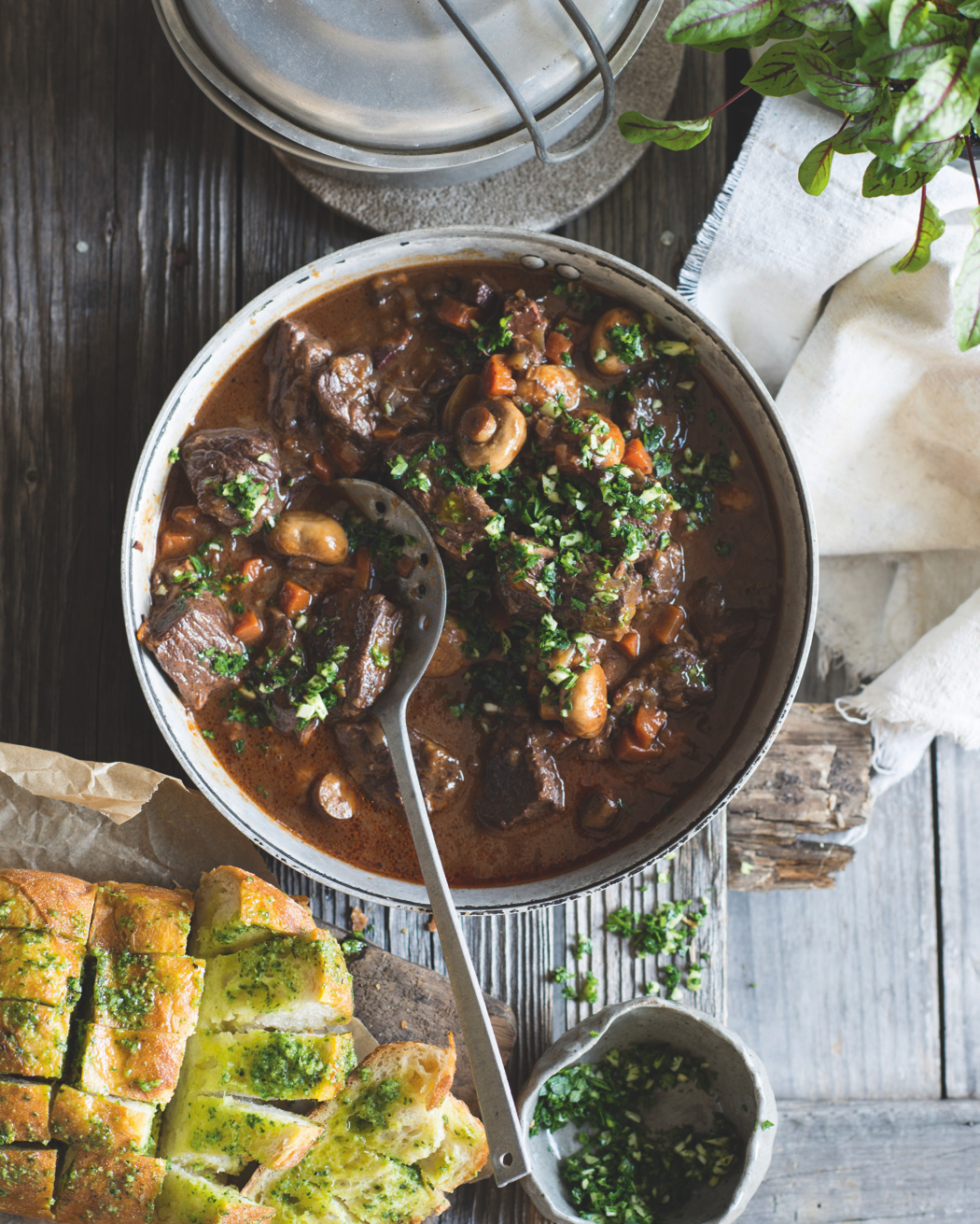 Valli Little has authored 10 best-selling cookbooks, but her latest, My Kind of Food, published by ABC Books, is probably her most personal yet. The former food director of delicious magazine is renowned for the way in which she takes traditional and popular dishes, and gives them a little twist here, a clever reinterpretation there.
In this latest book, lamb loin chops are boned out to become "rosemary lamb lollipops", while a Peking duck salad has layers of dumpling wrappers and a scattering of pomegranate. Chicken satay is oven-baked, minus the skewers for ease, while a classic Coronation chicken is brought up to the minute with sriracha (hot chilli sauce) and other twists.
There are 100 of Little's favourite recipes in all, from simple midweek meals to lazy weekend suppers and slow-cooked dishes like the one featured here. As always, her cakes and desserts are irresistible. Little says she loves cooking for her family and friends. "A table piled high with delicious food surrounded by people I love is my idea of heaven," she says.
These are the recipes Little cooks time and again to share with the people she loves, and I feel sure that many of them are dishes you will want to cook time and again too.
!! Buy My Kind Of Food  from Book Depository, with free delivery worldwide !!
Food Wine Travel gets a small commission on purchases through this link but it doesn't cost you any extra.
CLASSIC FRENCH BEEF DAUBE
Serves 6–8
1.5kg chuck steak, trimmed of excess fat, diced
250g pancetta, diced
Plain flour, to dust
50ml olive oil
120g unsalted butter
2 small leeks (white part only), chopped
2 onions, chopped
2 carrots, peeled, diced
2 celery stalks, chopped
2 garlic cloves, finely chopped
2 bay leaves
2 tbs tomato paste
2 tbs chopped flat-leaf parsley leaves, plus extra to serve
1 tbs soy sauce
100ml brandy
750ml bottle red wine
300ml good-quality beef stock
16 baby onions, peeled
16 button mushrooms
2 tsp cornflour
Cheesy garlic bread, to serve
Preheat the oven to 180°C.
Toss the beef and pancetta in flour, shaking off any excess. Heat half the oil and 40g of the butter in an ovenproof casserole over medium–high heat and fry the beef and pancetta in batches, turning often, for 3–4 minutes until browned. Remove and set aside. Add the remaining oil and another 40g of the butter and
cook the leeks, onions, carrots and celery for 5 minutes, stirring from time to time, until starting to soften. Add the garlic, bay leaves and tomato paste, cook for 1 minute then add the parsley, soy sauce, brandy, wine and stock. Return the meat to the casserole, bring to a simmer, season and cover. Place in the oven and cook for 2–2½ hours until the meat is very tender.
Meanwhile, place the baby onions in a saucepan of cold water. Bring to the boil, reduce the heat to medium–low and simmer for 8–10 minutes until tender. Heat the remaining butter in a frypan over medium–high heat. Add the mushrooms and fry until cooked through. Mix the cornflour with 2 tbs cold water. Stir the mushrooms, baby onions and cornflour paste into the casserole and cook, uncovered, for a further 10 minutes. Serve with cheesy garlic bread and more chopped parsley sprinkled on top.
To make the cheesy garlic bread, crosshatch a round sourdough loaf in a checkerboard pattern but be careful to not cut all the way through. Combine ½ cup (125ml) melted butter, 2 cloves minced garlic, 2 tbs finely chopped flat-leaf parsley and 2 tbs parmesan cheese in a small bowl. Spread open the bread and brush all over and in the cavities with the butter mixture. Wrap in foil, place on
a baking tray and bake at 180°C for 15 minutes. Then, open up the foil and bake for a further 5 minutes until crisp and golden.
Recipe and images from My Kind of Food, by Valli Little, published by ABC Books, and reproduced with their permission.
This story originally appeared in PS News online.