Doesn't everyone have a great stand-by recipe? The sort of dish that you can whip up in a flash and that never fails to impress family and friends.
This is my stand-by recipe and it's so easy I'm sure you'll want to add it to your repertoire too.
We love having salads at home – crisp, light salads in summer and warm salads when the temperature drops.
But this Smoked Trout and Pear Salad is one we do the whole year round – rain, hail or shine.
It's the dish I turn to whenever I want to get a meal on the table quickly, or when we have guests coming for dinner and I don't have the time or the inclination to cook all day like I used to when we were young and had loads of time on our hands.
I've done all sorts of variations on this dish, but basically it all comes down to just four ingredients:
*Smoked trout
*Salad greens
*Pear
*Feta cheese
And when I say 4 ingredients, I mean 4 ingredients – this is not a cheat's recipe where you have to add extra seasonings or use a ready-made sauce as many 4-ingredient recipes seem to do.  You might want to add extra ingredients, but if you don't you'll still have a fabulous dish.
The secret, not surprisingly, is in using quality ingredients (although it's by no means an expensive dish – which is another thing I love about it).
I like to buy marinated feta, because the oil gives a moistness that I really like. Lately I've been buying Yarra Valley marinated feta from Costco; it's very reasonably priced and the oil is infused with rosemary and garlic, which adds to the flavour.
Costco also sells excellent smoked trout fillets, but whole smoked trout is widely available if you'd prefer to buy it that way and pick the fish apart yourself. For the greens, you can use baby spinach, mixed lettuce leaves or whatever you happen to have available.
We've been using greens from our own garden and because we were down to our last few leaves, I bumped them out a bit with mint and parsley (which we have in abundance) and some finely chopped baby cucumbers. These gave the dish a lovely clean, fresh flavour which I really liked, so I'll be replicating it for sure.
It's good to get the pear right. It shouldn't be under-ripe or over-ripe; it's better when it's just so. This is about the only advance planning that you'll have to do, since pears often take a few days to ripen after you buy them.
And there you have it – play around with it, try it with different cheeses, use smoked chicken instead of the trout, add your own touches. I guarantee you'll love it.
CHRISTINE'S WINE PICK: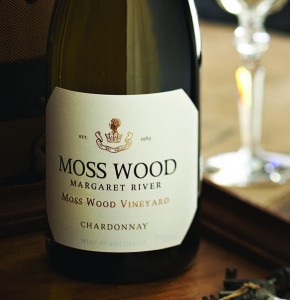 2010 Moss Wood Chardonnay
Smoked trout is always a great match for Chardonnay – yes, I know, I can't help myself when it comes to good Chardonnay. At the moment, I'm drinking the heavenly 2010 Chardonnay from Moss Wood in Western Australia's Margaret River region. It has a little bit of buttery creaminess that goes beautifully with the trout, along with soft, toasty notes from having spent nearly 18 months in French oak. This is up there with some of the finest Chardonnay in the land, so let's just say my table's looking pretty classy right now.