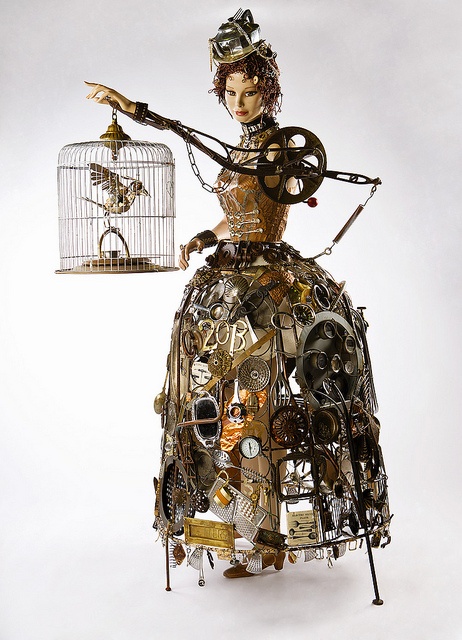 Anyone who knows me well would understand why this exhibition appeals to me. As the queen of recycling, I admire any artist who takes an ordinary object and repurposes it into a work of art.
Bec Peart and Martin Pedder have collaborated creatively for nearly two decades, producing work in various mediums including found objects, jewellery, home wares, props and costume. With a keen interest in history, they are drawn to old and discarded items, giving their creations a unique story.
At the opening of their exhibition, Kindred Spirits, Martin was telling me that he crawled into the tiniest of spaces under an old house to retrieve the glass used in one of the lamps pictured below.
Pieces from his and Peart's Blackbird's Emporium feature in Kindred Spirits, an exhibition of steampunk assemblage artwork currently on show at St + Baker + Studio in Redcliffe. Works from Gill Pyke, of Catamation, also feature in the exhibition, including intricate Victorian botanical prints and stunning mechanical butterflies.
The name of the exhibition reflects the shared vision of these three hugely talented artists who appreciate the aesthetic potential in everyday items.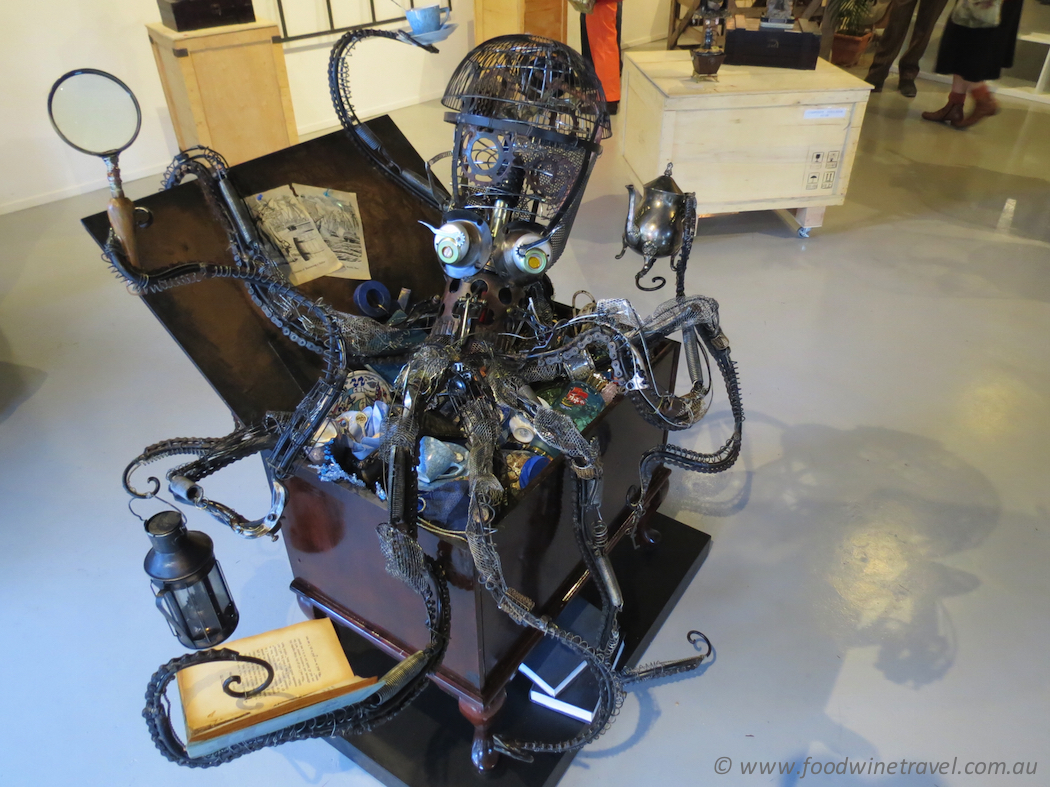 The highlight of the exhibition is unquestionably Junkalina and the Clockingbird, which won the Brisbane City Council's Tip Shop Art Competition for Peart and Pedder in 2013. The beguiling Junkalina wears a metal teapot hat and her clothing is festooned with metal gadgets and everyday items such as keys and kitchen utensils.
In 2014, Peart and Pedder again won the Brisbane City Council's Recycling Art Competition, this time for their quirky Octopus's Garden. It is on display at Redcliffe and is made from wrought iron chairs, a TV cabinet, lanterns, cogs, books, cups and saucers, magnifying glasses and a birdcage.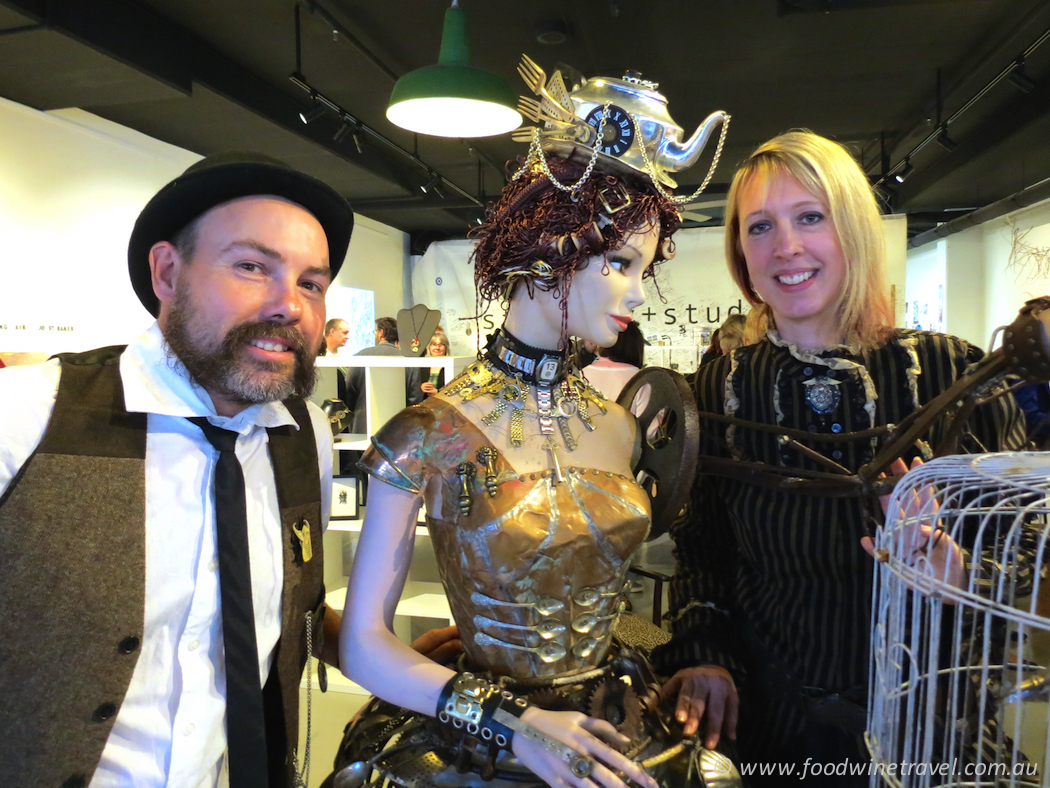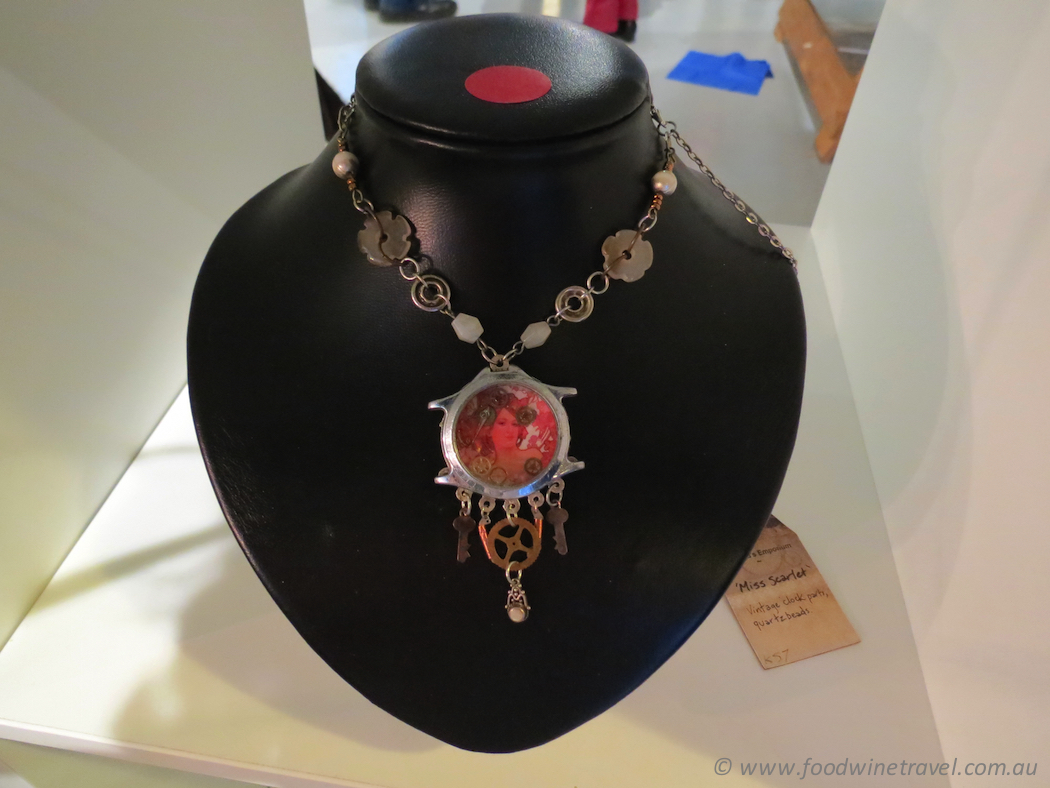 Peart creates quirky jewellery too, and I was thrilled to acquire one of her pieces – it'll be a great talking point.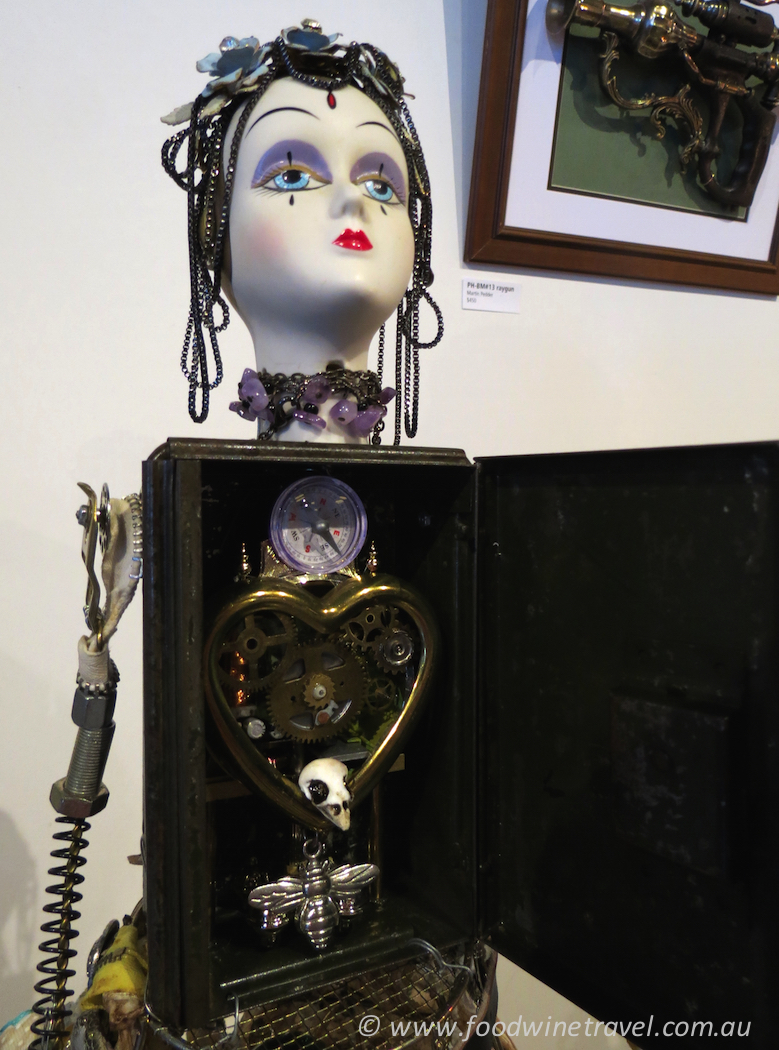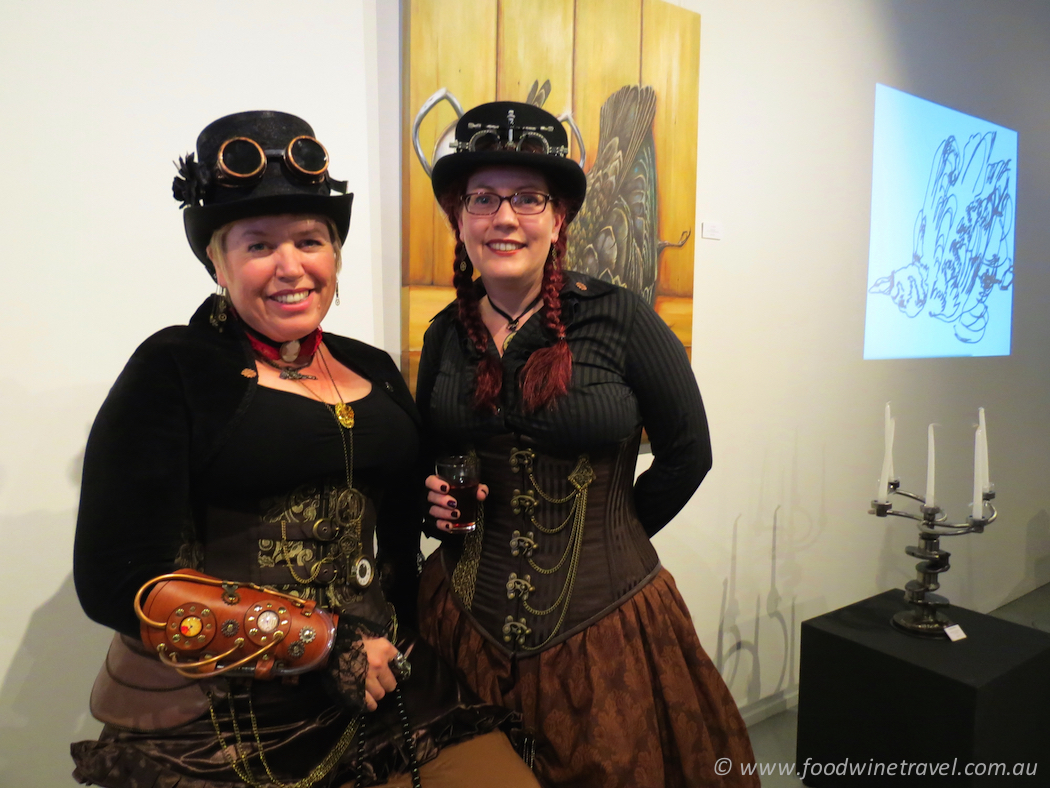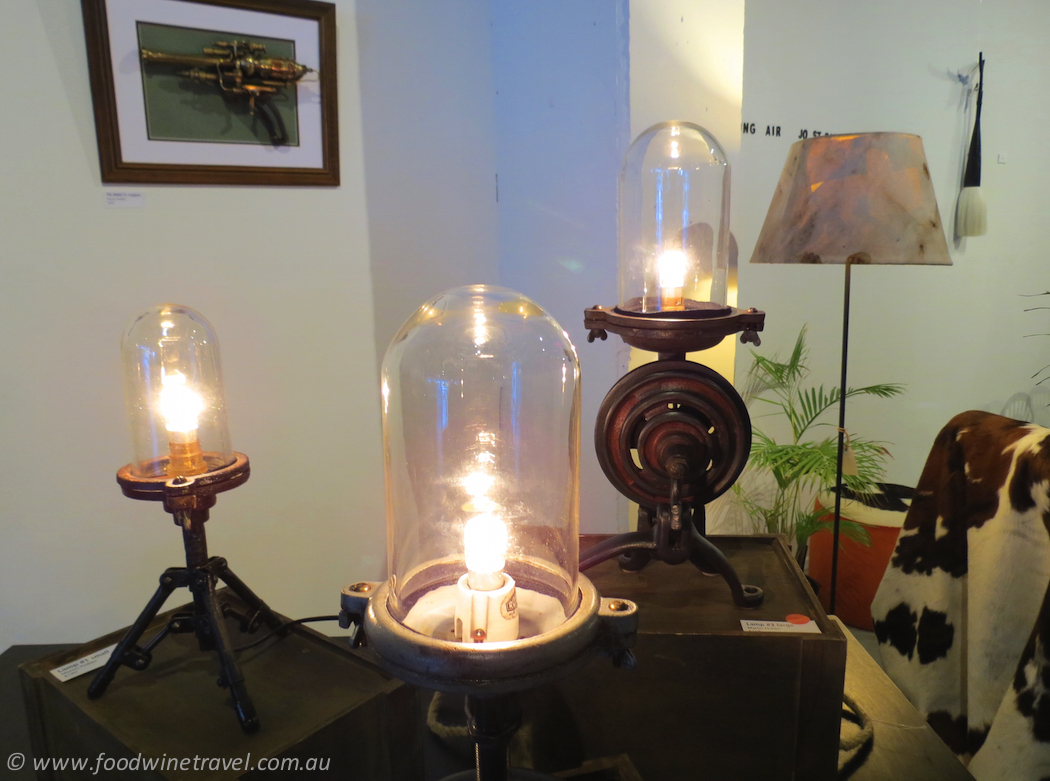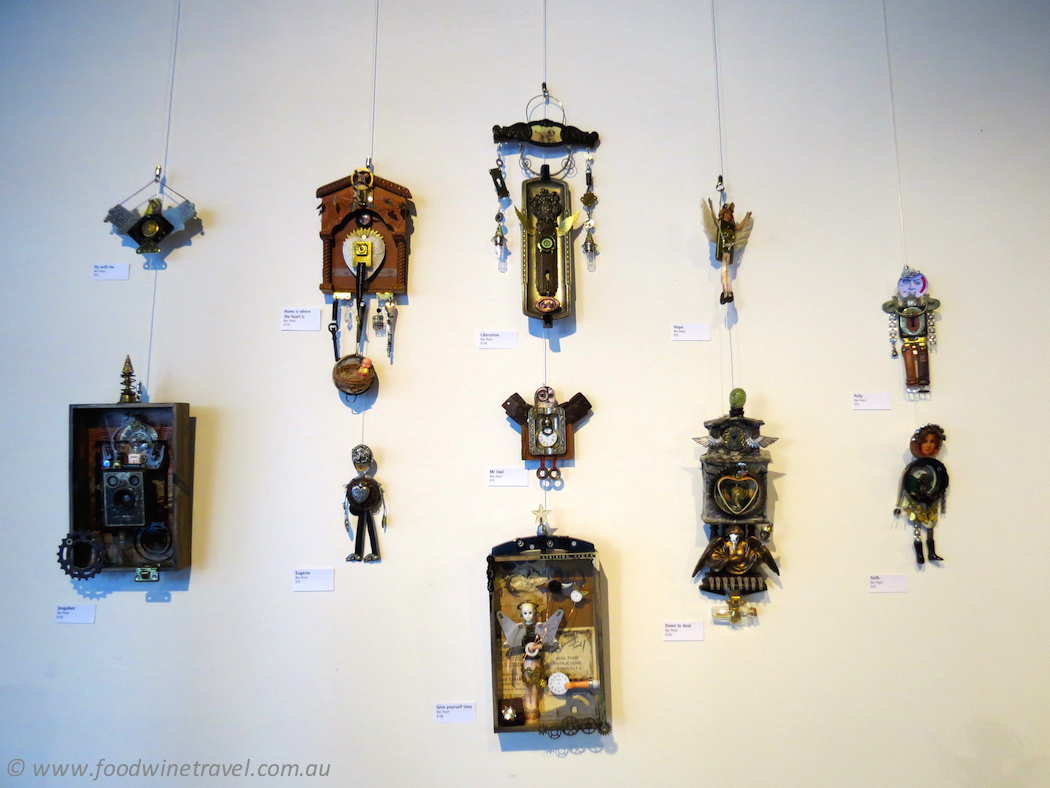 Kindred Spirits is on exhibition at St + Baker + Studio until August 1, 2015. The studio's Jo St Baker is a great supporter of local artists. You can read more about her here.
Fact File:
St + Baker + Studio
Mon Komo
99 Marine Parade,
Redcliffe, Qld, Australia
+ 61 417 573 737
www.stbakerart.com