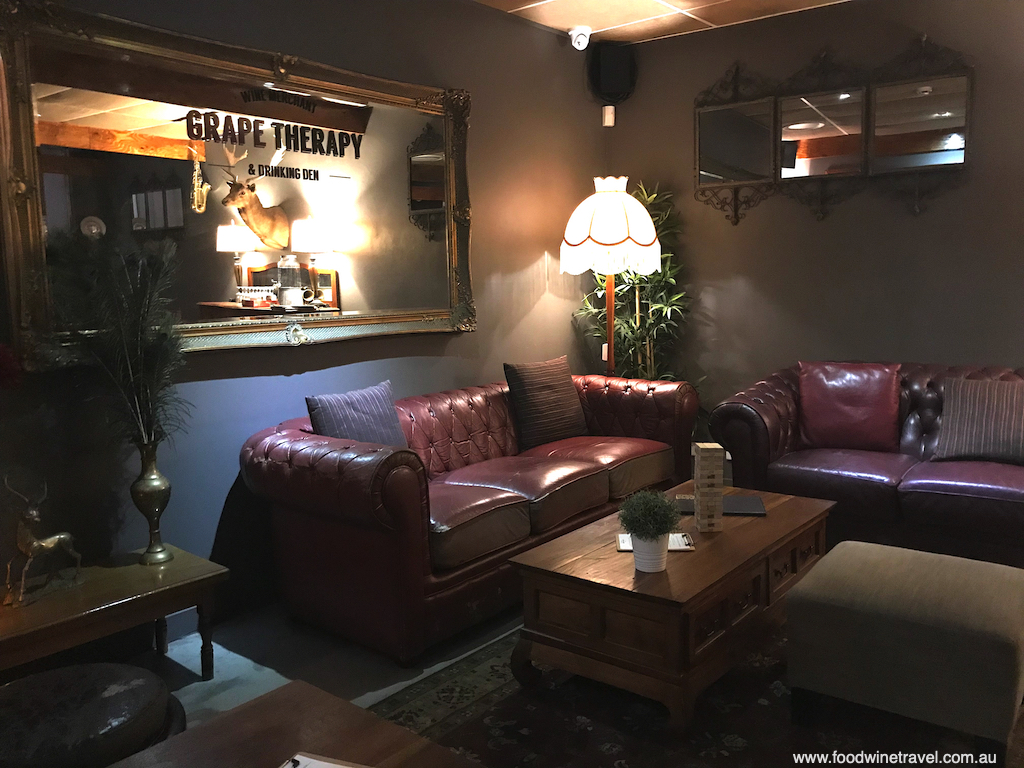 Grape Therapy is one of those great little bars that are a real treasure. It's not a flashy, in-your-face sort of place. It's a place where all you see is the sign on the street and a stairway leading down to who knows where? We like that sense of mystery in a bar – not knowing what we might find at the bottom of the stairs and whether it's going to be a place we enjoy hanging out in.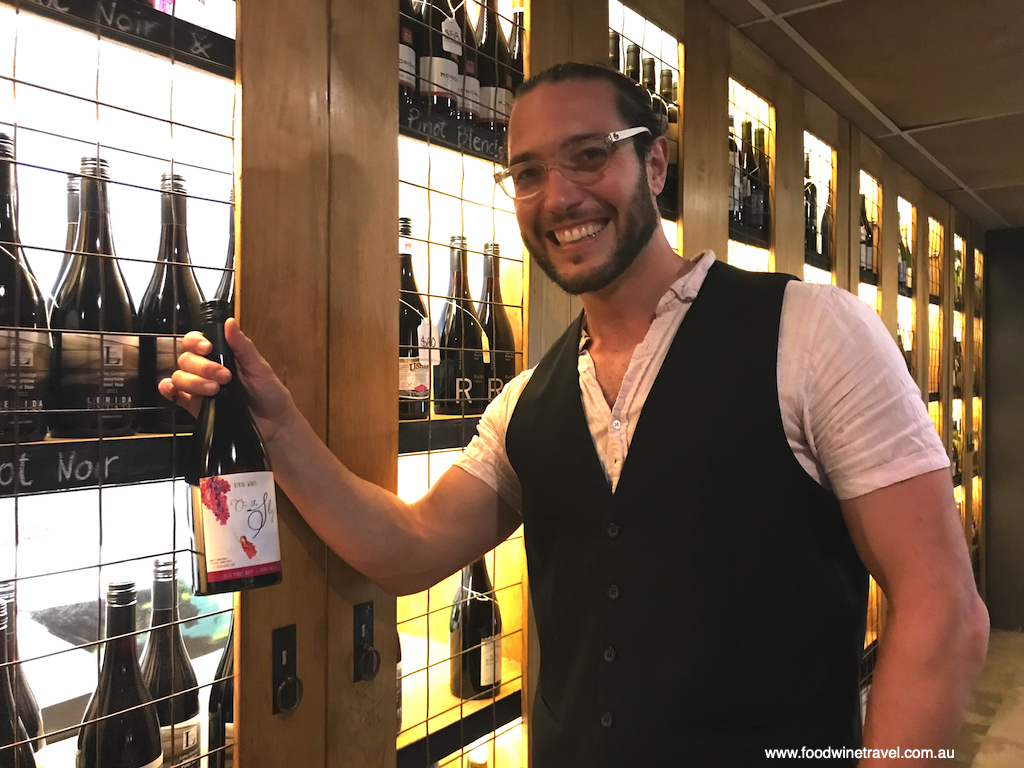 In the case of Grape Therapy, the stairs lead you to a cosy space filled with comfy chesterfield-type leather lounges, ottomans, wine barrel tables, chess boards, classic artworks and quirky bits and pieces on the walls. One section is filled with white wooden tables and chairs next to a wall lined with wine cabinets – this is a perfect space for the wine dinners that are occasionally held here (more about those later).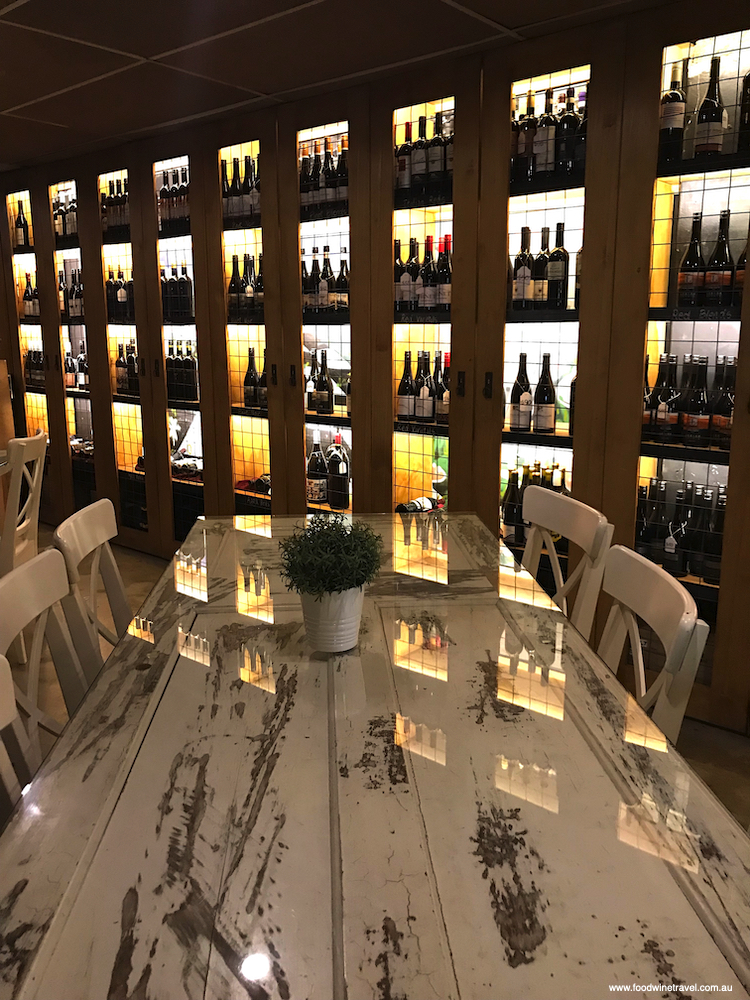 Although the address for Grape Therapy is given as 471 Adelaide Street, Brisbane, the stairs are actually around the corner in Macrossan Street. Freddy Dordoni and his winemaker wife, Ashley Berini, took over the space about 18 months ago and run it as a sister venue to Proud Henry in Fortitude Valley.
Whereas Proud Henry has an extensive list of gin (about 280+), Grape Therapy is focused more on whisky, with more than 80 different types available. Given Freddy and Ashley's backgrounds, it's not surprising that both venues have excellent and comprehensive wine lists, although the Proud Henry list includes a lot more natural wines and what Freddy describes as "funky stuff".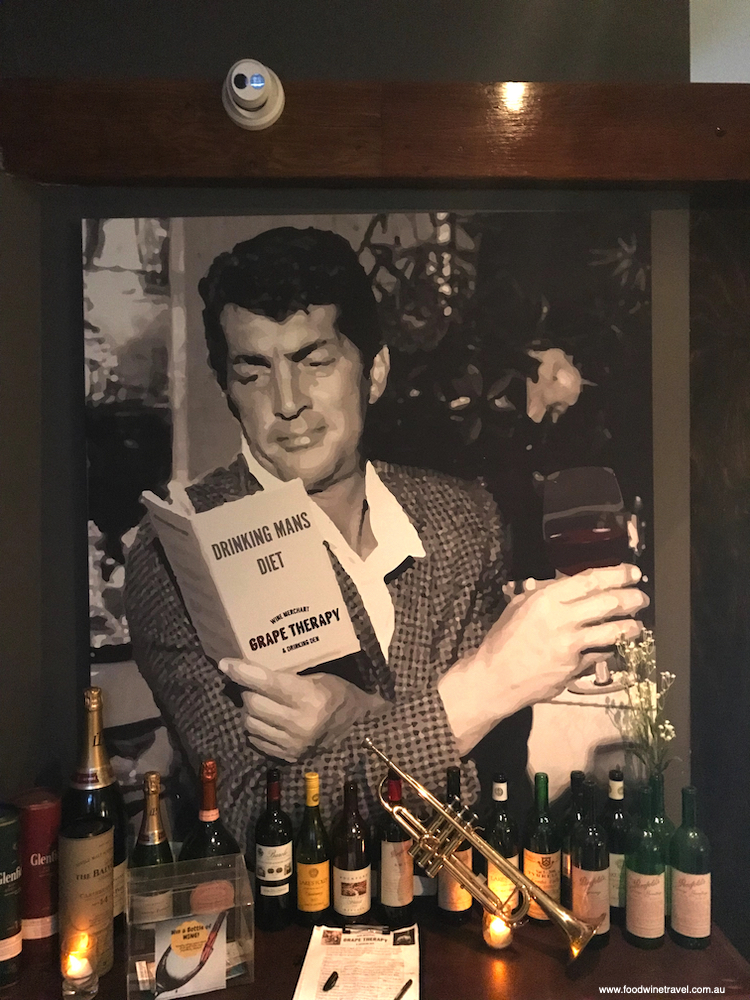 Grape Therapy is an urban cellar door for Granite Belt winery, Symphony Hill, which we've long thought of as one of Queensland's top producers. Freddy, who was a sommelier in Sydney for 10 years before taking over Grape Therapy, is as enthusiastic about Queensland wine as he appears to be about everything else he undertakes. "Queensland makes some beautiful wines. It's got really underestimated fruit," he says.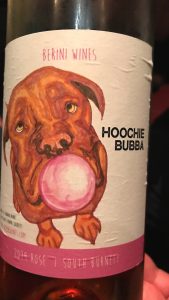 Ashley, who started her winemaking career in Canada and worked in the Yarra Valley before moving north, this year sourced Cabernet Sauvignon from South Burnett to make her superb Berini Wines 2019 Hoochie Bubba Rosé. It's a very personal creation: the label features their late and very much-missed pooch, drawn by a Sydney friend. A vegan wine available almost exclusively through Grape Therapy, the Rosé plays on the palate with bubblegum, watermelon and cranberry flavours, finishing dry.
Freddy and Ashley met in Sydney three years ago when she was selling her Pinot Noir at the Manly Food & Wine Festival. Freddy was working as a sommelier at Hugo's and proposed at the same festival a year later.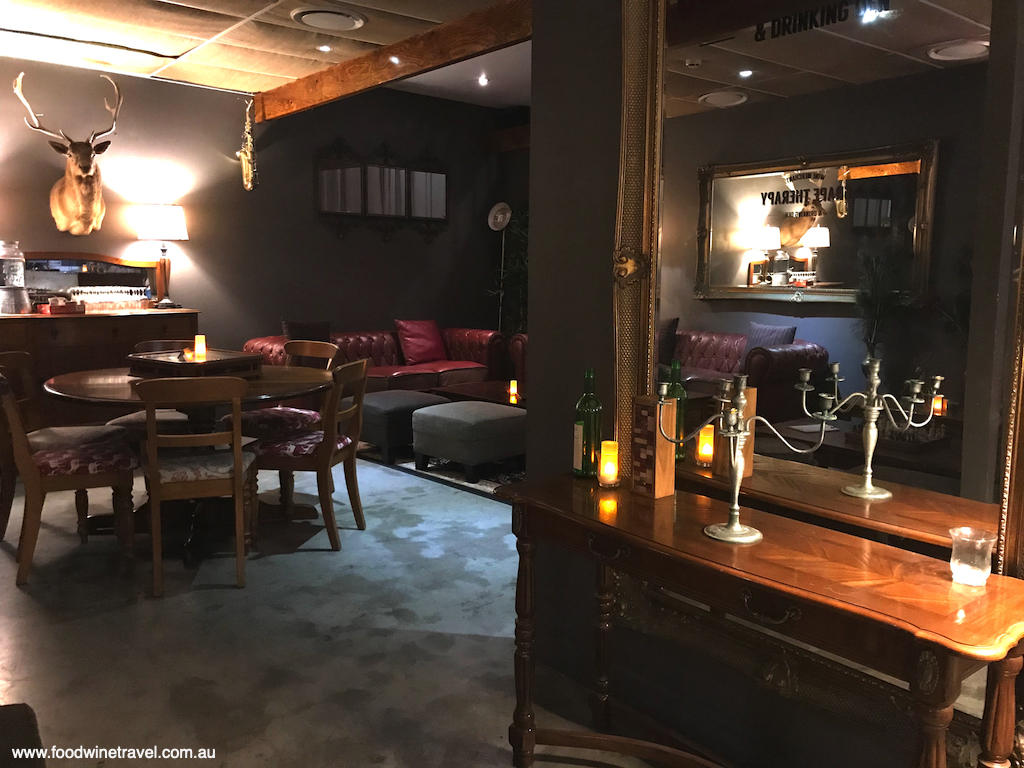 All the aged wines he sells at Grape Therapy come from his temperature-controlled facilities containing just shy of 500 bottles. Some are quite hard to come by these days, providing another good reason to check out Freddy and Ashley's "Drinking Den".
We really appreciated the bar's eclectic list and knew we were off to a good start when Freddy handed us a glass of Lerida Estate 2012 Sparkling Rosé Brut. This Canberra District winery, which produces some spectacular Pinot, is probably not widely known to Queenslanders but certainly deserves to be.
We also enjoyed tasting two more of Ashley's Berini Wines, her On the Sly 2018 Pinot Noir from the Yarra Valley, and Eye Catcher 2017 Syrah from the King Valley, the latter made in the softer Côtes du Rhône style.
Grape Therapy offers a menu of tapas-style dishes, along with a selection of cheese and charcuterie. Included among the small dishes are Italian burrata drizzled in basil oil, a couple of different types of terrine, anchovies, grilled vegetables, and tasting skewers.
Occasionally there are pasta specials – in August, for example, there was a Sunday pasta special of truffle gnocchi paired with Nebbiolo. There are also regular wine dinners – a duck and Pinot dinner in August, a Paella and Grenache Party coming up on September 20 (catered for by Salon de Co chef Andy Ashby). On November 21, Piggs Peake Winery will host a dinner coinciding with the latest release of its huge range of quirky, small batch wines.
Grape Therapy is open seven days, from 4pm till late. It is closed on public holidays.
If you go:
Grape Therapy Wine Merchants and Drinking Den
471 Adelaide Street
Brisbane City QLD 4000
Australia
+61 (0)7 3102 7213
www.grapetherapy.com.au