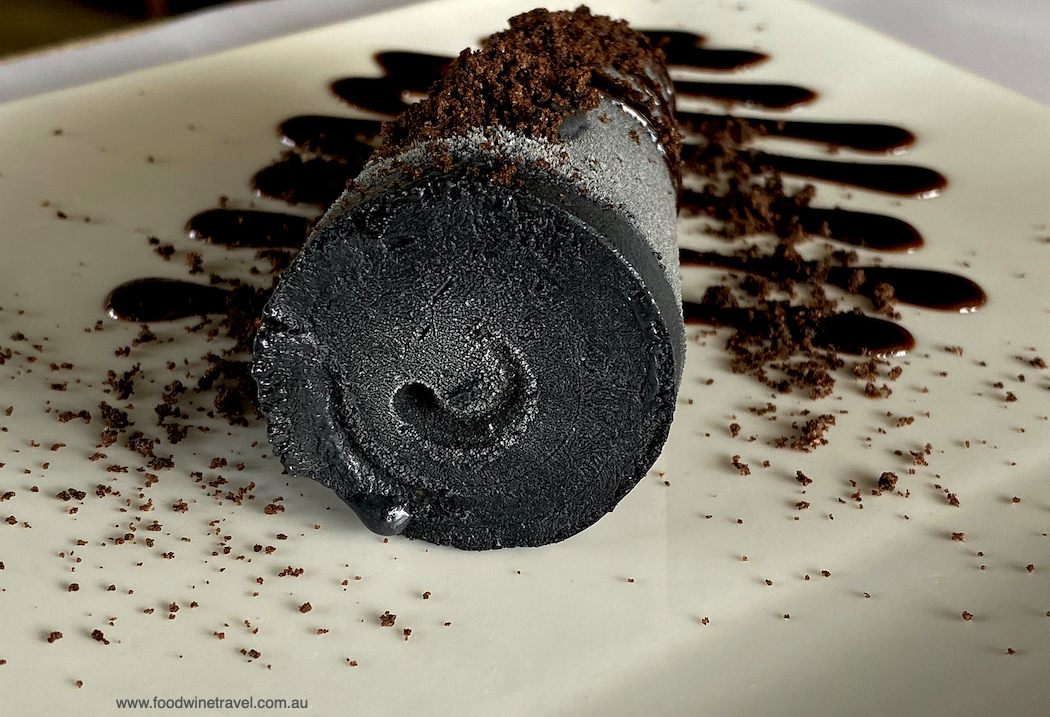 After a heavy-duty round of tasting in some of Ipswich's leading restaurants and cafés, we've got the complete lowdown on how to experience the Flavours of Ipswich for a steal. Until April 24, you can snap up a bargain at some 20 Ipswich restaurants, with two-course lunches for $25 and three-course dinners for $35.
We were invited to devour our way through some of them in a non-stop program over one and a half days – a tough gig, but hey, someone has to do it! At the end of it all, we can honestly say that diners are in for a treat. I think what impressed us most of all – apart from the great value for money – was the presentation.
The chefs are clearly taking great pride in presenting their dishes appealingly, as the photos here attest. The dishes are by no means cutting-edge, but we wouldn't expect them to be for the price. Nevertheless, they are quality dishes and some, like the charcoal kulfi in our lead photo, demonstrate real creativity. And they are most definitely a bargain!
This is the first time the Flavours program has been held and I feel the city of Ipswich is onto a winner with it, not only shining a spotlight on the city's burgeoning dining scene but offering customers value for money at a time when people are more budget-conscious than ever.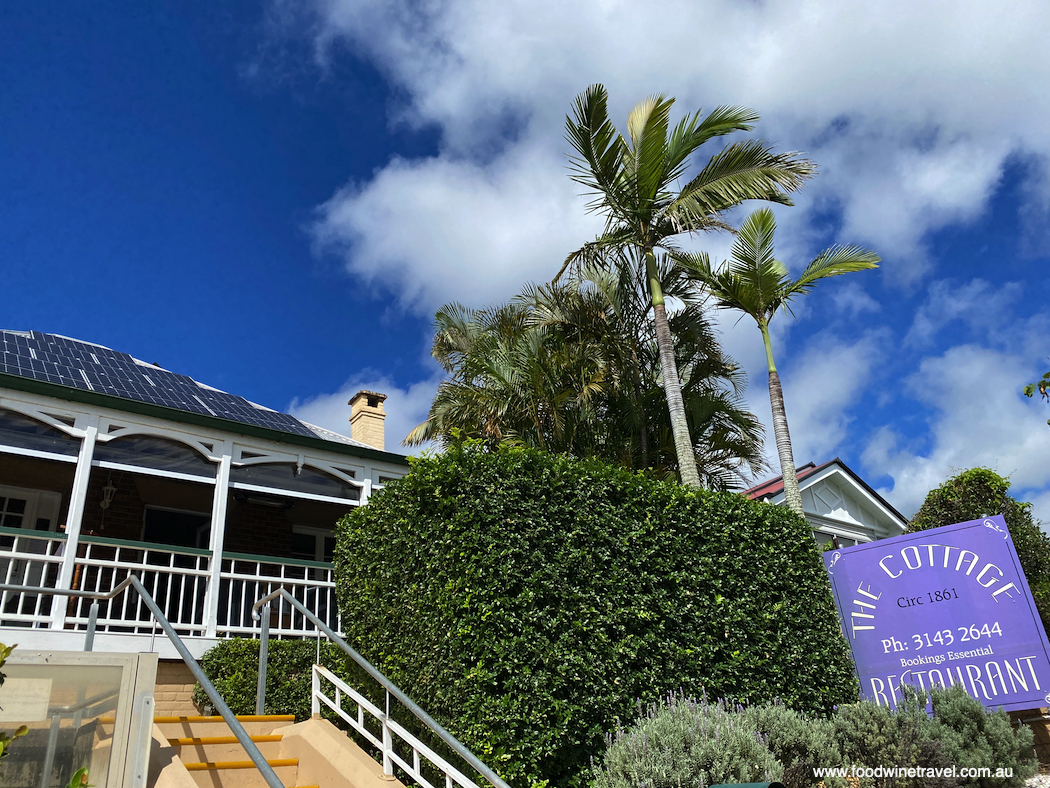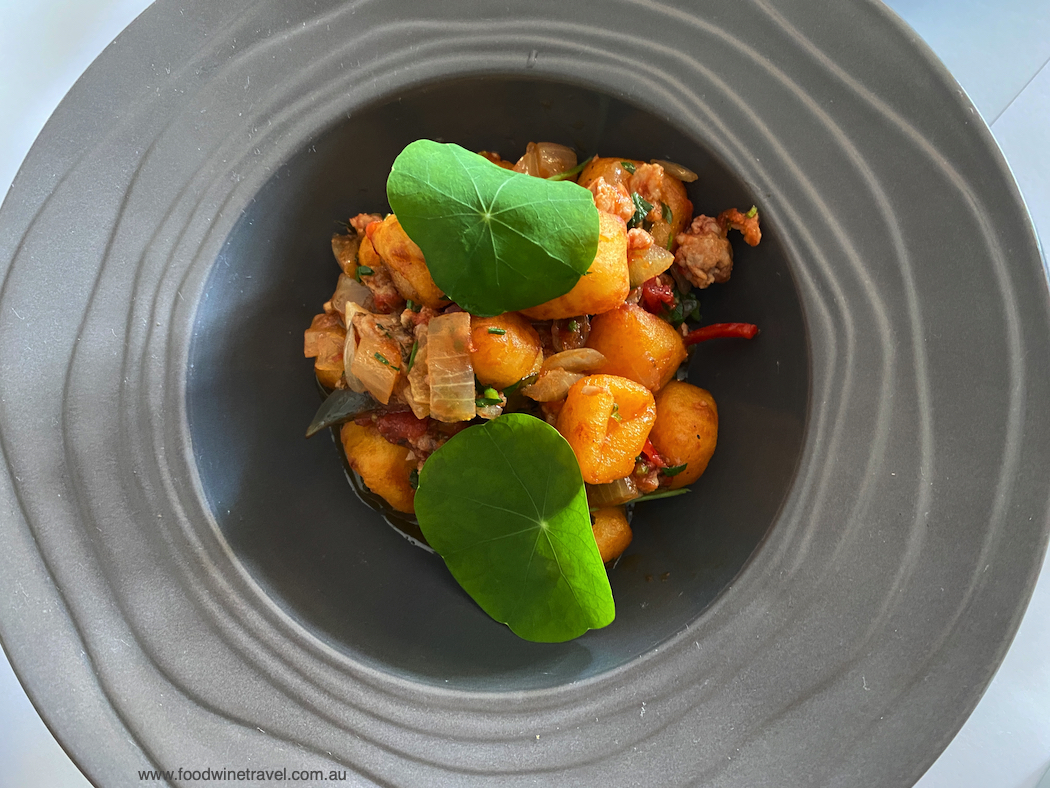 We started our gorge fest at The Cottage restaurant, a 160-year-old building in a city awash with beautiful buildings. This good-looking old girl has three elegantly decorated rooms inside and a veranda for alfresco dining at the front, seating about 40 people all up. Owners Mark and Angela Naoum bought and lived in the house before transforming it into a restaurant.
It provides a great backdrop for Mark's lovingly executed dishes. He's known for his seven-course degustation menu, but for Flavours he's keeping it simple with a couple of lovely lunch dishes that include beetroot risotto and handmade gnocchi. The parmesan and thyme gnocchi was the winner for me. Mark fries it and gives it a delicious lightness, complemented by cherry tomatoes, basil and Italian sausage (which he makes using marinated offcuts of pork belly).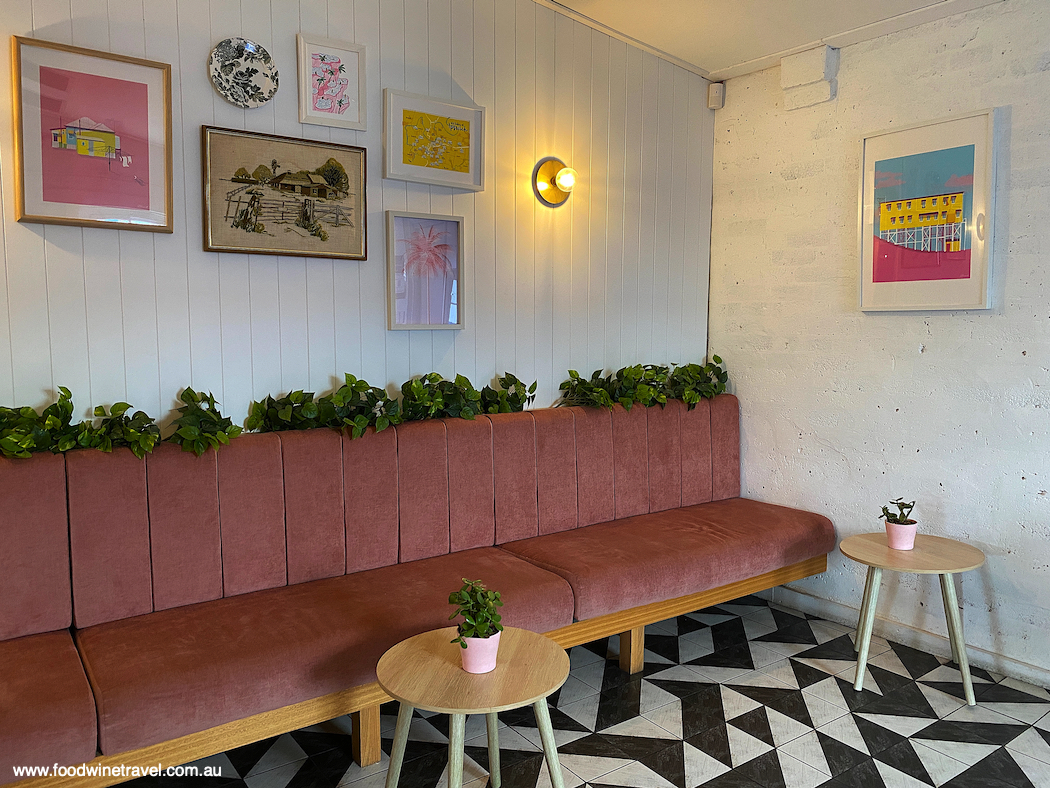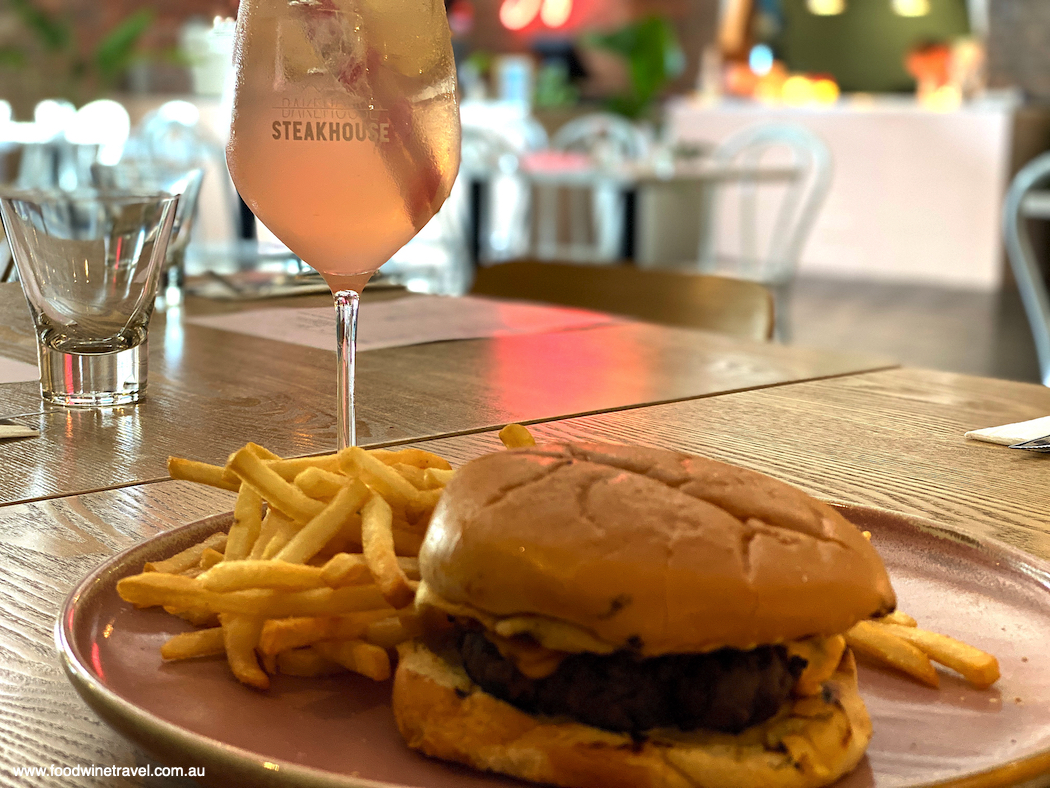 Although the Flavours menu at The Cottage features a delicious dessert – how good does crème brulee with macadamia baklava and Turkish Delight sound? – in the name of research we moved onto another great venue for our main course. Bakehouse Steakhouse is one of those places that effortlessly combines the old and the new: a cool, contemporary dining room and bar housed in a cavernous space dating back to 1875.
It opened then as Haleys Bakery. These days it's a restaurant and bar turning out 1000 steaks a week and 2-300 burgers. Best of all, head chef Josh Lawson doesn't just use any old beef, he uses Stanbroke beef from a family-owned company on the Darling Downs. He prides himself on simple food that is beautifully cooked, and the same philosophy extends to the Flavours menu, which offers a choice of four burgers and four desserts.
I opted for the Wagyu Cheeseburger and was super-impressed with the quality of the beef patty. It came with cheese, pickles, caramelized onion and Bakehouse sauce, along with a big mound of fries on the side. By now, it was noon and time for a drink from the very tempting cocktail list. A delicate pink Summer Spritz didn't disappoint with its enticing blend of peach liqueur, rose, lemon, prosecco and soda.
New restaurant in an old corner store
A progressive lunch, we were off again for dessert, this time to Essence of Indya, a new restaurant occupying what was once a corner store on Warwick Road. Owner Sid Tripathi wanted us to try the restaurant's signature dessert, charcoal kulfi, that he and co-owner/chef Chandan Singh created.
Kulfi (icecream) is traditionally made with mango, passionfruit and rose in Indian restaurants, but charcoal is a novelty. It looks very striking but doesn't have a lot of flavour, so how to get the texture and flavour right? Sid said it took countless attempts, but in the end they nailed it with the addition of chocolate and cookie crumbs.
Most of the Flavours menus were developed specifically for the event but this impressive dessert is an exception. It debuted at Essence of Indya's sister restaurant, Indian Tadka, a couple of years ago and has been a favourite ever since. Essence of Indya has different menus for lunch and dinner with the Flavours deal. The charcoal kulfi is only on the Flavours dinner menu, but Sid was keen for us to try it and we're so glad we did.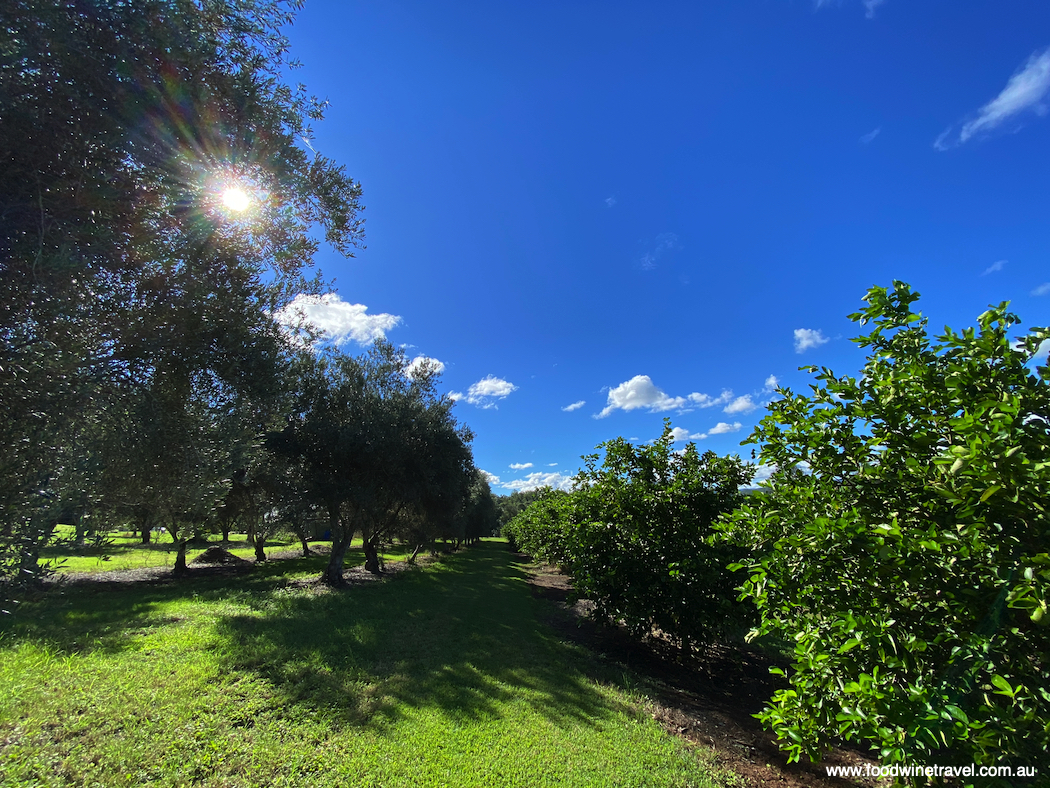 Before going back for a second round of Flavours in the evening, we took the opportunity to explore some of the fantastic products being produced around Ipswich. When Bernie Mahon's ancestors from Ireland settled on Pine Mountain in the 1860s, there were farms as far as the eye could see.
Although many of the descendants of early European settlers still live at Pine Mountain, Bernie and Lorraine Mahon's Watercress Creek olive and lime farm is pretty much the only farm remaining. They're run off their feet getting limes to restaurants and bars in Brisbane – a small Brisbane restaurant goes through a carton a week, while a nightclub takes anywhere between 10 and 20 cartons a week. (It takes a lot of limes to garnish all those cocktails  )
Bernie was getting just $4 a carton when he was selling through the markets. Delivering the limes himself is much more profitable for him and the venues are happy because they're buying at a better price too. Plus, the limes are fresh every week, not sitting around in a cool room somewhere.
On his idyllic 14-acre property, Bernie has 800 lime trees and 1000 olive trees, with the limes producing pretty much year-round. He sells a great range of lime and olive products from the farm gate and at local markets: lime cordial, a stunning lime jam, olives, tapenades, oils, balsamic vinegars and glazes, dried figs in balsamic, and more.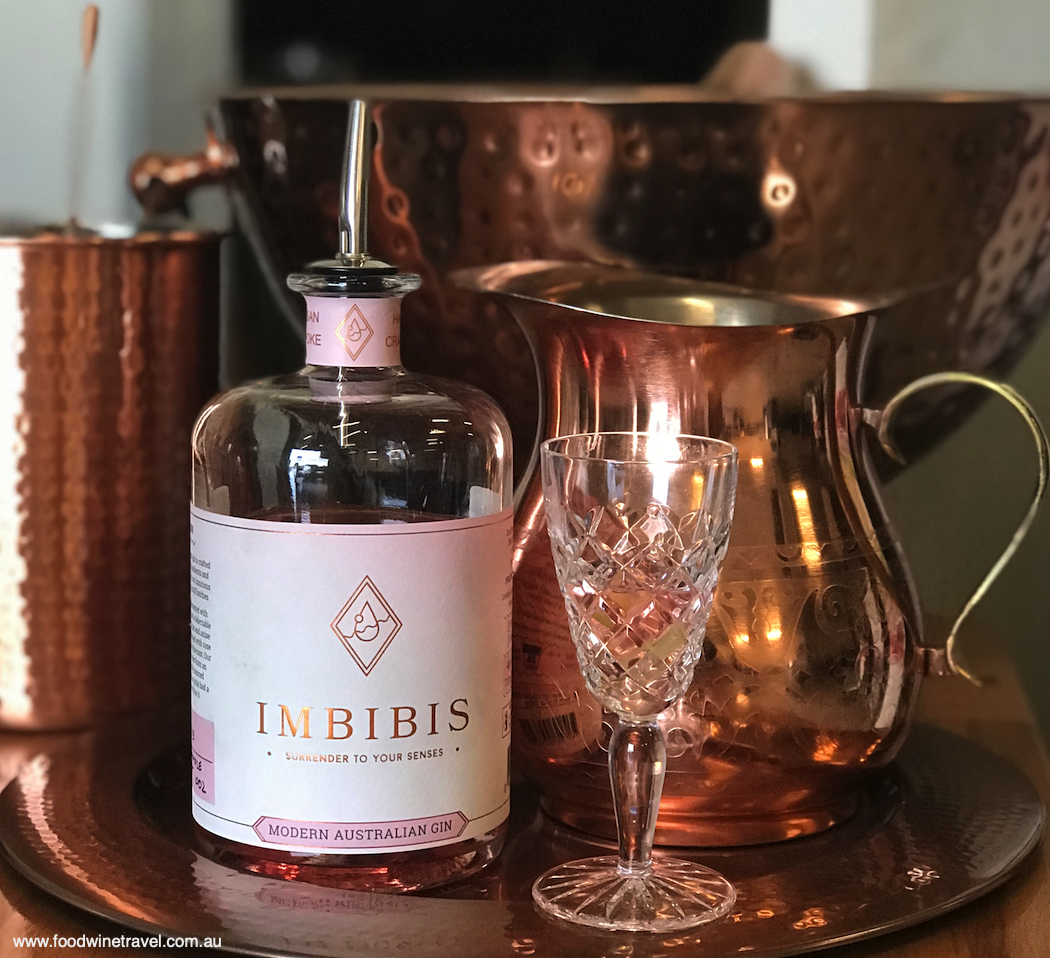 Needless to say, we shopped up before heading to Imbibis to do some serious gin tasting. Imbibis is a new business, started in July 2019 by Jason and Maree Hannay, who are aiming to capture "south-east Queensland in a bottle". They're producing several different spirits made with local and native ingredients.
Their Single Barrel Shiraz Brandy (made with south-east Queensland grapes) and their Three Myrtles Gin (made with lemon myrtle, cinnamon myrtle and anise myrtle) won silver medals in the Distilled Spirits Awards. But it was Passion, their pink gin made with native rosella, that I truly fell in love with. It's such a rare treat to find a pink gin that is dry and delicate. This one ticks all the boxes.
Imbibis is open by appointment only but its products are available online and at a dozen or so outlets in Brisbane and Toowoomba. Jason's even planning to do a gin using Watercress Creek limes. I love that spirit of co-operation with other local producers.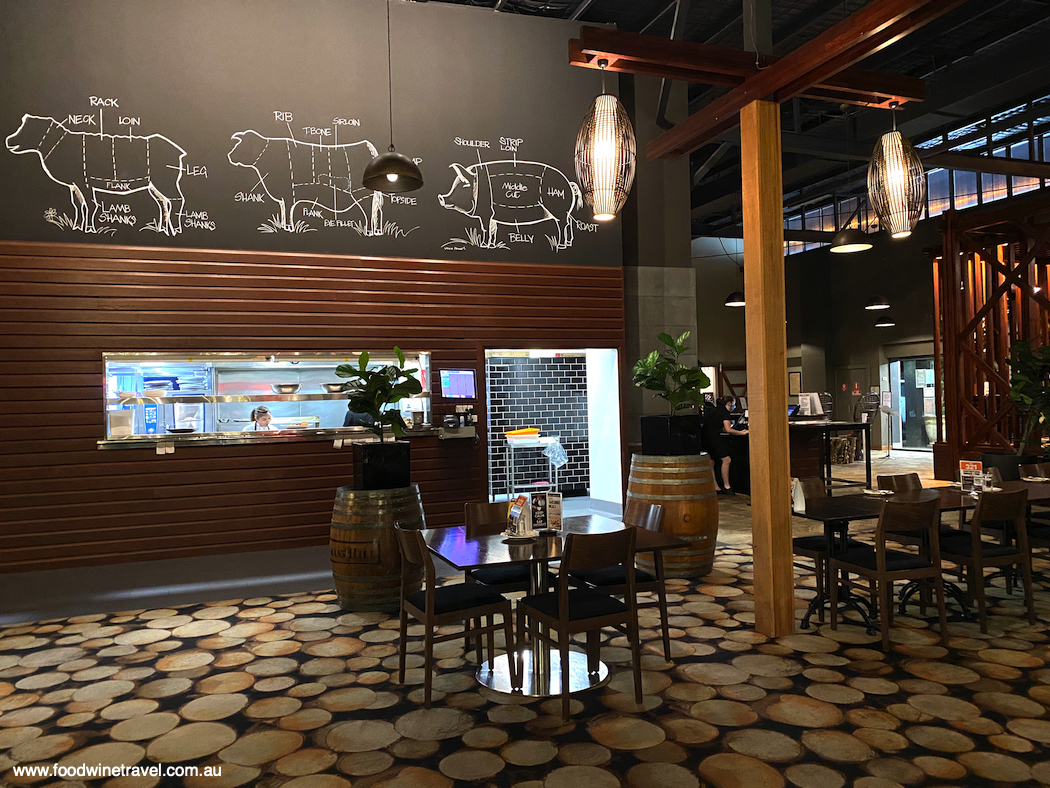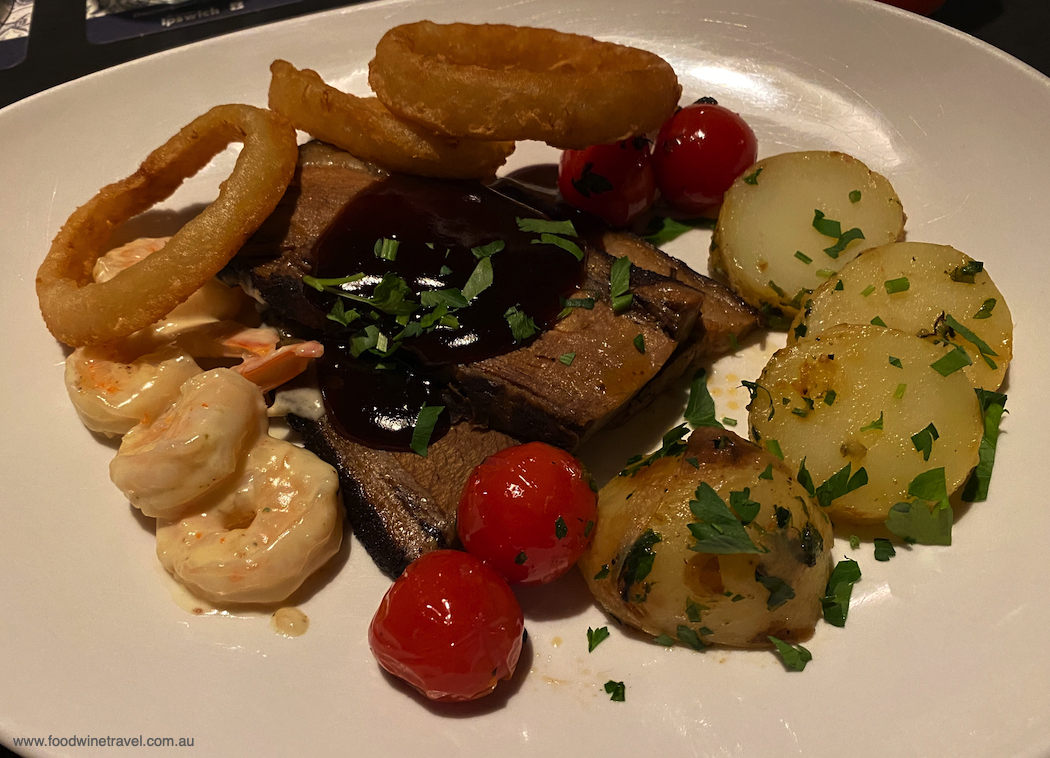 There was just a little bit of down time before duty called and we were back to tasting more of the Flavours menus. This time it was at the Prince Alfred Hotel, which lays claim to having the largest selection of craft beers in the southern hemisphere (its Tap'd bar has 72 beers on tap).
Its 3-course dinner menu features a simple but generous and tasty Smoked Salmon Nicoise Salad, followed by Classic Surf and Turf, and a knockout Belgian waffle that was served with berry compote, maple syrup and Ungermann Brothers' salted caramel, bacon and pecan icecream. (The following day we popped into Ungermanns' retro iccecream parlour in downtown Ipswich – oh my, the line-up of flavours is extraordinary.)
But back to the Prince Alfred. The Surf & Turf was melt-in-the-mouth smoked beef brisket with four creamy garlic prawns, baby potatoes, and battered onion rings. All good but I have to admit we were pretty stumped by now.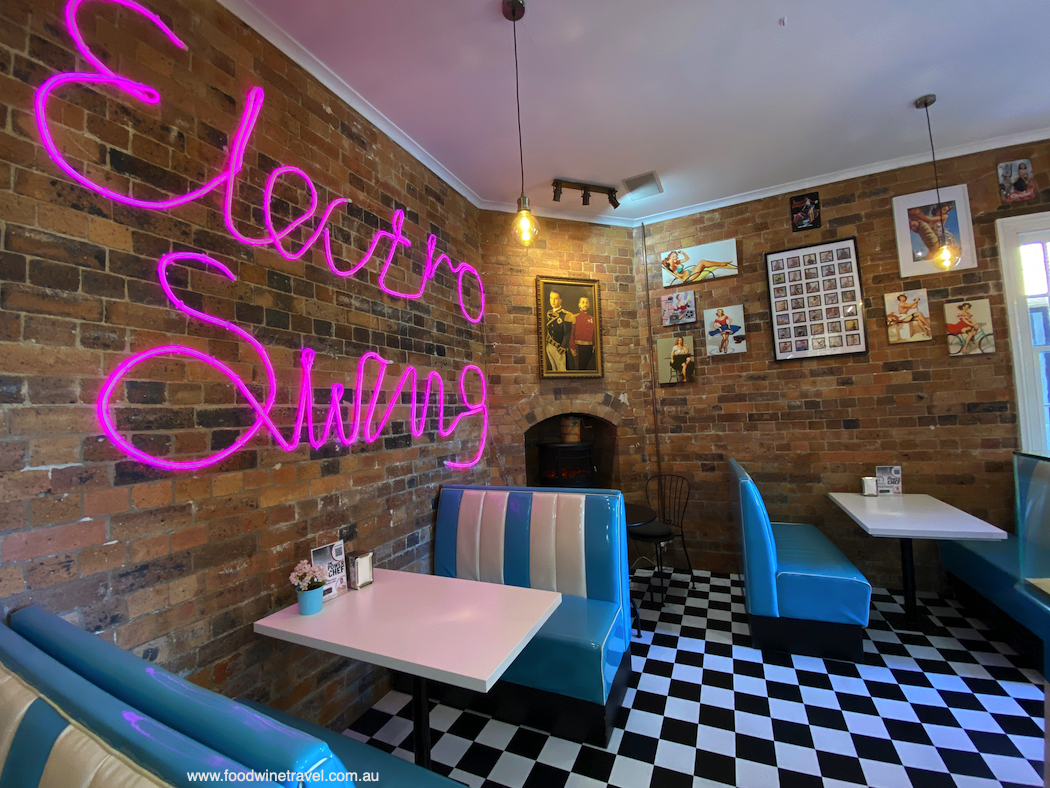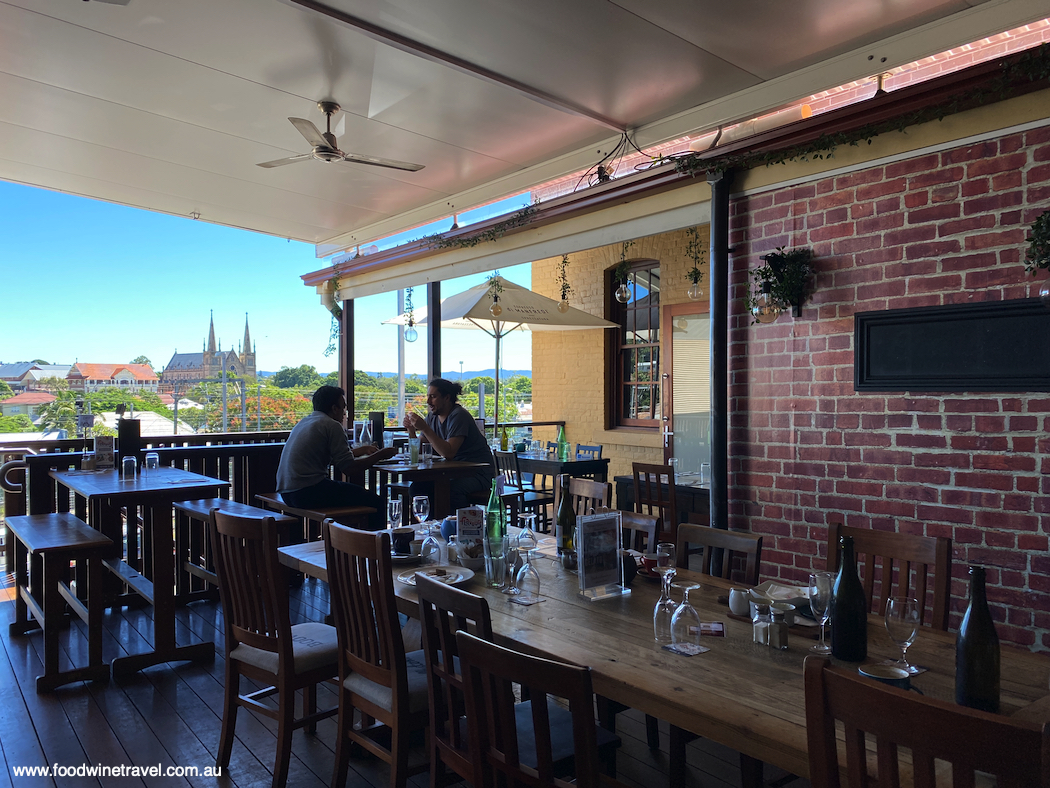 Next morning, we woke to do it all again! Well, not quite. There was no progressive lunch today but we did have lunch dishes for breakfast at Fourthchild, all in the name of research – salmon and camembert quiche for me, chicken, bacon and pesto filo pastry for Maurie. This popular café is in a lovely old pub with street frontage onto what the locals know as the Top of Town (Brisbane Street) and a back deck that looks out over the railway tracks to the city's most famous landmark, St Mary's Church.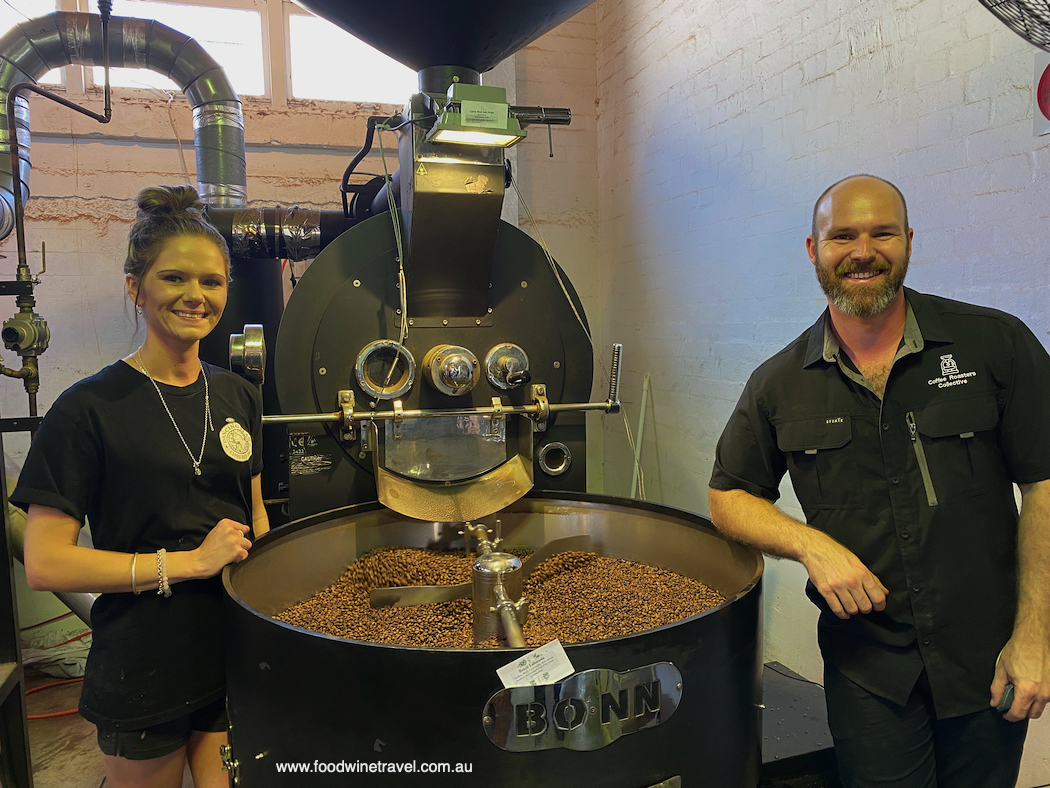 We ducked into Dancing Bean for a quick coffee just as the GM of the Coffee Roasters Collective, Carston Woodhouse, was roasting a batch of Labareda coffee beans from Brazil. What an impressive operation this is. Carston is partial to the Ipswich blend, which is smooth and a little bit punchy, but the real talking point is their Old Sea Dog range of coffee infused with spirits.
The beans are stored in oak casks where they are infused with spirits and left to age before roasting. There's no residual alcohol in the finished product but you can definitely get some of the flavour and certainly the aroma. Currently they're doing it with rum and with bourbon. Could this cure a hangover? "You can get the hair of the dog without being bitten," quips Carston.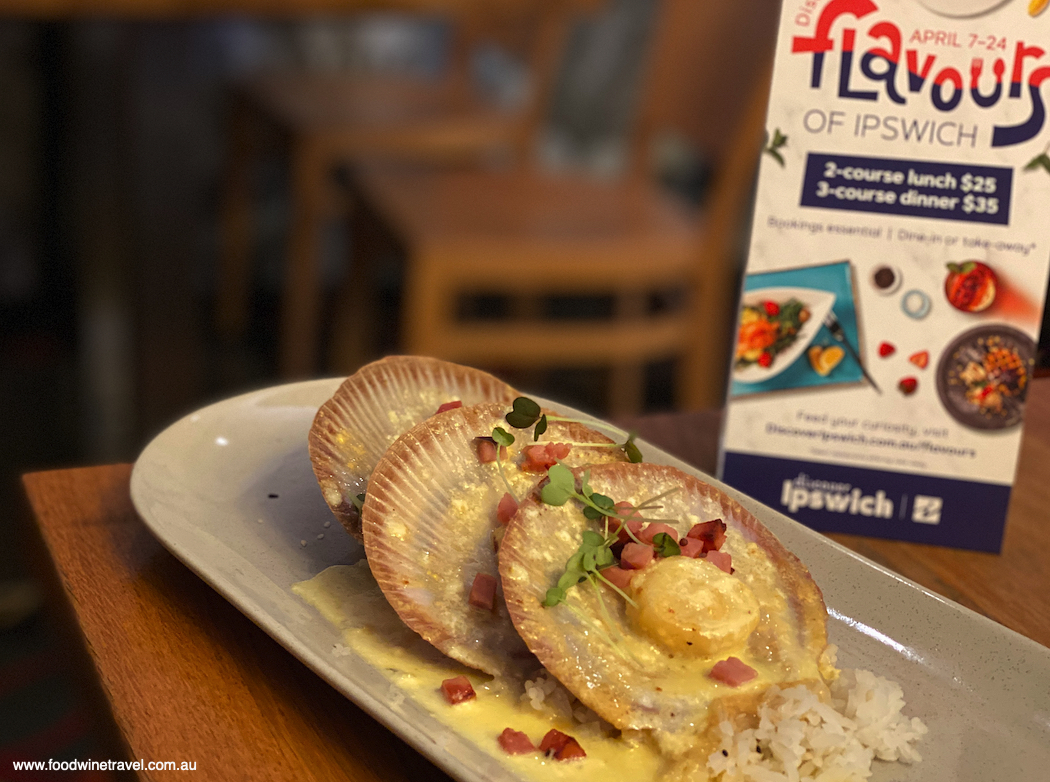 We did a quick sprint up and down the main street, marvelling at the heritage buildings, popping into some of the great little boutiques, and generally trying to walk off some of the kilos we'd surely piled on in the last 24 hours. Then we undertook our final assignment for Flavours, heading across the river to Ipswich Jets Leagues Club to taste some of the dishes put together by head chef Liu Finau.
Scallops in the shell with a white wine and bacon sauce was an unexpected and lovely starter for a set-price lunch menu. And we can highly recommend the Coconut Vanilla Panna Cotta, beautifully presented with berries and a passionfruit and mango puree.
Flavours is a great opportunity for Ipswich residents and visitors to get behind local restaurants and give these businesses a much-needed boost after a tough year. For the full list of restaurants taking part in Flavours, check out the Discover Ipswich website.
Christine and Maurie were guests of Discover Ipswich for this fun and very filling food fest. All photos taken by Christine and Maurie © Food Wine Travel.