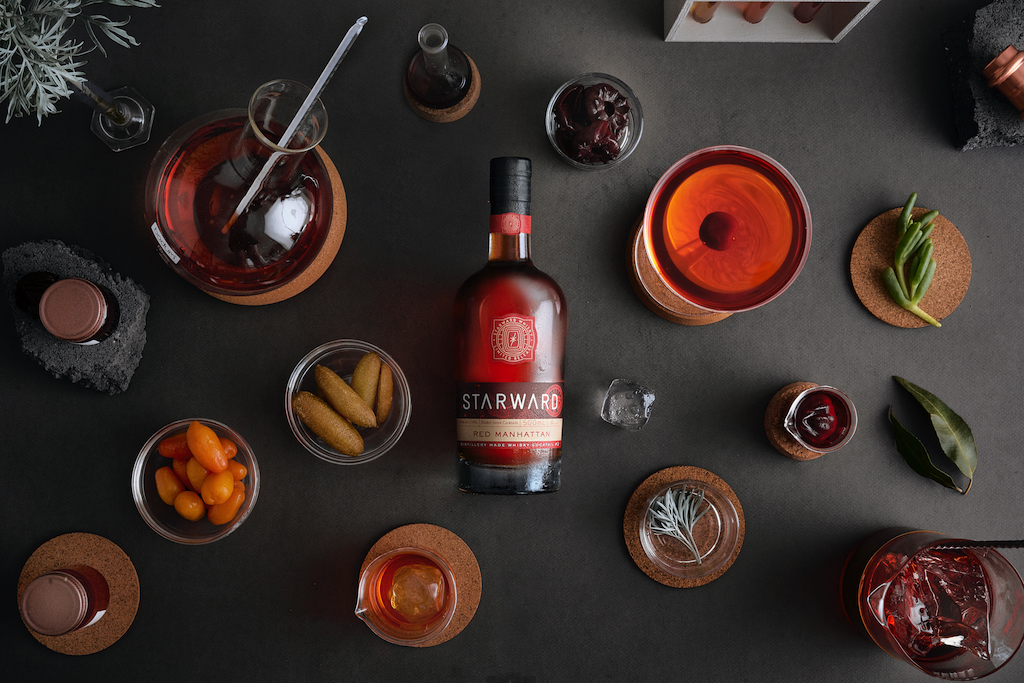 I know Starward's excellent reputation as an innovative Australian whisky producer and one that charges less than many of its local competitors, yet yields nothing in quality.
So while I'm really not much of a cocktail drinker, preferring good single malt whisky (usually neat, or with a few drops of water to explore that variation), an opportunity to review the Starward Red Manhattan cocktail mix was a pleasant surprise since I am currently (literally!) also drinking Starward's Charred Red Wine Casks single malt. The single malt is an excellent drop, in typical Starward tradition, produced in a limited edition for The Whisky Club.
The Red Manhattan is the second release in Starward's bottled cocktail series, following in the footsteps of the Starward (New) Old Fashioned, a blend of whisky, orange bitters and wattle seed demerara sugar.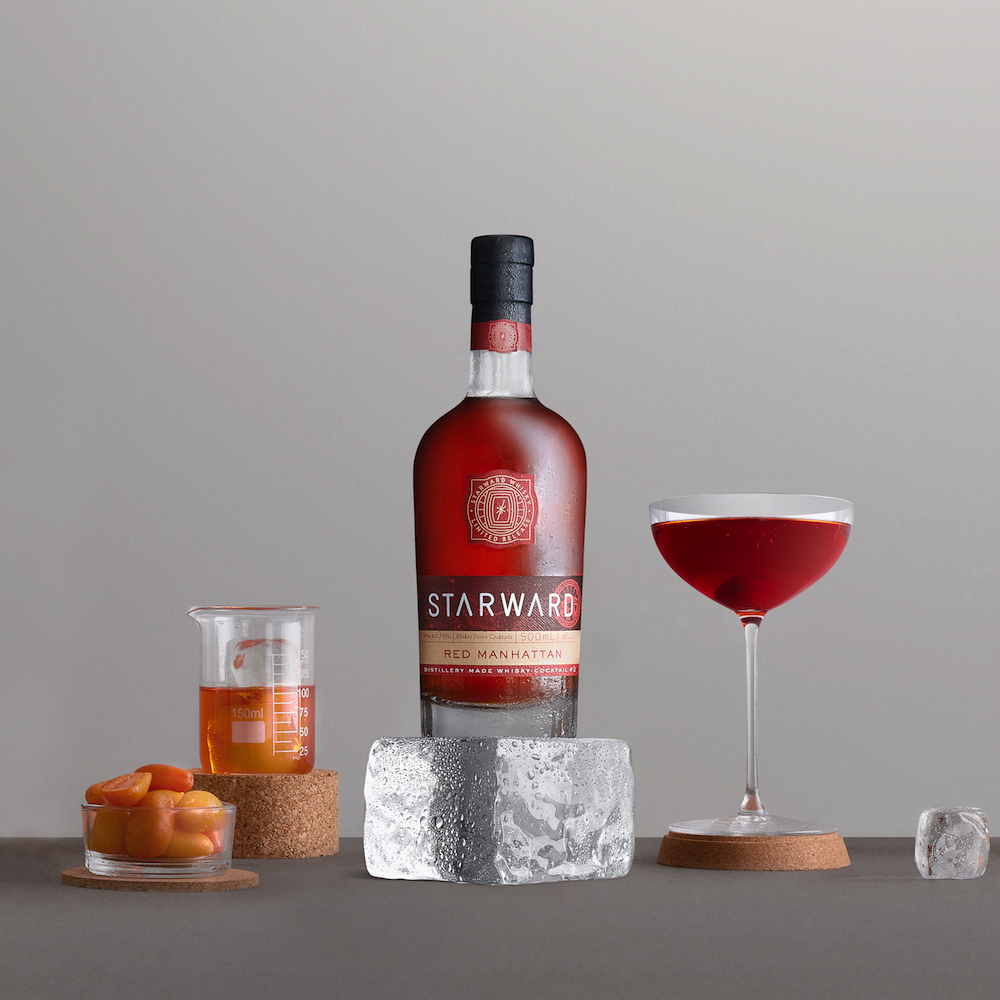 Starward describes the Red Manhattan as "a classic Manhattan cocktail re-imagined with an Australian twist". Presented with a single cocktail glass and a jar of maraschino cherries, it combines single grain whisky with bitters and a red wine vermouth infused with native botanicals. The vermouth is a bespoke product from Adelaide Hills Distillery which, like the Melbourne-born Starward, is passionate about creating craft spirits with Australian flavours.
I was intrigued to read Starward's Red Manhattan described as a grain whisky matured in red wine casks, because the Starward whisky produced for The Whisky Club and matured in charred red wine casks is a single malt whisky, not a grain whisky. Nevertheless I noted a distinct similarity in the flavour and character of both products. They share a subtle spiciness and a long finish, qualities that in my experience are commonly present in a whisky that has been matured or finished in red wine casks.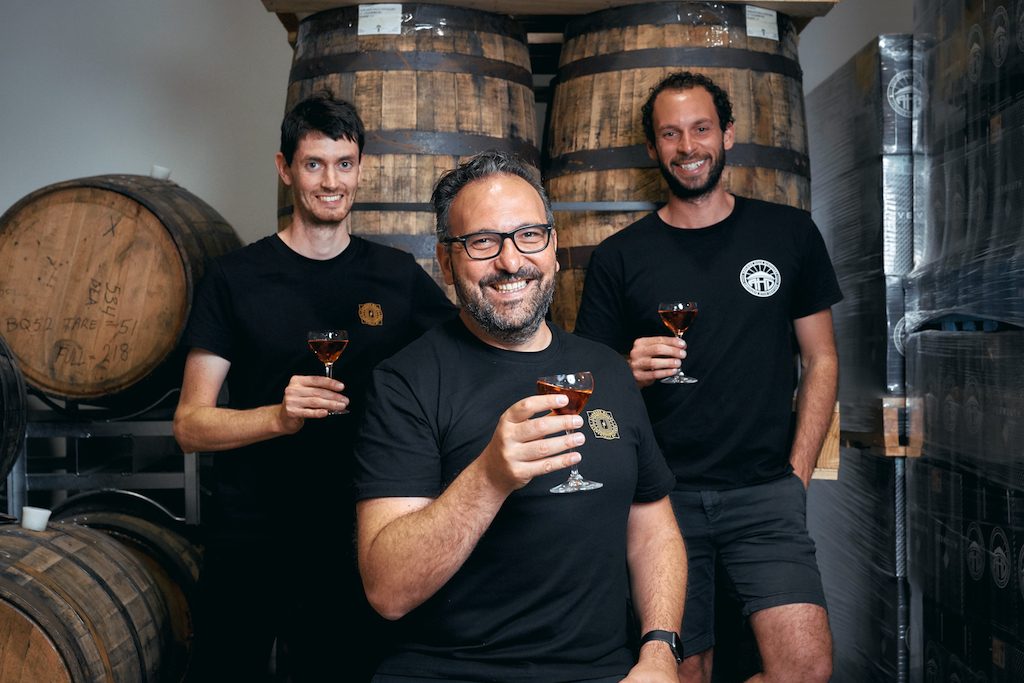 Starward recommends that the Red Manhattan be kept in the fridge and served as a 70ml pour in a coupe glass, along with a Maraschino cherry or red grape. We ignored the chill-factor and simply enjoyed it at room temperature, with one, two or even three cherries nestling as a final source of taste pleasure. Paired with a rich chocolate and raspberry tart, this was a perfect after-dinner indulgence on a cold evening.
Tasting notes supplied by Starward and reproduced below suggest overtones of Christmas spices and dark stone fruits. I cannot disagree with these, with the exception of the 'herbaceous' quality, but as I am not a regular vermouth drinker, my experience here is limited.
The subtle spiciness and smoothness of the whisky blends beautifully with the vermouth, with neither spirit dominating, such that I readily enjoyed the Red Manhattan and won't hesitate to seek out another bottle. I am now keen to try Starward's first cocktail product, based upon the traditional 'Old Fashioned'.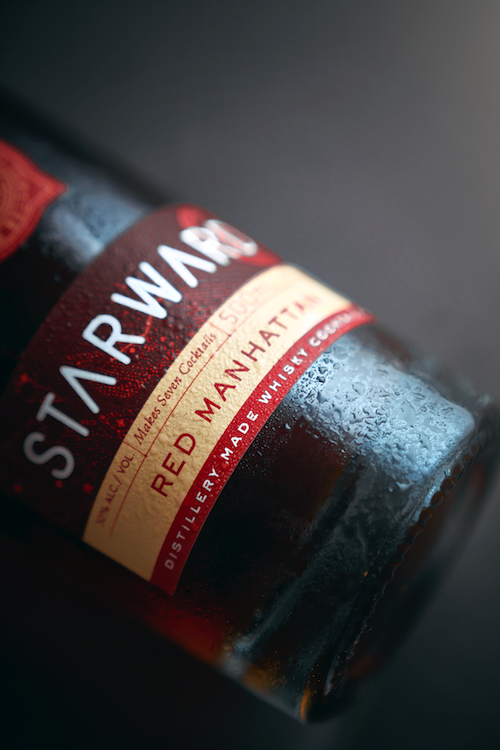 The distiller
Starward and Adelaide Hills Distillery are both innovative and award-winning local craft spirit producers that are passionate about creating distinctly Australian flavours. They draw on this in their collaboration to produce the Red Manhattan.
Starward whisky is uniquely matured in Australian red wine barrels. Adelaide Hills Distillery sources native Australian produce and South Australian red wine for its red vermouth. The result is a one-of-a-kind bottled cocktail that is bright, balanced and full of flavour.
Tasting notes
(courtesy Starward)
COLOUR
Earthy red.
NOSE
Christmas spices and dried fruits, supported by oak and a subtle grain sweetness.
PALATE
Dark stone fruits, baking spices with subtle notes of vanilla and juicy cherries.
FINISH
Bright, balanced and herbaceous with a medium finish.
The essentials
Starward limited edition Red Manhattan has an RRP of $49.00 for 500ml.
Available from the Starward distillery and www.starward.com.au, and from national retailers.