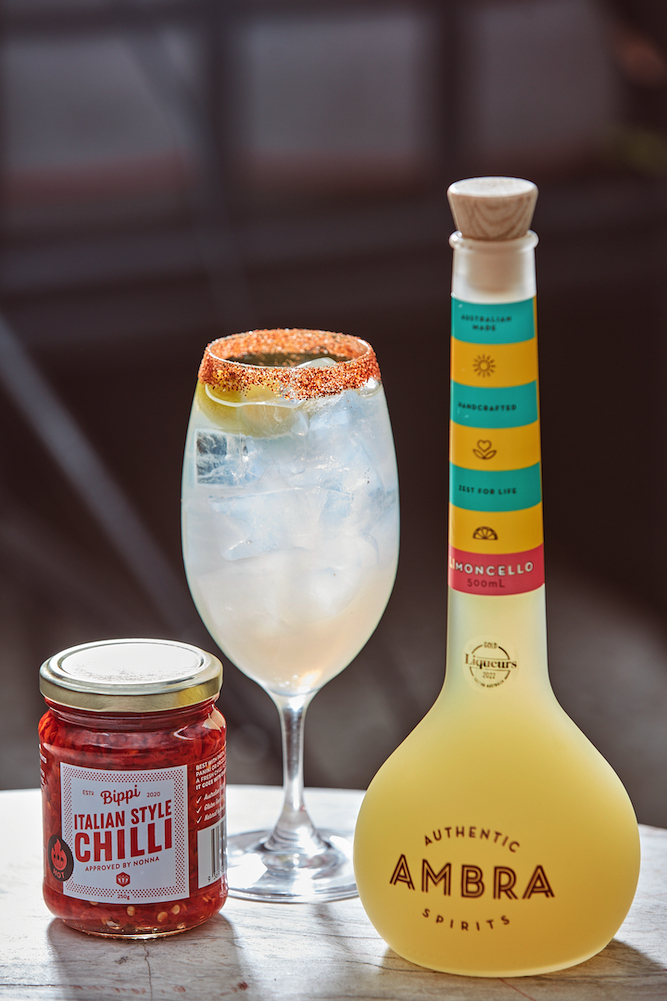 A collaboration between two proud Italian-Australian companies has produced this Spicy Limoncello Spritz Cocktail Kit which is guaranteed to turn up the heat on aperitivo hour.
The kit marries the authentic, bold flavours of Bippi Chilli with the sweetness of Ambra Limoncello to offer a spicy twist on the classic spritz cocktail. Also included in the kit are packets of Bippi chilli salt to dust the rim of the glass, and chilli-infused dried fruit to garnish.
There's also a recipe for Limoncello Chilli Vongole in the kit. Bellissimo! The spaghetti vongole recipe wows with its zesty flavours, and the Spicy Limoncello Spritz is the perfect drink to enjoy alongside it.
Both Bippi and Ambra were founded by Italian Australians. Ben Circosta, who founded Bippi Foods in 2020, grew up with his Nonna Emilia's Calabrian-style chilli on the family table. She migrated from Italy in 1955, bringing the family recipes with her. The family dubbed her signature chilli condiment bippi.
Today, Bippi Italian Style Hot Chilli is made in Melbourne from fresh Australian-grown chilli. The gluten-free and vegan-friendly condiment is available online at bippifoods.com or more than 500 stockists nationwide including Woolworths.
Similarly, Ambra co-founder Peppe Fusco was inspired by his grandparents' homemade limoncello recipe from their Amalfi Coast origins. South Australian-based Ambra makes a range of spirits using family recipes. The recipe for their signature limoncello has been handed down over generations and remains unchanged. "Coming together with Bippi to showcase our Italian heritage is an honour," says Peppe.
The cocktail kit is available from both the Bippi and Ambra websites for $69 + shipping fee. Stock is limited so you'll have to get in pronto.
This is not a sponsored post but Food Wine Travel was sent a cocktail kit to play with.