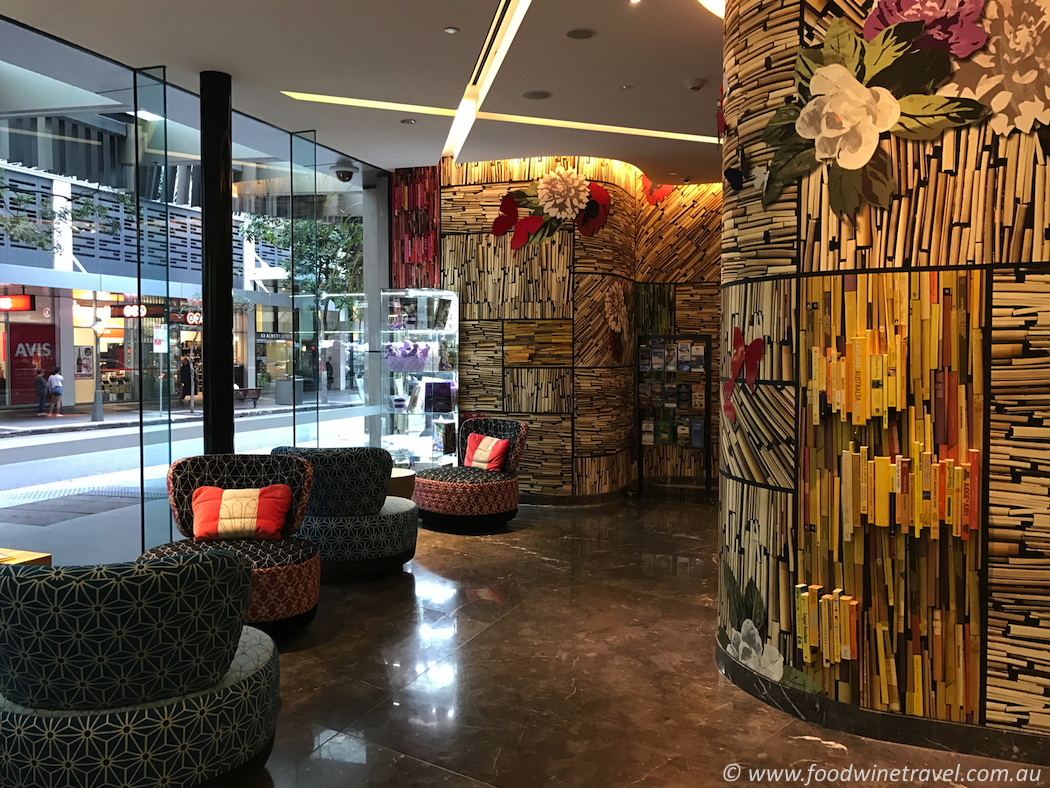 You could stay at any one of a number of downtown hotels so what makes you choose one over another? The friendly check-in staff? The bright, comfortable rooms? The excellent club lounge? At Brisbane's Capri by Fraser, it is all of those reasons and more.
The hotel opened a couple of years ago and from the start it set out to be a little different by offering "hotel residences", which in the broadest sense of the word means you can feel very at home there. We certainly did. For a brief moment, especially when I was looking out at people relaxing on their balconies in the residential apartment complex across the road, I even entertained the thought of downtown living.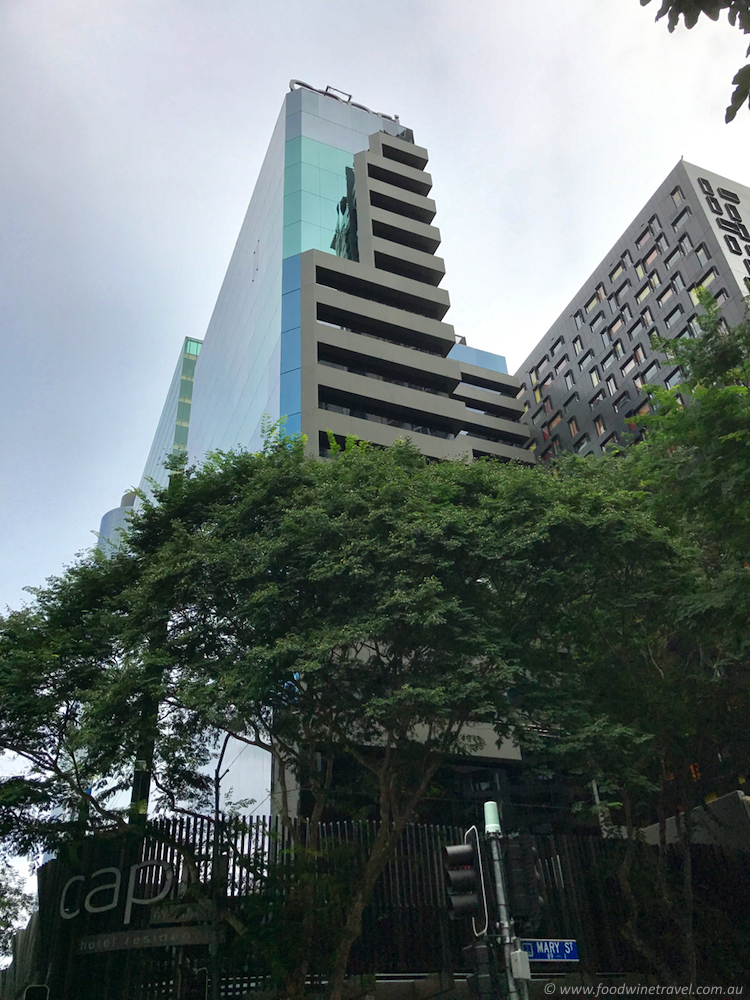 In a practical sense, "hotel residences" defines the type of accommodation on offer, which combines the comforts of an apartment with fully serviced hotel-style suites. Even the Studio Deluxe rooms (the hotel's cheapest) have a small kitchenette with microwave oven, sink and Nespresso machine. The kitchenettes in the top-tier One Bedroom Executive suites, designed for extended stays, feature a cooktop and convection oven in addition to the microwave and coffee machine.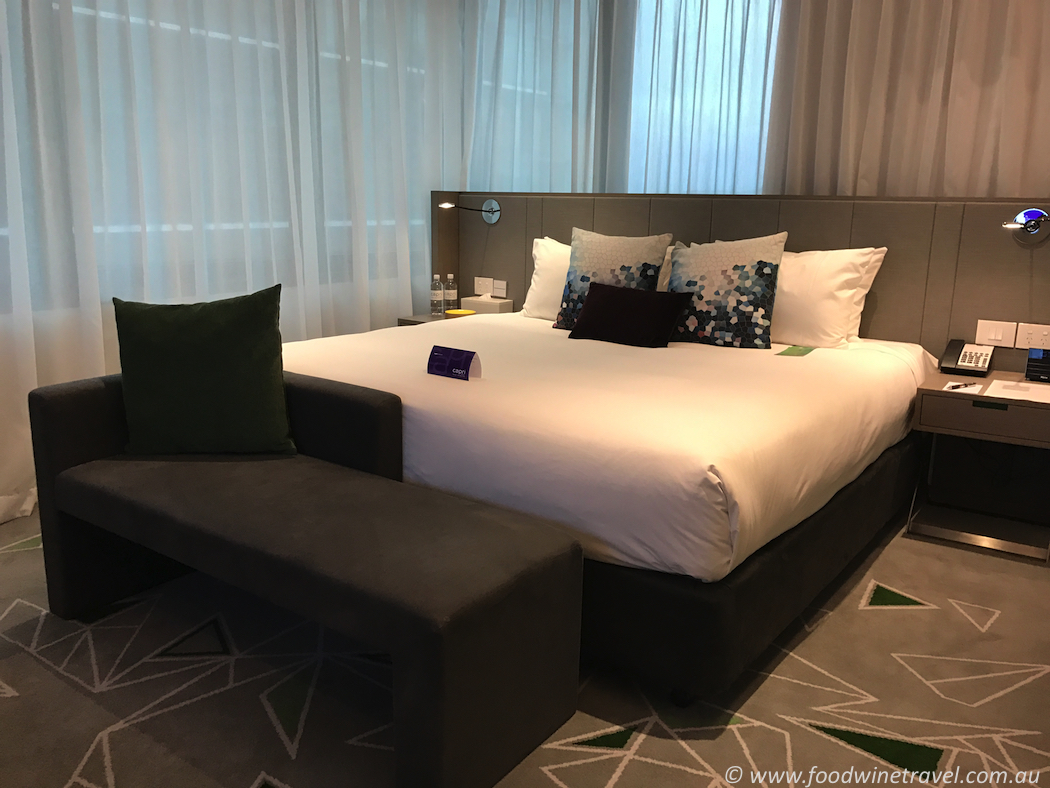 We stayed in a Club Studio room, which is a studio room on one of the higher floors with a few little extras such as bottled water, a selection of magazines and seated check-in with refreshments. It includes access to the Club Lounge with complimentary breakfast, evening canapés and drinks, and all-day Nespresso coffee, T2 teas and soft drinks.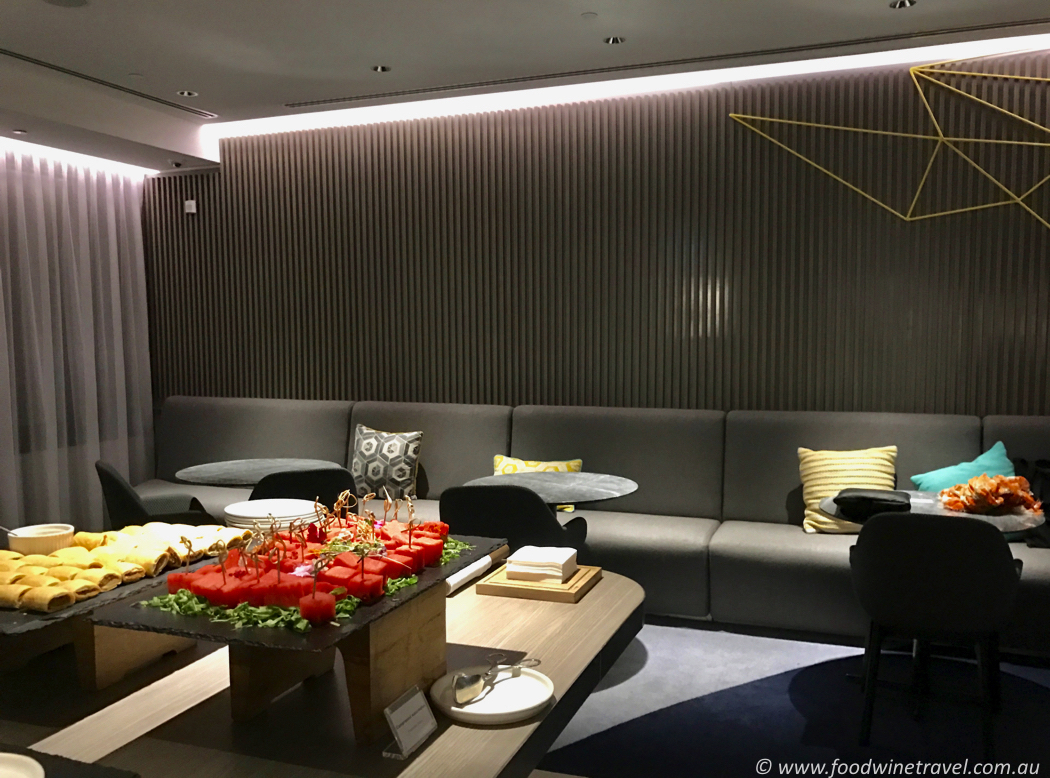 We loved the Club Lounge with its splashes of colour, gorgeous floral arrangements and really delicious canapés, many of them gluten-free. The in-house restaurant is Asana by Pete Evans and, as most people probably know from the media circus surrounding "Paleo Pete", his food is gluten-free and dairy-free. It's certainly not devoid of flavour, however.
A glass of bubbles and those yummy canapés set us up very nicely for dinner in Asana, the street-level restaurant that runs off the lobby. Asana effortlessly manages to be all things to all people: it's the hotel's breakfast room, it welcomes walk-ins off the street for a drink or a meal, and it is a modern casual restaurant by night, serving good food with an excellent wine and cocktail list. A grab-and-go café and coffee bar adjoins the restaurant.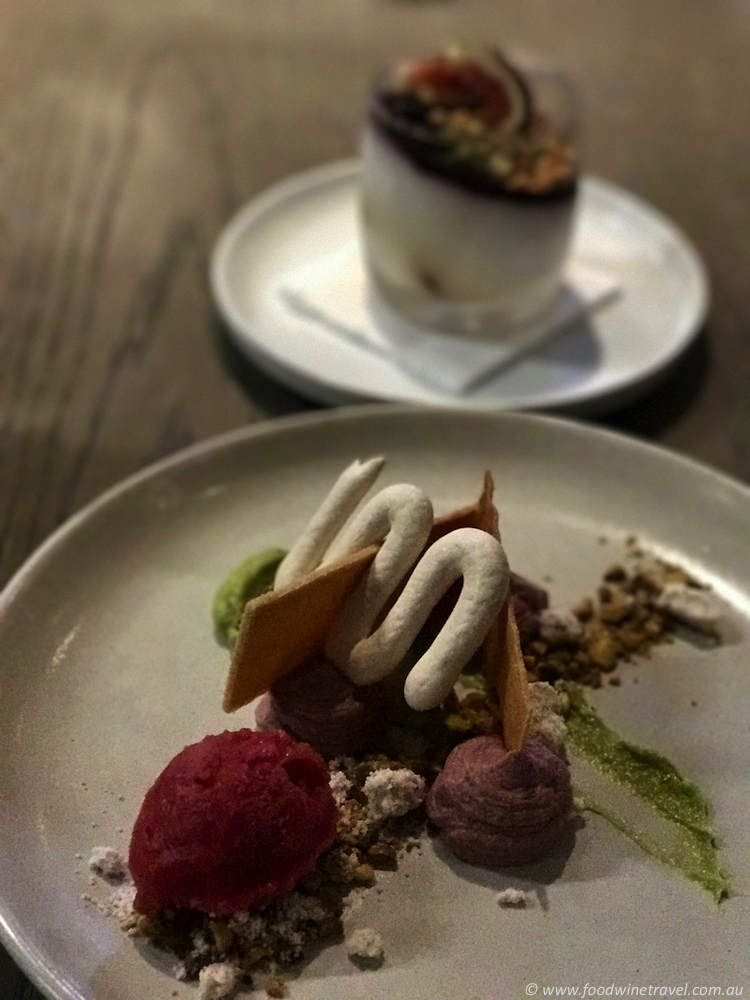 Asana caters, not surprisingly, for all sorts of dietary restrictions, but there is much to appeal to 'regular' tastebuds as well. From the Small Plates menu, we selected Charred eggplant, dukkah, almond cream and pomegranate; and Mooloolaba prawns with zucchini noodles, basil pesto and pickled chilli. Both were full of delicious flavours, the generous mound of zucchini noodles right on trend with its spiralized vegetables.
We really enjoyed our Large Plates as well: Confit belly of Borrowdale pork with cauliflower and chorizo for him; Roasted barramundi, sweet potato puree and lime and coconut sauce for me. We were less certain about the desserts, the coconut panna cotta not translating easily to a dairy-free presentation, but overall we were impressed, and while we're not about to leap into a paleo diet, we liked Evans's Asana menu and the focus on good food that he brings to the hotel.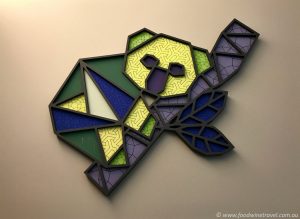 Back in our room, we toasted each other with espresso martinis and drew the curtains with the flick of a switch. Now that's a feature I'd love in my own home. Our room on the corner of the building had wrap-around windows, giving the room a brightness not often see in hotel rooms.
The king-size bed was super comfortable, and the desk had a nifty feature where it could be opened up to reveal a make-up mirror. All the rooms have free, fast wifi, an iPod docking sound system and 48″ Smart TV.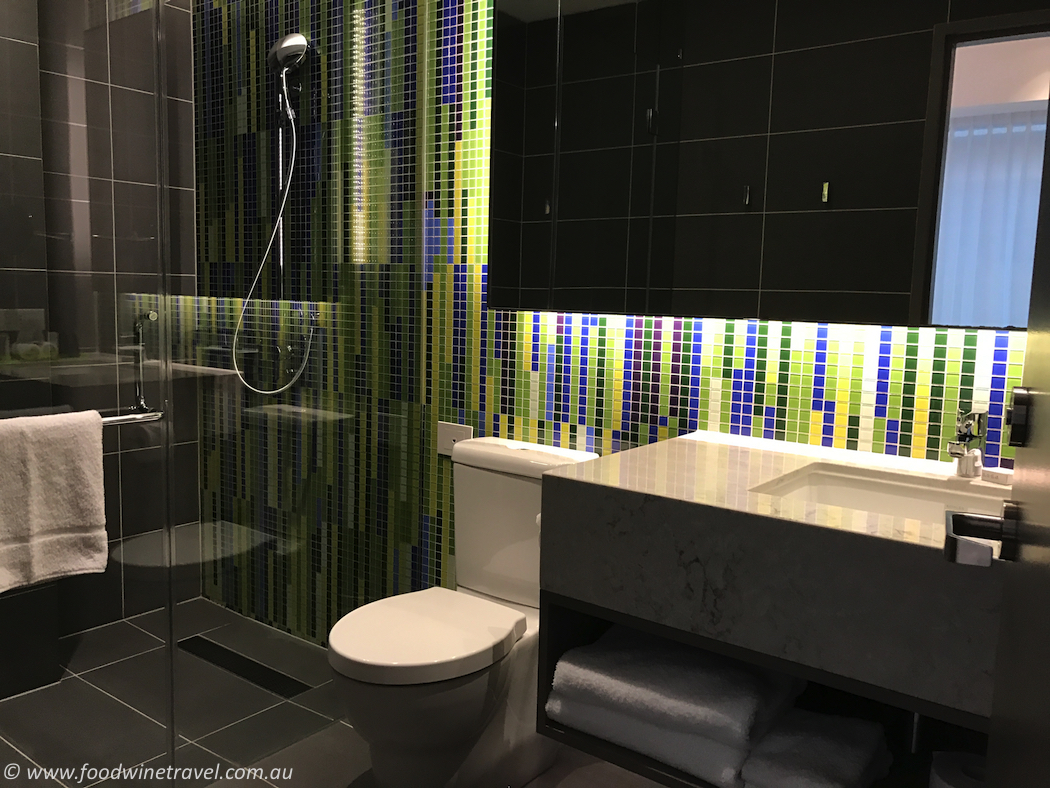 The hotel lobby is bright and cheerful with contemporary art and a living wall of green. Facilities include an indoor swimming pool, gym, meeting rooms and 24-hour laundrette.
Location-wise, the Capri by Fraser is hard to beat. It is within walking distance of the Queen Street Mall shops, Botanical Gardens, Eagle Street Pier dining precinct, Brisbane Convention and Exhibition Centre, and the Southbank dining and entertainment precinct.
Us? We were happy just to stay put and enjoy our home away from home.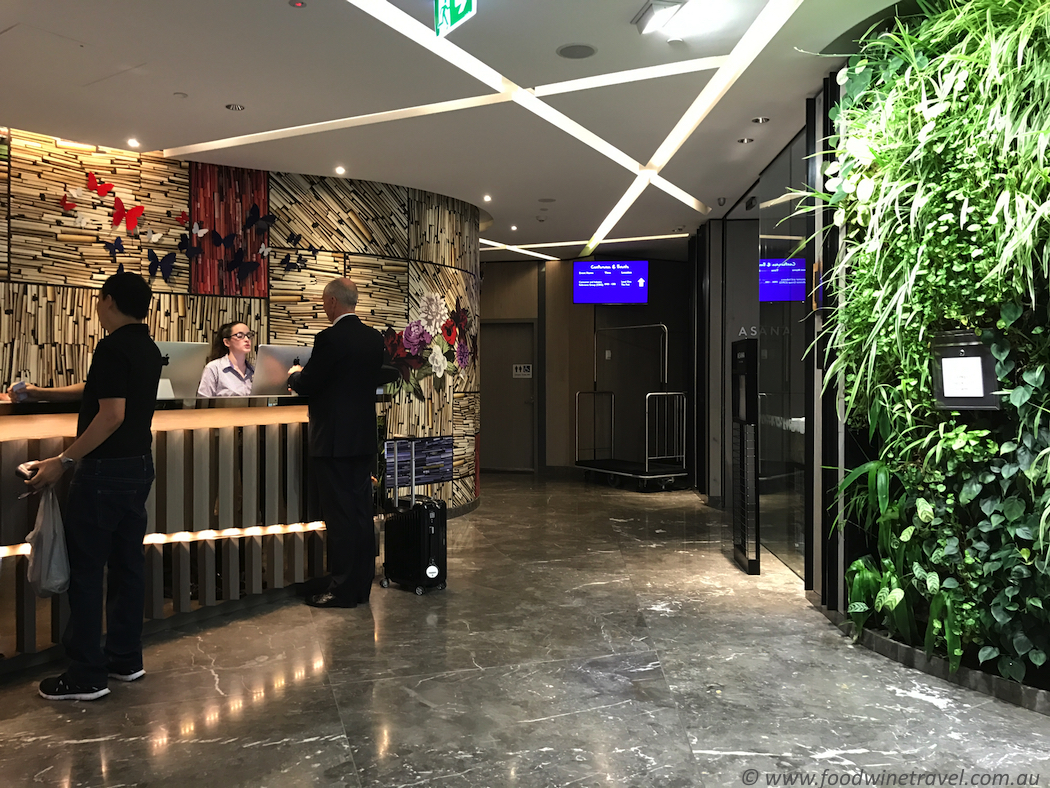 The Food Wine Travel checklist:
Comfy bed √
Good shower √
Free wifi √
Free parking X (costs $40)
Tea and coffee in room √
We stayed in: Room 1708.
If you go:
Capri by Fraser Hotel Residences
80 Albert Street
Brisbane QLD 4000
Australia
Toll-Free: 1800 110 800 (within Australia)
Tel: +61 7 3013 0088
**Book the Capri by Fraser through booking.com**
Food Wine Travel gets a small commission if you book through this link but it doesn't cost you any extra. We spent a night as guests of the hotel.