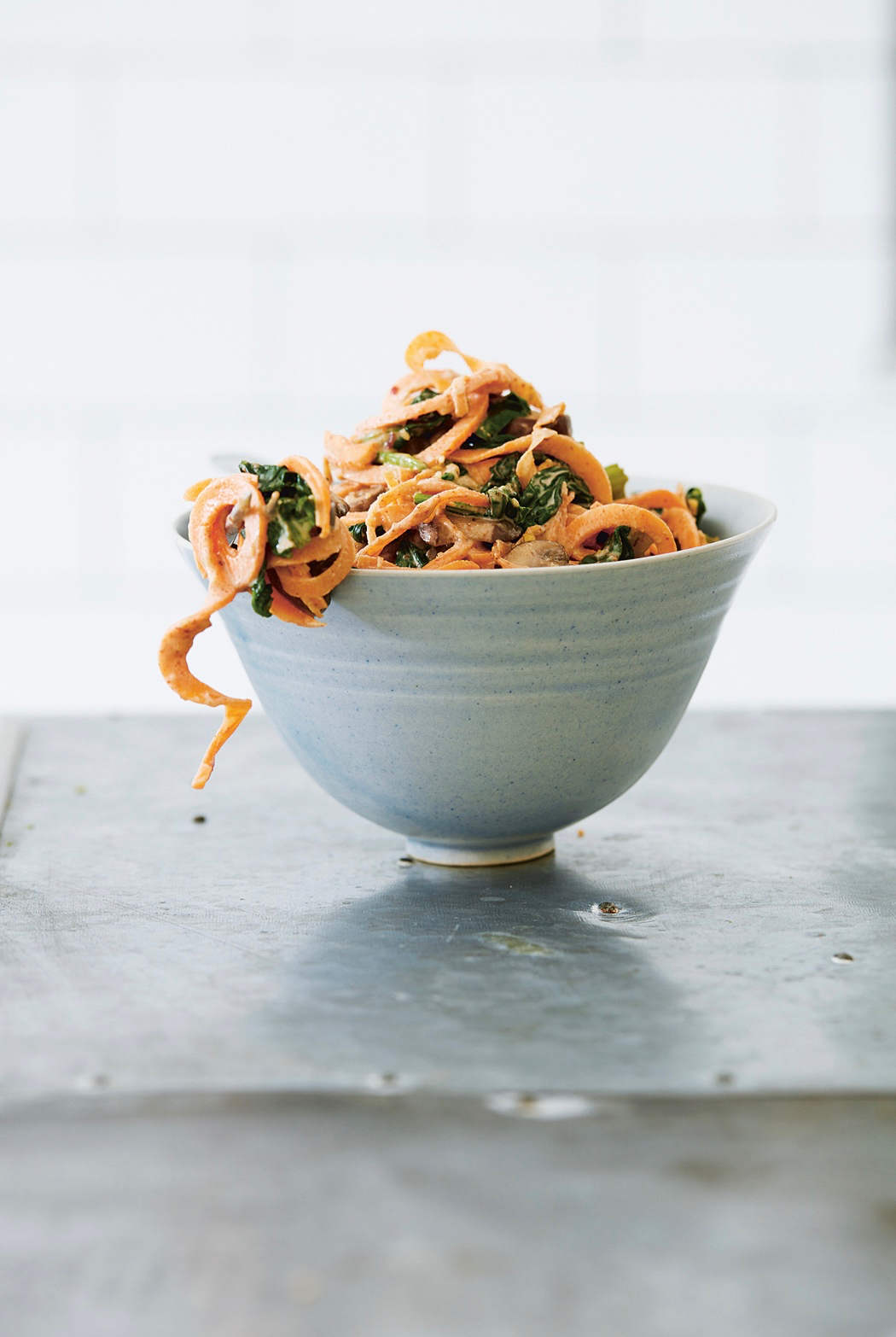 If you don't have a spiraliser in your kitchen, go out and buy one now, because you'll need it for this recipe. 'Spiralise' has made it into the dictionary as a legitimate word, such is the popularity of vegetable noodles/spaghetti with those who want to lower their carb intake and up their vegetable intake.
The recipe here for Sweet Potato Noodles with a Creamy Peanut Satay Sauce comes from Deliciously Ella With Friends, published by Hachette Australia, the latest offering from popular UK blogger and cookbook author, Ella Mills (Woodward).
Mills says sweet potato noodles were a revelation to her. "They're so much heartier and more filling than courgette (zucchini) noodles, and this satay sauce really brings them to life," she says in her introduction to the recipe. "It's so incredibly creamy, with subtle hints of chilli and tangy lime. Together they make for the best pick-me-up dinner, healthy but comforting and bursting with flavour."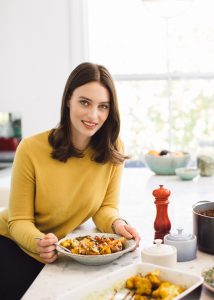 Mills is good at flavour. I've been quite taken by her earlier books, Deliciously Ella and Deliciously Ella Every Day, as you might have gathered from previous columns. She has a great knack of tapping into what's popular and up-to-the-minute without brow-beating readers into changing their diet.
She follows a gluten-free vegan diet herself and was described by one UK journalist as "the new Nigella Lawson … if Nigella was quasi-vegan and had a physical aversion to salted caramel". In her books and in her blog, www.deliciouslyella.com, Mills advocates plant-based, dairy-free, gluten-free eating, yet it's such delicious, wholesome food there's no need to put any labels on it.
None of her recipes is particularly complicated and all the recipes use ingredients that are readily available. Deliciously Ella With Friends is all about sharing food with friends and family, so you'll find recipes for parties, feasts, picnics and cocktails, brunches, Sunday lunch, after-work catch ups and more.
!! Buy Deliciously Ella With Friends from Book Depository, with free delivery worldwide !!
Food Wine Travel gets a small commission on purchases through this link but it doesn't cost you any extra.
SWEET POTATO NOODLES WITH A CREAMY PEANUT SATAY SAUCE
Serves 2
FOR THE NOODLES
olive oil
1 celery stick, finely chopped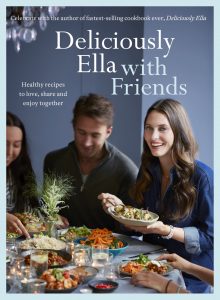 5 garlic cloves, crushed
2.5cm root ginger, finely grated
pinch of salt
250g mushrooms, thinly sliced
2 small sweet potatoes, about 200g each, peeled and spiralised
100g baby spinach
FOR THE SAUCE
3 tablespoons crunchy peanut butter (or almond butter also works)
70ml almond milk, plus more if needed
1 teaspoon tamari
1 teaspoon chilli flakes
juice of 1 lime
1 tsp honey
a little olive oil, if needed
Heat a glug of oil in a large frying pan, then add the celery, garlic, ginger and salt and sauté over a low heat until the celery is softening. Add the mushrooms once the pan has been bubbling for a couple of minutes.
After a minute or so more, add the sweet potatoes and cook for about 10 minutes.
Next, make the satay sauce. Simply place all the ingredients in a blender and blend until smooth, adding oil if it helps to process the sauce, then add salt to taste.
Once the noodles and mushrooms are tender, add the spinach and the satay sauce. Stir until the spinach has wilted and the sauce is warm. If the sauce feels a little thick, add a splash of water, olive oil or almond milk and stir it in until it reaches your desired consistency.
Recipe and images from Deliciously Ella With Friends, by Ella Mills (Woodward), published by Hachette Australia, and reproduced with their permission.
This story originally appeared in PS News online.