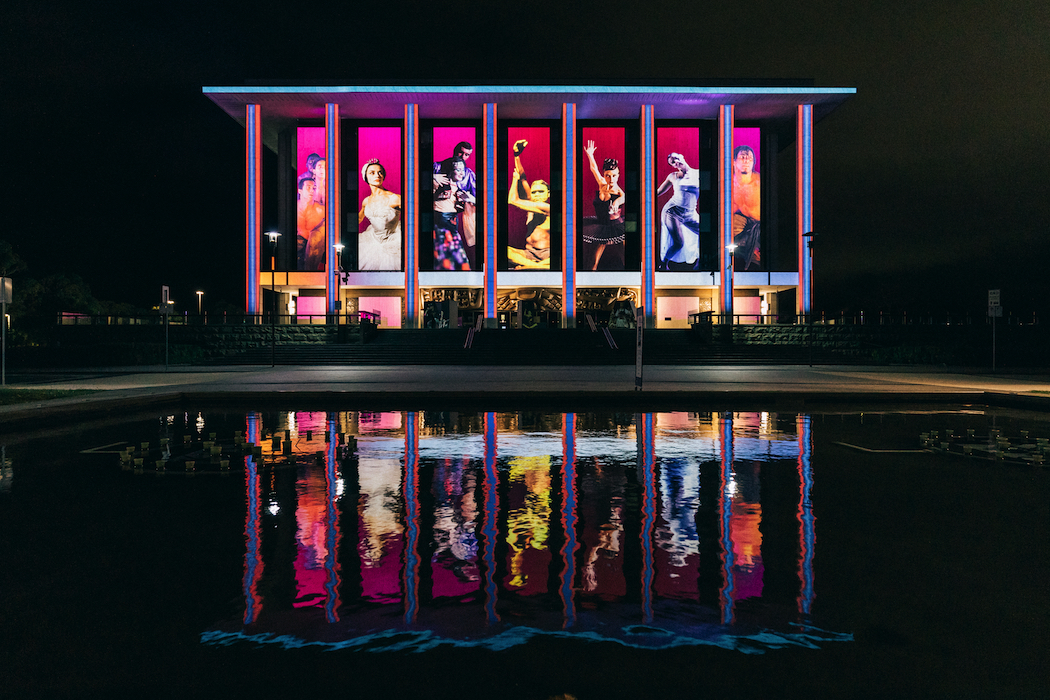 Are you ready to be Enlightened? Canberra's colourful Enlighten Festival kicks off this evening, heralding 17 days of culture and creativity. Every evening from now until March 19, the city's national attractions will be illuminated with spectacular projections.
It's always a treat to see what the creative designers have in store. We loved the projections on the National Gallery last year where artist Daniel Crooks transformed the building's brutalist façade with manipulations of geometry, perspective, colour and light.
This year, we're looking forward to seeing the National Gallery latest commission, a projection and sound-based work titled Djarraṯawun. Created by The Mulka Project, it portrays the elemental forces and life cycles of our world – sunlight, lightning and fire – intertwined with songlines and soundscapes from the Yolŋu world of north-east Arnhem Land.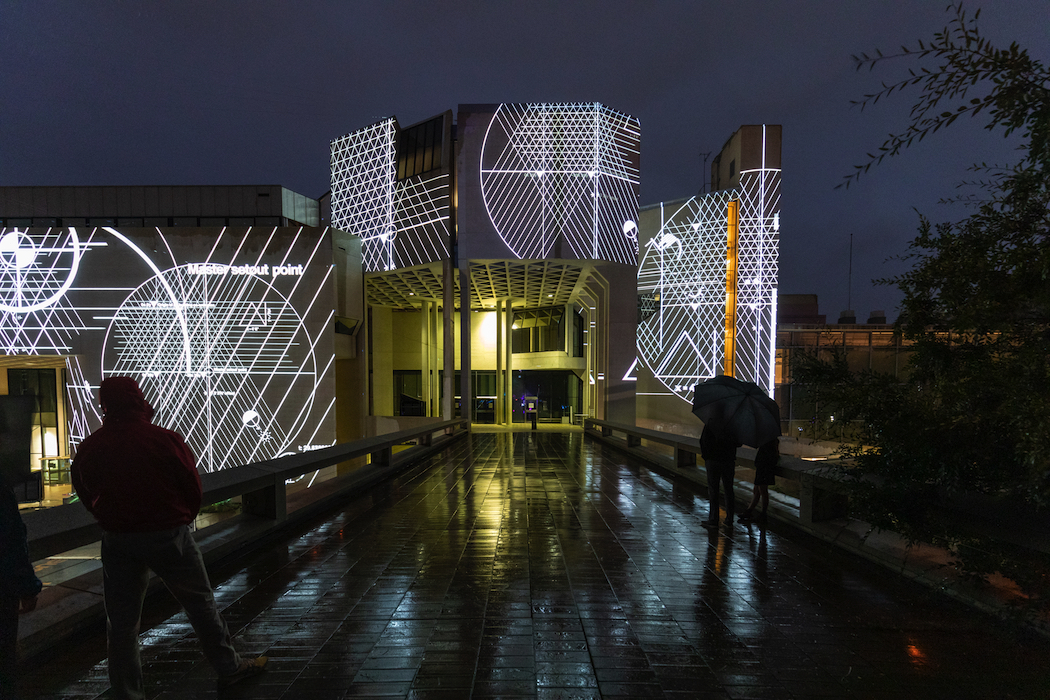 As well as all the spectacular projections on our national buildings, there'll be an exciting program of entertainment, including Electric Fields performing with the Canberra Symphony Orchestra – we can't wait! Fresh from headlining at Sydney WorldPride, the pop/soul/electronica band will wrap up Pride Weekend with its Symphony in the Park concert on March 12 (on Stage 88 in Commonwealth Park).
Throughout the 17 days of Enlighten, the Festival Hub stage (between Questacon and the National Portrait Gallery) will host entertainment from interstate and local acts including R&B hitmaker Vetta Borne, First Nations electronic artist Hylander, and Canberra's own Australian-Samoan R&B artist, Kirrah Amosa. Expect a lively atmosphere with up to four acts every Friday, Saturday and Sunday night and up to two acts each weeknight.
Enlighten Festival Hub + Underground Spirits
Alongside the stage entertainment, there are several illuminated installations to look out for in the Festival grounds, including a seven-metre-high pair of lungs, named Reflecting Hope. The huge sculpture by Clint Hurrell uses lights, lasers and haze to provide an illusion of breathing lungs. Also keep an eye out for Macrocosm, an inflatable sculptural production inspired by the sea, and Ostensorium, a holographic light installation.
From March 3 to 13 in the Festival Hub, you can enjoy a refreshing craft brew in the BentSpoke Beer Garden, indulge in some great street food at Street Food Live, and enjoy delicious eats and drinks from local vendors.
One of our favourite distillers, Underground Spirits, has partnered with Fever-Tree tonic for its first foray into the event. Des Lumières by Underground Spirits offers a lavish bar experience under warm, glowing fairy lights. There's no need to book; just find a spot on the deck (near the National Portrait Gallery) and sip on their specially curated Enlighten cocktails, gin and tonic, or mocktail. In true Underground Spirits style, their bar will also serve other local beverage offerings including beer from BentSpoke Brewing Co., and wine from several Canberra Region winemakers.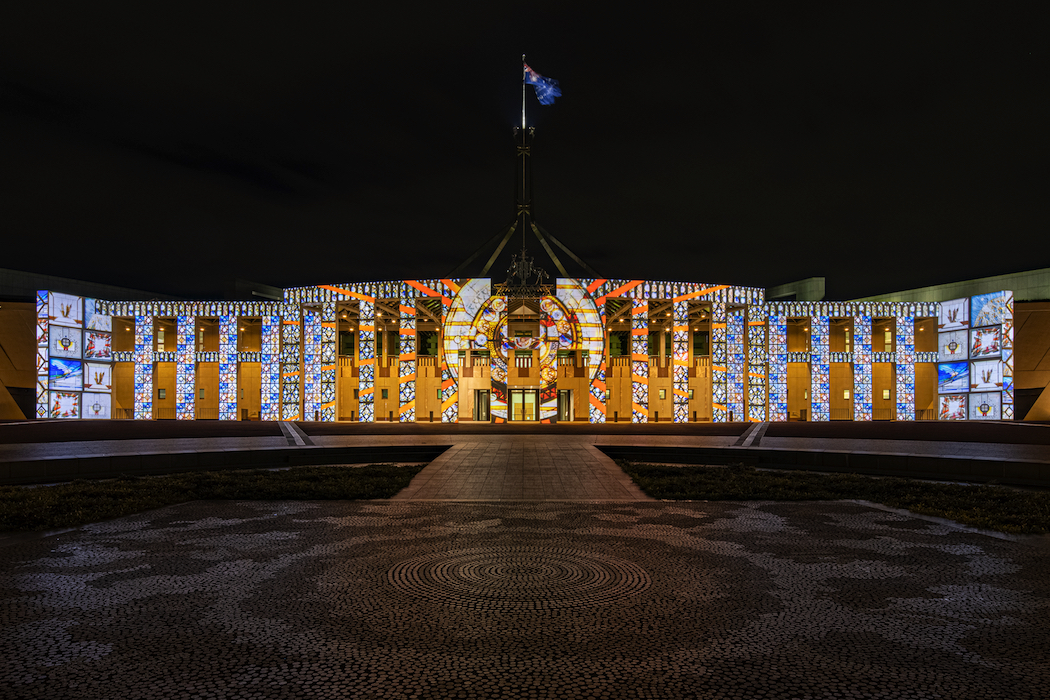 At various times during the Festival, there'll be special events such as FreshOut! on March 11, a family-friendly event in Glebe Park with performing artists, market stalls, a showcase of Canberra food and wine, and an energising line-up of acts including ARIA nominated children's group Tip Toe Giants.
You can celebrate Canberra Day on March 13 at a free live concert on Stage 88 from 12 noon. Headlining the concert will be popular Canberra trio SAFIA. Another special event is the Lights! Canberra! Action! short film festival in the Senate Rose Gardens on March 10.
Balloons will fill the sky with a blaze of colour during the Canberra Balloon Spectacular from March 11 to 19. Watch a special Pride Flight take off on the opening morning (March 11) and hot air balloons from Australia and overseas with LGBTIQA+ flags.
As well as all the projections in the Parliamentary Triangle, illuminations will also light up the city, with 18 illuminated prehistoric creatures dotted throughout City Walk, Ainslie Place and Civic Square.
For a great family outing, begin your journey at Canberra Museum and Gallery with life-size dinosaur puppets, T-Rex, Thunderbird and friends roving through the gallery, before two magical puppet shows at Canberra Theatre Centre, The Adventures of Alvin Sputnik: Deep Sea Explorer and New Owner. Afterwards, take a 'Night Walk Through Time' to discover the city's 18 illuminated creatures from 5pm, and encounter life-size puppets roving each night from 6:30pm.
For the full program, visit the Enlighten Festival website. Entry is free (some events may be ticketed).