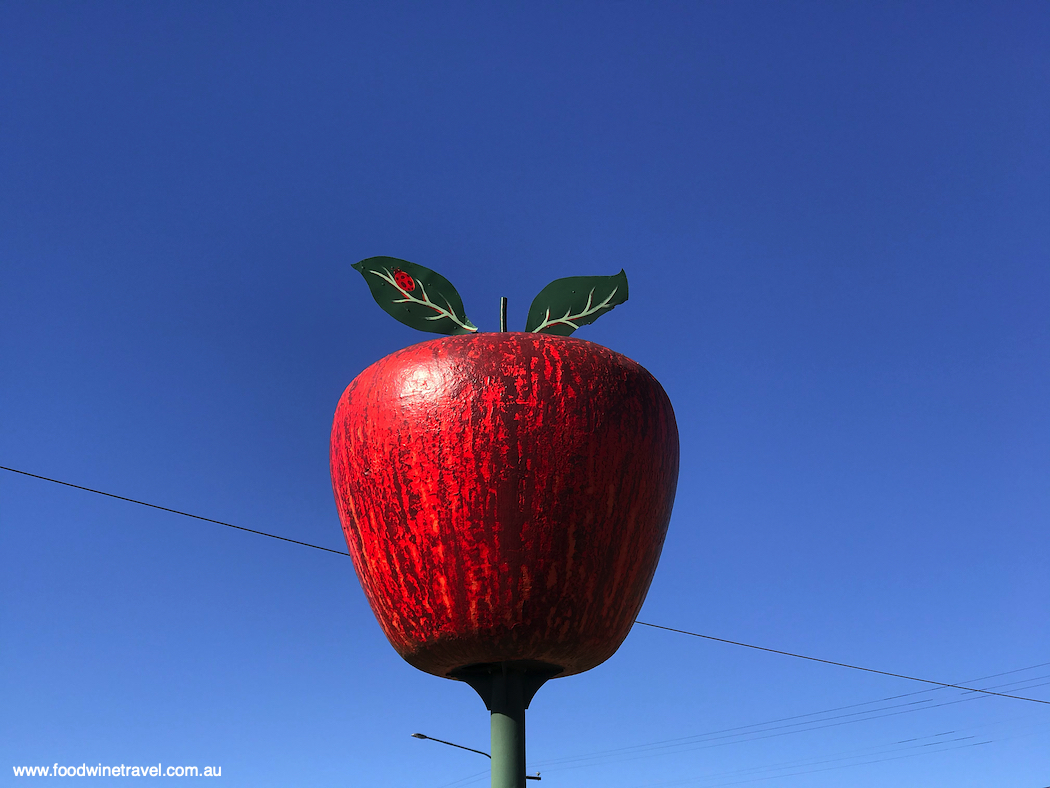 Queensland's Granite Belt is a region on the Great Dividing Range where the sky is big, the air is fresh and the landscape is punctuated with spectacular granite boulders. At its heart is the town of Stanthorpe, a community that has undergone its share of knocks in recent times, including bushfires and severe drought. But this remarkably resilient community has much to offer visitors, from good food and wine to an abundance of natural attractions. Here are 10 reasons why Stanthorpe deserves your attention.
---
She'll Be Apples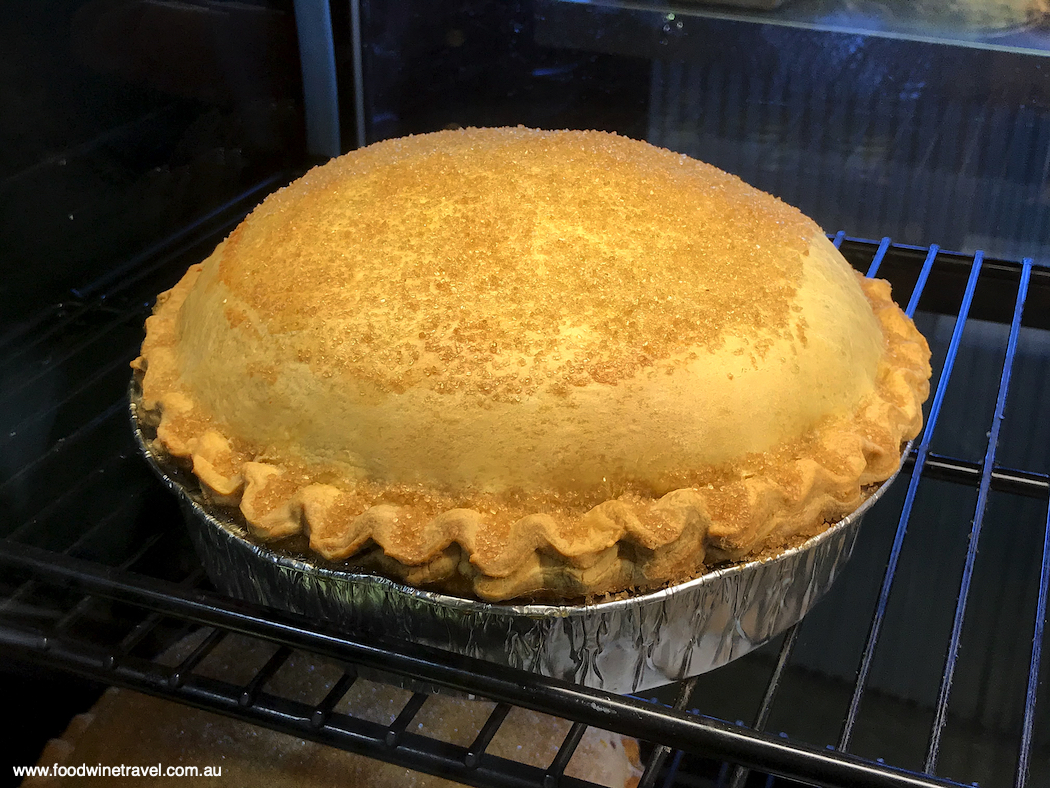 The Big Apple that greets visitors at the entrance to Stanthorpe says it all: if you love a good, crisp apple, this is the place to be. At an altitude of more than 800 metres, Stanthorpe is generally cooler than the rest of Queensland – and occasionally it even snows in winter. More than one million apple trees are grown in the district; in fact, virtually all of Queensland's apple crop comes from here.
In October, it's quite a sight as you drive around the region when the apple trees are full of blossoms. Royal Gala, Fuji, Pink Lady, Jazz apples and various other popular varieties are grown in the district, and if you stop at some of the roadside stalls, you might even find a new variety called Kalei. It's crisp and sweet and was one of the nicest apples I've had in a long time.
Across the highway from the Big Apple, Sutton's Juice Factory and Farm Café is a must stop for its huge range of apple ciders, liqueurs, apple juices, preserves and other apple products, not to mention its famous apple pie. Ask why their pie is so popular and they'll tell you it's because it reflects the ethos of their business: "good, honest, genuine food – from the earth and hand made with love and respect for the apple."
Information: www.suttonsfarm.com.au
---
Come Home With A Swag Of Produce And Other Goodies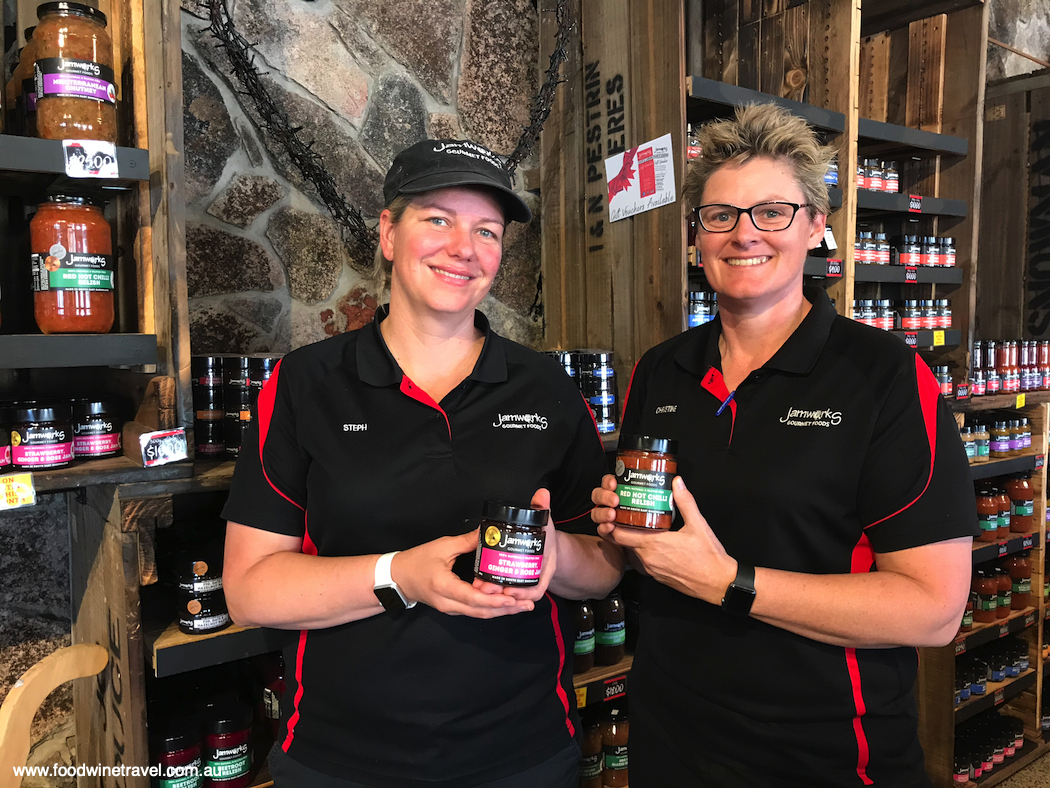 Believe me when I say that if you spend a few days in the Granite Belt, you will almost certainly return home with a carload of fresh produce and other goodies made locally. Take an esky and plenty of ice bricks! Look out for apples, pears, berries, stone fruit, figs, olives and a huge range of vegetables available at small businesses and roadside stalls.
Pick your own strawberries at Ashbern Farms when they are in season between October and May. Families love this as it's very affordable (you pay by weight for the strawberries you've picked) and afterwards you can relax in the café with strawberry ice cream, scones, waffles, pavlova, chocolate-dipped strawberries and a milkshake, smoothie or coffee. There's even a play area for little kids.
When you see how enormous the building housing Jamworks is, you'd probably find it hard to believe it's too small, but although the building is less than four years old, Jamworks has already outgrown its production space. Owners Stephanie Ingall and Christine Hood make 87 – yes, you read that right, 87 – different jams, relishes, chutneys, sauces and pastes.
They work directly with local farmers and always use Granite Belt produce if they can. On the rare occasions they can't, it has to be Australian produce. Their Red Hot Chilli Relish is walking out the door after winning a medal at the Sydney Royal Fine Food Show, while their Strawberry, Ginger & Rose Jam is, in Christine's words, "rocking it" after winning a gold medal in the Australian Food Awards.
Their hugely popular café features a Jamworks product in every dish on the menu – even the milkshakes have a raspberry or strawberry glaze. Breakfast is particularly popular and on weekends they make their own Hollandaise sauce for eggs Benedict.
More information: www.ashbernfarms.com.au; www.jamworks.com.au
---
These Strange Birds Are Mighty Fine Wines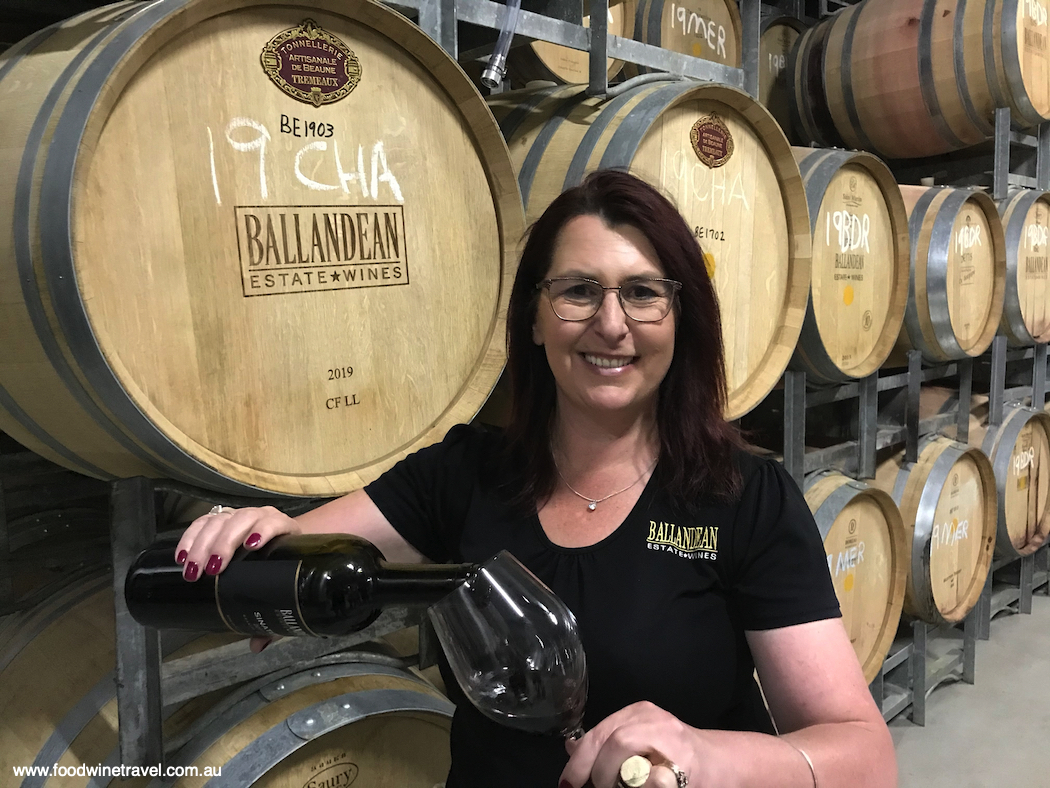 "Will I ever be named third in the world with my Shiraz? Probably not. We've already done that with Saperavi," says Leeanne Puglisi-Gangemi of the accolade given to Ballandean Estate for its 2015 Saperavi. This red wine variety from Georgia (the country) grows remarkably well in the Granite Belt, as do a number of 'alternative' wine varieties, or what the locals call Strange Birds.
Ridgemill Estate, Symphony Hill and Ballandean all won gold medals in the International Saperavi Wine Challenge, held in the Georgian capital, Tblisi. For Ballandean to be named third in the Challenge, against all other non-Georgian Saperavi, adds to a swag of awards for Queensland's oldest winery, started by Leeanne's parents, Angelo and Mary Puglisi, in 1968.
Follow the Strange Bird Wine Trail to discover some of the Granite Belt's best wineries and to taste wines that you might not have encountered before – varieties such as Fiano, Vermentino, Barbera, Tempranillo and many more. One particularly nice aspect about visiting the Granite Belt cellar doors is that very often the hands that pour your glass are the same that tended the vines and made the wine.
While you're in Stanthorpe, make sure you visit the Queensland College of Wine Tourism, a state-of-the-art education and training facility in viticulture, oenology, tourism, hospitality and business. We can highly recommend the college restaurant, Varias, which pairs fine food and wine in a classy setting.
More information: The official Granite Belt Wine Trail Map.
Queensland College of Wine Tourism.
---
Cheers To The Craft Beer Scene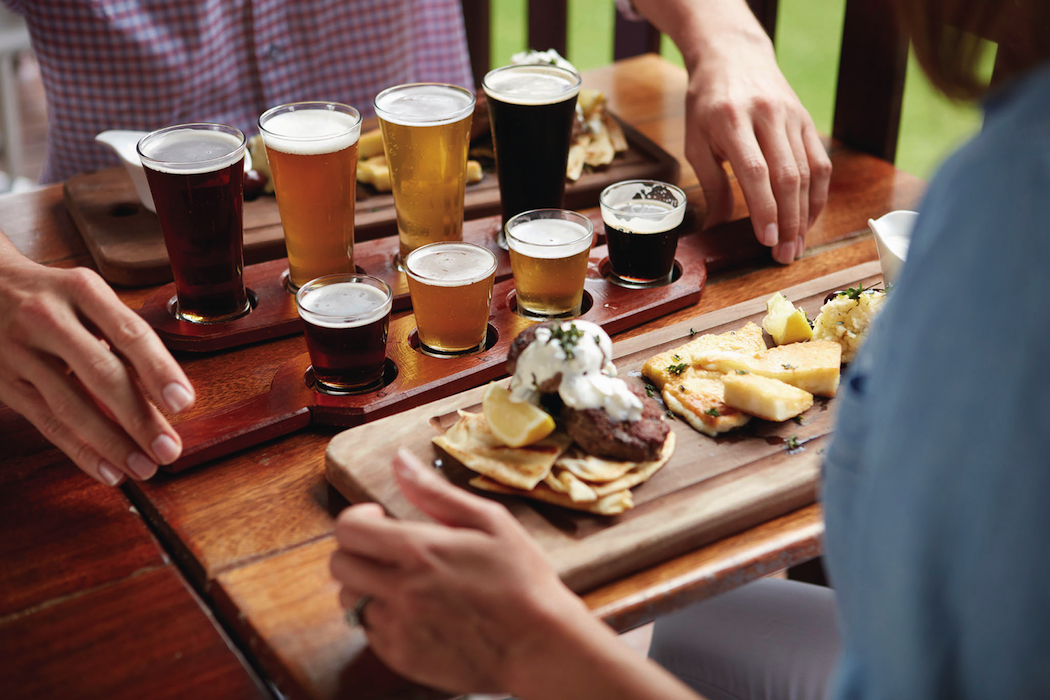 The Granite Belt is noted for its wineries but what a lot of people don't know is that it also produces some jolly good craft beer (the drink that winemakers love to drink when they're not drinking wine).
We were mighty impressed with the beers being produced at Granite Belt Brewery, which we wrote about in a separate post recently. Owners Geoff and Dee Davenport run a great little operation with an on-site brewery, restaurant, a self-contained house for family or groups, and 19 cabins lined with cypress pine, all in a tranquil setting just outside of town.
Their six beers are distinctive and full of character, from their Pale Ale and surprisingly reddish coloured India Pale Ale, to their creamy rich Irish Red Ale, Granite Pils, Storm King Kolsch and Pozieres Porter (like drinking chocolate-coated coffee beans). The Davenports or one of their staff will take you on a free tour of the brewery and tell you all about the beer-making process.
You really must try the Brewers Platter in the restaurant, where four delicious dishes are matched with the craft beers and cider.
More information: www.granitebeltbrewery.com.au
---
Cafés And Restaurants To Whet The Appetite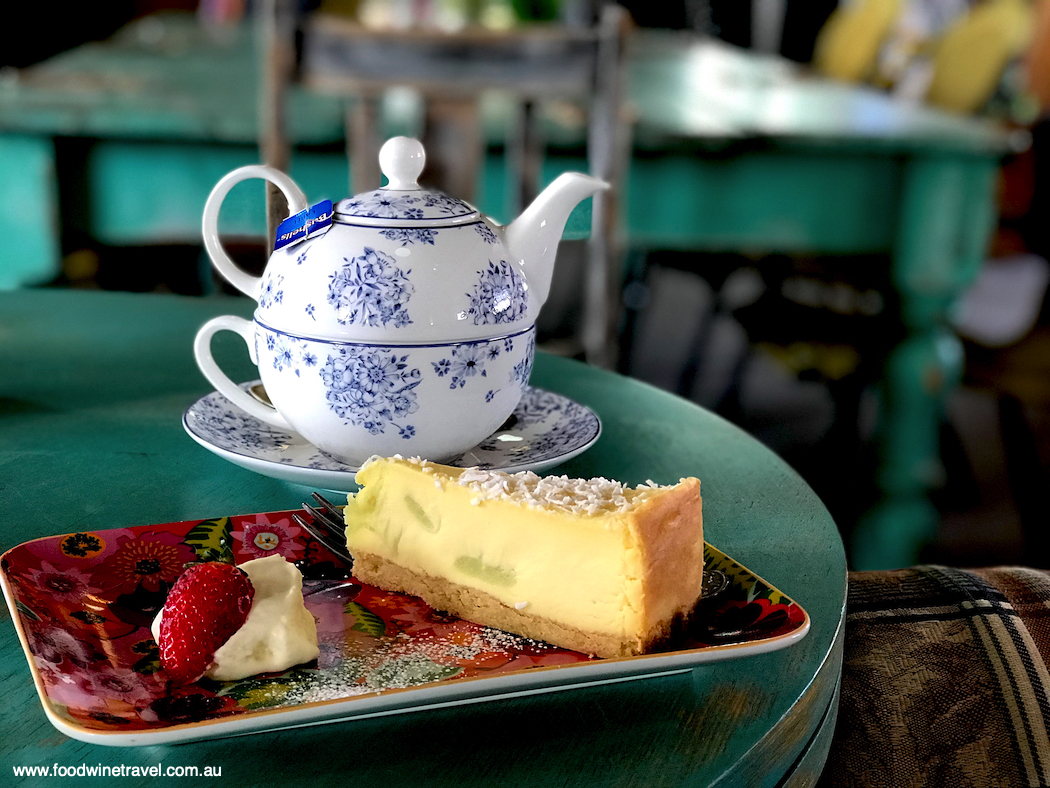 There's something very special about Wallangarra Railway Station. It was built in 1888 to service travellers who had to change trains from the standard gauge of NSW to Queensland's narrow gauge, which means you can stand on the platform with one foot in NSW and the other in Queensland.
The trains have been relegated to the history books but the grand old station houses the Wallangarra Railway Café, a business that Kim Hearn loved so much as an employee that she bought the business. Filled with vintage paraphernalia, it's a charming and quirky café, one of many near or in Stanthorpe where you can be sure of a good feed or cuppa.
A number of the wineries offer dishes or tastings, while Ballandean Estate hits a high note with its Barrelroom Restaurant, operated by husband and wife team, Matt and Bobbi Wells. Both qualified chefs, they offer an eclectic modern Italian-Australian menu showcasing local produce, served in a wonderful setting surrounded by 150-year-old port barrels.
We're hearing good reports about Essen, which describes its food as "home-style cooking, prepared with love". It draws on local ingredients and products that highlight the region's best growers and artisans. You'll never go hungry in Stanthorpe.
---
Fields Of Fragrant Lavender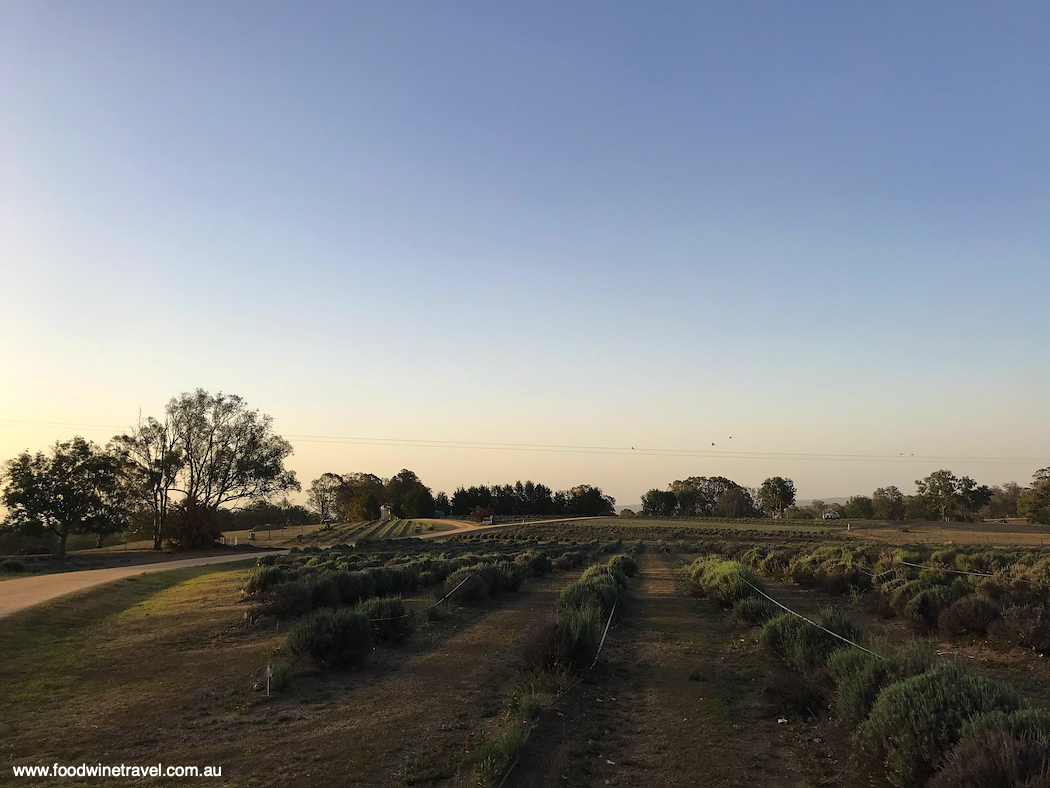 In November, when five acres of Aloomba Lavender are in bloom, you could be forgiven for thinking you are in the south of France. "I've always loved the colour purple," says Tere Bonner, a former schoolteacher who planted the farm in 2000 as a retirement venture but 20 years later is working harder than ever.
Not that she's complaining. Wearing purple earrings and purple-rimmed glasses, Tere divides her time between making lunches and morning teas (complete with lavender scones) and running her shop filled with gorgeous gifts and lavender products. Oil extracted from the lavender is used to make liquid soap, powders and hand cream, all sold through the shop, and she also sells dried lavender and a culinary range of lavender for use in cooking.
Tere and her cattle farmer husband Peter also offer B & B accommodation, as well as bush camping for RVs, vans, or for people to pitch a tent. They were recently made honorary members of The Australian Lavender Growers Association in recognition of their extensive contribution to the industry.
Although the farm is located across the border in New South Wales, it's reached through Stanthorpe, only 15 minutes' drive away. It's best to book for the Devonshire tea so that you can enjoy scones fresh from the oven.
---
Say Cheese, Please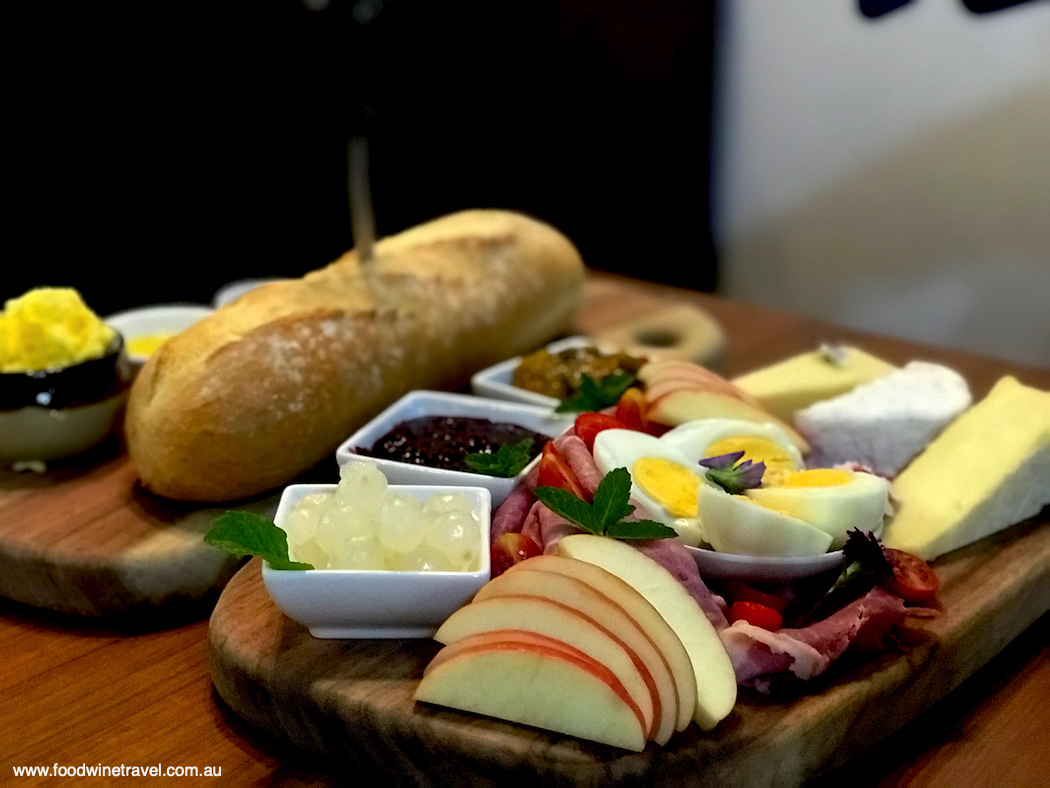 Stanthorpe has not just one but two cheese producers. We called in to Stanthorpe Cheese where we tasted an extraordinarily diverse range of 11 cheeses and enjoyed a superb ploughman's lunch in the cleverly named Jersey Girls Café.
The milk for the cheese comes from a single local herd of Jersey cows. Stanthorpe Cheese buys the entire quota, making it a win-win for both sides. Pretty well everything else used in the production is Australian too, right down to salt and pepper.
Karen Deeth and Rosco Burnett established Stanthorpe Cheese 15 years ago, with Sharnell Speechley now managing it and taking care of the cheesemaking, alongside fellow cheesemaker Will Rodgers. "We aim for unique artisan cheese that changes in a seasonal flow," says Will, who notes that the milk is sweetest in winter, their busiest time of year.
It's hard to choose a favourite between Feta in brine, Snowflake (double brie-style washed mould with a firm centre), Snowfall (made in larger rounds), Thulimbah (a Gouda-style semi-soft cheese with buttery flavour), Outlaw (a hickory-smoked romano-style cheese), Rex (a sharp and sometimes crunchy Romano), and Peppercorn (great with red wine).
Add to that, Stanthorpe (crumbly cheddar), Rosco's Rough Red (mild washed rind), Blue Lagoon (like a Brie but with blue mould added), Brass Monkey Blue, and Bleu Blanc. "For a long time, Brass Monkey Blue was our signature cheese, but Sharnell has really pioneered our smoked cheeses," says Will. "Our Rex at the moment has so much flavour and a sweet aftertaste."
Occasionally you'll find a Triple Brie amongst the line-up, and sometimes also an Ash Brie, the latter always selling out quickly. Visitors can taste the cheeses, linger in the café or buy an extensive range of local products including preserves, olives, chocolate, truffle products, and local wine.
---
Nature Rocks In Stanthorpe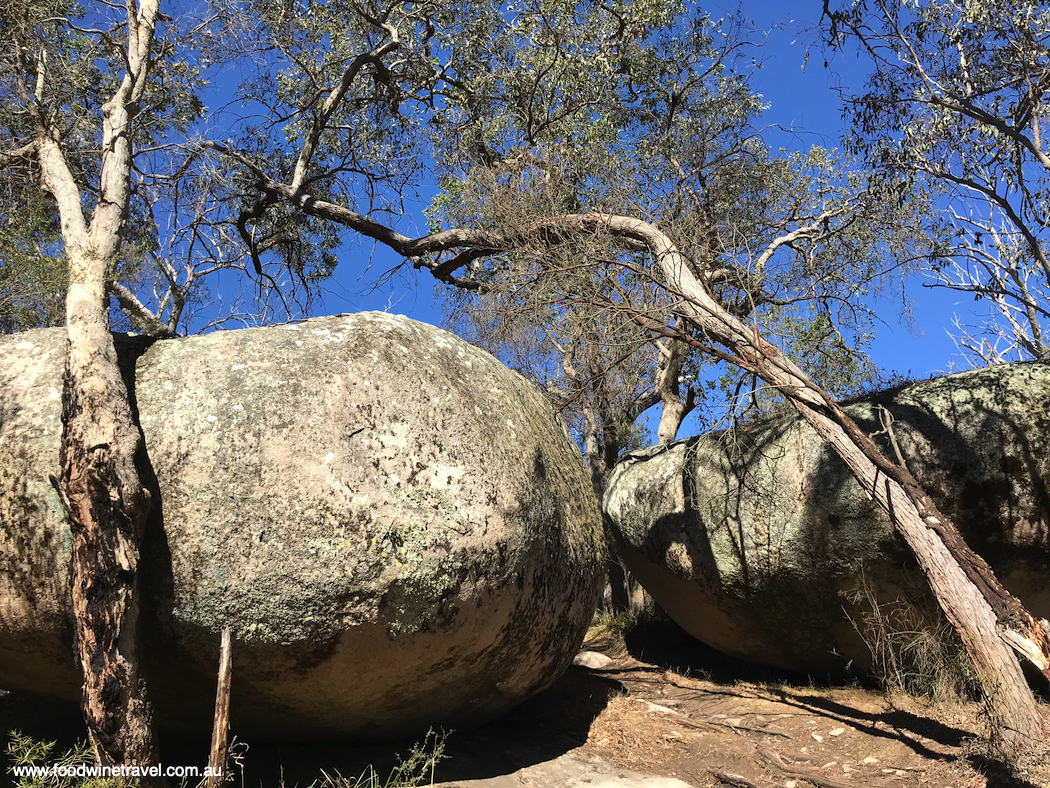 When Allan Cunningham explored the region in 1827, he recorded that he "descended to the channel of a brisk rivulet among masses of granite forming many a strange grotesque figure". Those remarkable granite outcrops and boulders provide plenty of visual spectacles when bushwalking in the region.
Girraween National Park, on the Queensland – New South Wales border halfway between Stanthorpe and Tenterfield – has 17 kilometres of walking tracks ranging from a 280 metre stroll beside Bald Creek Rock to an 11 kilometre return walk to Mount Norman. Challenge yourself to a sunrise pyramid climb or spend some time photographing the large angular tors and precariously balanced boulders.
Look out for fairy wrens and turquoise parrots; you might even see a lyrebird or spotted quoll. From September to November, there are spectacular wildflower displays among the granite. (Girraween is an Aboriginal word meaning "place of flowers".) One of the most popular tracks is the 5 km Junction Track which takes about two hours all up.
Twenty minutes' drive north of Stanthorpe, Donnelly's Castle offers terrific views over the surrounding countryside. It's not actually a castle at all, it's a massive – and I mean MASSIVE – granite rock formation surrounded by caves that were once a hideout for Fred Ward, aka the bushranger Thunderbolt. It's reached via an easy 200 metre walk and is a good option for those who might not manage the walks in Girraween.
There's a surprising upside to the fires that went through Girraween a year ago. Ballandean Estate's Leeanne Puglisi-Gangemi said it has afforded greater views of the boulders. "We've had lots of people head to Girraween National Park people who've been out there many times before and they're saying exactly the same thing … They've seen parts of the park that you don't normally see."
More information: www.parks.des.qld.gov.au
---
Lots Of Great Festivals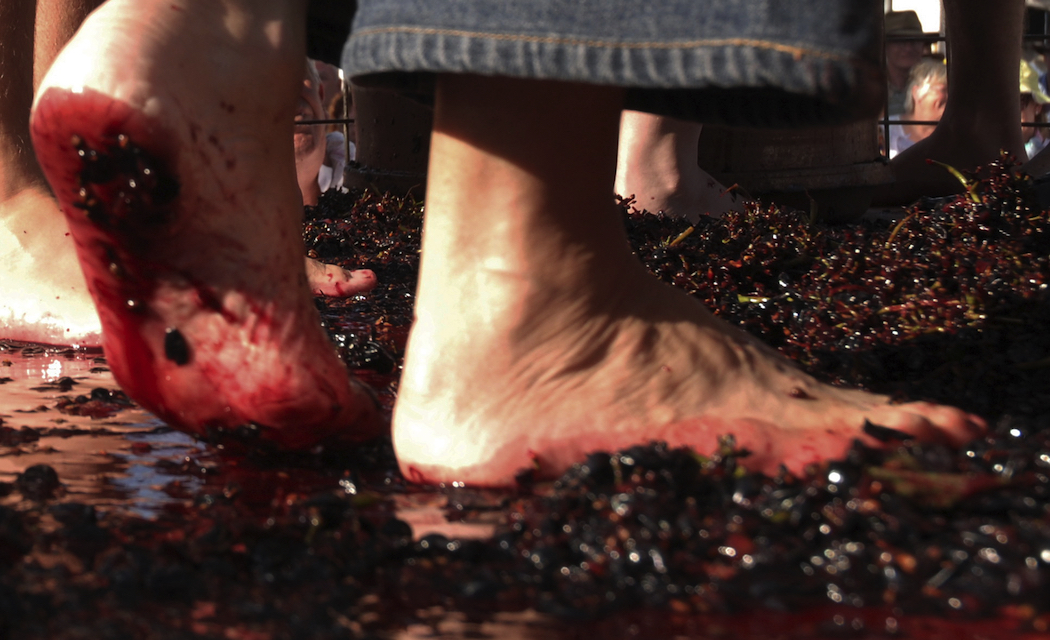 Perhaps it's because of the region's strong Italian heritage, who knows, but Stanthorpe sure knows how to throw a party. One of the most popular events is Grazing The Granite Belt, traditionally held in autumn and last year for the first time also held in spring. The next one will be on the weekend of 16 & 17 May, and once again it promises two days of lazy grazing with award-winning wines and gourmet food.
Visitors travel around on a hop-on hop-off bus to participating wineries, some of which also offer entertainment. As we discovered when we did Spring Grazing in November, it's a lot of fun and a great way of experiencing a number of wineries so that you can decide on your favourites.
Another fabulous event coming up is the Stanthorpe Apple and Grape Harvest Festival from February 28 to March 8, which has been 'crushing it' since 1966 and which organizers promise will be as big and joyous as ever.
There'll be plenty of foot-stomping grape crushing, the popular Food & Wine Fiesta, apple cooking demonstrations and the hotly contested Apple Peeling Competition, and one of the most popular events of all, Banchetto Italiano, the Italian Long Lunch. We haven't been to this one but we've been told it's a hoot.
More information: www.appleandgrape.org
www.granitebeltwinecountry.com.au
---
Stanthorpe Has Incredible Community Spirit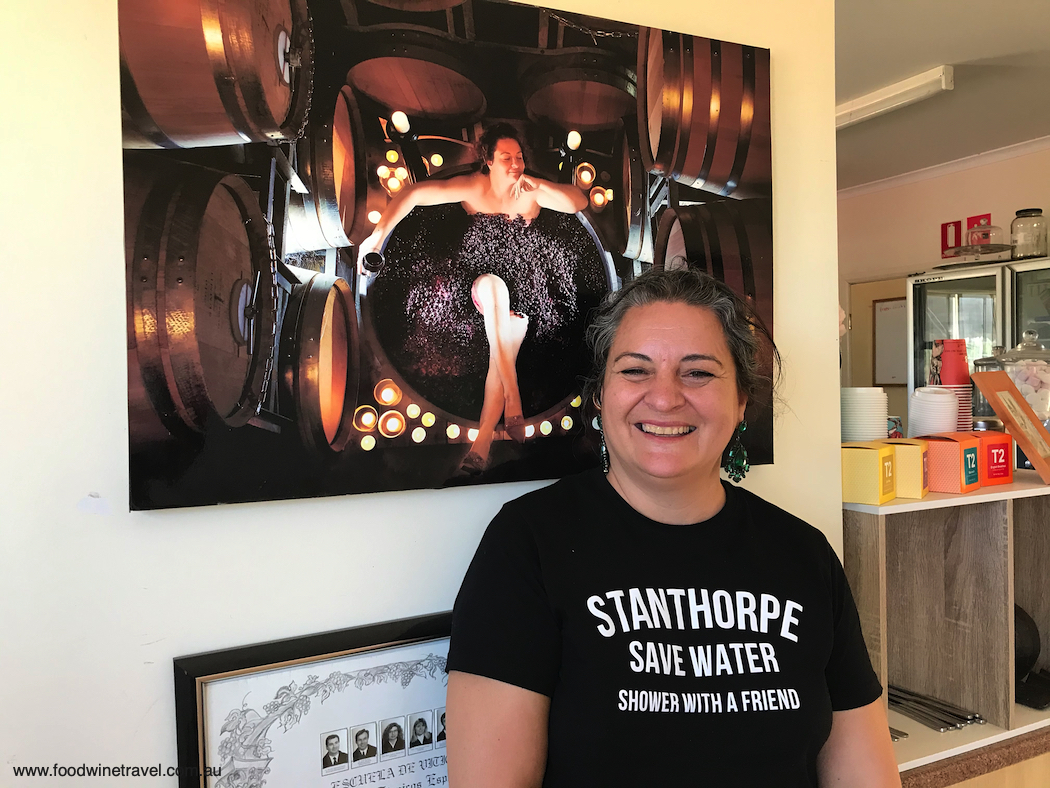 Stanthorpe has faced more than its fair share of challenges over the last few years, including bushfires and drought so severe that the town is having to cart in water. Imagine what it must be like for tourism operators in the region, not to mention the food and wine producers whose livelihoods are at stake.
Yet the people of the Granite Belt show a remarkable community spirit. Over and over again, we heard people singing the town's praises. "I adore Stanthorpe. It's a place where people get on committees," said Tere Bonner, owner of Aloomba Lavender Farm.
She attributes the locals' industriousness to the fact that the region was settled by "young tin miners, followed by young and fit Italians" who worked hard. "The community involvement is incredible," she said. "You've only got to ask for help and you'll get it."
Jamworks' co-owner, Christine Hood, is a blow-in from Victoria who moved to Stanthorpe five years ago. Before meeting Steph Ingall, Christine had never heard of Stanthorpe and certainly didn't know that Queensland could make wine. "And then I came here and I fell in love with the district," she said. "I Iove all the wines, I love the produce. I love the community spirit."
If you go:
Stanthorpe is 2½ hours' drive from Brisbane, 3 hours from the Gold Coast or Byron Bay, and 2 hours from Toowoomba.
www.granitebeltwinecountry.com.au
As water supplies in Stanthorpe are at a critical level, you are advised to bring your own drinking water. Better still, buy bottled water and food from supermarkets in the town, rather than bringing it in from elsewhere. That way, more locals get a slice of your tourist dollar.
Christine and Maurie were guests of Granite Belt Wine Country. We stayed in Mulberry Cottage, a charming 2-bedroom cottage owned by Debbie Perkins, of Briar Rose Cottages. It was a great little home away from home for the 3 days we spent exploring the region.