Two unique beers will be on offer at Oktoberfest Brisbane, making it an event not to be missed for beer lovers. Hell Urbräu (lager) and Helles Hefeweizen (wheat beer) are being brewed by a Bavarian company, Tucher Bräu (Tucher Brewery), especially for the event.
Tucher was founded in 1672 and is one of the oldest breweries in Bavaria. It brews in accordance with German Purity Law, with no added chemicals and no additives to speed up the brewing process. The beer takes two months to brew as it naturally ferments. The kegs will arrive from Germany just before the festival so that the beer is fresh and flavoursome.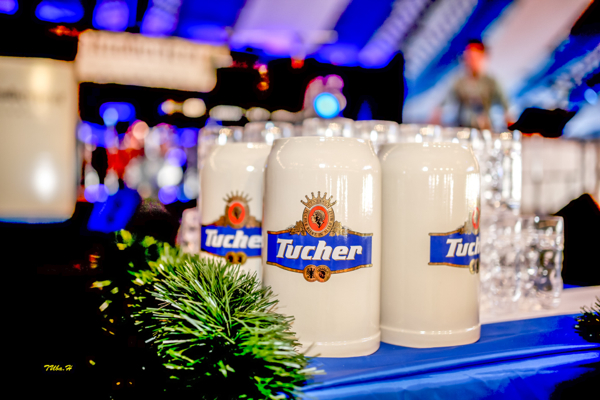 The third flagship beer for Oktoberfest, Dunkel (meaning "dark") is being brewed by Queensland's Burleigh Brewing Co. It too is brewed in accordance with the German Purity Law, also being left to ferment naturally.
With authenticity a priority, Burleigh's head brewer and company director, Brennan Fielding (pictured), scoured the world and found a strain of yeast originating from a 600-year-old German monastery.
Add German hops and five specialty German malts also sourced from Germany and you have a delicious dark beer.
As with the Tucher beers, the Burleigh beer is made only for Oktoberfest Brisbane. People attending Oktoberfest Brisbane are in for a treat!
Beer connoisseur and expert Matt Kirkegaard agrees.
"Beer is a huge part of Oktoberfest, but what I love most about Oktoberfest Brisbane is the focus on the authenticity of the experience," Matt said. "You can experience the best of Brisbane's German community and their culture while not leaving Brisbane. Of course, there's beer too and in true Bavarian tradition, it's very good beer."
The event will also feature Radler, a shandy of half Tucher lager and half lemonade, and for designated drivers, Tucher Hefeweizen Alkoholfrei, a non-alcoholic wheat beer that is rich in flavour.
So when you're clinking steins, take a moment to really appreciate the taste at Oktoberfest Brisbane. Prost!
*German Purity Law or "Reinheitsgebot" was introduced in 1516 to ensure only quality ingredients – which at the time was barley, hops and water (yeast hadn't been discovered) – were used to make beer. The law stood until 1993 and was replaced by a similar law that allows yeast, sugar and some of the more common brewing ingredients. It is a law that German brewers pride themselves on.
Fact file:
Where?
Oktoberfest, Brisbane Showgrounds (entry via 600 Gregory Terrace), Bowen Hills, 4006.
When?
Friday, October 10 & 17: 4pm – midnight.
Saturday, October 11 & 18: 11am – midnight.
Sunday, October 12 & 19: 11am – 8pm.
Tickets:
Presale online (including special offers) or at the gate.
Cost:
Fridays: $16 (presale online); $19 (gate).
Saturdays: $21 (presale online); $24 (gate).
Sundays: $15 (presale online); $17 (gate).
Family Fun Day tickets also available Sundays.
Information or tickets: www.OktoberfestBrisbane.com.au