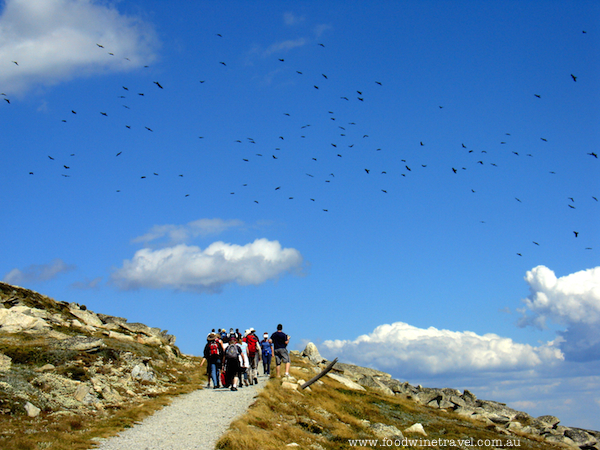 What a great idea for celebrating Australia Day – take a walk to the top of Mount Kosciuszko, Australia's highest point.
I've done this trek and it's definitely a very special feeling to stand on the rooftop of this big, beautiful land. (And, let me tell you, if I can do it, anyone can.)
On Sunday, January 26, you'll be able to do a special guided walk with one-day scenic chairlift access and Mount Kosciuszko certificate for $43 per adult and $28 per child. Family passes are available.
At the summit, local orator Nick Kirshner will recite two Aussie classics – Banjo Patterson's The Man from Snowy River and Dorothea Mackellar's My Country. Back in Thredbo village there will be entertainment and plenty of places to relax and enjoy the rest of this special day.
Where to stay in Thredbo
Ian Foster, general manager of The Lantern Property Group, said the Australia Day Walk offered visitors a chance to hike to Mount Kosciuszko accompanied by an expert guide, take in the summer mountain air and discover the true beauty of the rugged alpine landscape.
Lantern Apartments are offering a special throughout summer where you can pay for two nights and stay for three, pay for four and stay for six, or pay for six and stay for nine. Lantern has properties to suit every taste and budget, from one bedroom apartments with spectacular views right through to four bedroom luxury chalets.
"Thredbo enjoys quite warm January days, and there's lots to do here in summer including hiking, mountain biking, fly fishing and horse riding. Plus down in Thredbo village, visitors can enjoy the bobsled, tennis, golf and swimming at the Thredbo Leisure Centre," Foster said.
Which all sounds like a suitably Aussie laidback sort of way to spend the summer hols.
Event details: www.thredbo.com.au
Accommodation: www.lanternapartments.com.au or phone 1800 020 598.