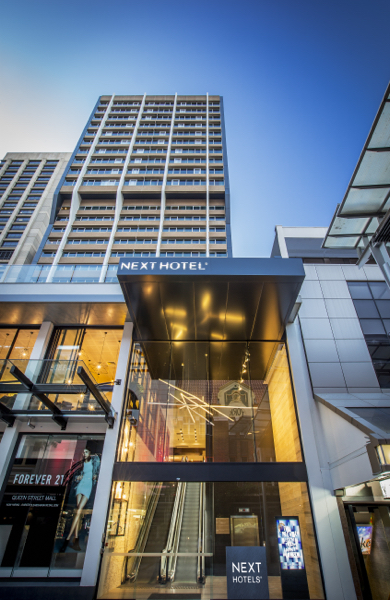 SilverNeedle Hospitality is named after the finest tea in the world, which tells you something about the standards that this Singapore-based hotel group aspires to. That it likes to do things a little differently is obvious in its flagship Australian property, Next Hotel Brisbane, which leads the way in technological innovation.
The company has also reinvented the rules for hotel loyalty programs, introducing a program called SilverNeedle Select with attractive rewards and using a totally digital platform.
The program runs across all 56 of the company's hotels in Asia-Pacific, with brands including SilverNeedle Collection, NEXT Hotels, Sage Hotels, Chifley Hotels, Country Comfort Hotels, Australis Hotels and Sundowner Inns.
Great range of SilverNeedle rewards
With every eligible stay booked directly with SilverNeedle Hotels, Select guests are awarded $ilver Dollars based on their total spend. Rewards focus on the professional and leisure lifestyles of business travellers, and range from hotel vouchers to petrol cards, shopping gift cards and movie tickets. The minimum reward is a $20 iTunes voucher. Higher rewards include VIP access to mega events such as the F1 Grand Prix, Australian Tennis Open, red-carpet movie premieres and International Fashion Week.
In Australia earlier this year for the launch of the program, group CEO and managing director, Iqbal Jumabhoy, said the company had studied numerous airline and hotel loyalty programs to understand best practice. The research had shown that people hated forms and plastic cards. They also didn't like being unable to redeem points when properties were unavailable.
"Here you can redeem them on amazing experiences. They are cash rewards so they can be booked anytime," he said. "You don't have to redeem them within our hotels, which most rewards programs require you to do."
The program is eco-friendly with no plastic cards or paper trails. There are no joining fees, no enrolment forms and no membership tiers. Enrolment is instantaneous when the guest makes a reservation through the SilverNeedle Hotels website.
"We found when we started looking at loyalty rewards programs, guests are tired of traditional programs. There are too many tiers."
Visit SNSelect.com for more information.
Although we spent a lovely night at Next Hotel Brisbane, this is not a sponsored post. We're sharing the news because we think it will be of interest to frequent travellers. Photos supplied by Cocom Communications.