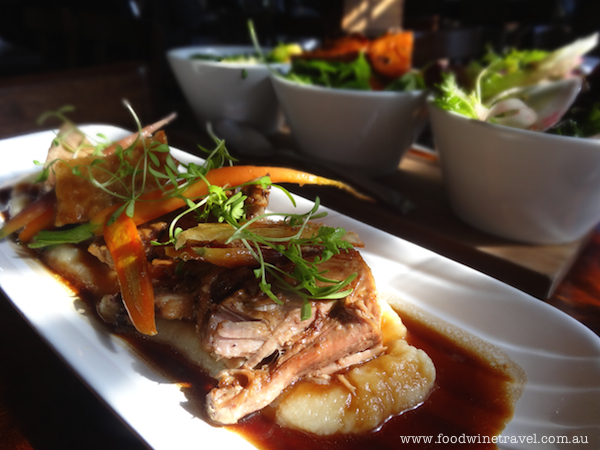 Sitting in a glorious spot in the corner of Mondo with the sun streaming across our table, a thought crosses my mind: is it really winter?
We're there for a Sunday Family Lunch that's being held as part of Brisbane Good Food Month, and right now I'm like a pig in mud.
This is the way I like to eat. Shared plates of good wholesome food that speaks of the region and the season from which it comes. That the sun is delivering such a delicious warmth is an added bonus.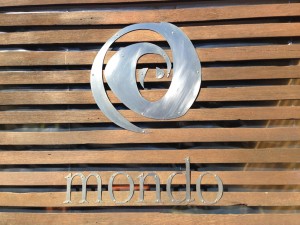 The $55 menu includes two dishes and a glass of Witches Chase 2013 Wild Fermented Chardonnay. I've had this wine before and am very happy to be giving it another whirl. It's one of my favourite Queensland wines – I love the extra dimension that the wild ferment brings, and the sweet/spice of the French oak complements the pork that is about to come.
In the meantime, however, we're served a board of crusty bread, olives and an Italian olive oil with just a hint of a bite on the back palate.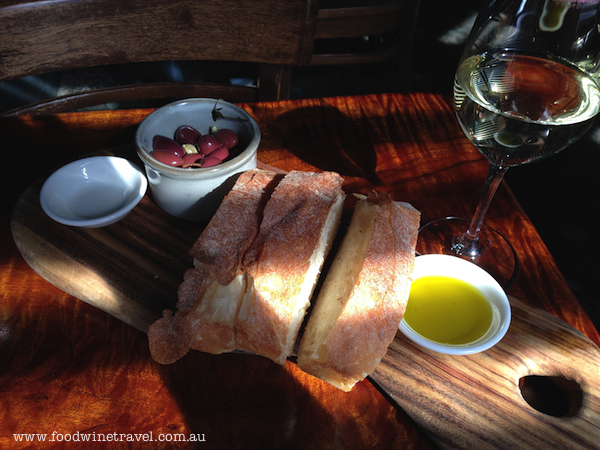 I love love love the 'honeycomb' crackling on the pork shoulder that follows. The Byron Bay free-range pork is slow-roasted and honey is smeared under the crackling before it gets a few minutes under the grill.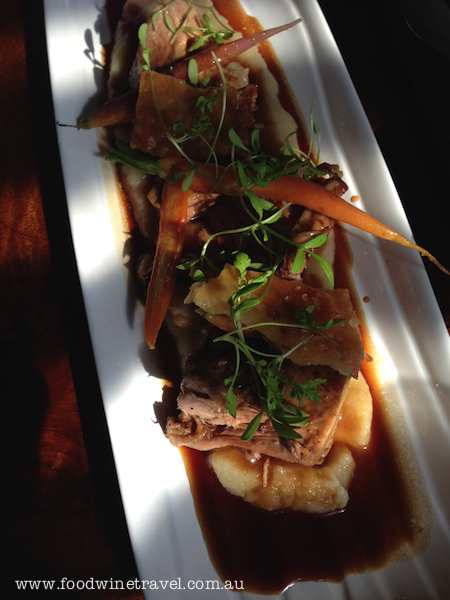 Alongside the pork are three bowls of winter vegetables, very generous serves and utterly delicious: sweet roasted pumpkin with spinach; Brussels sprouts laden with butter, parmesan and bacon (needed for winter warmth, right?); and fennel and beetroot salad.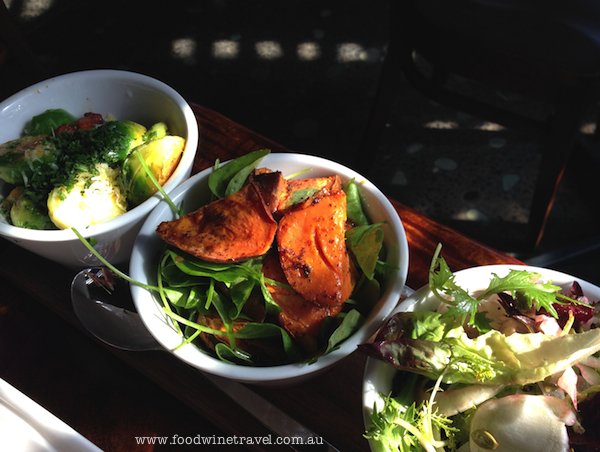 Dessert is not as it's listed in the Good Food Month program. The delicious-sounding Crostata and cumquat compote has been replaced with an apple tarte tatin, beautifully presented on a board with a scoop of vanilla icecream.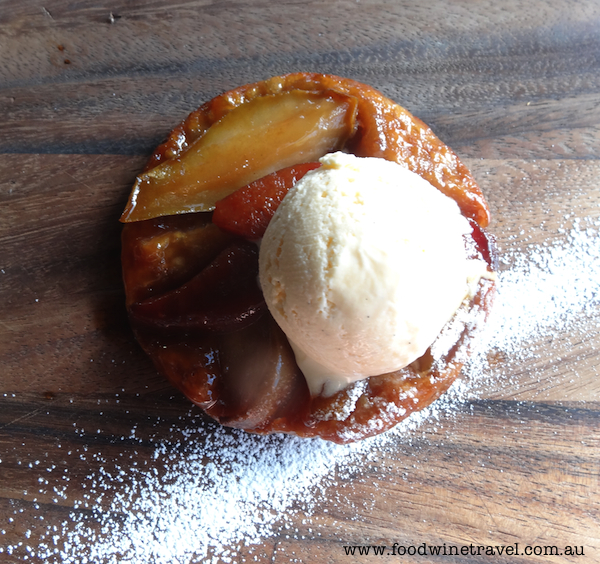 Brenda Fawdon established Mondo in 2000 and is passionate about using organic, unrefined and sustainable produce. She believes Mondo was Australia's first licensed organic restaurant. Brenda lives on Mt Tamborine where she is fortunate to be able to access good ingredients. She brings a truckload of product down from the mountain to the restaurant every Wednesday.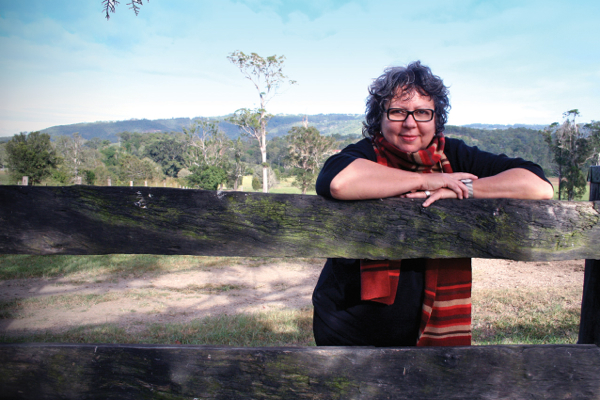 Last October, she produced her first cookbook, Wholehearted Food (University of Queensland Press) and she has another in the pipeline. As part of the Brisbane Good Food Month Sunday Family Lunch series, she'll have a chat with you about the book and expand on her food philosophies.
What a pity there weren't more people there on Sunday to benefit from the wisdom of this inspiring woman. Although there were others dining in the restaurant, we and a table of eight were the only ones enjoying the Winter Harvest menu. Do put it on your list of things to do in the coming weeks; I promise you won't regret it.
Tastes of Italy
As well as running a popular cooking school, Brenda has begun offering gourmet tours, and she has two exciting ones coming up in the next few months. Her Truffles & Barolo tour of Piedmont from October 22-26 takes in the Slow Food fair at Turin, while her tour of Liguria in Northern Italy from October 26 – November 2 includes accommodation in a 15th century former Franciscan friary.
Winter Harvest will be held at Mondo Organics on July 13, 20 & 27. 12.30pm – 3pm. Bookings: (07) 3844 1132.
Other Sunday Family Lunches will be held at Aquitaine Brasserie, Four Points By Sheraton Brisbane: The Eatery, Gordita, L'Angolo Bistro, Pony Dining: Eagle Street Pier. Download the full Brisbane Times Good Food Month program here.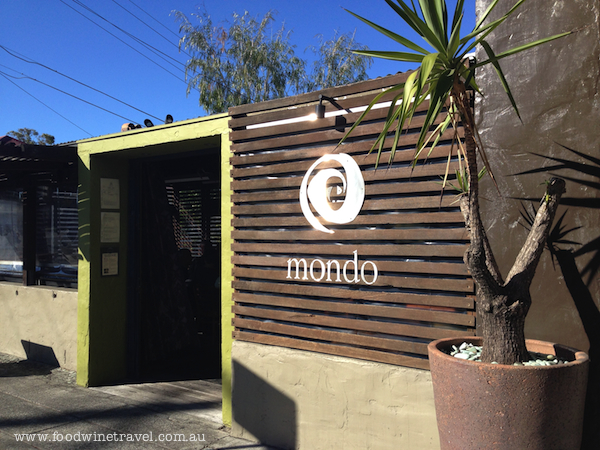 Mondo
166 Hardgrave Road
West End Qld 4101 Australia
+61 (0)7 3844 1132
www.mondo-organics.com.au
You might also enjoy: Good Food Month; Good Food Guide 2014; Vintaged Bar + Grill; Gerard's Bistro: A Winning Formula; Night Noodle Markets; Hats Off dinner @ Malt Dining; Champagne High Tea @ Customs House.
Photo of Brenda Fawdon supplied by her and used with her permission.
Food.Wine.Travel is delighted to be an official blogger for: