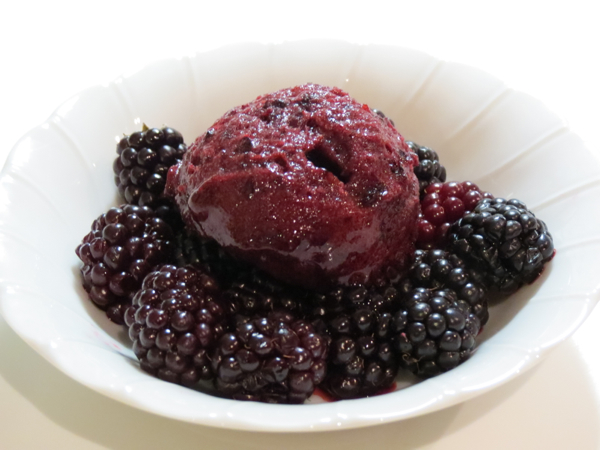 In my kitchen in July, we are feasting on blackberries, bought frozen from the Capital Region Farmers Market. They're a little bit tart but we're enjoying them with blackberry sorbet.
Quite sweet, a nice balance for the fruit, the sorbet was made by the amazingly talented John Marshall, aka Mr Frugii.
John sells his Frugii icecream at farmers' markets in Canberra nearly every weekend, and far from the chilly weather putting people off, his sales have soared through winter. Why let below zero temperatures put you off something so yummy?
Now I don't want you to think it's all about icecream this month but we're also enjoying Frugii's Gorgonzola icecream.
We drizzled some truffle honey over sliced pears and added a tiny dollop of Maggie Beer's pear paste, a crisp savoury biscuit and a scoop of the Gorgonzola icecream.
Not quite a cheese plate and not quite a dessert, it was a fabulous finale for a special dinner.
We've added some great products to the kitchen pantry in July, including these wonderful olive oils that Dennis Gizas is bringing in from Greece. The trees on his family farm near Kalamata are hundreds of years old, and there's a lovely story behind his Dionysus oils.
We also have a small bottle of hazelnut oil produced by The Nuttery in Longwood East, Victoria.
We bought it at the Giddy Goat Café in Yarck during our recent trip south. I love it drizzled over salads.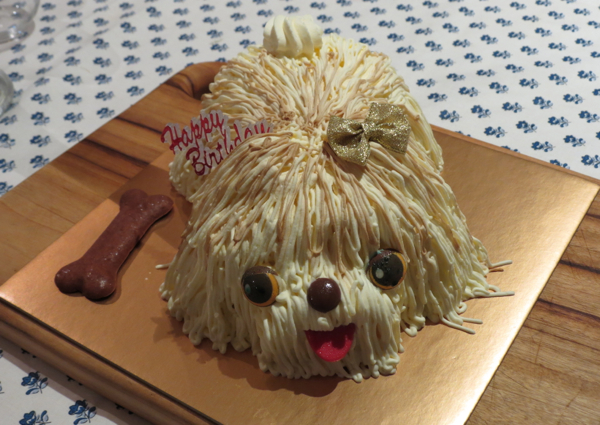 How's this for cute? I rarely buy cakes but it was my daughter's birthday recently and I happened to be walking past a pastry shop when I spotted this tiramisu puppy with Tam's name all over it.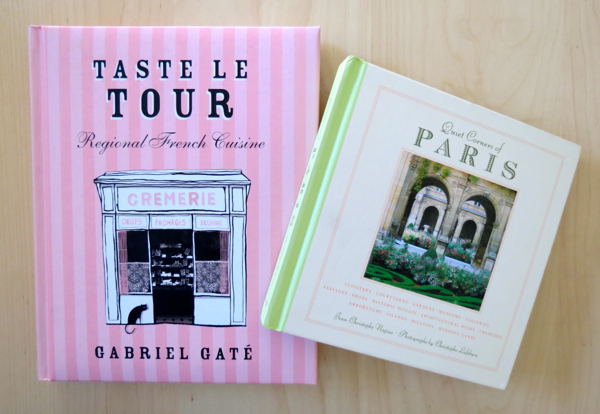 And finally, in my kitchen in July, I'm caught up in Tour de France fever, eyeing off the gorgeous Gabriel Gaté on the telly and dipping into his sweet little Taste Le Tour cookbook. It's available from Fishpond, from which I also recently bought this delightful little book, Quiet Corners of Paris.
Before I get lost in my thoughts about a French getaway, I must say a big thank you to Celia of Fig Jam and Lime Cordial for hosting In My Kitchen In July.
Related posts: John Marshall: Frugii Icecream; Dionysus Oils: Reviving A Family Tradition