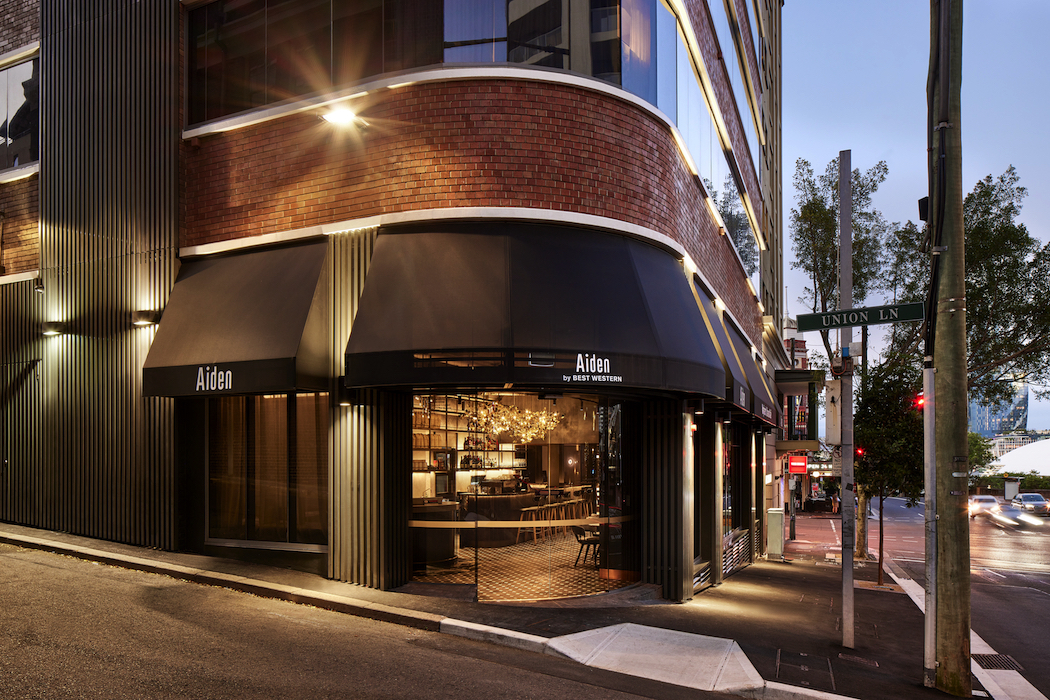 In a city that doesn't have a good track record in preserving historic buildings, it's wonderful to see an old building re-purposed rather than ripped out and replaced with yet another high-rise. The eight-storey building housing the stylish new Aiden Darling Harbour hotel dates from the 1930s and was originally used for grain storage.
The lovely, curved lines of its Art Deco exterior have been retained but, inside, it's a masterpiece of modern design – a luxe but affordable boutique hotel with clever touches designed to make the most of the building's small footprint.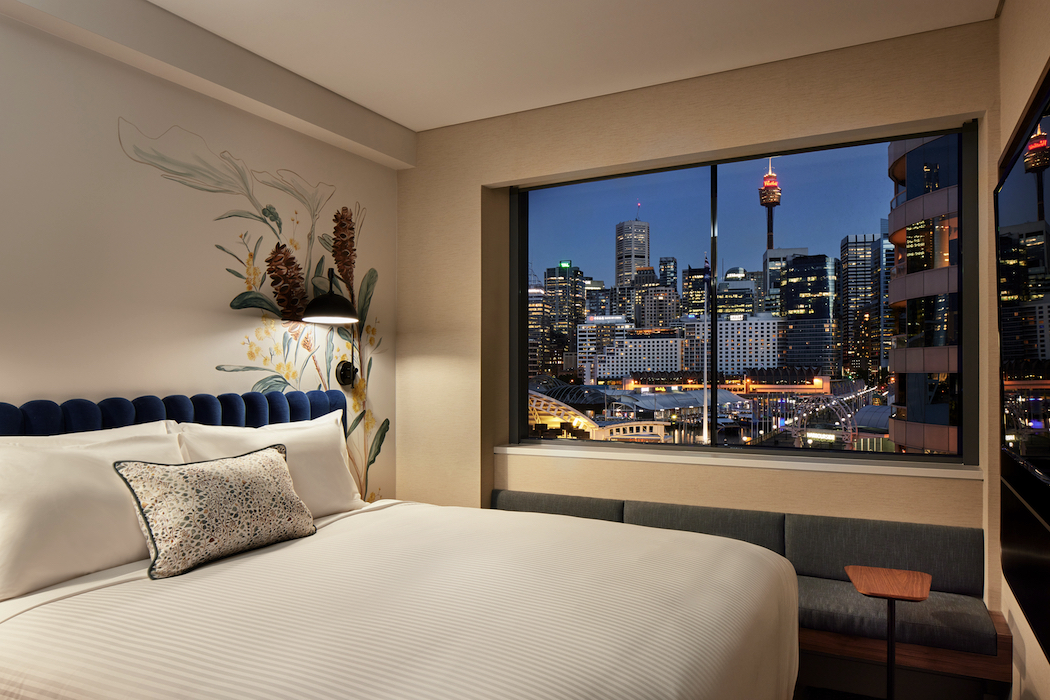 The hotel's 88 guest rooms are compact, yet in many of the great cities of the world compact is the norm rather than the exception. The Aiden is not a resort-style hotel for lounging around in. There's no pool or gym (although guests can access a gym nearby at discounted rates).
Rather, it's a cool urban hotel that's completely at one with its local precinct, where guests are encouraged to get out and explore the laneways of Pyrmont village and Darling Harbour waterfront, the great little cafés and restaurants, parks and attractions.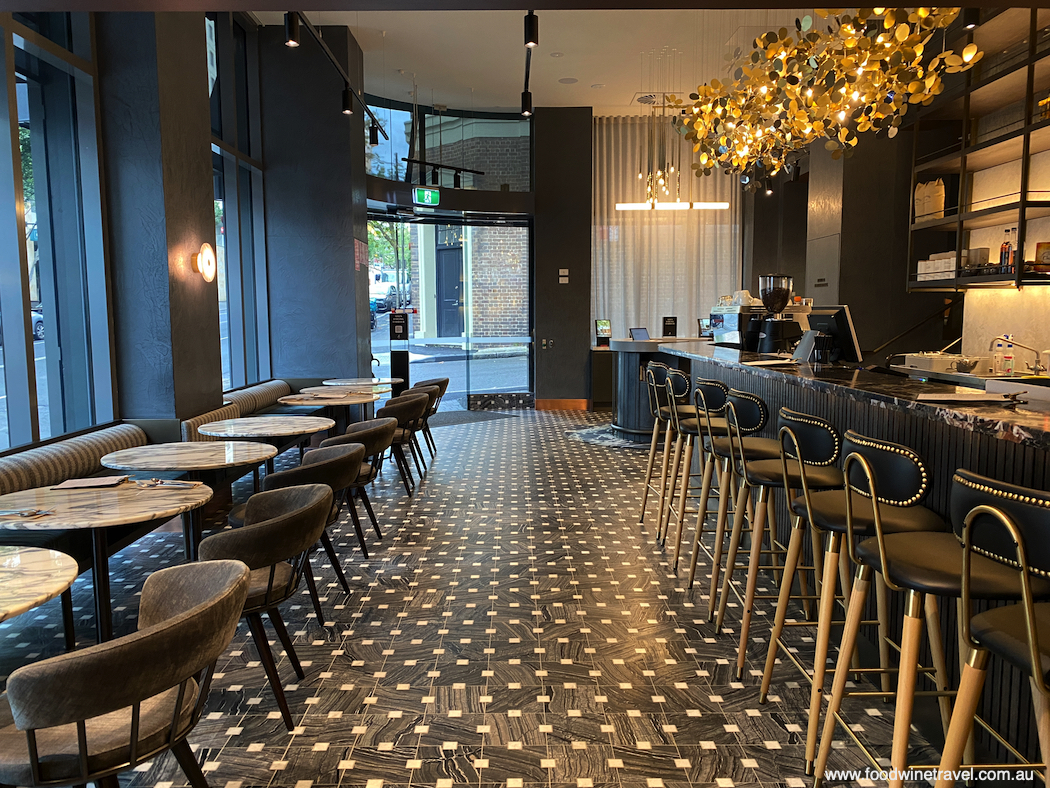 The lobby and the guest rooms are designed to maximise every inch of space with intelligent room layouts, furnishings with curved corners (a nod to the building's Art Deco origins), smart storage, and vibrant hand-painted murals that add colour and flair. The guest compendium describes it as "a new way to stay … a boutique hotel with soul and stories to tell, thoughtfully designed for you, the traveller of today."
The thoughtful design includes features like super comfy Sleepmaker beds, a pillow menu, wall-mounted TV, complimentary speedy wi-fi, blackout blinds, a make-up mirror, Dyson Supersonic hairdryer (the first time I've used one – love it!), and a clothes steamer rather than an iron (although there's an ironing board up the hallway if you really can't resist). There's even a torch hanging on the wall, and you can borrow a hair straightener if that's your thing.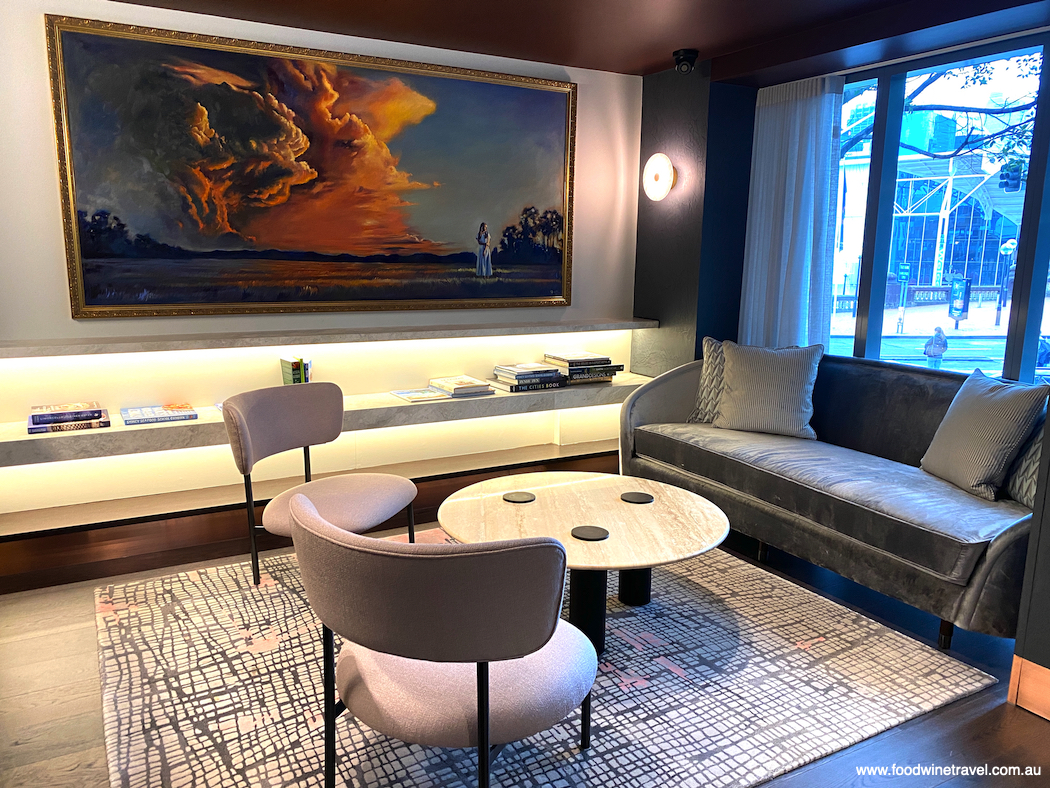 There's no mini bar but instead there's a small fridge with two large bottles of still and sparkling water. Just outside my room there's a water station (with a similar one on every floor) where the bottles can be refilled with complimentary still and sparkling water. A coffee pod machine is standard in every room, along with 6 complimentary L'OR espresso pods, and there is complimentary organic Love Tea and even a little jar of Madhouse Bakehouse biscuits.
Bathroom amenities include refillable bottles of Rituals shower gel, shampoo and conditioner, a European-made product that the hotel offers exclusively in Australia. The shower recess has a rain shower as well as a hand-held shower.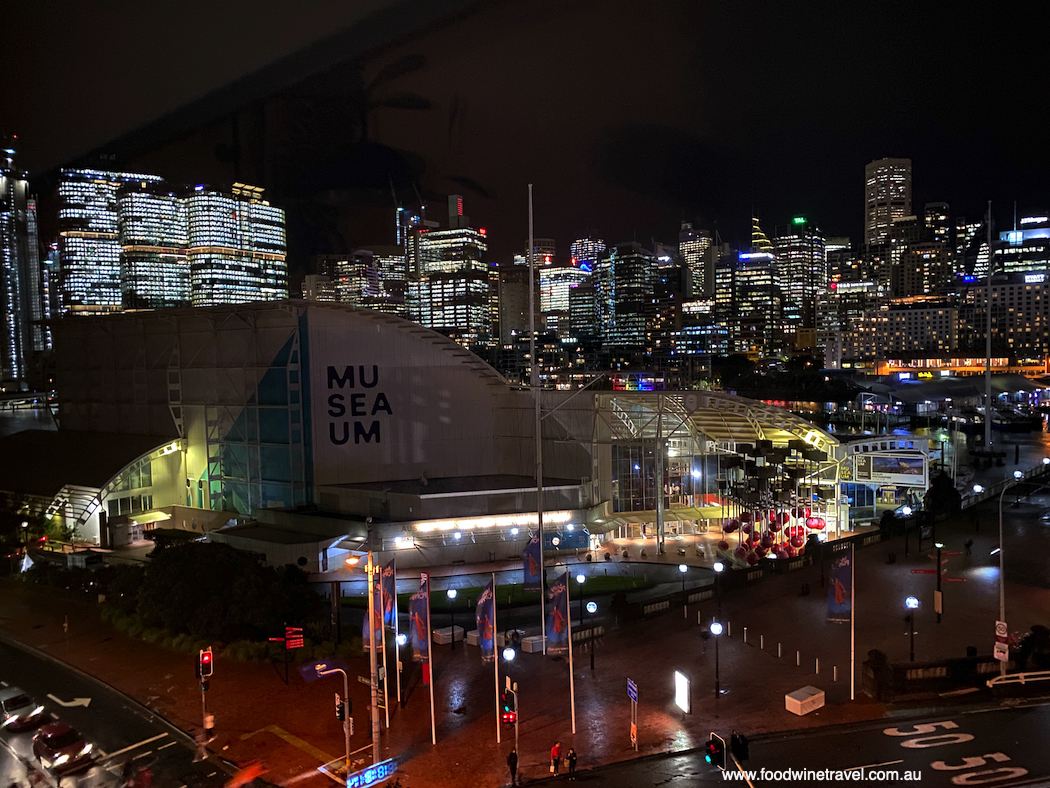 My King Deluxe room – in a category called The Urban Planner – had a view over the Maritime Museum towards Darling Harbour and Pyrmont Bridge. Other rooms have city views, a couple of rooms have private balconies with great views of the Sydney skyline, and a handful are very small rooms in a category called The Exhibitionist, which means that instead of a view they look to an impressive 25-metre-high wall mural. Painted by Archibald finalist and fine artist Jessica Le Clerc, it depicts lush rainforest greenery and the native subtropical plants that once would have been found all over Sydney.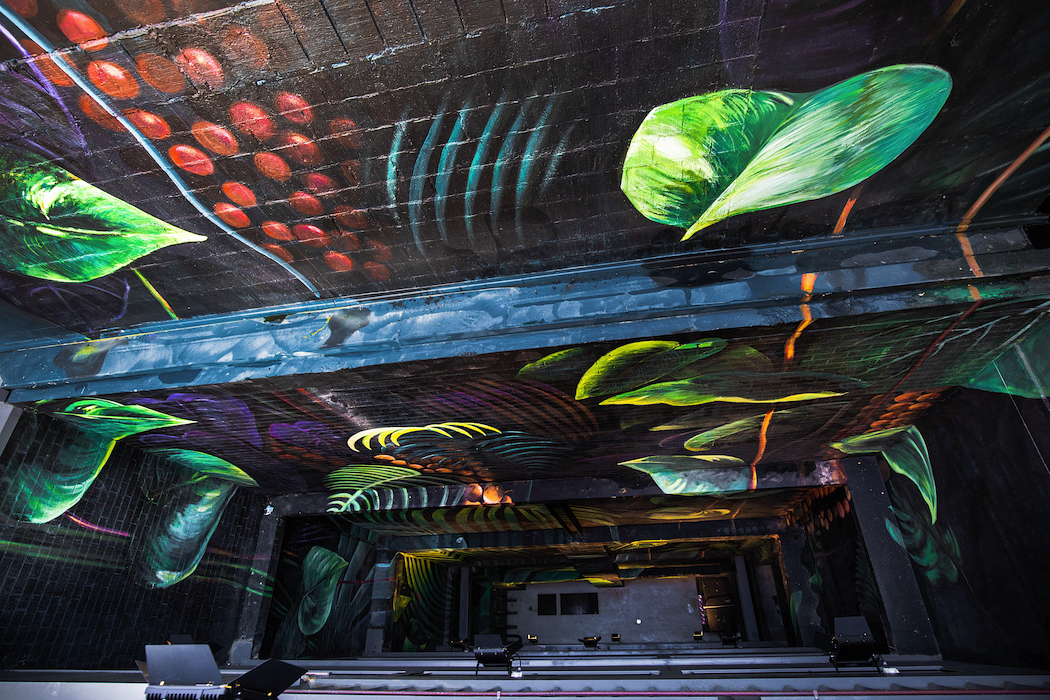 Le Clerc also painted the murals of native flora that feature above the blue plush velvet bedheads in most of the guest rooms. All individually handpainted, they include acacia mearnsii, commonly known as Black Wattle, after which Blackwattle Bay (just a short hop away) was named. It's bespoke touches like these that really set the hotel apart from its competitors.
In the lobby there's a 2.4-metre-wide painting of Blackwattle Bay in 1788. As with everything in this neat little package of a hotel, the lobby doubles as a bar, café and lounge where guests can relax, order coffee, work on their laptop, meet friends, and enjoy a glass of wine or a snack. There's an a la carte breakfast menu (my granola with fresh fruit and coconut yoghurt was delicious) and as the day rolls on, you can kick back with locally crafted bottled cocktails.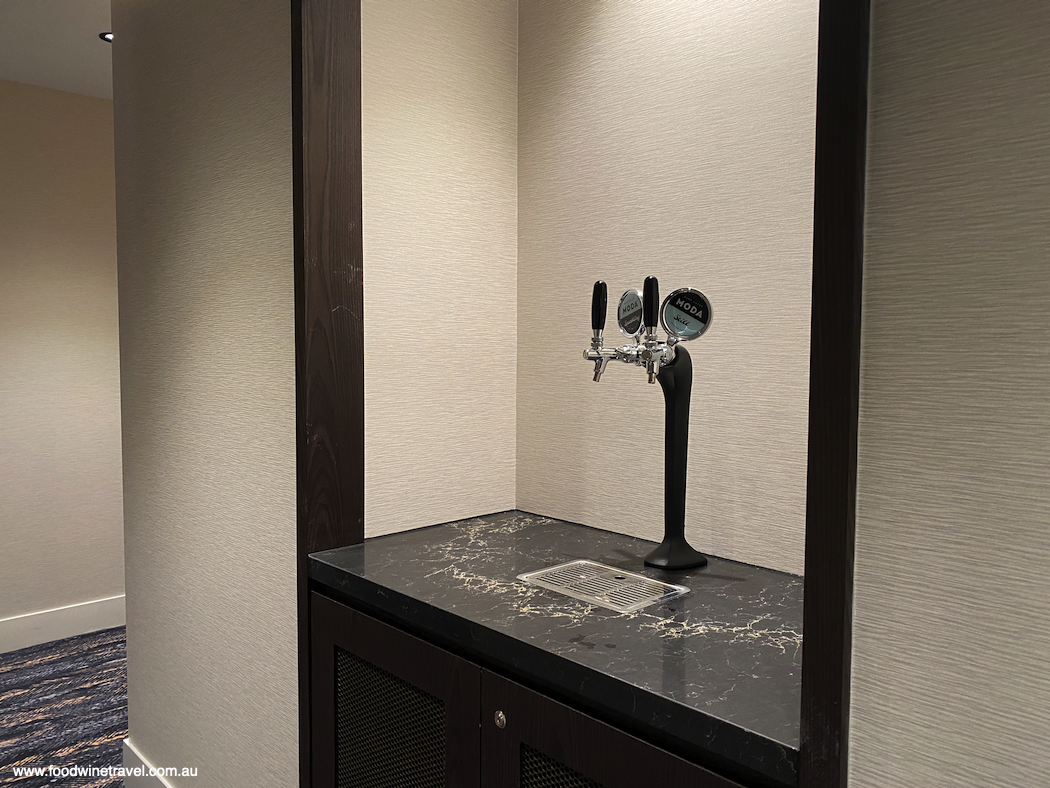 The hotel supports and celebrates local makers, from its cocktails, cookies and all-Australian wine list through to its signature fragrance from candles handmade by Pyrmont local Em Cook, and Staves Beer brewed next door in Glebe.
The ground floor lobby/guest area makes a statement with its dramatic design including black and white mosaic flooring, black marble-topped bar with walnut wood panelling trimmed in brass, and a shimmering 200-piece sculptural light suspended above the bar.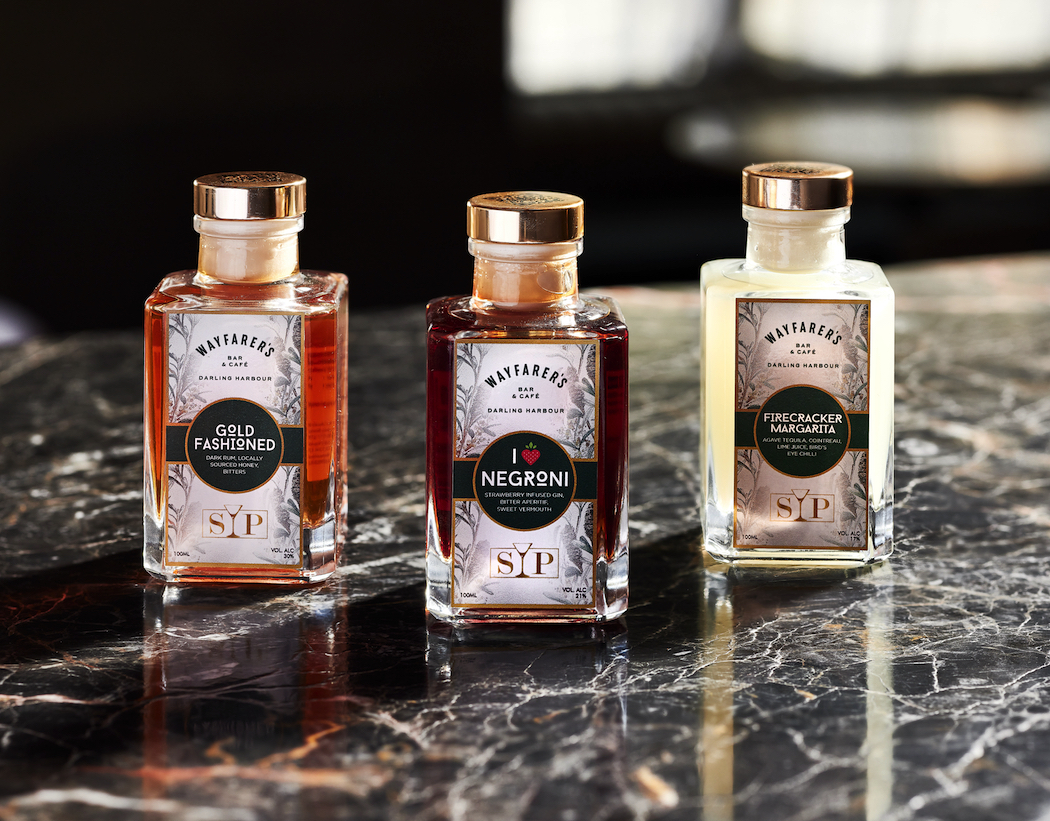 While the hotel has 24-hour reception, one novel feature is that it has touch-screen kiosks so that guests can check themselves in and out if they wish. There's also a choice of a digital room key on your smartphone, or a key card (quaintly featuring an historical photo of Pyrmont).
Parking is available for $40 at a nearby Wilson's parking station but the hotel is very well located for public transport, being just minutes away from a light rail station. It's also very close to the Pyrmont pedestrian bridge offering easy access on foot to the city.
If you go:
Aiden Darling Harbour
45 Murray Street, Pyrmont
Sydney NSW 2009
Australia
Tel: +61 (0)2 7203 8600
www.aidendarlingharbour.com.au
Thanks to the Aiden Darling Harbour for hosting my one-night stay. I stayed in Room 401.
Photos by FoodWineTravel where indicated. All other photos were supplied by the hotel and used with permission.