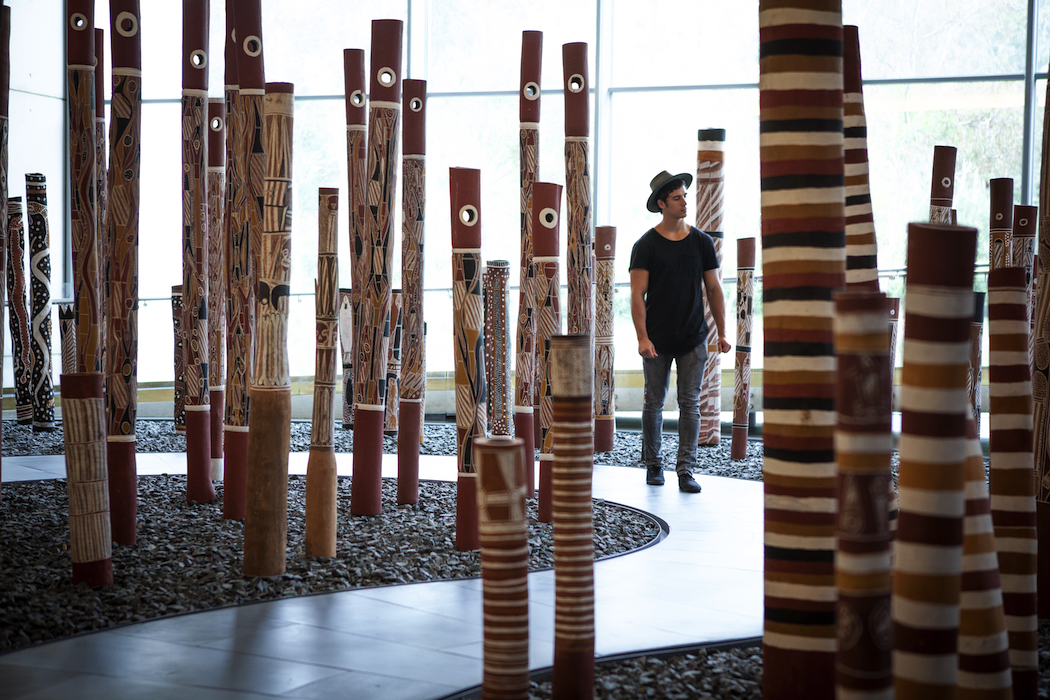 It's Easy To Lose Yourself For A Few Hours
When it comes to exhibitions, the National Gallery of Australia's blockbuster exhibitions are Canberra's biggest drawcard, bringing people from all around the country to see art work and treasures often on loan from major galleries and institutions across the world. What's on offer elsewhere in the Gallery is probably enough to keep you enthralled for a few days anyway, but it's easy just to lose yourself for a few hours depending on your interests – choose from collections of Australian, Pacific, Asian, European and American art.
Look for Jackson Pollock's Blue Poles, which created a scandal when it was purchased in 1973, and the enormous canvas of David Hockney's A Bigger Canyon. The collection of indigenous Australian art is particularly outstanding. Pause to reflect at the Aboriginal Memorial, an installation of 200 painted hollow log coffins created by artists in Arnhem Land as a tribute to the suffering and loss experienced by Aboriginal people.
If you go:
National Gallery of Australia
Parkes Place, Parkes
Canberra ACT 2600
Tel: +61 (0)2 6240 6411
www.nga.gov.au
Explore local itineraries via the links below
Canberra Feast of Festivals … Join the year-round fun
Canberra for Culture Vultures … Home to Australia's main museums and galleries
Canberra's Art, Design and Craft … Watch artists in action
Canberra for Families … There's no such thing as being bored with these top things to see and do
Canberra's Family Dining Scene … Top choices for hungry appetites
Canberra's Indoor Family Activities … Young imaginations run free
Canberra's Outdoor Family Adventures … Recreational paradise for big and little kids alike
The Australian Story in Canberra … A city that reflects the national journey