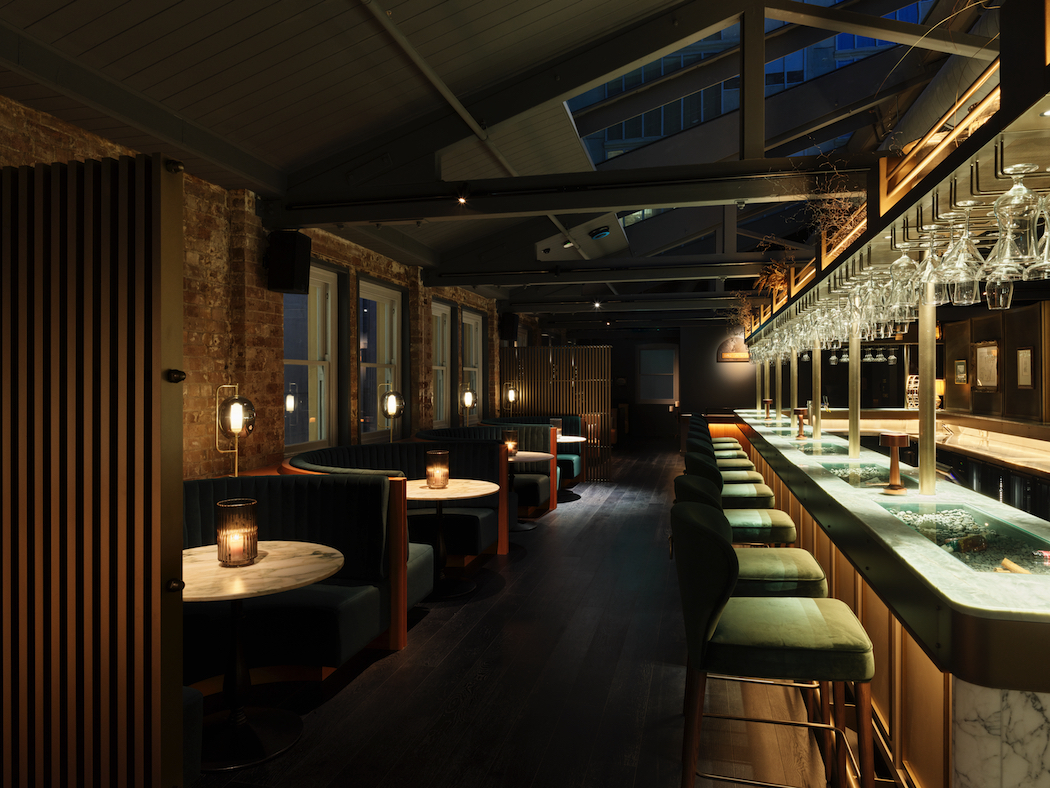 A 14-metre-long bar with a green marble top takes centre stage in Spice Trader, the stunning cocktail bar that sits atop The Porter House Hotel – MGallery in Castlereagh Street, Sydney. By day, there's an abundance of natural light thanks to the hotel's historic arched windows and glass panels lining more than half the roof.
By night, the atmosphere is dark and moody, with a warmth and intimacy that belies the venue's generous footprint. Curved banquettes in rich green velvet, antique mirrors and brass details are woven around the historic building's exposed brick walls and wooden beams.
So big is that bar that around 80 people can perch at it and chat with the bartenders as they work their cocktail magic. If you're looking for something more intimate, you can opt for a booth or banquette, or if you're with a group, you might like to settle in next to the original arched windows.
Paying homage to The Porter House's trading past, the cocktail list is themed around four key trade items: ginger, coconut, cassia bark and coffee. Each of the four ingredients is expressed through three different cocktail styles, resulting in 12 signature cocktails that take you on a journey from sweet and spicy to sour and sprightly.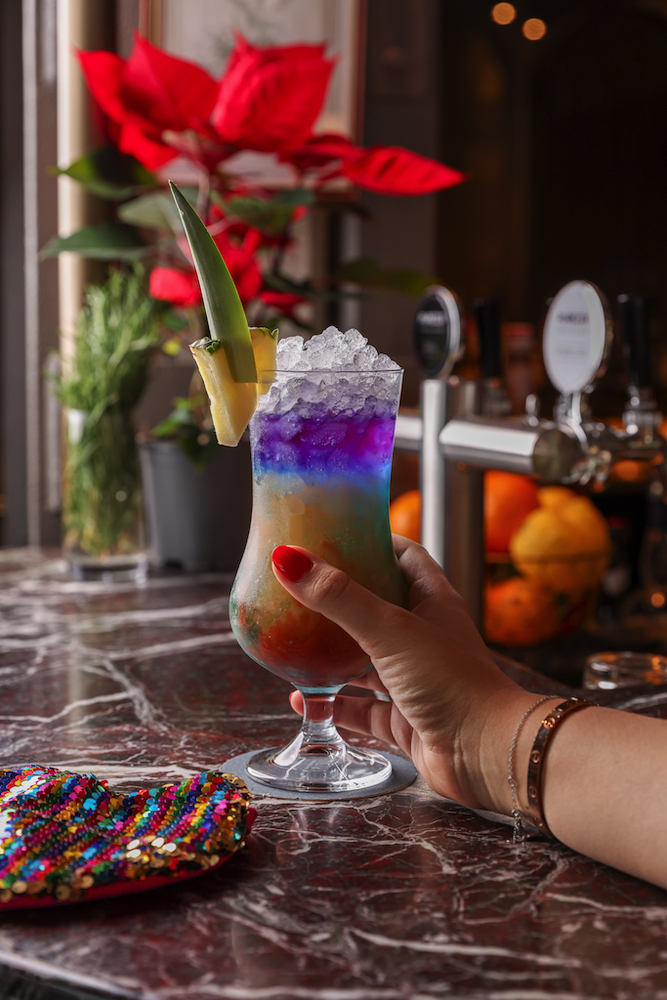 From ginger, for example, you could choose from Penicillin or Gin-Gin Mule, or opt for a spicy, thirst-quenching whisky sour called Highland Smash (made from Johnnie Walker Black, ginger, peach, lemon and mint).
Spice Trader's take on classic Pina Colada is Piña Verde (Plantation Stiggins Fancy Pineapple, green Chartreuse, coconut cream and pineapple), while another coconut-based cocktail, Merchant Old Fashioned, is decadent, rich and sweet with flavours of toasted coconut, George Dickel Tennessee Whisky, gentian and golden syrup.
All the usual cocktail favourites are on the list too, along with beers on tap and by the bottle, 10 wines by the glass, and a truncated wine list of fresh and vibrant whites through to rich and structured reds. Three house-spiced spirits can be ordered on the rocks: Rum, infused with banana, vanilla, dried orange, clove, cassia and star anise; Australian Whisky infused with black tea, ginger, cinnamon, clove and green cardamon; and Cognac infused with dried apricot, peach, fig, nutmeg and clove. If you want to skip the booze, several of the signature cocktails have been crafted with non-alcoholic alternatives.
We stayed at The Porter House Hotel – MGallery just before World Pride (yes, it's taken us a while to get this post up) and simply had to try Spice Trader's Pinky-Fairy cocktail. With a name like that, who could refuse? Served in a coupé glass, it was a delicious concoction of Pampero Rum, Campari, Cointreau, lime juice, Prosecco syrup and egg white. There was also a rainbow-coloured cocktail called Prismatic Swizzle.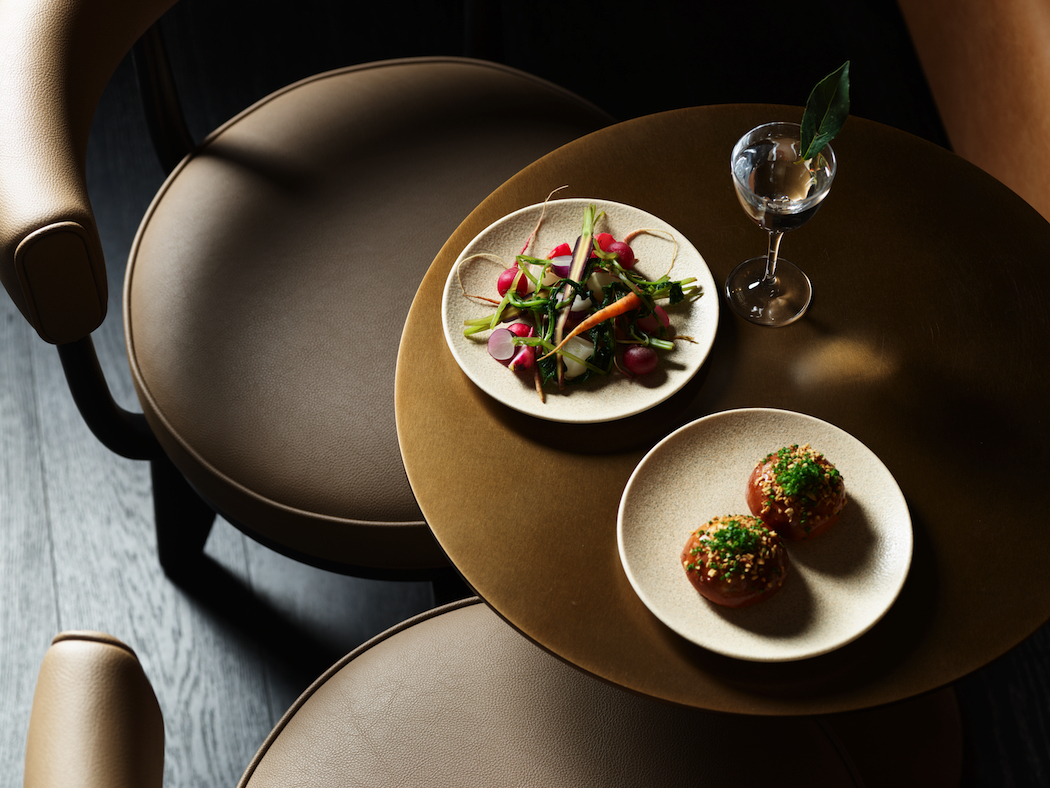 As far as bar snacks go, there were really only 6 small plates plus oysters to choose from, but it was still a hard choice. The Tempura Miso Eggplant (served with whipped tofu and onion 'ash') was divine. We also ordered Bekka wings (chicken wings tossed in harissa served with preserved lemon yogurt) and Milk buns filled with pork belly and topped with fried garlic. Yum! All the snacks are designed to share.
Spice Trader is a good-looking, sumptuous space and if you're looking for a drink in downtown Sydney, it's a great spot to get away from the rat race for a bit. The bar doesn't take bookings; it's open to walk-ins only.
If you go:
Spice Trader
The Porter House Hotel – MGallery
203 Castlereagh Street
Sydney NSW 2000
Australia
Tel: +61 (0)2 8236 8888
porterhousehotel.com.au
With thanks to The Porter House Hotel – MGallery for hosting us for one night and for inviting us to experience the special ambience of Spice Trader. Thanks also to bar manager Bastien Rossi for looking after us so brilliantly on the night. Photos supplied by The Porter House Hotel – MGallery and used with permission.
If you enjoyed this post, be sure to read our post on The Porter House Hotel – MGallery.