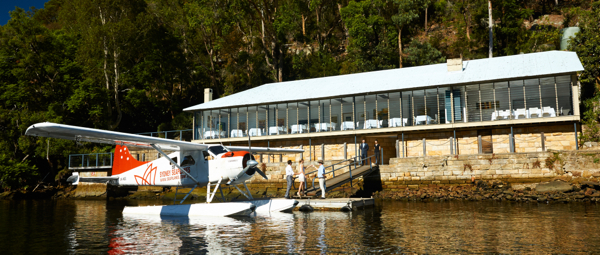 You've got to love winter when the sun shines as brightly as it does over the Hawkesbury.
I'm dining at Berowra Waters Inn and although I haven't made the spectacular entry by seaplane that some of the other diners have, the journey by boat has created a sense of anticipation.
I'm with a media group invited to sample the restaurant's new winter menu and I'm looking forward to seeing how the restaurant is faring with Brian Geraghty at the helm.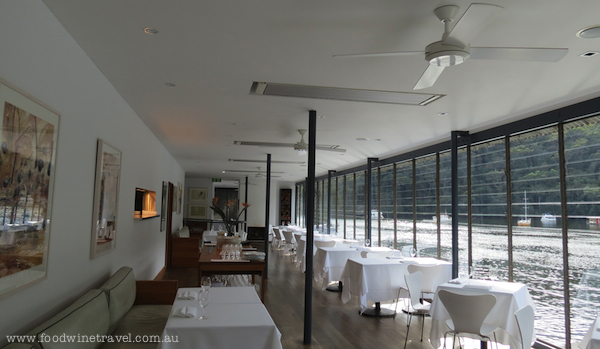 This is one of Sydney's iconic restaurants, not just because of its spectacular setting – nestled in bushland, perched on the edge of the river, accessed only by water – but also because of its history.
The restaurant opened in 1938 and has had a succession of high-profile chefs.
Irish-born Geraghty took it over in October and one of the first things he found when he climbed into the attic was a 75-year-old menu for a "Special Tourist Luncheon" priced at two shillings and sixpence.
Between Mother's Day and the June long weekend just past, he indulged in a little bit of nostalgia by re-creating that menu.
Geraghty's career has seen him working alongside influential chefs such as Sean Conolly (ex-Astral), Shane Osborn (Pied a Terre, London) and Peter Gilmore (Quay).
His menu at Berowra Waters is described as a seven-course degustation but in reality it's 10 courses for there is an amuse bouché at the beginning, a pre-dessert, and petit fours at the end.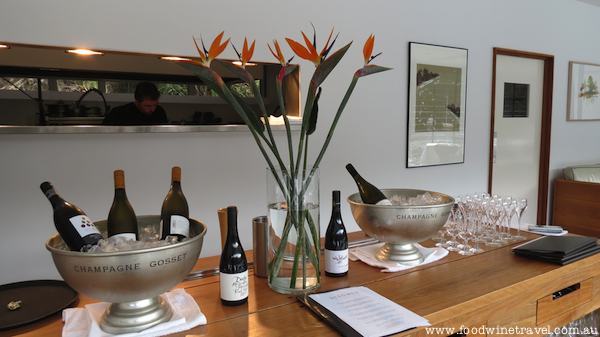 We start with a glass of Gosset Brut Excellence and an amuse bouche of two gorgeous little morsels – a parsley macaron (with a definite taste and colour of parsley, sandwiched together with salmon mouselline) and a mille feuille of granny smith apple and chicken liver parfait. Altogether, they're a joyful riot of flavours and it certainly get the tastebuds moving.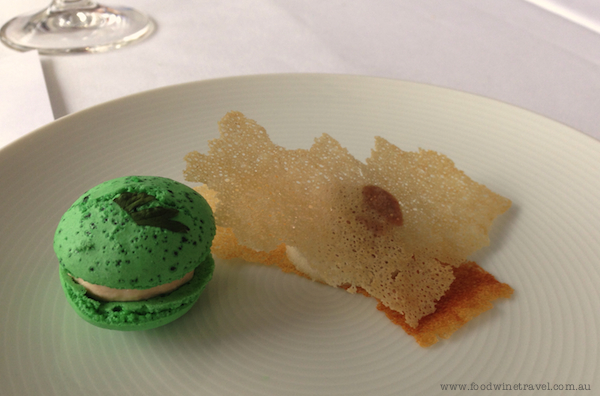 The zingy acidity of the next wine, 2010 Domaine Pichot Vouvray Sec from France's Loire Valley, gets the palate working too.
The ripe peach flavours of this chenin blanc are a good counterpoint to the mackerel, which comes with toasted rye crumbs, horseradish icecream and very fine discs of root vegetables (carrot, beetroot, pumpkin and watermelon radish).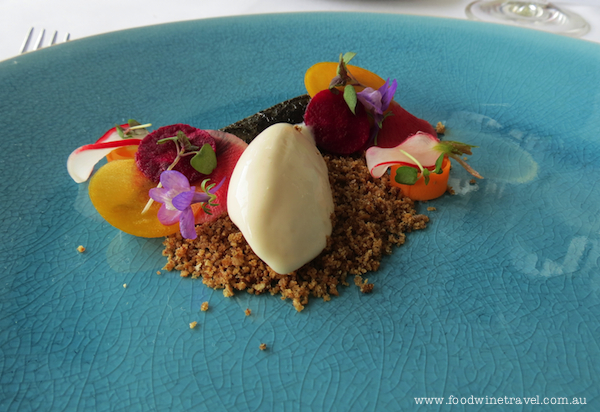 The mackerel, from Kiama, has been pickled and "flamed" and its robust flavour totally softens the acidity of the wine. Dainty little flowers are sprinkled on the plate for extra eye appeal.
We're offered a selection of breads – olive, semolina, and cumin and rye – and we ooh and aah over the butter, which is house-churned and sprinkled with Cyprian volcanic salt.
I haven't had salt from Cyprus before and am not sure that it tastes better than salt from anywhere else but it is black and very more-ish.
We move to the Hunter Valley for our next wine, Margan Limited Release 2011 Chardonnay, whose silky texture marries beautifully with the silky texture of the "risotto". The restaurant's sommelier Lisa is passionate about the wine, and with Margan Wines in general, and I'm not surprised, for I'm a great fan too.
The Chardonnay is subtly oaked and is quite refreshing as it cuts through the oiliness of the smoked eel in the "risotto". You'll have noticed that "risotto" is in quotation marks – that's because it's not actually made from rice but from celeriac and chives. It comes with apple foam and a dashi wafer.
"Mushrooms on toast" is the best way to describe the next course, a fricassee of shiitake, shimeji and king brown mushrooms served on tarragon brioche, yeast foam and a garnish of micro celery leaves. Dexter 2010 Pinot Noir, from the Mornington Peninsula, is light and juicy with an earthiness that goes beautifully with the mushrooms.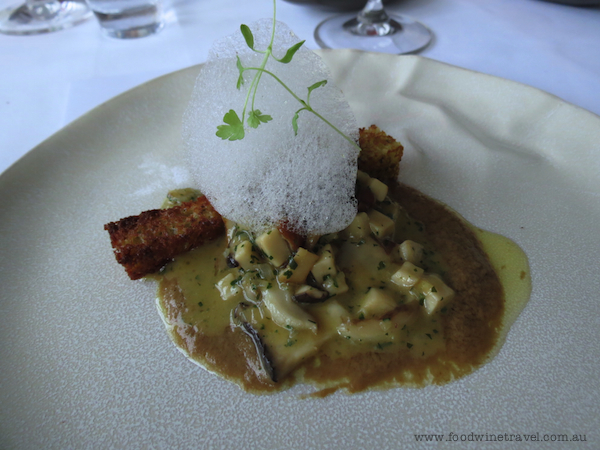 Each of the courses is served on different tableware. The next course is one of the most colourful dishes, with New Zealand flounder swimming in a bright green broccoli velouté that is very striking against the white plate. The fish is crumbed with parmesan and accompanied by West Australian prawn, pinenuts and truffle.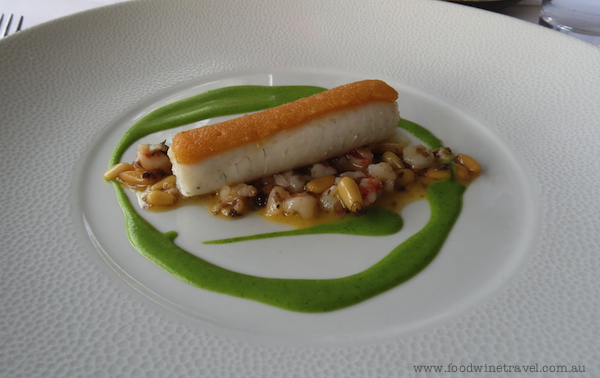 You know winter is on the doorstep when truffle is on the plate! I'm a wee bit excited and Lisa confirms that it is indeed an Australian truffle from our burgeoning industry. Pungent and seductive at the same time, this one comes from Oberon, NSW, almost up the road.
We go to Tasmania for the Pinot that is served with this – 2011 Goaty Hill, a Tamar Valley wine, served slightly chilled. It has raspberry/cherry flavours and I like it a lot (but then, I'm very partial to Tasmanian Pinot full-stop).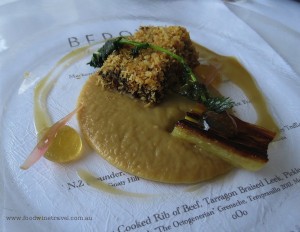 Tasmania is also the source of the beef for the next course, my dish of the day for its melt-in-the-mouth tenderness and flavour. It's been cooked at a very low temperature for 40 hours and rolled in panko (Japanese breadcrumbs).
It comes with tarragon braised leek and pickled shallots, along with a tiny dollop of white wine vinaigrette gel and a stinging nettle on top.
It's an exquisite dish, beautifully matched with The Octogenarian, a Grenache Tempranillo blend from McLaren Vale winery, Woodstock.
We're moving to the cheese now, and this one's a creamy blue cheese served canoli-style in an almond crumb with red onion sorbet. As far as I'm concerned, blue cheese and a sweet wine are a match made in heaven, the saltiness of the blue cheese contrasting with the sweetness of the wine.
Domaine de La Pigeade Muscat de Beaumes de Venise 2011, from France's Rhone Valley, has a heavenly floral nose, a little acidity and a lusciousness that cuts through the sharpness of the cheese.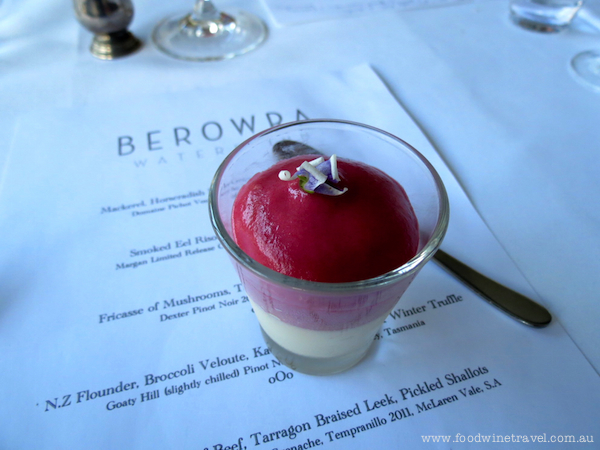 Did I say something about pre-dessert? Any restaurant that serves a pre-dessert as well as dessert is my kind of restaurant! With rhubarb topping and a little flower on top, it comes in a shot glass and is closely followed by the real dessert of chocolate, hazelnut and lemon sorbet. The dishes are accompanied by a luscious Austrian dessert wine, 2006 Salomon Undhof Auslese Riesling.
The price for this 7-course menu is $175 per person or $250 with wine, and there is an abbreviated 4-course menu for $110 per person or $160 with wine.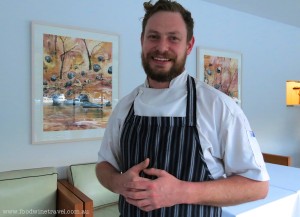 I dined at Berowra Waters a few years ago when Dietmar Sawyere was at the helm. I loved it on that occasion and I loved it on this occasion too. It's great to see Geraghty (right) continuing to push the boundaries with beautiful, creative food.
If I have any criticism at all it's that while each dish was outstanding in itself, overall there were a few too many crumbs.
Geraghty has clearly found his feet in this beautiful setting, which can't be an easy kitchen to work in given that everything has to be brought in by boat. So what inspired him to take on the task?
"The history, the heritage, the alumni of who's been before, the ritual of getting here … it's not something you do on a whim."
Fact file:
Berowra Waters Inn
Via East and West Public Wharves
Berowra Waters NSW
Australia
+61 (0)2 9456 1027