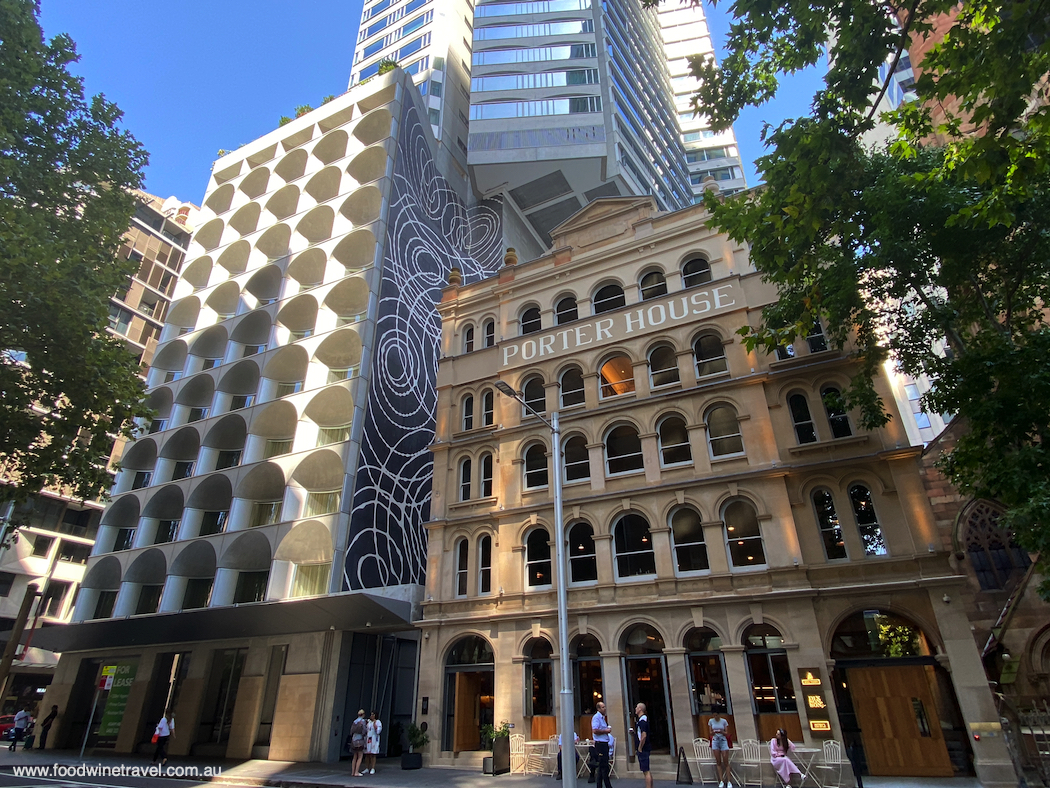 With Sydney's heritage being lost by the minute, it's such a pleasure to see the gorgeous 1876 Porter House not only preserved but transformed into the hub of a vibrant new downtown precinct. The distinctive building with its sandstone façade and arched windows is now home to a sleek hotel, The Porter House Hotel – MGallery.
Opened in late 2022, the hotel's 122 luxurious guest rooms and suites occupy the first 10 floors of a 36-storey tower constructed on two sides of the historic building in Castlereagh Street. The remaining floors are occupied by residential apartments with their own private entry.
The modern tower is different but by no means disconnected from the original building. A new walkway provides a bridge (literally) between old and new, and further design elements pay homage to The Porter House's history. The modern building, for example, has very striking curved windows which reference the original building's arched windows.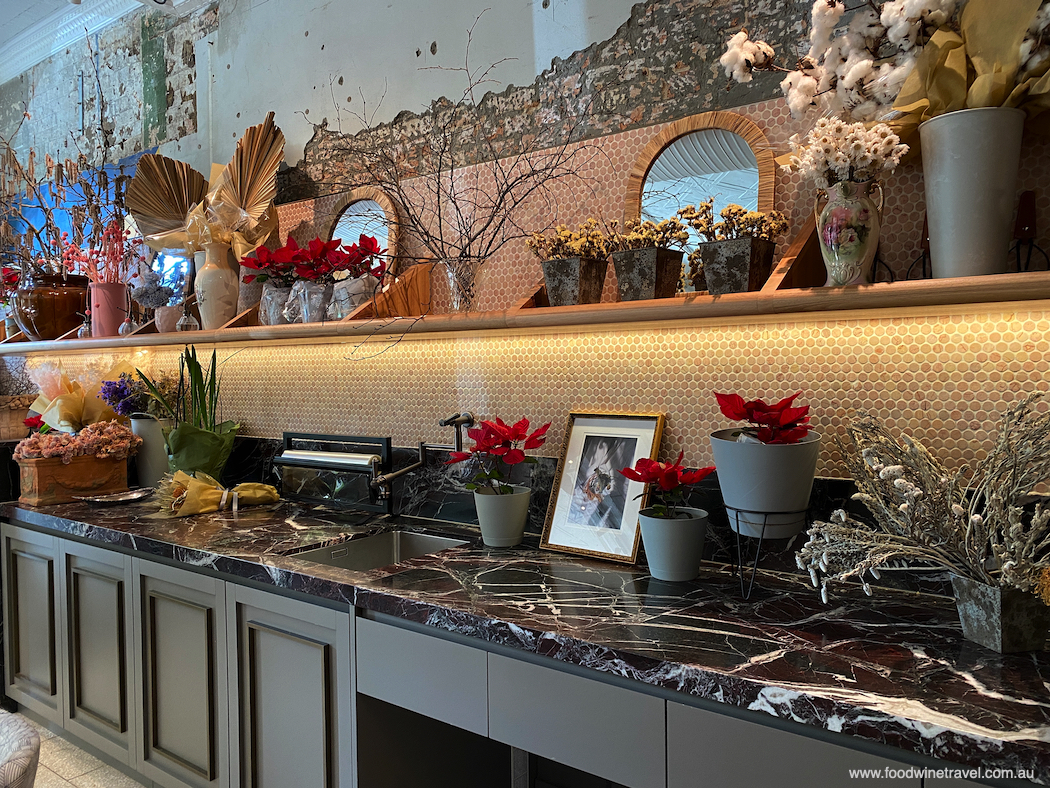 Accents of leather, pressed tin and other interior design elements in the modern tower also pay homage to the old building's history. The Porter House started its life as Dixson & Sons tobacco factory and warehouse, and was later leased to furniture manufacturer WW Campbell & Co and leather merchant George Johnson & Sons.
Relics from the building's commercial history are housed in discrete glass cases at the entrance to the hotel, providing a fascinating glimpse into the past for history nerds like us. I love that these little reminders of times gone by are not lost in the race to build everything new and modern.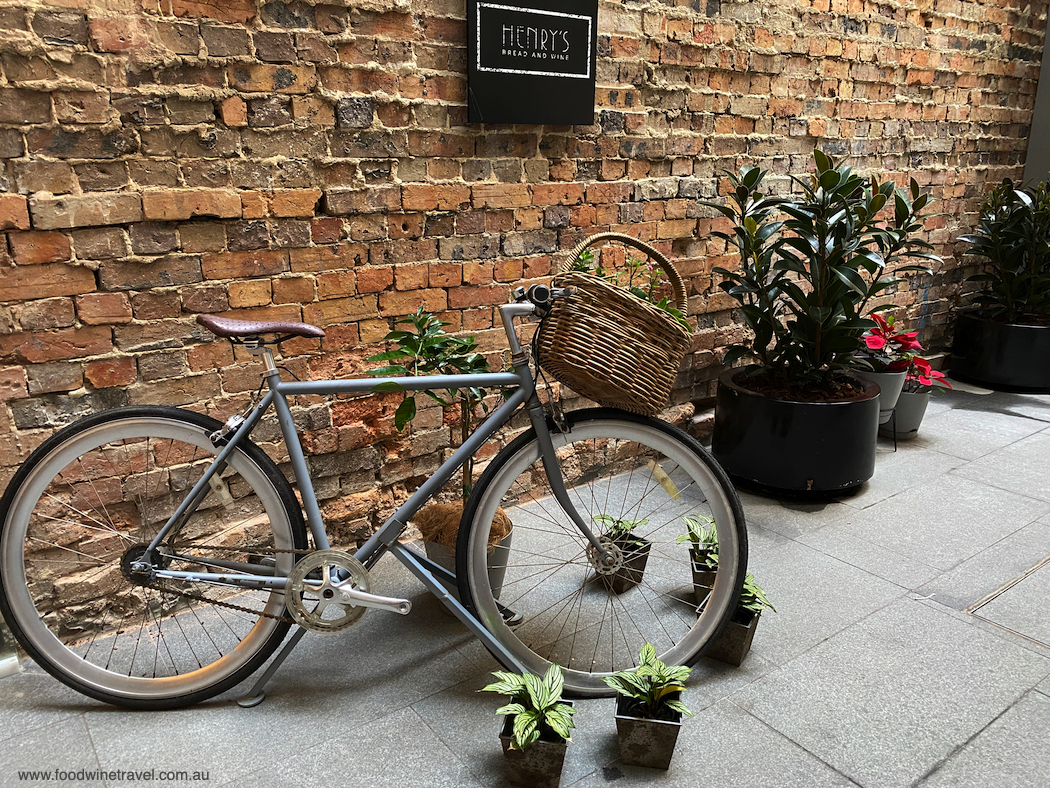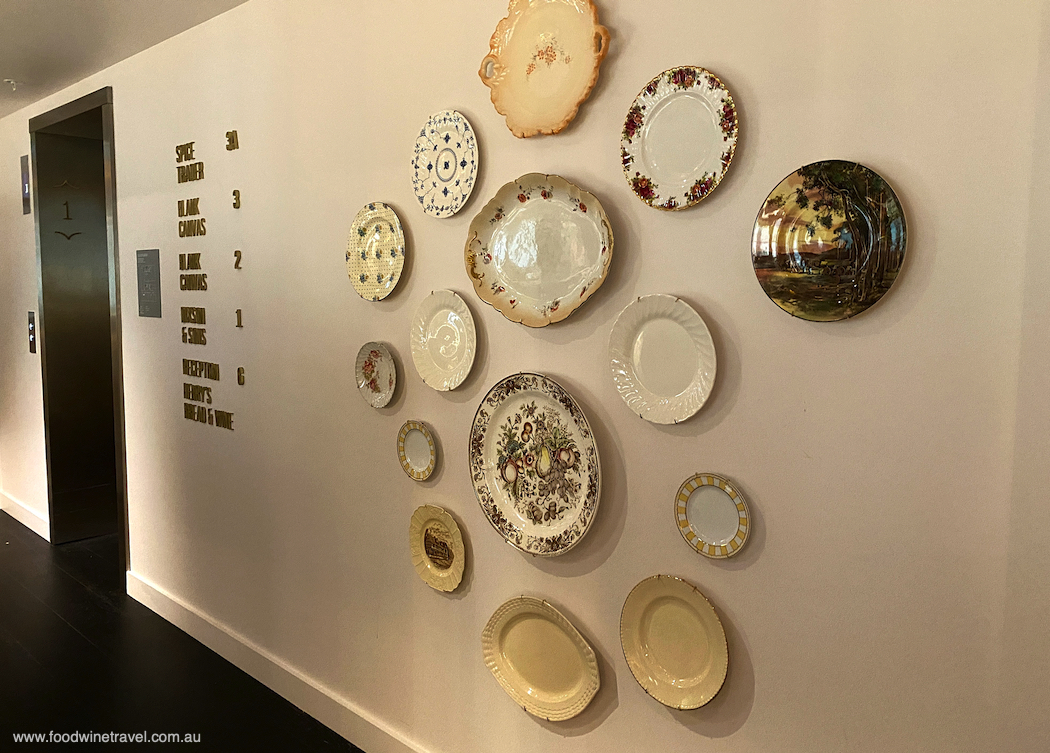 The understated reception on the ground floor of the original building echoes the boutique feel of this lovely hotel. Invited to take a seat at one of the two wooden desks, it's almost like stepping into someone's home (albeit a very luxurious one!) The hotel's three restaurants and bars, along with function venues and private dining spaces, are all in the original building which has been re-imagined with character, charm, and sensitivity.
On the ground floor is Henry's Bread and Wine, a casual, relaxed venue open seven days a week for light meals and drinks. Next floor up is Dixson & Sons, named after the founding merchant family. Beautifully presented in an industrial-chic style with heavy metal beams and columns, it has a couple of semi-private dining spaces off to the side of the main dining room, wall-mounted wine cabinets, and a striking bar.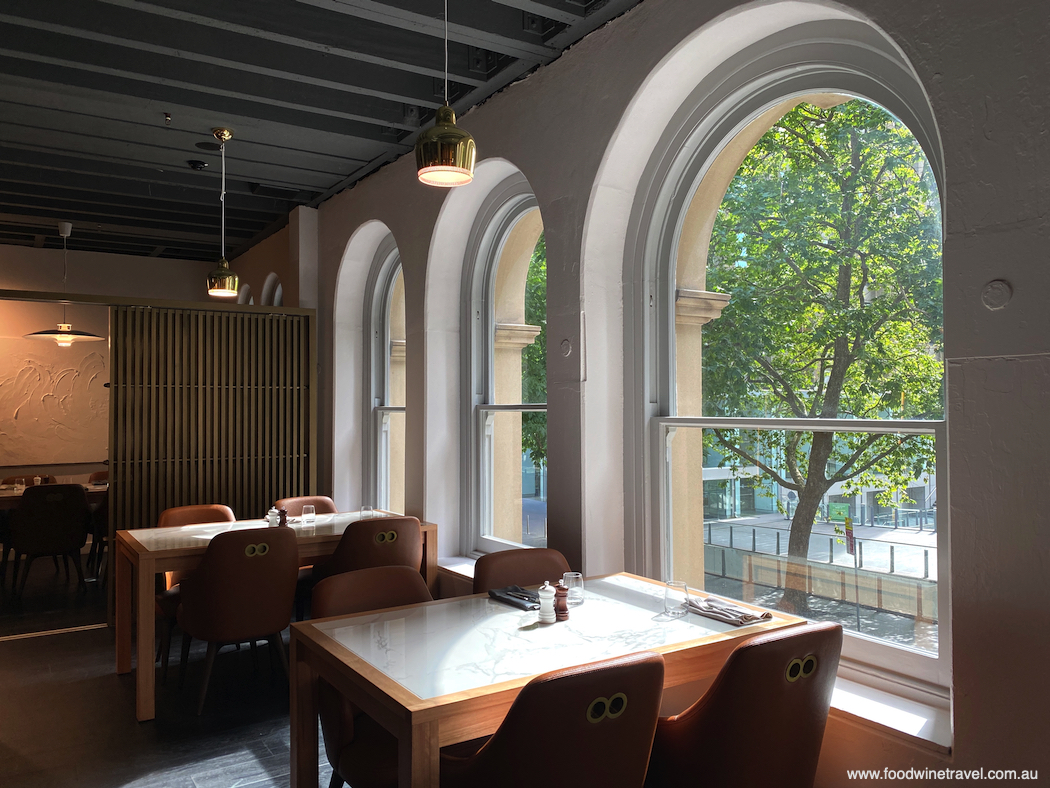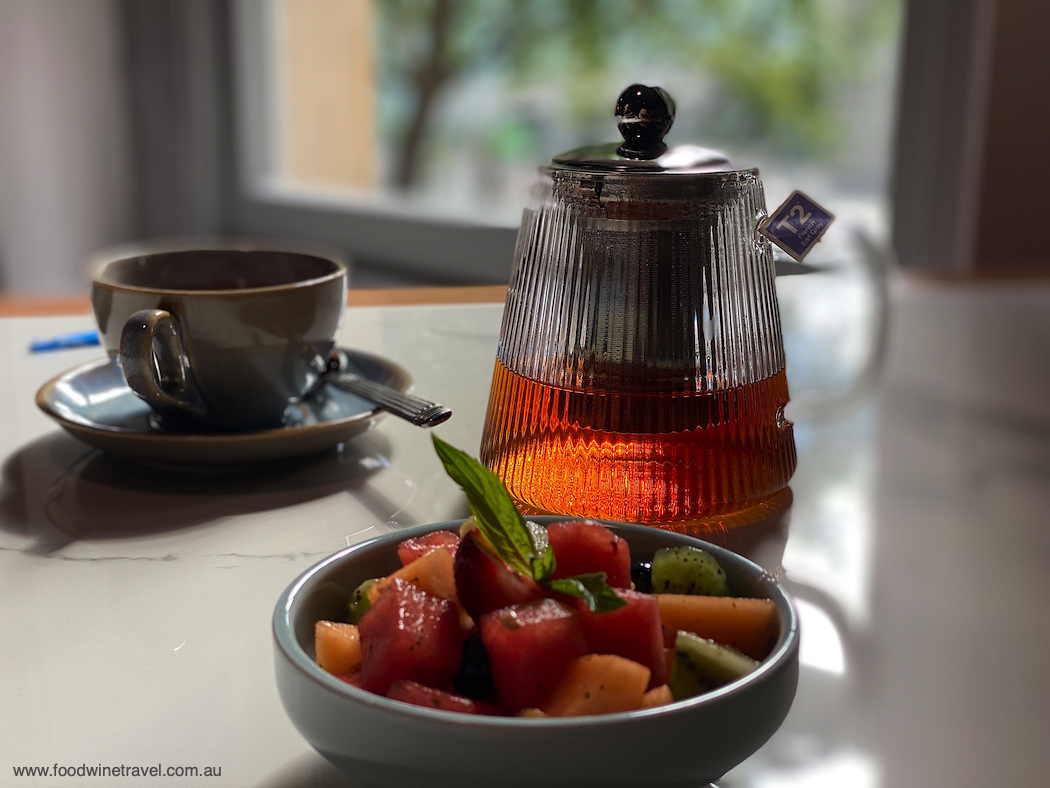 The enticing menu champions New South Wales produce. Unfortunately, we didn't have a chance to dine in but we did have breakfast there in the morning and it was superb. Our dishes of Green Eggs and Ham on house-made hash browns, and Fresh Fruit Salad with lemon myrtle syrup, were creative and delicious. The morning light streamed onto our table through the arched windows, through which we looked out over the leafy treetops of Castlereagh Street. The traffic and mayhem of downtown Sydney was just below us but could have been a million miles away.
Spice Trader, the cocktail bar on the top level of the historic building, similarly features an abundance of light by day but by night is dark and moody. You can read about Spice Trader in this separate post.
Step inside the lifts to the guest rooms and the hotel is a stylish, urban sanctuary. The colour palette is warm and modern, with dusty pinks and mushroom grey tones alongside natural textures. The floors are hardwood, the bedheads a soft leather, and the bed lamps (fixed to the ceiling) are mismatched – one vintage, one modern, a playful touch that harks back to the hotel being a mixture of both. Elegant brass fixtures provide an opulent touch.
On the exterior of the building, 'Ripples and Droplets' is an edgy artwork of arches, circles and colours reaching 11 storeys up. Inside, these patterns are an enduring theme, in the distinctive curved windows, the curved bedheads, the oval mirrors and round washbasins.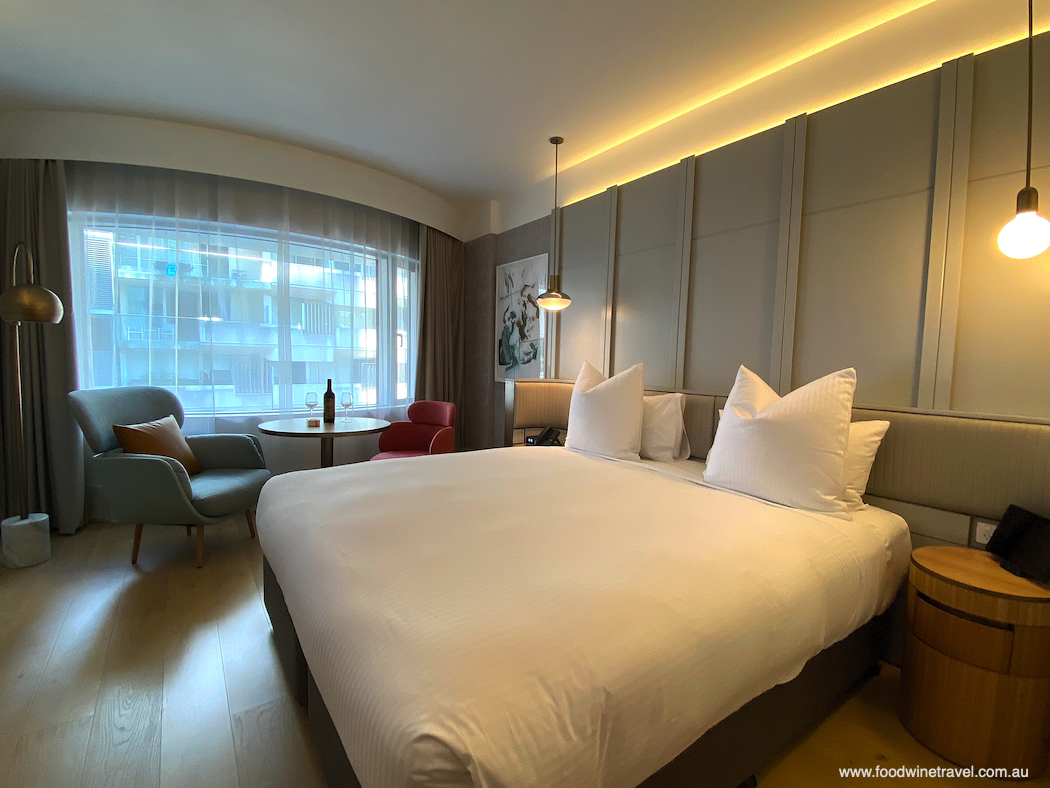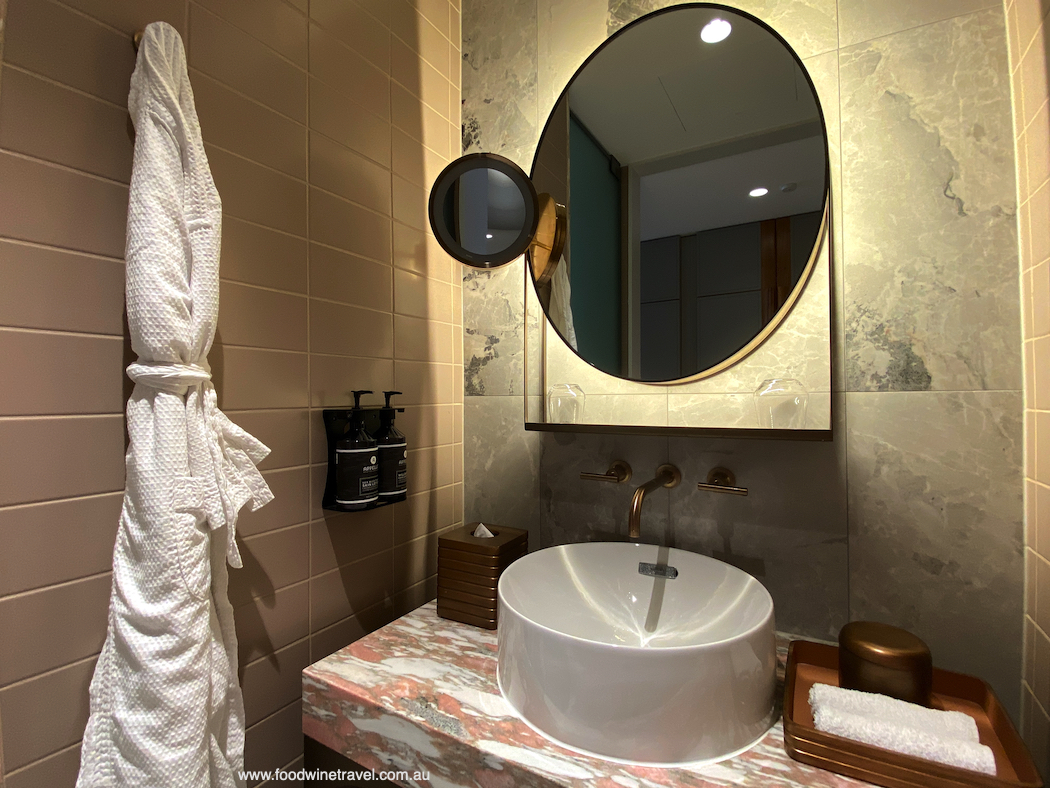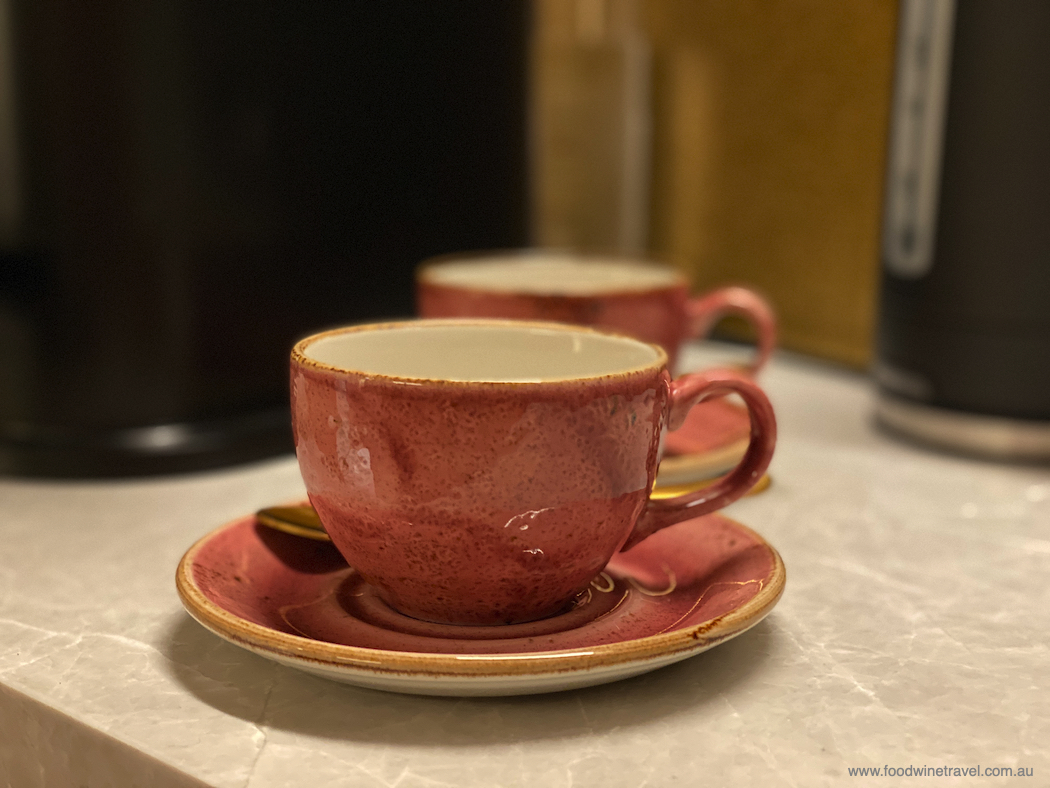 Our Superior room had a super comfy king bed, 65cm television, and a sitting area with a small table and two winged armchairs. The double-glazed windows were very soundproof with blockout blinds and curtains controlled by the flick of a switch (plus you could open the windows!) Tea and coffee making facilities were hidden behind closed wardrobe drawers, including a Nespresso coffee machine. I loved the gorgeous china teacups, so elegant to drink from, their colour picking up the pink and grey tones of the bathroom marble.
As well as six interconnecting rooms, six disability rooms and a pet-friendly room, the hotel has four Junior Suites, each with a separate king bedroom and living space. The suites offer additional luxuries such as a clothes steamer, hair straightener, and free-standing bath with mirror-screen TV.
All hotel guests have access to a fitness centre and heated pool on the 11th floor, surrounded by a rooftop garden. If you want to stretch your legs in leafy surrounds, Hyde Park is an easy walk from the hotel. There's no on-site parking for hotel guests but we had no trouble finding a reasonably priced spot in the First Parking carpark just a few minutes' walk away.
Accor's MGallery is a collection of design-led boutique hotels, each with its own unique story. The Porter House story takes a wonderful commercial building from Victorian-era Sydney and transforms it into a refined and elegant hotel.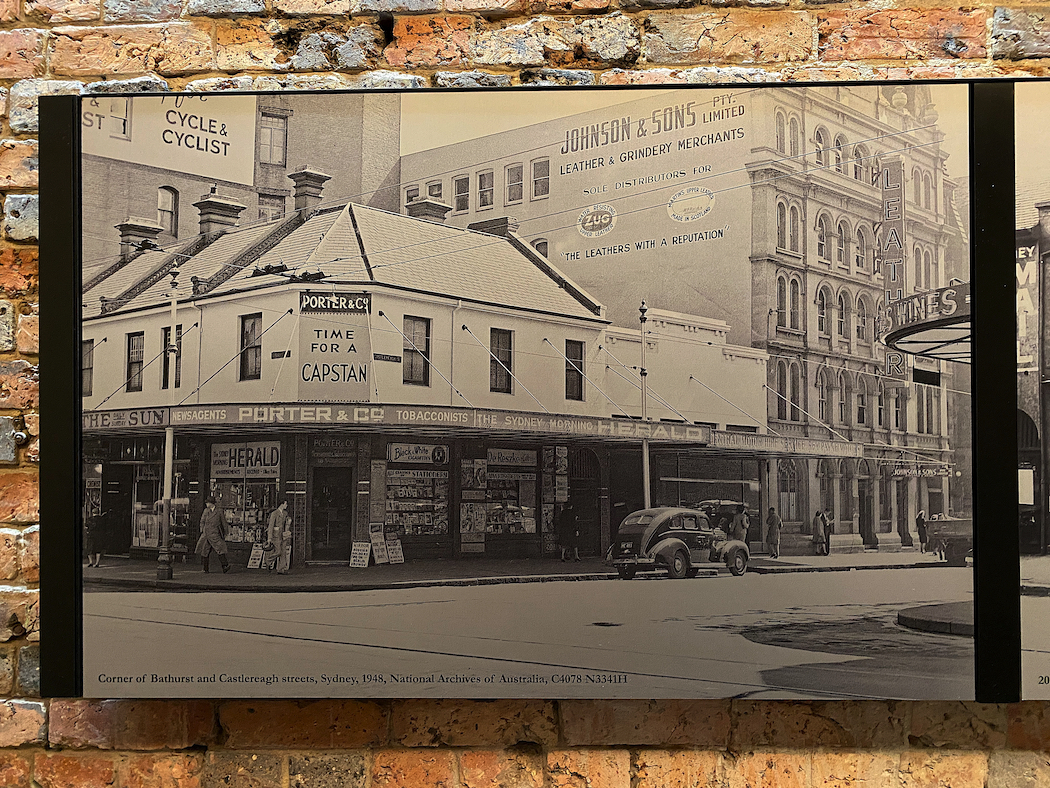 If you go:
The Porter House Hotel – MGallery
203 Castlereagh Street
Sydney NSW 2000
Australia
Tel: +61 (0)2 8236 8888
www.porterhousehotel.com.au
With thanks to The Porter House Hotel – MGallery for hosting us for our one-night stay, and for providing us with late-night snacks and cocktails in its Spice Trader bar. You can read all about Spice Trader in this separate post. We stayed in Room 1007.