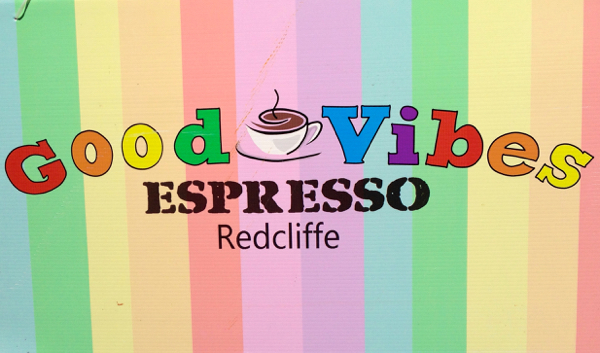 I smiled when this quirky pit-stop opened directly across the road from my home. Not only does it serve terrific coffee, but it encapsulates perfectly what Redcliffe is all about – laidback, carefree and a place that's not trying to be retro, it is retro!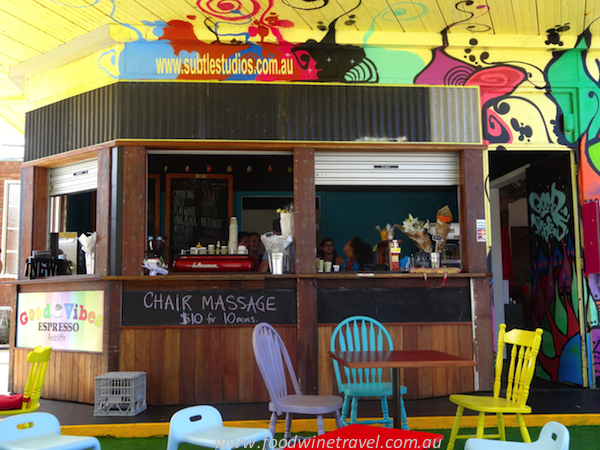 Filo and Anita Onofia opened Good Vibes at the end of January and it's certainly brought some colour to our little neck of the woods. Anita had dreamt of opening a coffee business for some time and was drawn to Redcliffe because of her fond childhood memories of the peninsula.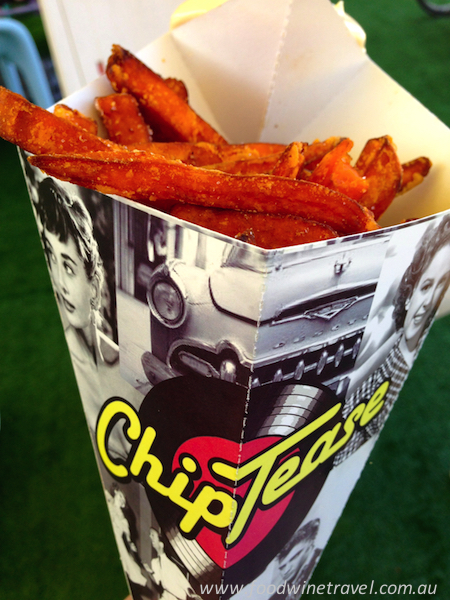 She found an old disused service station at the corner of Anzac Avenue and Sutton Street and set to work creating Good Vibes Espresso. It's decorated with large colourful murals and brightly painted mismatched furniture, and inside there's a photo booth and a store with photographs and artworks from local artists.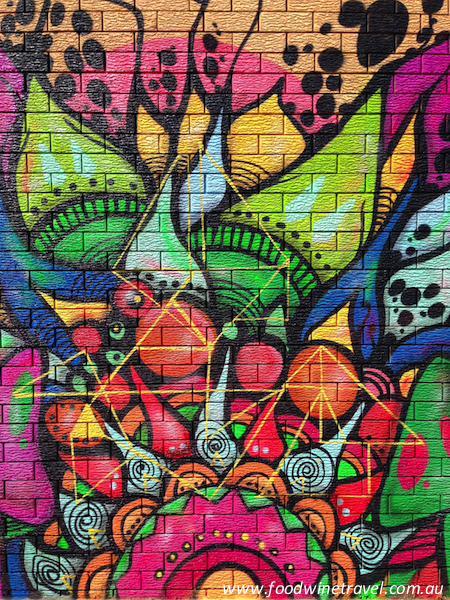 The café serves the usual suspects such as sandwiches, bacon and egg rolls, pies, croissants, muffins and mini cheesecakes.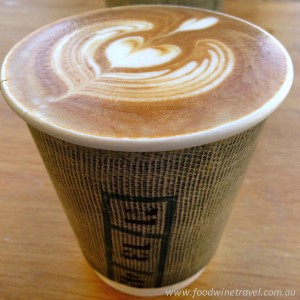 We haven't tried the food but can vouch for the coffee made by their barista, Jack, who we've encountered before at our other favourite Redcliffe café, Workshop & Co.
IMHO, he's an extraordinarily good barista.
Good Vibes doesn't charge extra for soy or syrup, and if you want to order your coffee ahead, you can download the TXT4Coffee app on your phone, find Good Vibes Espresso and place your order so that it will be ready when you arrive.
Lately the café has been holding Sunday Fundays, with food trucks on the site offering a wider selection of food. When we visited recently, there was a wood-fired pizza oven, a truck serving tacos, and ChipTease, an American '50s inspired van doing pulled pork and sweet potato chips. The chips came with garlic aioli and were a great hit. They were delivered with a smile too.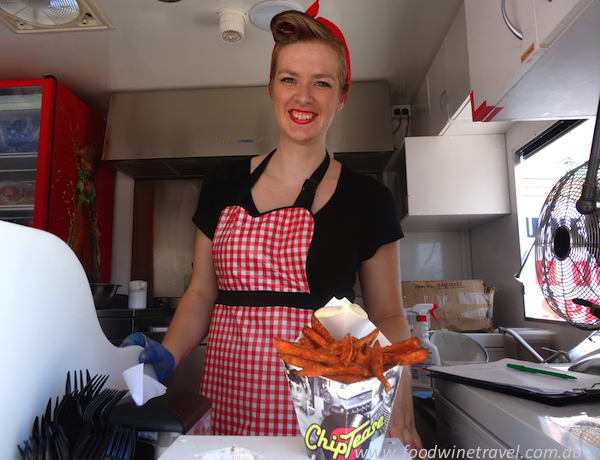 There was also a masseuse doing massages, a busker, and a Rainbow Gypsy stall selling tie-dyed clothing. I did say retro, didn't I? Apparently this coming Sunday, there'll be yum cha, pancakes, a mobile pooch wash, and a garage sale with swap 'n sell.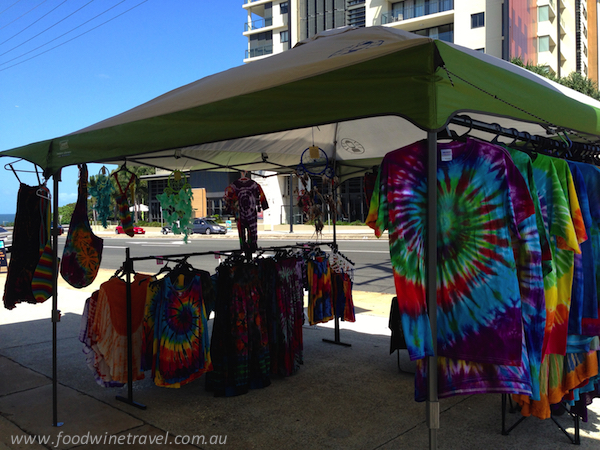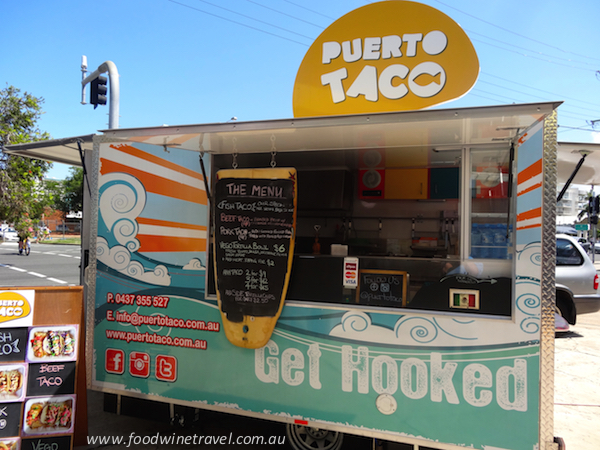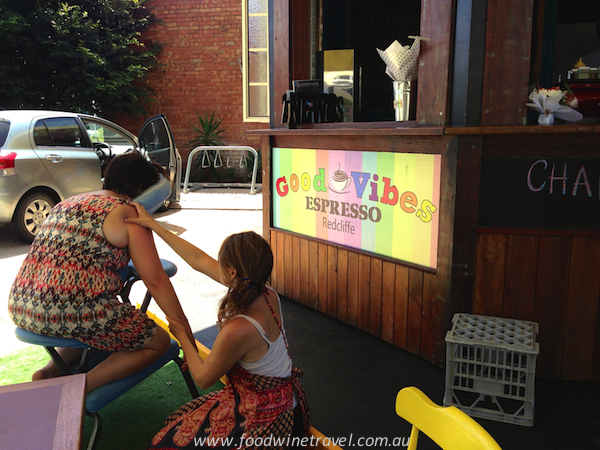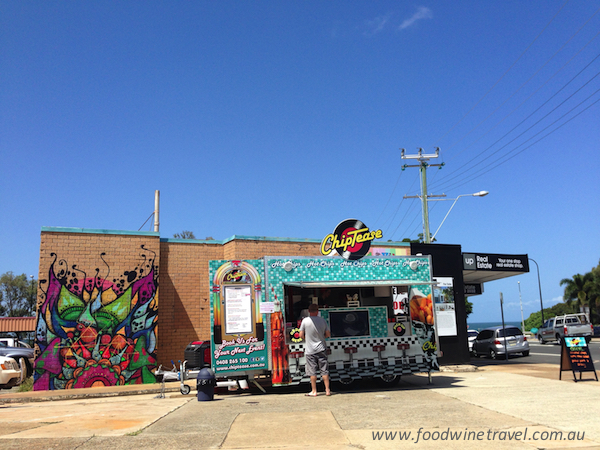 There's a great community spirit here. The owners say they are "family friendly, dog friendly, bike friendly, espresso-lane friendly and customer parking friendly, but only after our first coffee". So bring your pet or a good book and settle in for a cuppa.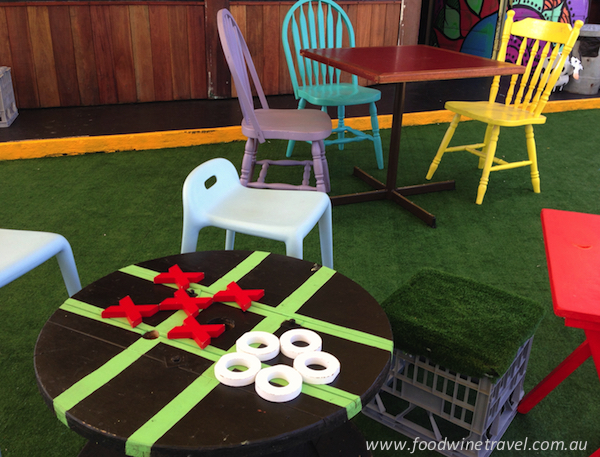 If you wander further down the road, you'll find Bee Gees Way, a tribute to the lads who grew up in the area and first performed at the Redcliffe Speedway in 1959. There's also a great record store and a shop selling vintage wares. Now that Good Vibes has opened, all that Redcliffe needs is some hit songs piped from speakers along Bee Gees Way. It will have then carved out a nice little niche as the place to go for all things retro.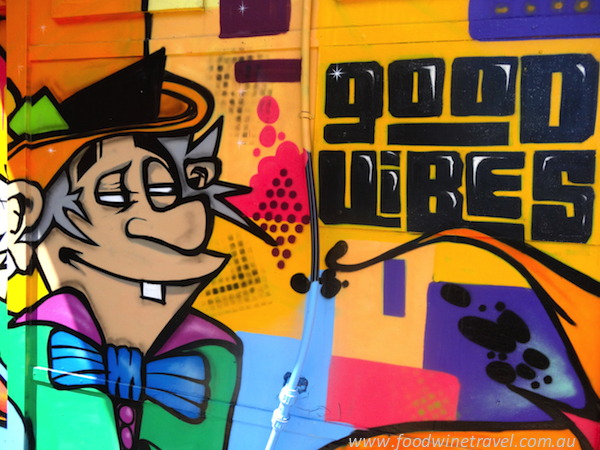 Fact File:
Good Vibes Espresso
Corner of Anzac Avenue & Sutton Street
Redcliffe Qld Australia
Tel: 0405 393 883