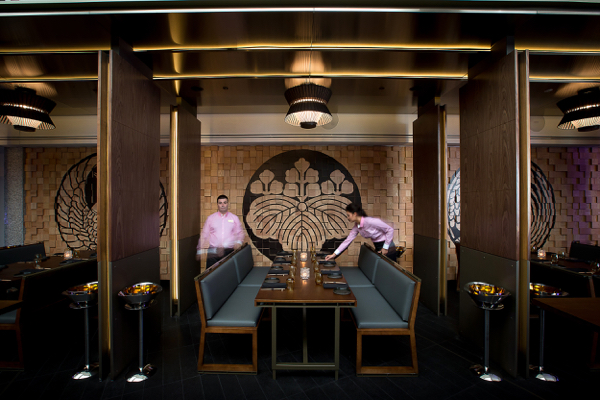 Chase Kojima has been wooing Sydney diners with his cutting edge, Japanese-inspired cuisine and now he is bringing some of his magic to a new venture on the Gold Coast. Kiyomi opened at Jupiters Hotel & Casino just before Christmas, creating an iconic new experience for diners on the Gold Coast.
Born into a Japanese family in San Francisco, the Nobu-trained chef opened Sokyo in Sydney a few years ago. You might have read my post on Sokyo, where I had a fantastic meal earlier in December. So it was with great excitement that we steered the car towards Jupiters for the opening of Kiyomi and an overnight stay in the hotel.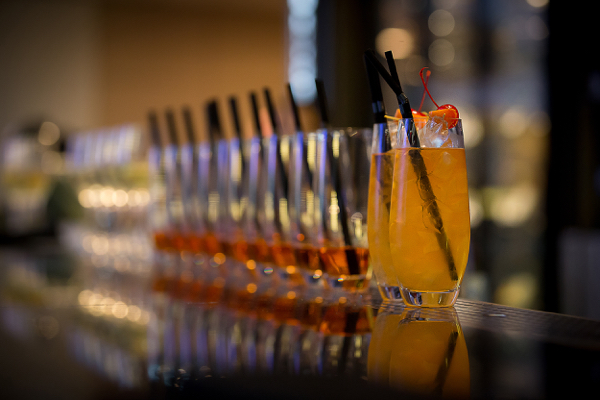 The opening was a glamorous celebrity event, with the clinking of Veuve Clicquot glasses and the restaurant's signature cocktail, Chasing Kiyomi, calling out our name. Yes please! Inspired by the kiyomi, a rare Japanese citrus fruit, this awesome cocktail (above) combines Tanqueray gin and Cointreau with San Pellegrino Mandarin sparkling mineral water, finished with a wedge of orange.
Kojima is determined to use Queensland produce in the restaurant and told everyone at the opening that he was amazed by the quality of what he had found. "It has inspired me to design a menu that is not only modern Japanese but with the flavours of the Gold Coast and Queensland infused throughout," he said.
His cooking style reflects his American upbringing and everything he learnt in his father's Japanese restaurant in San Francisco, where he started working at the age of 11. He headed kitchens all over the world for the Nobu group, playing with ingredients and flavours, and honing his skills in presenting Japanese food with a creative twist.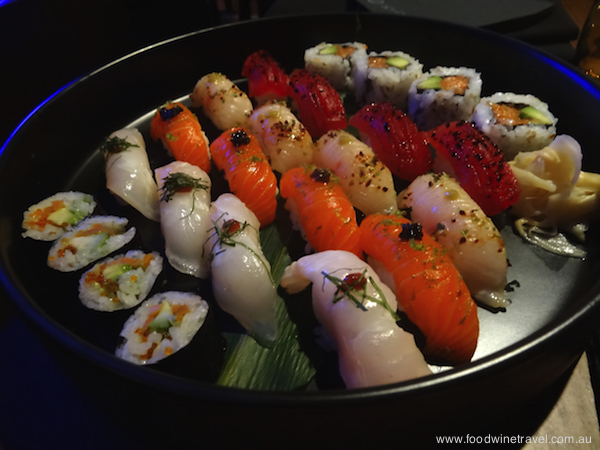 A seemingly endless round of tasting plates was passed around at the Kiyomi opening, and every time I thought I'd found my favourite dish, there was another one to entice me. I'd had the Hiramasu kingfish miso ceviche with shredded crispy potato and a subtle lime flavour (below) at Sokyo, so I knew I was on a winner with that one.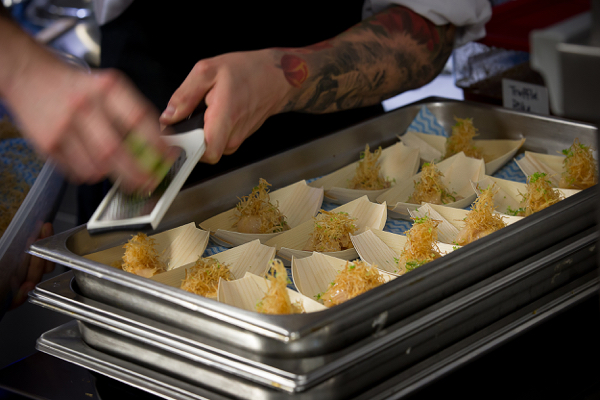 Next up, were raw scallops, deliciously creamy with a hint of garlic, dressed with yuzu honey, scorched corn and mache. And so it kept coming: spicy tuna with crispy rice; Wagyu roll with yakiniku sauce; melt-in-the-mouth lamb cutlet with plum wine and eggplant; aburi (partially-seared) salmon with spicy daikon (below); tempura asparagus; prawn cooked on the robata grill, with wasabi butter.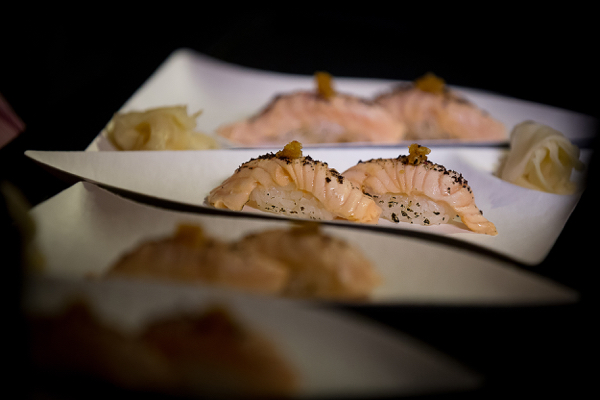 Dengakuman caramelized miso toothfish with cucumber was similar to the caramelized miso cod I enjoyed at Sokyo, and we loved the +9 Wagyu striploin with spicy teriyaki. Desserts were a treat too: Tempered dark chocolate with caramelized white chocolate mousse and black sesame icecream; and cubes of Blueberry tart with yuzu curd, lavender and blueberry icecream (below).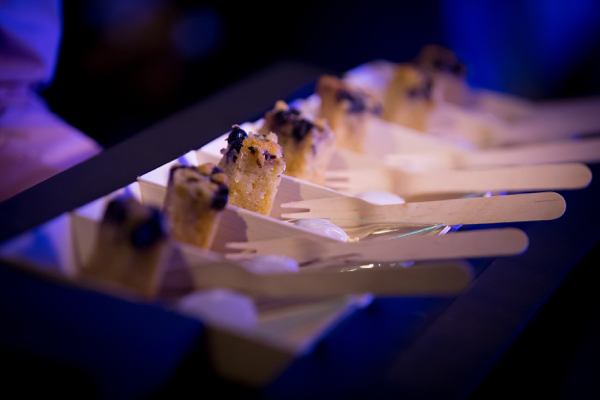 The opening was celebrated with a traditional sake barrel ceremony, said to signify harmony and good fortune. Jupiters' managing director for Queensland, Geoff Hogg, says the restaurant is an important step in Jupiters' transformation into a world-class resort.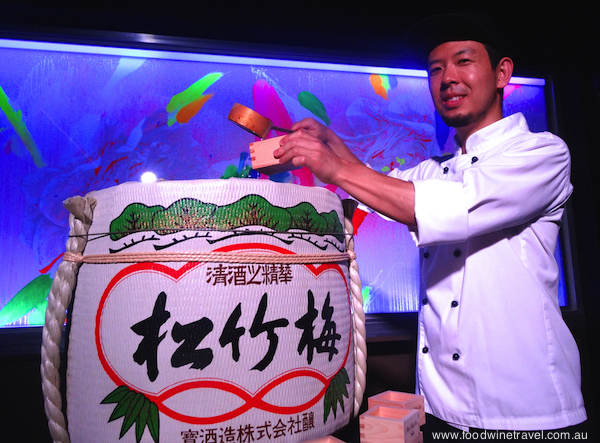 "We can now offer our guests and visitors dining to the standard found at globally-recognized high-end integrated resorts at Las Vegas or Macau, while at the same time providing a unique Gold Coast experience," he said.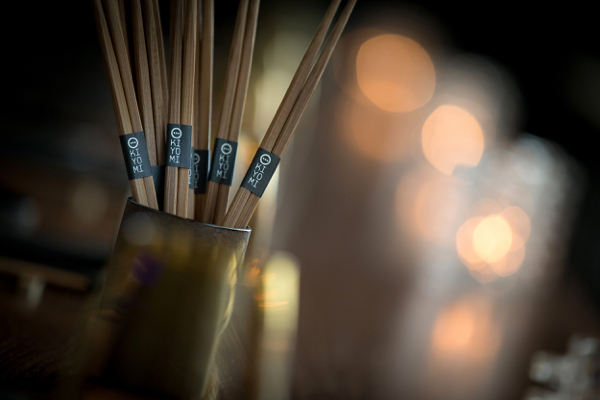 Kiyomi is on the Lobby level of Jupiters and it has been transformed into a striking space with a fluorescent UV artwork that was designed especially for it by Tokyo street artist Houxo Que. It covers an entire wall of the restaurant and is the first work Houxo Que has exhibited in Australia.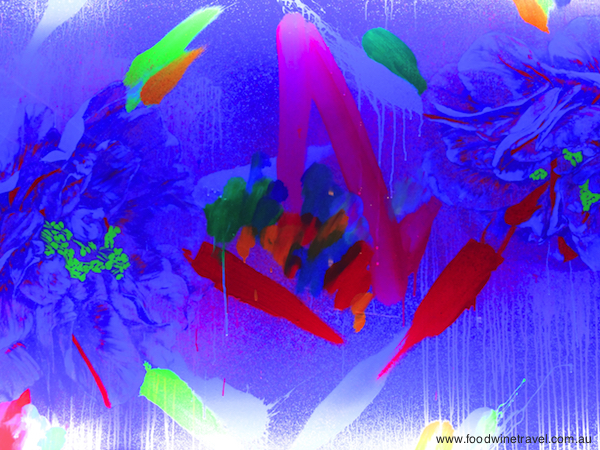 Fact File:
Kiyomi
Jupiters Hotel & Casino
Cnr Gold Coast Highway & TE Peters Drive
Broadbeach QLD 4218
Restaurant reservations: 1800 074 344
www.jupitersgoldcoast.com.au
Related Post: Sokyo; Jupiters Hotel & Casino; Treasury Casino & Hotel.
Photos on this post by Remco, unless otherwise indicated.