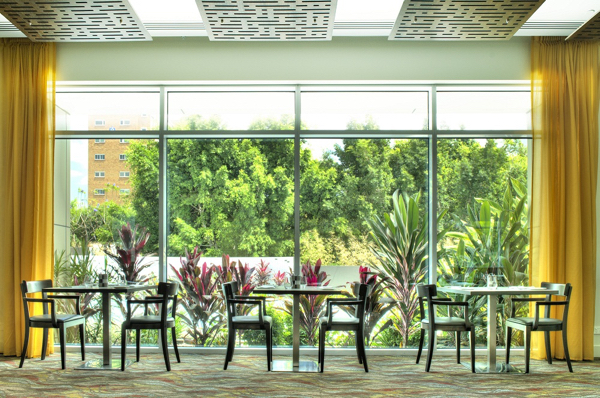 A guitarist and cellist are playing soul-soothing manouche music as we arrive at Lamberts. This restaurant in The Point, a hotel in Kangaroo Point on a sweeping bend of the Brisbane River, offers live music on Friday nights. It sets the mood for a relaxed evening of dining with a contemporary Australian menu offering fresh, seasonal flavours.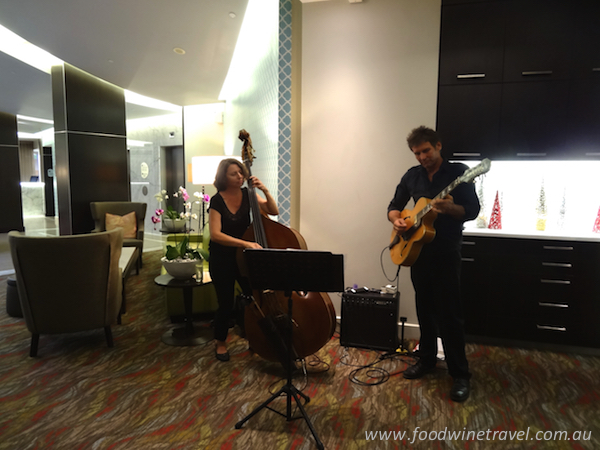 The restaurant is on the ground floor of the hotel, overlooking the pool. It's a bright, modern space with swirly patterns on the carpet and a long red banquette seat down the middle of the room. Cleverly, it straddles both casual and formal dining, with candles on the tables at night lending a touch of elegance, and food and lifestyle magazines on some of the tables lending a more casual note.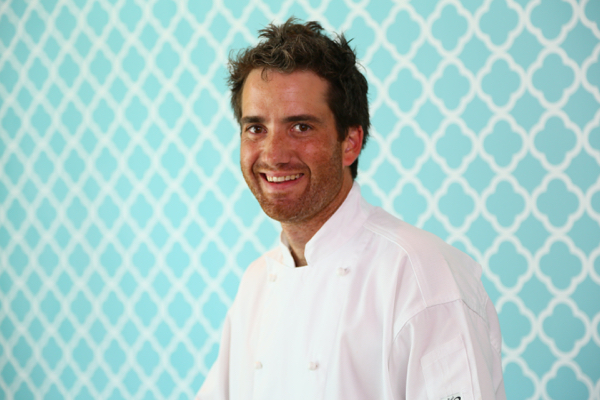 Head chef Marcus Turner (pictured) has been working in restaurant kitchens in Brisbane since the late '90s and was formerly executive chef at Era Bistro. He prides himself on sourcing the best quality local produce, and in offering menus that resonate with the seasons. Throughout summer, mangoes, stone fruit and summer berries have featured, along with fresh local seafood and lighter pasta dishes.
One of the most popular entrées is the crisp pork belly, which we enjoyed with an apple and cumin purée and a salad of fennel, pear, hazelnuts and burnt orange dressing. While the pork belly crackling is a little too crisp, the robustly flavoured fennel is a good match and we love the combination of pear and hazelnut flavours with it.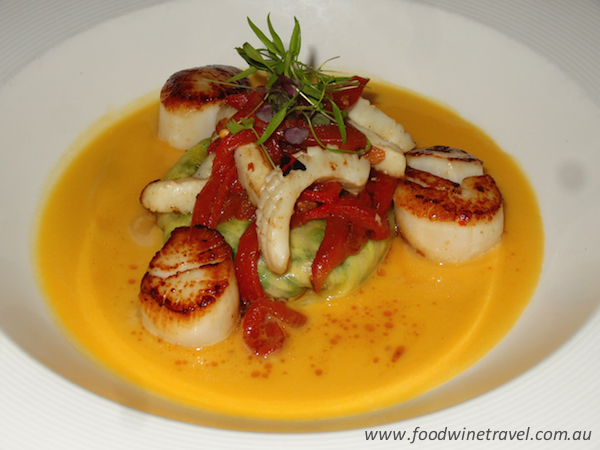 Our other entrée, seared scallops and sautéed squid, is a riot of colour with a creamy veloute, mushy peas (a la France) and strips of chorizo. A generous loaf of garlic bread comes piping hot out of the oven, with feta and tapenade served in little dishes on the side.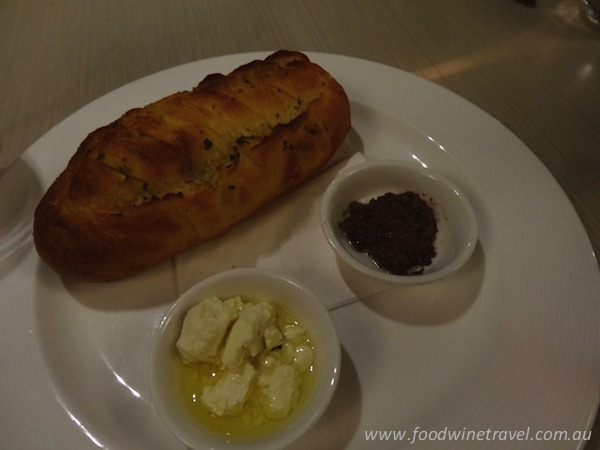 In expectation of our lamb and pasta mains, we've ordered a medium-bodied Oyster Bay Pinot that slips down easily on a balmy summer evening. The herb-crusted lamb is a substantial dish with eggplant "caviar" (really just a fancy name for purée) and a pastry shell filled with heirloom tomato, Persian feta and rosemary jus. It's sitting on a jus of garlic, chilli, parsley and extra virgin olive oil, flavours with plenty of oomph that go nicely with the lamb.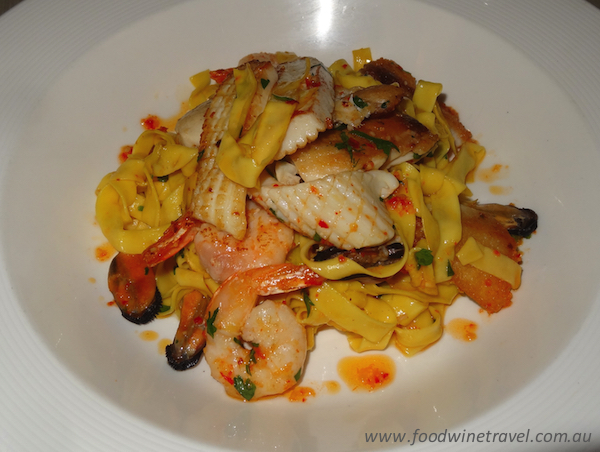 The fettuccine has plenty of flavour too and a generous assortment of seafood including prawns, squid, mussels and fish. Other dishes we could have ordered included local sand crab, some spectacular sounding steaks (including marbled Angus sirloin), and a vegetarian Roast pumpkin and ricotta rotolo.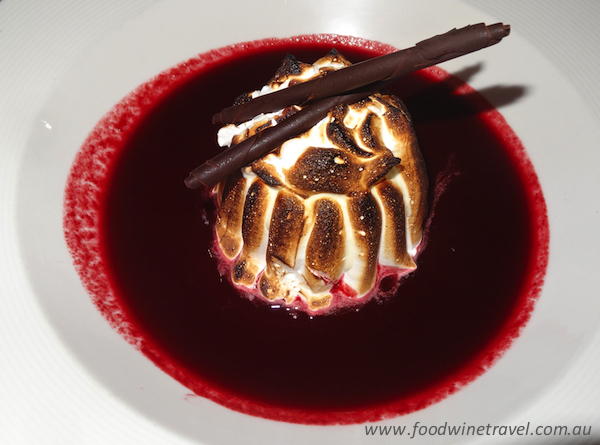 Who can resist a good Bombe Alaska? Such a classic dessert but here it gets creative with a coconut flavour in the meringue, and the whole lot sitting in a chilled "soup" of cherry with chocolate "cigars" on top. The cherry soup is vibrantly coloured and incredibly intense, enough to stop even this hardened dessert lover in her tracks.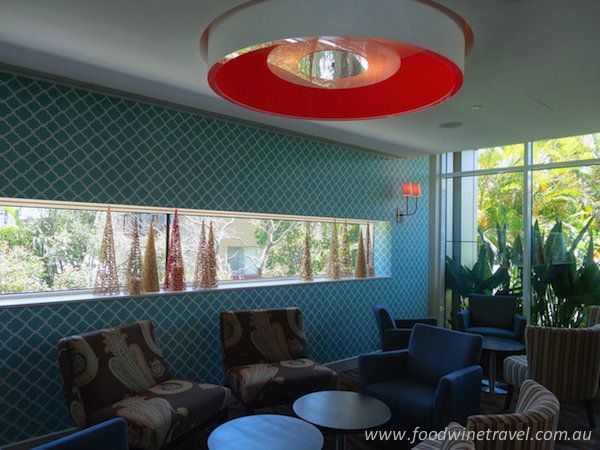 The restaurant uses locally roasted Merlo coffee and there's some pretty serious coffee art going on. There's a lovely lounge area where we could retire to, and the bar looks attractive too, but we're staying at The Point for one night only and want some time to enjoy our room on this little holiday in our own city.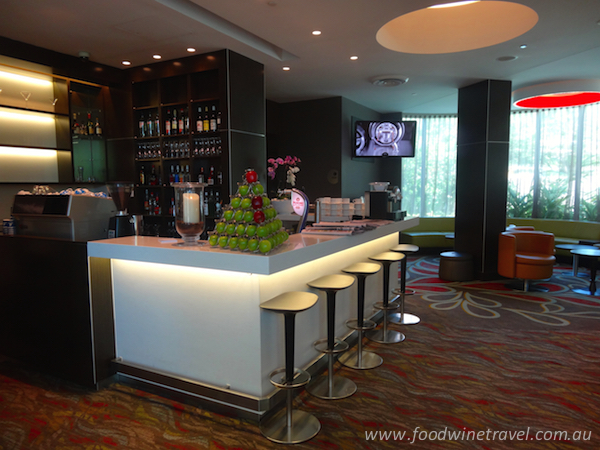 Fact File:
Lamberts restaurant
The Point Brisbane Hotel
Lambert Street
Brisbane Qld 4169
Australia
Toll Free: 1800 088 388
Tel: +61 7 3240 0888
www.lambertsrestaurant.com.au
Open: Daily for buffet breakfast, lunch and dinner.
You might also like: The Point.
Food Wine Travel was a guest of The Point.