Salad is so much more than the humble lettuce. As food stylist and Delicious columnist, Janneke Philippi, points out in her book, Salad, published by Smith Street Books, a salad can be as simple as tossing a few green leaves in a bowl, or it can be served as a main meal packed with vegetables, grains or your choice of protein.
The beauty of salads is that they are healthy, generally inexpensive, and remarkably versatile – thrown together using endless combinations of ingredients and a little creativity.
This luscious cookbook is filled with light, everyday meals for all occasions, with dressings to mix and match, ideas for toppings, and simple breads and crackers to make from scratch.
The photography is beautiful and there are loads of suggestions to make the dishes your own. There are also some great suggestions for what the author calls "storage salads" – salads that can be made in generous quantities and kept in the fridge, where they often develop more flavour.
A romp around the world of salads
From Escalivada, a Catalan roast vegetable salad with sardines, to Noodle Salad with poached chicken and chilli-soy dressing, an American Coleslaw with tarragon, and Fattoush bread salad from Lebanon, the book is a delicious romp around the world of salads.
The author says she finds it hard to resist figs but often finds that they aren't properly ripened, sweet or juicy (I would have to agree). "Roasting is the solution to mediocre figs," she says in her intro to this recipe for Roasted Fig Salad with a honey-thyme, bacon and Roquefort dressing.
"While the figs sizzle in the oven, I fry some crispy bacon and make a warm cheese dressing. Mizuna has a peppery flavour, which works well here, but you can substitute rocket. In late summer, this salad is often served as a meal on our table, with crispy toasted nut bread on the side," she says.
---
Buy your copy of Salad from Book Depository (free delivery worldwide).
Buy your copy of Salad from Australian-owned Booktopia.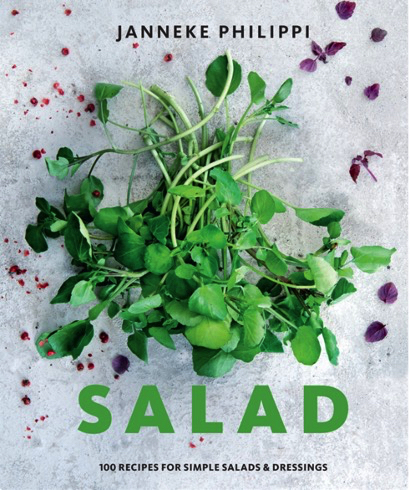 ---
Roasted Fig Salad
Serves
6 figs
3 tablespoons olive oil
1 red onion
100 g smoked bacon
2 thyme sprigs
2 teaspoons honey
125 g crème fraiche
50 ml milk
100 g Roquefort
75 g mizuna or rocket
Preheat the oven to 220°C. Cut the figs into quarters and place them on a baking tray. Drizzle the figs with 2 tablespoons of the olive oil. Roast for 10 minutes.
Chop the onion and cut the bacon into cubes. Heat the remaining olive oil in a frying pan. Fry the bacon for 4 minutes until crisp. Pick the thyme leaves and add to the bacon along with the honey. Cook for 1 minute.
Warm the crème fraiche and milk in a saucepan over low heat. Crumble in the cheese and stir until smooth and melted.
Divide the mizuna or rocket among four plates. Arrange the figs on the salad leaves. Sprinkle with the onion and honey–thyme bacon. Spoon the warm cheese dressing over the salads and sprinkle with pepper to taste.
Recipe and image from Salad by Janneke Philippi, published by Smith Street Books, distributed by Thames & Hudson Australia. Reproduced with the publisher's permission.
This story originally appeared in PS News.
**Enjoy many more delicious recipes from our Food Wine Travel files here.**