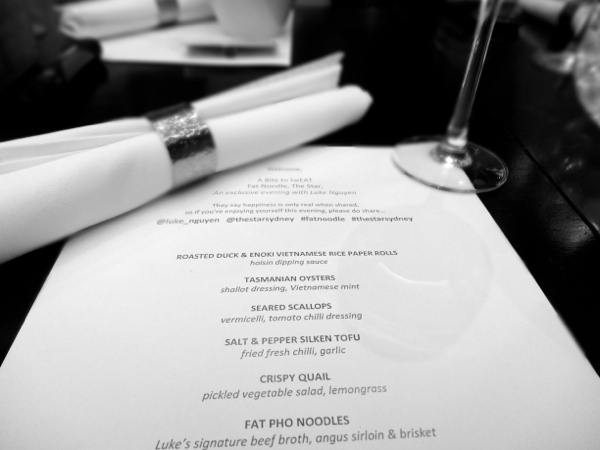 They say happiness is only real when shared, so here I am sharing with you, at the invitation of some very kind folk from The Star Sydney, details of a delightful evening I spent in the company of television chef Luke Nguyen.

As Vietnamese is my favourite Asian cuisine, I've been a great admirer of Nguyen for a long time, way back to his early Red Lantern days, long before his cookbooks and shows on SBS Television made him a household name. What a treat to be sitting next to him at Tuesday night's @abitetotwEAT dinner in his Fat Noodle restaurant.

The food is sensational and Luke is a charming and gracious host, seemingly unaffected by his success and going out of his way to make sure that everyone is having a good time. So to say that I am happy after Tuesday night's dinner is an understatement. And I'm very happy to be sharing the love!

I'm grateful to have been invited along with a handful of other bloggers to sample Luke's dishes at the Fat Noodle, as part of a series of #instalicious dinners hosted by The Star to showcase its restaurants.

Fat Noodle is in the middle of the casino gaming floor. If you're like me and rarely have a flutter, you might be unfamiliar with this second string to Luke's bow. The restaurant is one of Sydney's best-kept secrets: the food is very keenly priced (almost everything on the menu is under $20) and, unlike at his signature Red Lantern restaurant, you'll almost certainly get a table without having to wait.

Luke told me that he is only interested in cooking food that is true to its origins. While he'll happily eat more innovative food, he has no desire to be another Heston Blumenthal. At the Red Lantern, he enjoys cooking traditional Vietnamese dishes, while Fat Noodle features "all the inspirational dishes" that he has come across during his travels.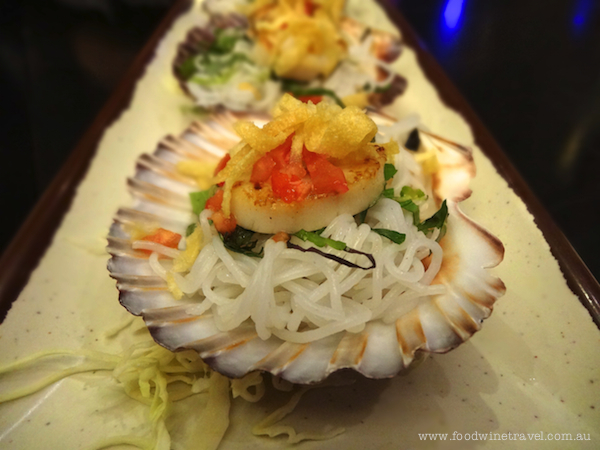 "Every time I come back from Asia I've got all these great ideas. It's great to meet other cultures and explore their comfort dishes," he says of the hawker-style food he has perfected at Fat Noodle.
He's certainly been doing plenty of travel of late. He recently finished filming a Vietnamese version of MasterChef and has been spending so much time in Saigon that he has bought a place there. Just quietly, a restaurant in Vietnam is also on the cards (remember, you read it here first!) He has also been filming a new series on France. Luke Nguyen's France will screen on SBS Television from February 2014.
Red Lantern secrets
But back to @abitetotwEAT, where we were greeted with bubbles (Moët & Chandon no less) and Vietnamese rice paper rolls filled with roasted duck and enoki mushrooms. The accompanying hoisin dipping sauce was quite creamy, thanks to the addition of milk – a secret ingredient that Luke and his sister Pauline revealed in their first book, Secrets of the Red Lantern.
Next up were seared scallops with a tomato chilli dressing, and plump oysters from Tasmania's Barilla Bay. The oysters were swimming in nuoc cham, a Vietnamese dipping sauce similar to one featured in Luke's Greater Mekong book. They were topped with shallots and purple perilla, and while I normally prefer oysters without any dressing, these were divine. Recipes for both dipping sauces are featured below.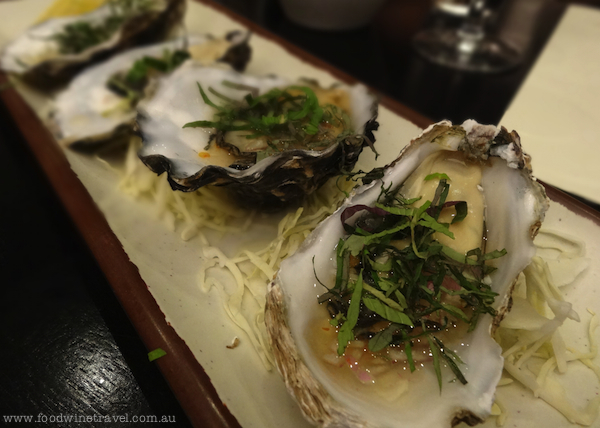 Pho is Fat Noodle's biggest seller – since the restaurant opened in February 2010, it has sold 800,000 bowls of the stuff. Little wonder. The deliciously meaty beef broth with thinly sliced Angus sirloin and brisket, bean sprouts, fresh Thai basil, fresh chilli and rice noodles is nom nom nom!
"We cook it in huge kettles downstairs. They're around 400 litres and we cook it over 20 hours, so we start it in the morning and finish it the next morning," Luke said. "It has 14 different spices so it's very medicinal and aromatic. It's a great hangover cure; I had one this morning."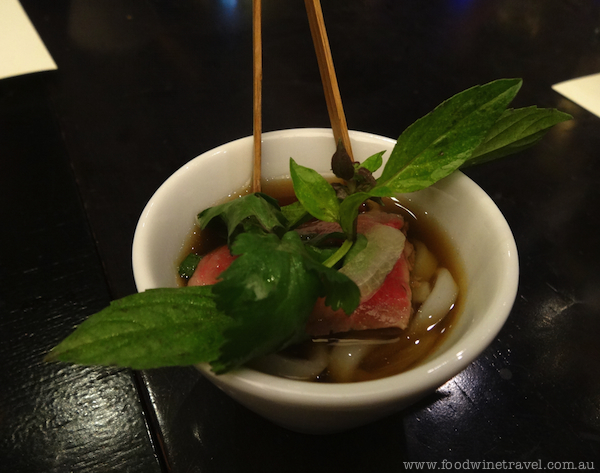 Luke is proud that the restaurant uses Angus beef, sustainably caught fish and no MSG. "There's no MSG found anywhere in this building. You can taste the elegance and the clean flavours of this broth. All the dishes are really clean and you feel good."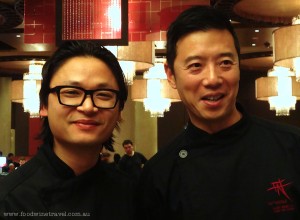 Fat Noodle does 1000 covers a day and Luke says he could not get by without his right hand man, Andy Bing, pictured with him at right.
Andy previously worked at the Shangri-La in Sydney. "We searched long and hard for him," Luke said. "This guy's got passion. I've been trying to clone Andy for some years now."
It's a tough gig but on we soldiered to the Crispy quail, marinated in spices overnight and served on a salad of pickled vegetables and lemongrass. It was followed by two of Luke's favourite dishes, Salt and pepper silken tofu, and Angus beef tossed in a wok with vermicelli noodles, lemongrass, peanuts and Vietnamese herbs.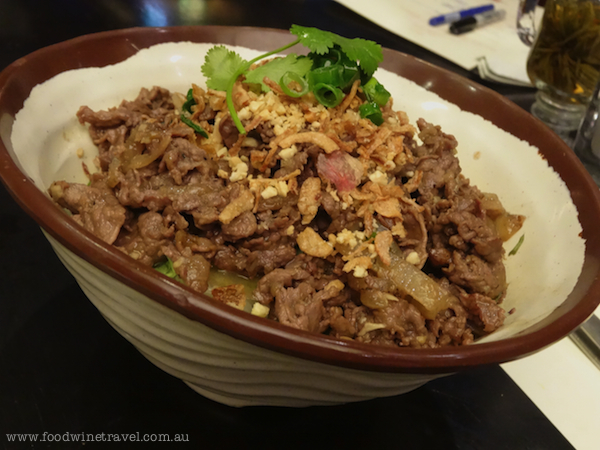 As our twitter-tastic tastings continued, the Moët & Chandon gave way to chrysanthemum tea and we tucked into a seriously good Singapore laksa with fat juicy prawns, fish cakes, scallops, tofu, chicken and boiled egg.

And then finally a bonus to our printed menu: Hainan chicken … succulent boneless chicken thigh cooked in a wonderfully fragrant broth.

"My favourite part of making this dish is coming in after it's been simmering for 24 hours and having it for breakfast," Luke said. "The chicken broth is cooked with some dried squid to give it depth of flavor. It's a bit of a secret." (not anymore!)

Luke said it was only ever his plan to have a little restaurant in Surry Hills. "Plan B was to go around on a little bike and sell pork buns to offices in the area." He never set out to become a hugely successful cookbook author and television presenter, and yet he does it so well, while still turning out beautiful food at his growing number of establishments.
NUÓC TUO'NG NGOT: HOISIN DIPPING SAUCE RECIPE
½ cup hoisin sauce
1 ½ tbsps rice vinegar
½ cup milk
1 tablespoon roasted peanuts
1 red bird's eye chilli
In a saucepan, combine the hoisin sauce and the rice vinegar, place over medium heat and stir in the milk. Continue to stir until just before boiling point is reached then allow to cool. To serve, chop the roasted peanuts and finely slice the chilli to garnish the sauce. This will last for one week in the fridge.
NUOC CHAM: VIETNAMESE DIPPING SAUCE RECIPE
1½ tablespoons fish sauce 1½ tablespoons white vinegar
1 tablespoon sugar
¼ cup water
1 finely chopped garlic clove
½ finely chopped bird's eye chilli
1 tablespoon lime juice
Combine fish sauce, white vinegar, sugar and water in a saucepan over medium heat. Stir well and cook until just before boiling point is reached, then allow to cool. Stir in garlic clove, chilli and lime juice and serve.
Recipes courtesy of Luke Nguyen.