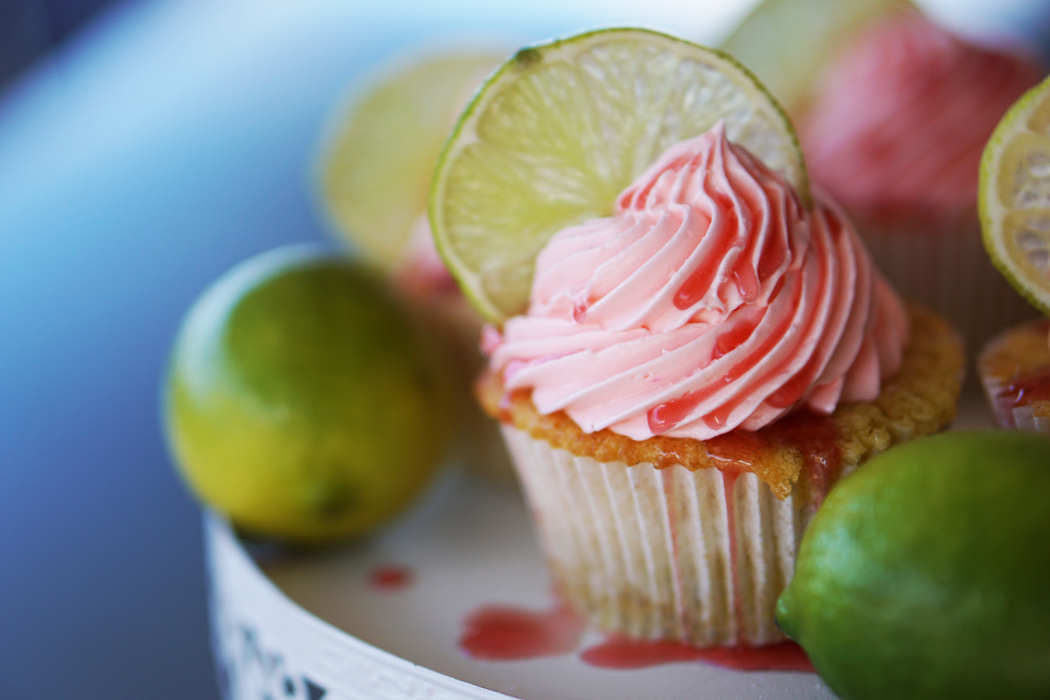 Recently I was given a taste of some of the goodies that will be available at Regional Flavours at South Bank at the weekend, and among them were the ingredients to make these amazing cupcakes. Wow! I'm pretty sure I've found my new favourite cupcake recipe.
The cupcake base is topped with tequila and lime buttercream and drizzled with a zingy lime raspberry syrup. The combo is to die for.
The recipe is from South Bank café MySweetopia, who will be selling them from one of the food trucks at Regional Flavours on the weekend. Now, that's really something to rush down to South Bank for, isn't it?
If you'd like to try your hand making these heavenly morsels at home, the folk at eatSouthBank have kindly given permission for us to use their recipe and image.
Meanwhile, check out our post on Regional Flavours to find out all about the wonderful food, entertainment, celebrity chefs, cooking demos, food trucks and market stalls that will bring South Bank to life this weekend.
MYSWEETOPIA'S RASPBERRY LIME MARGARITA CUPCAKES
INGREDIENTS
Cupcakes
210g unsalted butter
185g self-raising flour
185g caster sugar
1/2 tsp bicarb soda
Zest of 3 limes
2 tbsp lime juice
3 large free-range eggs
3/4 tbsp milk
1 punnet raspberries
Icing
290g unsalted butter
700g sifted icing sugar
6 tbsp tequila
Syrup
4 tbsp lime juice
20g fresh raspberries
85g caster sugar
METHOD
Starting with the cupcakes
Set your oven to 170 degrees Celsius and line a standard cupcake tray with your cupcake papers.
In the bowl of an electric mixer, place 210g of room temperature unsalted butter then sift in the self-raising flour, caster sugar and bicarbonate of soda and place to one side.
Add the lime zest and lime juice then crack in your eggs and turn the mixer on low for 30 seconds. Add the milk and mix for another 30 seconds until just combined.
Next up, grab those beautiful locally grown raspberries, distribute them through the batter evenly and pour batter into the papers, placing a couple of fresh raspberries on top.
Pop the tray in the oven and bake for 22 minutes or until they are cooked all the way through. Grab out of the oven and let them cool.
Let's get cracking on the tequila and lime buttercream
Start with 290g of softened unsalted butter in a mixing bowl and mix on medium for 5 minutes or until the butter has gone pale and fluffy.
Sift the icing sugar into the batter in two stages. Beat on quite a high speed in between each addition of sugar for 2 to 3 minutes.
As your mixer is turning on a low speed slowly add the tequila. Then beat on high for 3 to 4 minutes.
Now, the zingy, limey raspberry syrup
Into a saucepan add the lime juice, raspberries and caster sugar and bring to a gentle boil. Then turn it down and simmer for a few minutes until it becomes quite syrupy. Place it aside to cool down because it's SUPER HOT!
To assemble, just ice the cupcake with the buttercream and add a generous drizzle of the syrup on top. Just make sure you sprinkle some sea salt flakes on top because as everybody knows, salt tequila lime!