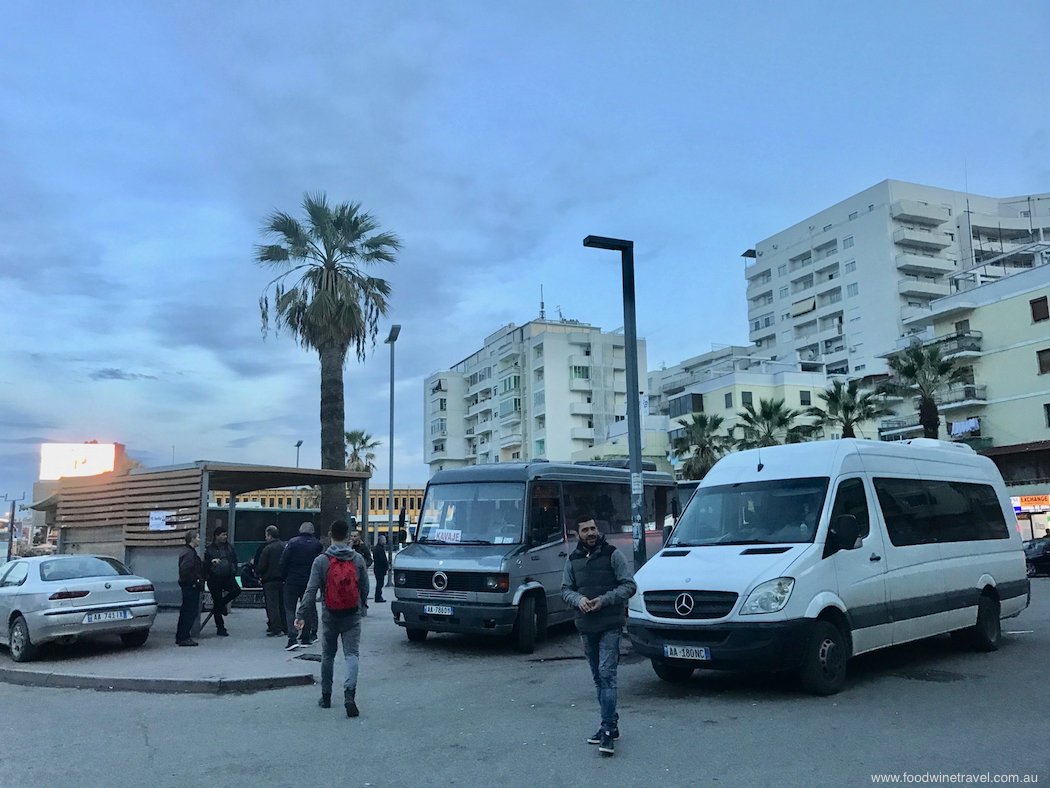 The most common form of public transport and often the only one, apart from taxis, in Albania is the bus. There are two types, ordinary buses and mini buses known as 'furgons'. The title of this story may be a bit misleading because generally they work pretty well, although when and where they work may be another question. The internet is littered with horror stories about people trying to catch furgons at particular places and at particular times. They have no set schedule and basically go when full or when the driver is ready.
It's all a bit confusing
There are large buses of about 40 people which travel between towns and cities but there are also smaller buses of up to 15 or 20 people, which are like furgons but which do have an often rough timetable and set pick-up and drop-off places. We could never really tell the difference and often it doesn't matter. There are usually destination signs in the window, but they could be going to other places on the way as well. In reality, you can usually get on and off wherever you like, if you alert the driver. If you think this all sounds confusing, you're right and you are wasting your time trying to fathom it out especially from the confusing mess on the internet. Just look for the destination sign in the window and check with the driver or the locals.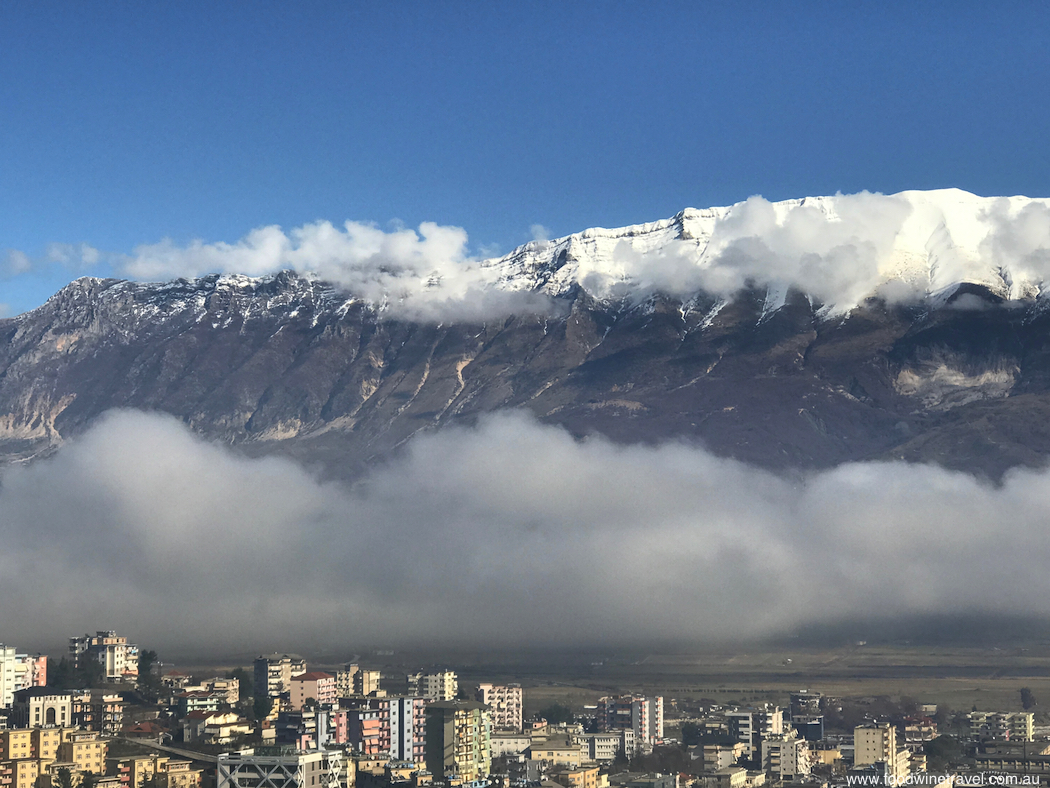 There are also urban mini buses which usually have destination signs in the window, but maybe not. Within the DNA of every Albanian there is a bus gene which ensures that they have an innate sense of how to work out this complex system. In the capital, Tirana, thankfully all urban buses have signs in the window. If the bus is going to another town it may have a sign but if not, Albanians can determine where it is going by the number plate, usually the first two letters being the abbreviation for that particular town. If there is no sign in the window, don't even bother.
Take advice from one who knows
One of the most interesting guides to Albania is the Bradt Guide published in the UK and written by a Scottish woman, Gillian Glover, who has had many visits to the country and lived and worked there for a number of years. Her description of the urban bus system is worth quoting:
"In most Albanian towns and cities, the urban bus system is – frankly – opaque. It is designed for people who live in the town and who know that Ilir's boy drives the bus that goes up past the tractor factory. Visitors that do not know Ilir, or what his son looks like, or that those ruined buildings on the hill used to be the tractor factory until it was burnt down in 1991, have little chance of identifying the bus that will take them where they want to go."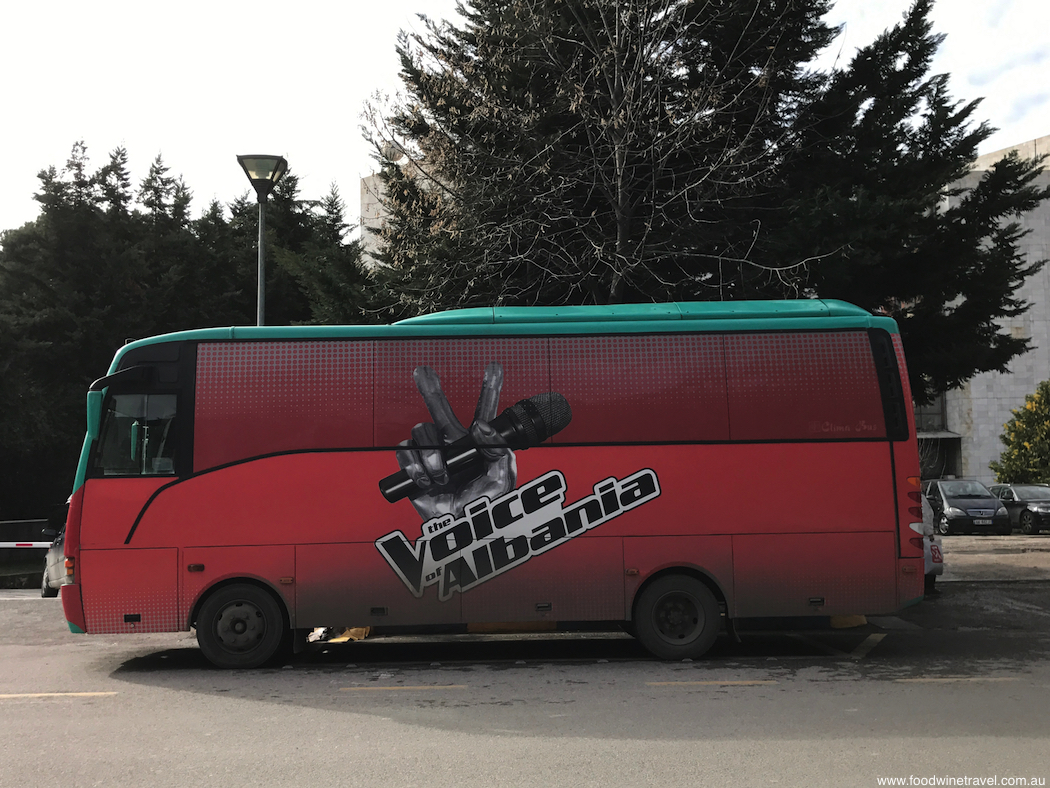 Things have changed a bit since that guide was written but If it all sounds daunting, the saving grace is that Albanians are very helpful and are only too willing to give you assistance, especially when they know that you are a tourist. All you have to do is ask and people often go out of their way to help. There are bus stops with little blue signs showing a white bus symbol but lots of people seem to flag down buses at any point along the road and the buses stop at places that don't have any signs. Albanians just know this.
Perfect for those on a budget
In Tirana, we caught the urban bus from the Palace of Culture to Bunk'art and the Djati Express cable car, two main tourist attractions about 20 kilometres out of the city centre, for the princely sum of 40 Lek each or about 40 cents Australian. There was a sign in the window but the conductor told us when to get off and which direction to go – which was good because there were no signs in the street. While walking up the hill towards Bunk'art, we came to a cross road and stood there looking confused when suddenly a shopkeeper came out of his corner store and pointed us in the right direction. Just then another guy walked past, realised our plight and said in English "follow me, I'll show you where to go". We did and he did.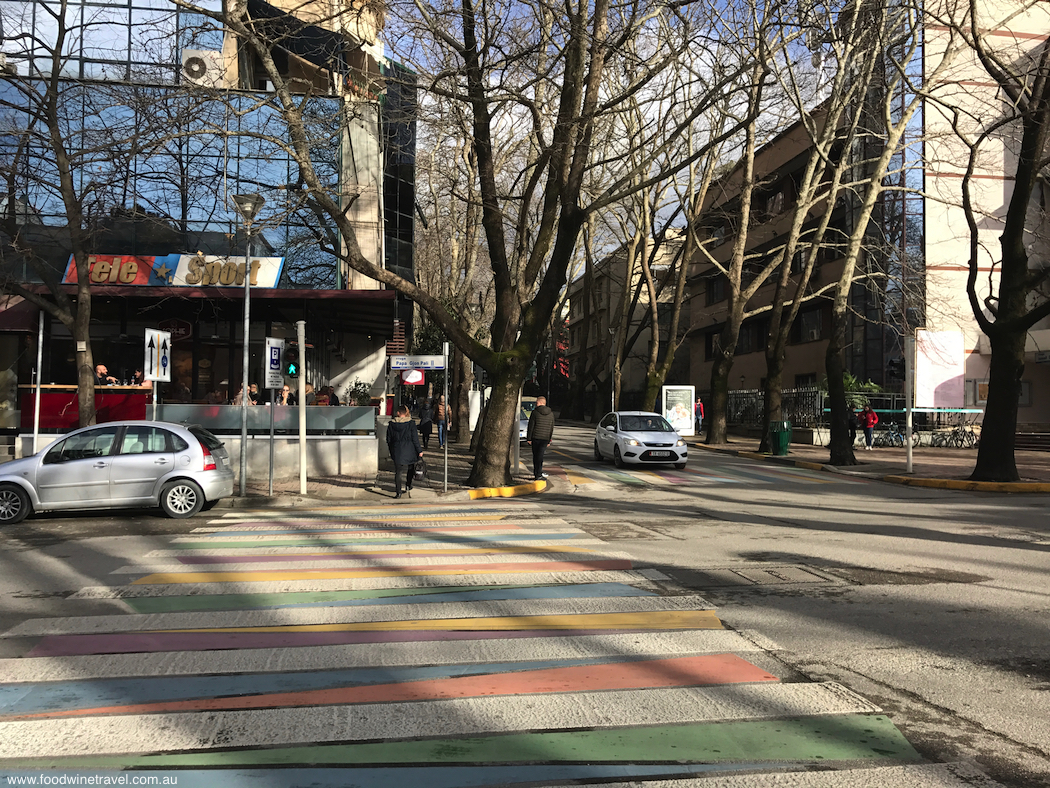 City buses are often crowded and battle through an amazing traffic maze, but they work well. Tirana traffic is heavy with lots of traffic jams; being a pedestrian requires you to be a risk taker with tunnel vision. Don't think that because you are crossing with the lights on a pedestrian crossing that cars will stop for you. Even though cars have a red light on your right or left, those turning on to the street you are crossing, can do so through the pedestrian crossing. Their main concern is to miss you by less than half a meter – or sometimes half a centimetre. It's all about bluff and if you're a good poker player then crossing the road in Tirana is right up your alley.
Incidentally, for the moment at least, there is no McDonalds in Albania, but there is KFC in Tirana. Perhaps they serve road kill from all those chickens who never made it to the other side. In Tirana, we stayed at the Lowen Inn B & B and the very helpful Julie on the desk there told us that her mother lives near a very busy road which she never crosses on foot. Instead she catches the bus which goes up the street then back down the other side.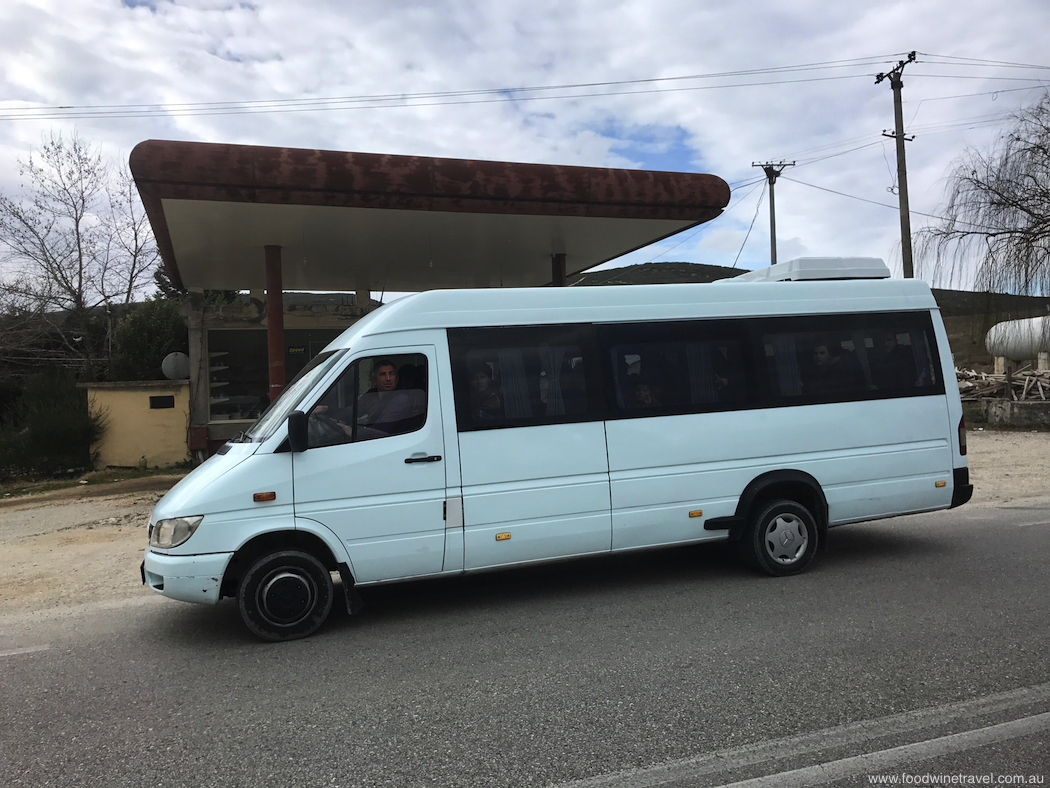 Leaving Tirana to go to Berat, we got a taxi to the bus terminal on the northern outskirts of the city at Eagle Square (known locally as Doganes), so called because there is a big two-headed eagle statue in the centre of a roundabout. Thankfully, the taxi driver carried our bags to the right bus (no extra charge and he didn't expect a tip). This may not sound much but this is not really a bus terminal in the true sense. It is more like an unsealed parking lot with buses trying to manoeuvre in every direction and scores of people dodging around them trying to get to their particular bus.
Arriving in Berat at a new, well-appointed bus terminal, we discovered that we were still some distance from the centre of town. We had just had our first lesson in Albanian busology, being that for the most part, bus terminals are located on the outskirts of towns and from there you have to get a local bus or taxi to the centre.  We asked one of the terminal staff for help and she immediately found someone who could speak English and who showed us to the local bus and told the driver where we wanted to go.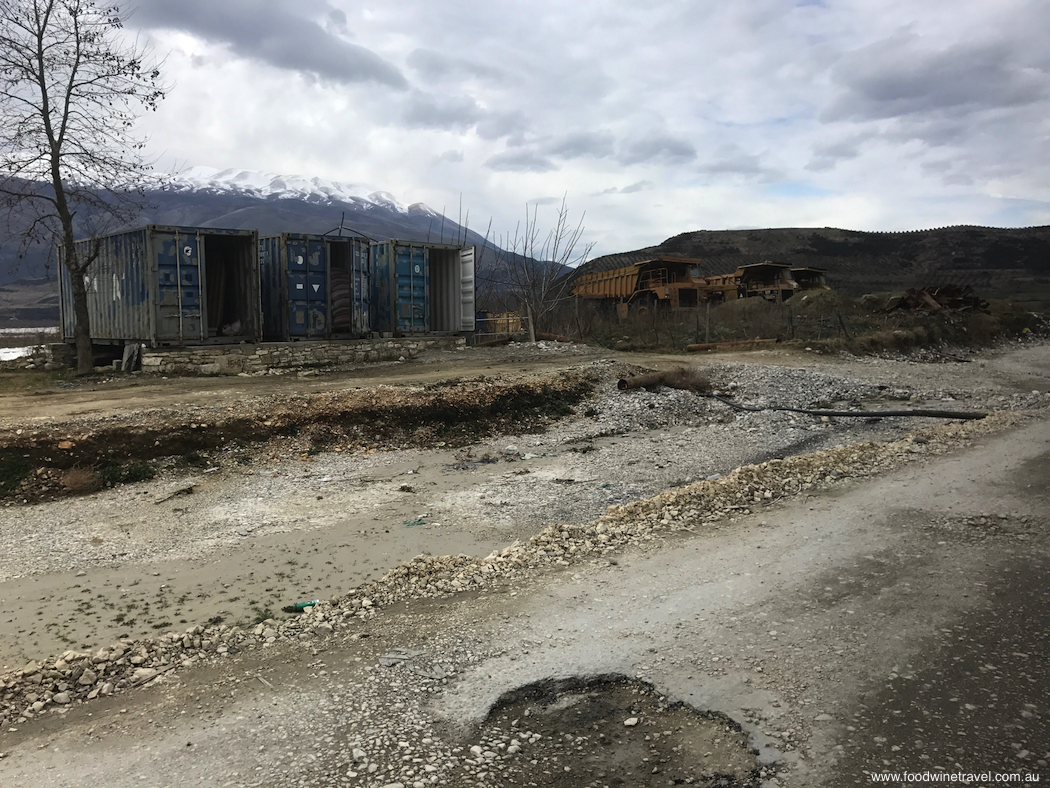 In most smaller towns, the local bus fare is usually 30 Lek, but in the capital, it's 40 Lek. None of the bus staff wear uniforms and the only thing that distinguishes the conductor on the urban buses is that he is clutching a small book of tickets and a wad of money. The conductors have their eye on everything and everyone, and they know exactly who should pay their fare, even when the bus is crowded.
Regular smoke and rest stops
When we left Berat to go to Gjirokastër, the family owners of the Osumi Hotel, where we stayed, drove us to the bus terminal and delivered us to the right bus which they said was due to leave at 2pm. We were about half an hour early, so we had a coffee and something to eat. I seemed to provide endless entertainment for a small fellow passenger. This kid had too much energy for me and almost as soon as the bus left at 2.30, I fell asleep. There is often a very convivial atmosphere on Albanian buses, traditional music playing and a running dialogue between driver and passengers. No smoking on the bus is a well observed rule, and smoke and rest stops occur at irregular intervals or wherever someone spies a good roadside stall.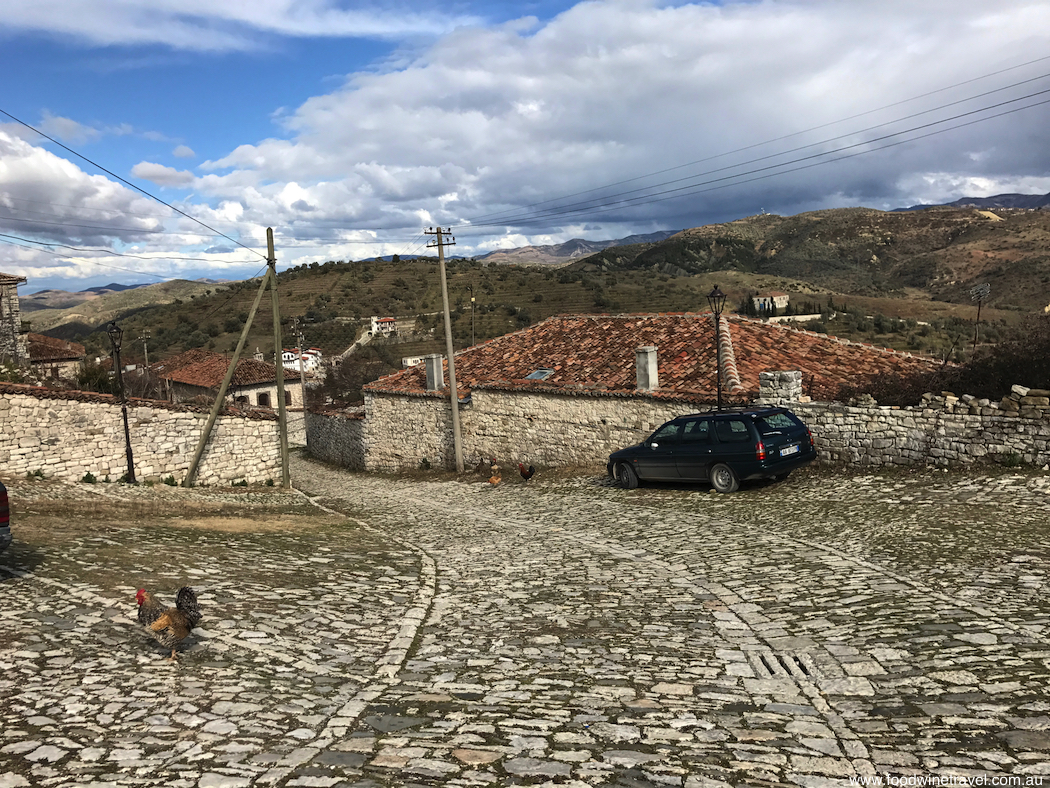 I struck up a conversation with a young student who was studying English at Gjirokaster University and turned out to be a great source of knowledge and assistance. About 30 kilometres out of Gjirokastër, we were pulled over by a police officer. The driver got out, followed by several passengers including my student friend, and a small conference took place on the roadside. When the student returned to the bus, he told me the cop was alleging that the driver's paper work was not in order.
Comradeship among the passengers
The cop had taken the driver's licence and wanted to give him a big fine. "The government needs the money," was my friend's explanation. Everyone got off the bus again to assist the driver and finally they all returned with the student proclaiming 'victory' – the return of the bus driver's licence and a very small fine. When we stopped further down the road to drink the cool fresh water from a mountain well, there was a certain feeling of comradeship among the passengers. We fought the law … and the bus won!
When we left Gjirokastër a couple of days later, from the same service station terminal we had arrived at, to take the bus to Durrës, there was no problem because the taxi driver who delivered us there spoke to the bus driver who showed us where to get tickets. We were, once again, part of the Albanian bus fraternity. This bus left bang on time at 11am after the bus driver finished his third cigarette. He offered me one and seemed surprised when I didn't take it. With traditional Albanian music playing, we settled back to view the landscape of snow-covered mountains and the Drinos River winding its way alongside us.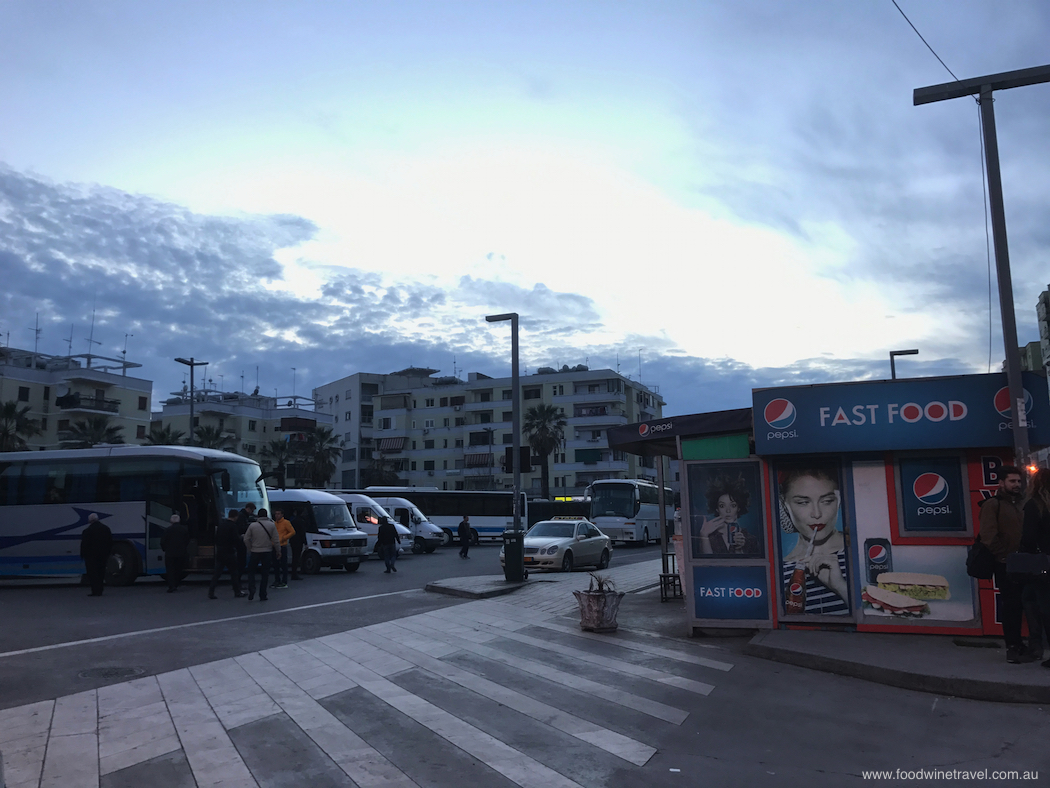 The driver on this bus, who at one point became the conductor when another young guy got on and started driving, was very friendly and had an amazing ability to use sign language to look after us and keep us informed. When we stopped for a break at a service station, he indicated that it was for 10 minutes and he was quick to supply paper towel as we greedily devoured one of the famous Albanian byreks.
The locals are happy to help
The internet is littered with disaster stories about buses in Albania and people chasing furgons all around Tirana without success. There is also a lot of conflicting and often incorrect information about timetables and where buses start and stop. Some of this is due to the fact that buses are run by private owners and operators who may be doing it a bit differently in each case. The best advice I can offer is to tap into that Albanian bus gene and get help from the locals.
There are many good and surprising things about Albania – its food, its landscape and its archaeology – but the very best thing is its people. They are amazed that you have come a long way to visit their country, of which they are immensely proud, and they are only too willing to help you as much as they can. Furgon oath, without them we would still be standing in a dusty maze of buses and people wondering which was the right bus.