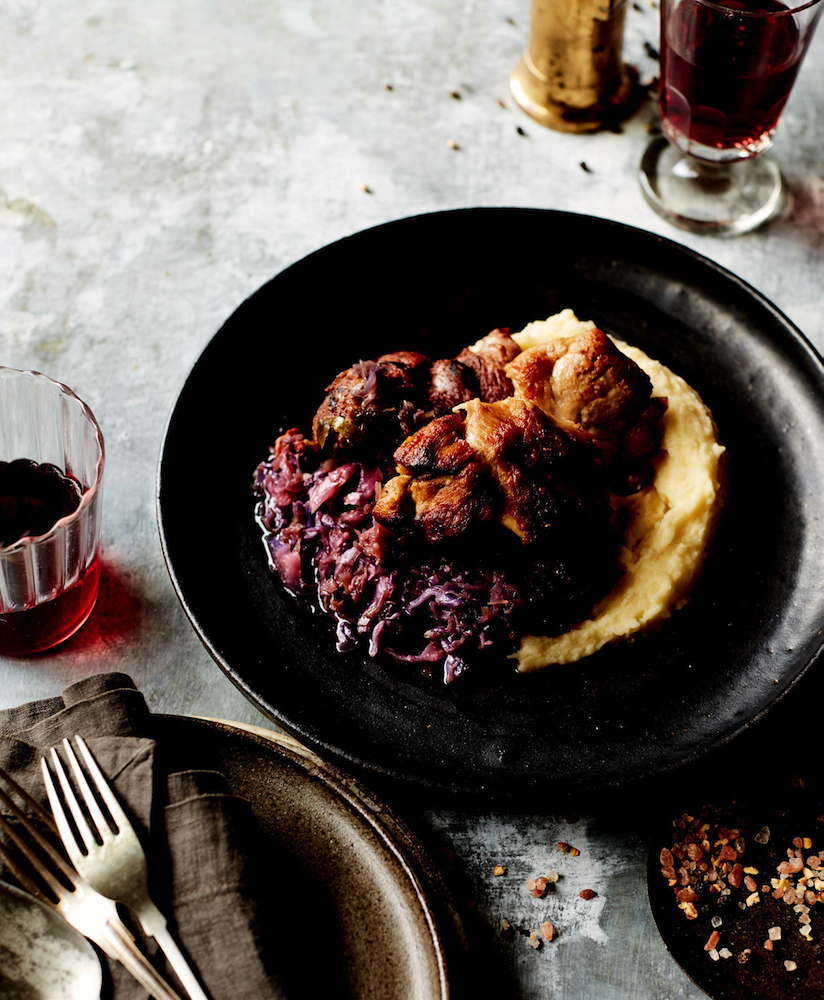 It's time for rich, hearty comfort foods – slow-cooked meats that fall off the bone, rich chowders and stews, roasts with all the trimmings, and fragrant curries. Winter: Warm recipes for cold nights, published by Smith Street Books, has all of these in spades, along with a host of decadent winter desserts including rich chocolate puddings, baked fruits and crumbles.
Author Louise Franc, a French-born Australian-based chef and food stylist, has produced a wonderful collection of innovative cold-weather recipes that are perfect for this time of year. Designed for simplicity, taste and comfort, her 140 recipes range from simple comfort foods to elegant seafood dishes and impressive crowd-pleasers.
Lamb shanks with cannellini beans hit the spot perfectly, while the braised pork recipe below takes some time to cook but hardly any time to prepare. The beauty of many winter dishes is that you can assemble them in no time at all and sit back and relax while they cook themselves.
Beef cheeks baked in red wine are tender and flavoursome, duck and pork sausage cassoulet is a perennial winter favourite, and Asian stalwarts such as beef rendang and butter chicken have us salivating. So, skip the salads, smoothies and stir-fries, stay warm and satisfy your winter cravings.
Buy your copy of Winter from Book Depository now, with free delivery worldwide
BRAISED PORK SHOULDER WITH APPLE CIDER & RED CABBAGE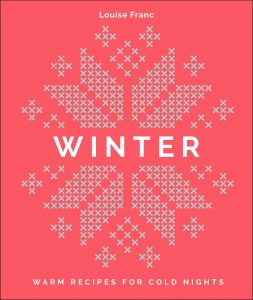 Serves 6 to 8
1 kg (2 lb 3 oz) pork shoulder, bone in
1 tablespoon olive oil
150 g (5½ oz) thickly cut smoked streaky bacon, cut into 1 cm (½ inch) pieces
2 onions, thinly sliced
2 garlic cloves, crushed
375 ml (12½ fl oz/1½ cups) apple cider
10 juniper berries, crushed
1 small red cabbage, about 1 kg (2 lb 3 oz), shredded
60 ml (2 fl oz/¼ cup) cider vinegar
mashed potato, to serve
Preheat the oven to 140°C/275°F (fan-forced).
Season the pork generously with sea salt flakes and freshly ground black pepper. Heat a large flameproof casserole dish over high heat. Add the olive oil and brown the pork well on all sides; this will take 10 to 15 minutes. Remove the pork from the dish, reduce the heat to medium and cook the bacon until crispy.
Add the onion to the dish and cook, stirring, for 6 to 8 minutes, or until softened. Add the garlic and cook for 1 minute, until fragrant. Return the pork to the dish and pour over the cider. Add the crushed juniper berries.
Cover the pork with baking paper to reduce evaporation, then put the lid on. Transfer to the oven and bake for 2 hours.
Remove the dish from the oven. Carefully turn the pork over, then place the cabbage around the side of the dish. Pour the vinegar over the cabbage, replace the baking paper and lid, and return to the oven for 1 hour, or until the pork is falling-apart tender.
Using tongs, break the pork into large chunks and remove the bone. Serve the braised pork and cabbage on a bed of mashed potato, with the pan juices spooned over.
Recipe and images from Winter, by Louise Franc. Published by Smith Street Books and reproduced with the publisher's permission.
This story originally appeared in PS News online.