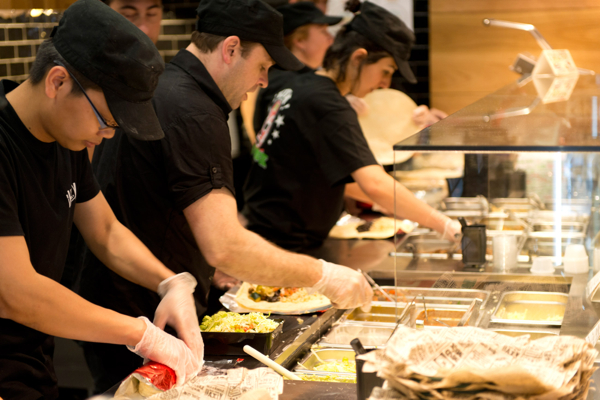 Clovis Young, Mad Mex founder and now honorary Australian, grew up in the Bay Area around San Francisco. With a father from San Diego, the Young family made many trips to Southern California and across the border into Mexico.
Originally a Wall Street type, Clovis began visiting Australia around 12 years ago. Five years on, he was sold. He and his wife decided to pack their bags and make the move to Perth. Clovis brought with him a style of cuisine that was quite unfamiliar to most Aussies. The Baja Californian style around which Mad Mex is themed was inspired by his visits to southern California, Mexico, Chile and elsewhere in South America.
I was fortunate to be invited to the opening of Mad Mex's first Canberra store and to personally meet Clovis. He came across as an incredibly passionate and talented person with a knack for making an excellent salsa. Unfortunately he didn't spill the (black) beans on the secret salsas they use in store, but I do believe the salsa I made during our little masterclass wasn't too shabby.
But back to Clovis. Ok, so other than making a damn good salsa, he also appears to be incredibly clever. He's very thoughtful in the way he operates the Mad Mex outlets nationwide, not only in the food that is served but also in the effort that is put into the dining experience.
Most of the Mad Mex restaurants have space to sit down and enjoy the fare, some more so than others, but the new Canberra store in Westfield Belconnen has oodles of space.
And the food? For starters, they have introduced whole-wheat tortillas across all their outlets. Clovis's reasoning for this? He wasn't comfortable feeding his children white bread or white tortillas, so why serve them to his customers?
They have also given customers the option of choosing brown rice over white. If you're concerned about calories, the Mad Mex website has a really nifty calorie calculator that can tell you exactly what you're consuming.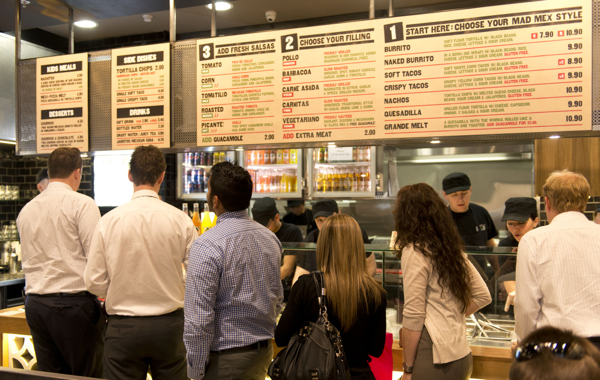 After our salsa lesson and Tequila tasting – love the Tequila shooters on the menu! – it was time for dinner. This was probably the hardest decision I had to make all day. Nay, week. I was confronted by a cabinet full of vibrant, fresh food and I had to do it. I ordered the Mad Mex specialty, the burrito.
What's so special about a burrito I hear you ask? Well, maybe it was the freshly sautéed eggplant, zuchini and mushrooms, or maybe it was the tomatillo salsa (their signature salsa, a must try, with tomatillos, chipotle peppers and citrus), or maybe it was because I loaded that baby up with all the trimmings on offer including guac made fresh right there in store, sour cream, lettuce and cheese. So good.
Jarritos, a Mexican soda, was the perfect accompaniment to my meal. Flavours on offer include lemon lime, pineapple and guava, and the drink is best served with a slice of lime, like a Corona. Speaking of Coronas, the store has stunning light fixtures made entirely from Corona bottles!
As well as sampling each of the salsas on offer, I fell in love with the cheese sauce that we had with fresh tortilla chips. I could sit here all day and talk about what these Lifestyle Food 'I Love Food' award winners are doing to make Mexican food healthier, tastier, more inventive and exciting, but let me just leave you with this, they make the best damn melted cheese sauce for nachos that you will ever taste.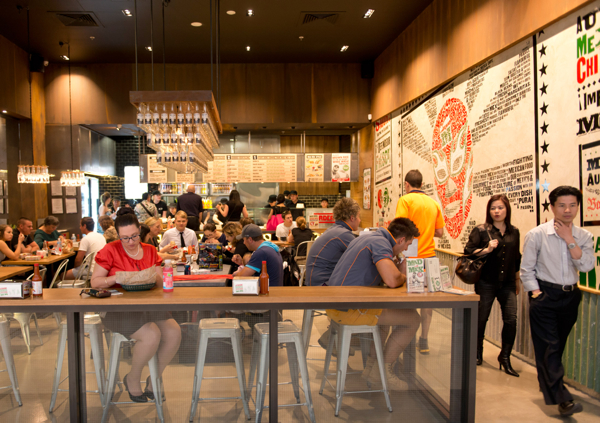 Photos supplied by Mad Mex.
ROASTED TOMATO SALSA
Makes 400g of salsa.
300g (2-3) vine-ripened tomatoes
1 clove garlic, peeled and left whole
1 medium brown onion
5 to 15g jalapeno to taste
10g Mulato chillies
10g Ancho chillies
10g Morita chillies
30g Chipotle en Adobo
pinch of salt to taste
1 tsp fresh lime
Roast tomatoes, onions and jalapenos over a naked flame until the skins are blackened and begin to soften. De-seed and flatten Mulato, Morita and Ancho chillies. Toast the chillies in a frying pan until small bubbles appear on the skin. Soak the chillies in water until soft (30 minutes to 1 hour) and drain. Cook the garlic in a pan over medium heat until golden brown. Add all ingredients to a food processor and blend until an even consistency is achieved. Taste and adjust seasoning as necessary.
Buen Apetito!